3X Your Lead Rate: Our Secret Sauce to Outbound Messaging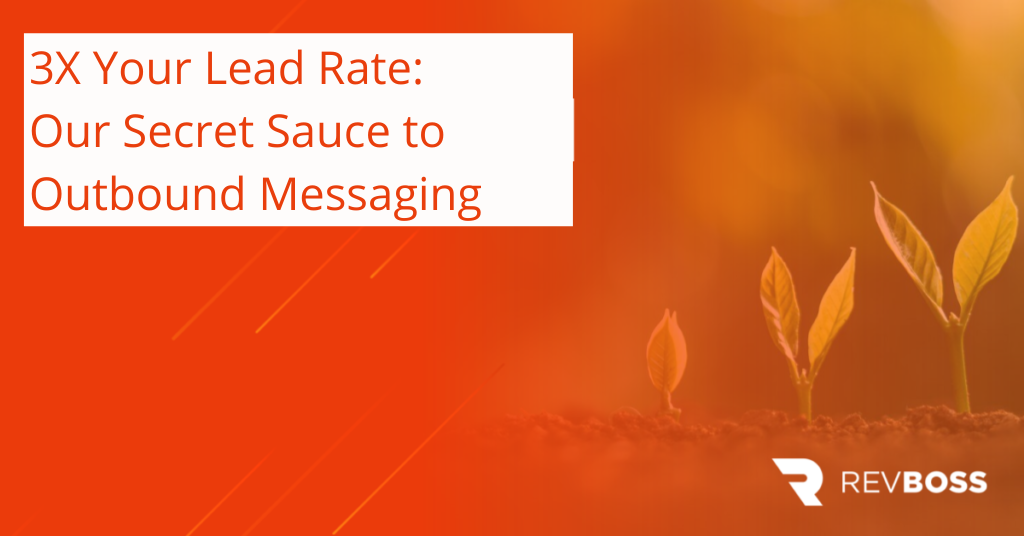 It's no secret that we're all inundated with emails — each person sends and receives something like 120+ emails a day. It takes some real chops to cut through all that noise — especially with cold outreach.
Here at RevBoss, we have our own secret sauce for getting noticed in people's inboxes. We wouldn't be where we are today without the unique approach we take to outbound email copy.
The original style of messaging that we've been using since the beginning still proves effective today. It's pretty simple: Offer-forward messaging that is short and to the point, yet feels personal, and immediately informs the reader what the company does and how they can help.
In a recent A/B test, we compared the "RevBoss Style" messaging to a longer, pain points-focused style. While we continue to use both styles for different targeting – RevBoss Style came out on top with 3x the average lead rate.
Here are some examples:
———–———————————-
Hi [prospect first name],
I'm [sender first name], co-founder at [company name] — nice to meet you.
Our superpower is analyzing your SaaS customer data for early churn predictors — leading to more user engagement, happier users, increased CLTV, reduced churn, and you already know this song so I'll stop singing.
We're a 100% US-based team and we've been doing this for a long time.
I don't want to bug you with a sales pitch — just hoping to connect, learn about [prospect company name], and share how we might be able to help.
Do you have a few minutes for a call?
———–———————————-
Hey there, [prospect first name],
I'm [sender first name] with [company name] — pleasure to meet you!
We're a full-service agency that helps companies like [prospect company name] find sustained growth in the murky waters of modern marketing.
Our team stays on top of the constantly emerging algorithms, tools, and beta projects — so you can confidently deploy the most effective digital and direct-to-consumer campaigns.
We've worked with brands like Burger King, Hilton, and Biggs Harley-Davidson — but we're most passionate about helping smaller businesses grow. That's why I can so easily see us partnering with [prospect company name].
Would you be open to a short get-to-know-you call in the next day or two?
———————————-———————————-
As you can see, these are pretty simple and straightforward — just goes to prove that less is often more. If you're looking for outbound messaging strategies, feel free to give the RevBoss Style a try — and let us know how it goes!