4 Content Marketing Challenges All B2Bs Need to Overcome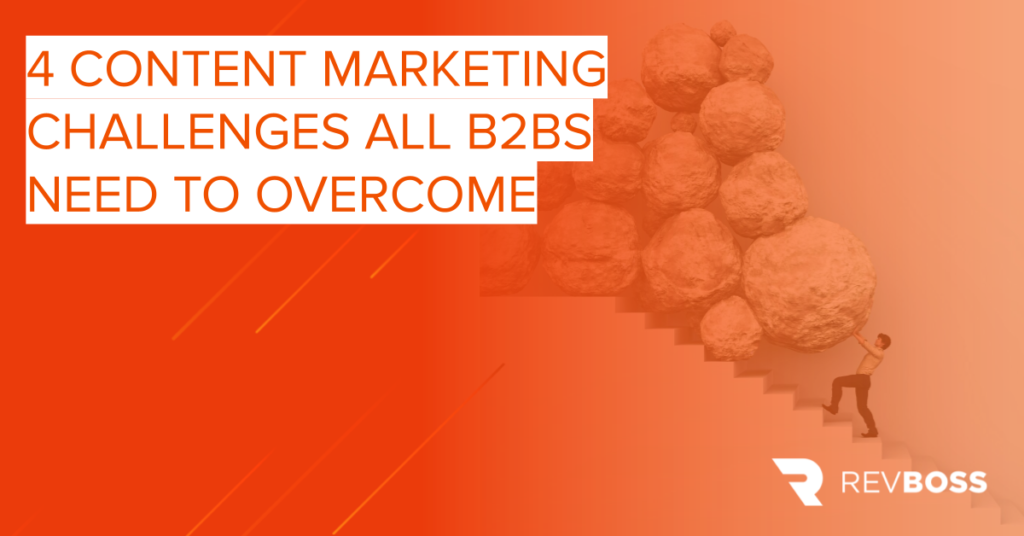 Content marketing is essential for every B2B organization in 2022. Today, 93% of all online experiences begin with search, and buyers are doing more than half of their research before ever reaching out to potential providers.
As such, companies have no choice but to publish content or risk being totally invisible to their potential customers.
B2B companies are recognizing this imperative: more than 90% now leverage content marketing as part of their larger strategy. Still, a much smaller percentage feels totally satisfied with their results — only 19% say their content marketing efforts as "very successful" in 2021. So what are the B2B content marketing challenges holding companies back?
In this article, we'll walk through four of the most common challenges B2B companies face as it relates to content marketing, plus ways to overcome them and boost content marketing ROI.
Quick Takeaways
Content marketing requires a dedicated team — whether it's internal or outsourced from a content marketing agency.
The best performing companies publish 11-16 blog articles per month and earn more than 3X the traffic as those who publish less frequently.
All B2B content should be aligned with the sales funnel to match buyer needs.
Companies can leverage analytics tools built into their software platforms as well as Google tools to measure content marketing ROI.
4 Content Marketing Challenges B2Bs Must Overcome
Hiring the right talent
Content marketing requires a dedicated team of people with the right skills and expertise to execute an effective strategy. SEO, web writing, social media management, graphic design, and data analytics are just some of the important skills needed. For many companies, finding and hiring a team of marketers that encompass all of these skills can be difficult or even impossible if there are budget constraints.
Without investing in a strong team, however, B2B companies miss out on the full ROI potential of content marketing.
This challenge is one of the reasons the overwhelming majority — 86% — outsource content creation to experts like freelance SEO writers and content marketing agencies.
While outsourcing also requires a financial investment, companies benefit from the expertise that comes with it. They can be more confident in their content marketing results while staying focused on their core business priorities.
Frequent content creation
To get the most out of B2B content marketing, companies must publish content frequently. Research has shown that the best-performing companies publish 11-16 blog articles per month and earn 3.5X the organic traffic as those who publish less often.
This kind of publishing volume requires a lot of time — 60+ hours per month if you consider the average 3-4 hours it takes to write a single blog post. And that's just for writing alone. Factor in managing a publishing schedule and monitoring results, and you can see how content marketing becomes a full time job (or a few full time jobs) for B2B companies.
But content creation is scalable with the right tools and processes in place. The most important is a content calendar that outlines content titles, deadlines, and responsibilities. Performing keyword research and planning content creation well in advance ensures there are no gaps in production and publishing. And, as mentioned in the previous section, investing in the right team is essential for producing high quality content at scale.
Aligning content with the sales funnel
The sales funnel represents the stages your buyers move through as they journey from initial interest to purchase to loyal and/or recurring customers. Your audience's content needs depend on which stage of the funnel they're currently in.
For example: a potential buyer in the awareness stage needs content that can help them better understand their challenges and how your solutions can help. A buyer ready to make a purchase decision will need content like pricing options and competitive comparisons.
Here's a helpful representation of how different content types align with the marketing funnel:
Aligning content with the marketing funnel and distributing it to the right audiences at the right time is a common B2B content marketing challenge — and one that can cost serious ROI. If your potential customers can't find the content they need from you, they'll move on to a competitor who has it more available.
There are a few ways to target your content to each stage of the funnel. For SEO, think about buyer intent during keyword research and content creation. What do potential buyers search for at each stage? Once you know, create content around those keywords to match buyer needs.
Segment your email lists by funnel stage to create messages tailored to each specific audience. Finally, use targeting capabilities on social media and for your PPC ads to get your content to the right audience based on their previous actions.
Measuring content ROI
Every content marketing strategy should be data-driven. Companies need processes in place to measure performance metrics, evaluate them frequently, and adjust strategies and tactics accordingly. Unfortunately, this is a step that many companies leave out in favor of focusing on execution steps. When they do, they're left in the dark about the ROI of their content efforts.
When surveyed about the reasons behind this common B2B content marketing challenge, here's what marketers identified:
It's understandable that the lack of a formal justification requirement would cause performance measurement to fall to the wayside. It's really the responsibility of the marketing team, however, to recognize the importance of this step and implement a process for it whether it's required or not. Doing so is a powerful way to prove the value of your efforts and maintain important buy-in from company leaders.
As for the rest of the reasons — that performance measurement is not easy, or companies don't know how, or that it's too time consuming — they all indicate that companies want to measure content ROI but feel like they can't do it. Today, however, there are plenty of technology tools (many of them free) that companies can utilize to automate and execute content performance measurement.
Most website CMS systems have some sort of analytics dashboard that tracks website activity, including traffic and visitor behavior. Google Search Console and Google Analytics are powerful tools for measuring how your content is doing as it relates to SEO. Email marketing and social media platforms also have built-in analytics capabilities to measure content performance.
To begin measuring content ROI, start by breaking it down to a three-step process:
Identify the key KPIs and metrics that determine ROI for your company
Create a plan — outline the tools, people, and other resources you'll dedicate to measuring content performance
Plan periodic meetings to evaluate content ROI and keep it at the top o the priority list
Eventually, you'll also want to plan for how you'll publish and share these results with key stakeholders in your company — CEOs, CMOs, board members and the like.
Get the Most from Your Marketing Efforts
Inbound strategies like content marketing are most effective when complemented by strong outbound marketing tactics to generate leads.
Revboss's outbound email software and lead generation services are custom-built for startups, consultancies, marketing agencies, and other B2B organizations.
Schedule a quick call with us and find out how we can help you win more clients.