4 Examples of SaaS Landing Pages That Convert Like Crazy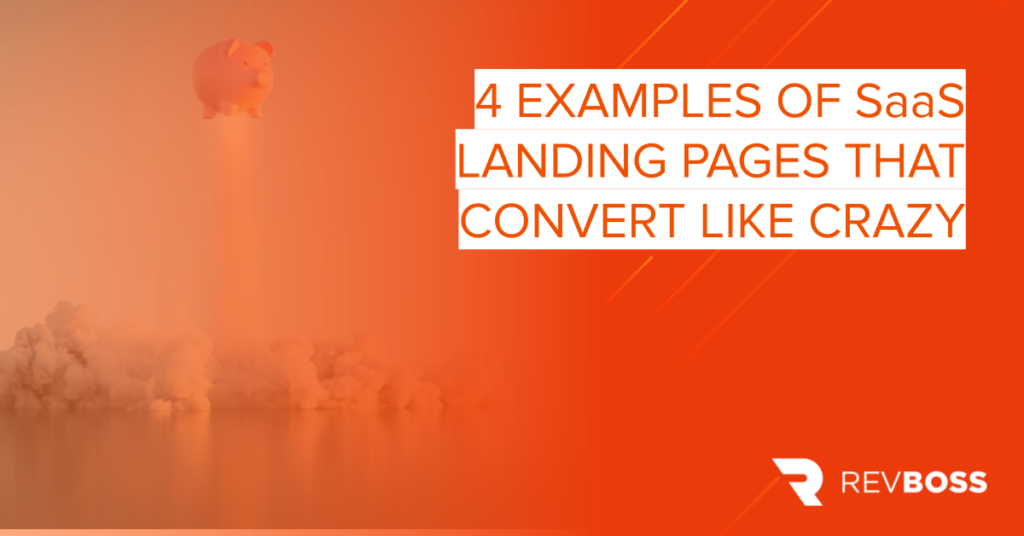 An SaaS landing page is the centerpiece of lead generation campaigns for many technology and software companies. They are one of the primary ways companies collect contact information and begin the sales process with potential customers.
But the thing is, even though SaaS companies are experts on digital solutions, their landing pages aren't as successful as those in other sectors. A recent study by Unbounce reported that SaaS landing pages convert at a 10% lower rate, on average.
10%?! What gives?
For starters, the digital marketing and sales landscape is way more competitive in the SaaS world than other industries. SaaS companies are operating exclusively online, and so are their lead generation strategies. It's crowded, and everybody's doing similar things.
But that's only part of it.
SaaS companies often target a very specific niche customer. Their products can be complex and require a significant financial investment from the buyer. The SaaS sales cycle tends to be longer, and potential customers can typically find a plethora of information about companies and their solutions for free online, meaning they require a bigger motivator to actually complete a landing page form.
When you consider all of this together, you can imagine why companies have trouble creating SaaS landing pages that hit the mark. Fortunately, there are many companies who have figured it out. If you're developing your SaaS landing page right now, reviewing these existing pages and capitalizing on what's working for them is a pretty smart strategy. You don't need to reinvent the wheel to gain ROI from your landing page.
In this article, we're going to cover the need-to-know information about SaaS landing pages, then look at 4 examples of companies who do them right.
Quick Takeaways
Because SaaS companies operate almost exclusively online, landing pages are critical to their lead generation success.
Digital marketing and sales for SaaS companies is more competitive than most other industries.
Components of a great landing page include a strong headline, clean design, focus on value, and clear call to action.
Great SaaS landing pages leverage social proof to build brand trust with prospective customers.
Why is your SaaS landing page important?
SaaS landing pages are one of the most straightforward and effective lead generation tactics in digital marketing — and again, SaaS companies are typically operating totally online. They provide a separate, clean, uncluttered space for your customers to land, learn more about your company, and take the next action (whatever that may be).
Landing pages are also important because they help you be more targeted across products, services, and customer segments. You can send individual customers to the landing page that makes the most sense at that time in the buyer journey and according to which solutions are most relevant to them.
Even better, landing pages can be used alongside many types of lead generation tactics, including email or newsletter subscriptions, product demos, consultations, and downloadable lead magnets like ebooks or webinars. Unbounce found that SaaS companies create landing pages for all of the above and more:
What makes for a great SaaS landing page?
Many companies know their landing pages are important, but they're not sure how exactly to make them optimized to perform. That's what we're going to cover in the rest of this article. So what makes for a great SaaS landing page? Consider these factors:
Is your headline awesome? You only have about 10 seconds to make a quick first impression, so if you miss on the headline, you're likely losing potential customers.
Have you included a CTA? Landing pages with well-crafted CTAs perform more than 200% better than those without them. Don't leave your prospective customers in the dark. Tell them what they should do next!
Are you focused on value before features? Potential customers won't care about your product's features until they know how the product can provide value for them. Focus on the customer first, and demonstrate right on your landing page ways your solution can help people solve their problems and accomplish their goals.
Is your page design clean and simple? There's a reason this page is separate from the rest of your website. Keep it focused on the very specific purpose for the page, and save other information for later.
4 examples of SaaS landing pages that convert
Moz gets your attention from the start with a killer headline that uses emotion to pull prospective customers in. For buyers seeking SEO success, that headline is a comforting notion — success starts right here.
Other winning aspects of this landing page:
Clear CTA on a bright, visible button
Subheading that outlines specific, valuable benefits for the buyer
Social proof from names of prominent current customers
There's a lot that OptinMonster is doing right on the above product landing page. The CTA is clear and prominent, and an animated GIF captures your attention the second you land on the page.
Like Moz's, this landing page focuses on value, not features — potential customers know exactly what to expect from this solution: a bigger email list, more leads, and higher sales.
OptinMonster establishes solid brand trust by highlighting it's already being used by 1+ million other companies, and builds social proof by naming some of the most well-known companies on that list. Last but not least, OptinMonster personalizes their social proof with scrolling testimonials from happy customers.
Asana
Asana uses photography to add a human touch to their landing page and threads valuable solution benefits in every place they can — the headline, the subheading, the blurbs over the photos. Again, a clear CTA gives customers a place to click to move to the next step.
What stands out the most about Asana's landing page, though, is its interactive nature. Those blurbs over the photos? They turn green with a mouse click as visitors check them off. The "watch video" button brings you to a quick video that uses work-life balance as the theme to demonstrate why Asana's solutions are so valuable.
When customers can envision how a solution can fit into their lives — which this video helps them do — conversions and sales will grow.
Shopify
There are no bells and whistles here on Shopify's free trial landing page, but that's why we've included it on our list. Sometimes less is more, and Shopify manages to take a minimalist approach while still including the necessary SaaS landing page components. Their headline tells you what you'll accomplish with Shopify, and the subheading establishes trust with social proof (millions of other businesses already use it).
The CTA is direct, clear, and simple to complete, and the text under the form assures visitors that no credit card is required to try the product — it's quick, easy, and free. Sometimes the main goal of a B2B landing page is just to capture as much contact information as possible, and worry about making a bigger sale later. Shopify takes that approach well in this example.
Our outbound email software and lead generation services are custom-built for startups, consultancies, marketing agencies, and other B2B organizations. Schedule a quick call with us and find out how we can help you win more clients.