6 Strategies to Drive Sales Productivity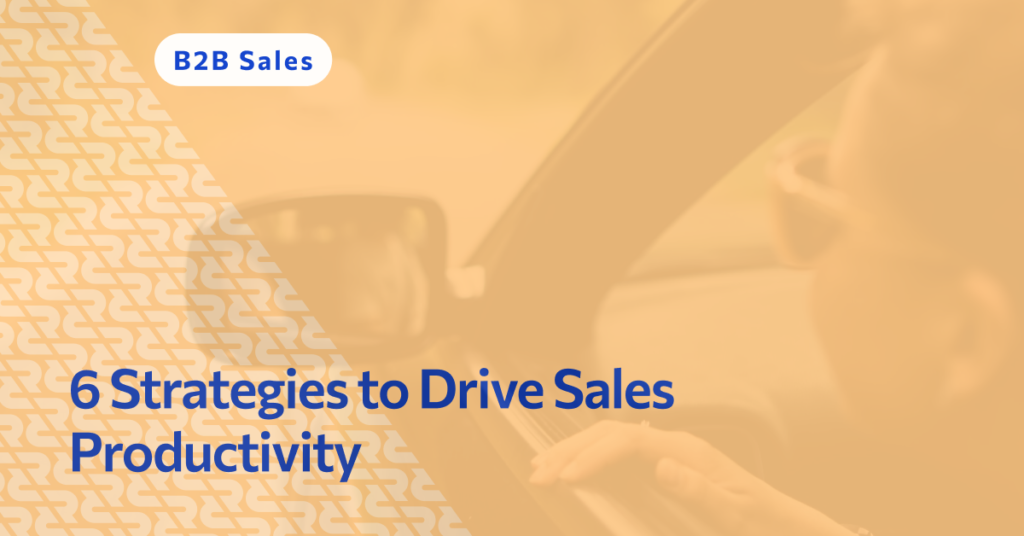 Sales productivity isn't a new challenge for organizations. But the accelerating pace of business, coupled with increasingly higher sales and revenue targets, have made it even more difficult for reps to meet and exceed expectations.
In fact, research from Salesforce found that nearly three quarters of sales employees now feel their job is harder than it was in the past (69%) and say that they don't expect to hit their annual quotas (72%). 
Without the right tools, processes, and culture in place to succeed, sales reps — even those who work the hardest — will have trouble meeting their goals. On the flip side, those with the right support from their companies will stay more engaged, be more productive, and ultimately earn more sales revenue.
We built this guide to help you — motivated sales leaders — take control of this challenge and turn it around at your company. The 6 tactics that follow are proven to boost sales productivity and help you nurture motivated, successful sales teams going forward.
Quick Takeaways
Ongoing sales training (even for experienced employees) helps close skills gaps and maintain sales productivity as technologies change.
Sales enablement materials make sales reps more confident and improve their ability to close deals.
Ninety percent of business leaders say data literacy is key to company success.
Automation allows sales reps to spend more time actually engaging with buyers.
Lead quality plays a critical role in sales reps' ability to close deals.
Train Your Sales Reps (and Never Stop Doing It)
Setting your sales reps up for success means training them well — and continuing to do so for as long as they're with your company. The research behind the importance of skills training for employees is undeniable. As business and technology change and evolve, 87% of companies are experiencing skills gaps or expect to in the near future.
It's essential to both prioritize skills as a qualification for new sales hires (vs. education only), and upskill/reskill employees as new technologies change the requirements of their roles. The good news? Three-quarters of employees are willing to learn new skills and/or retrain to remain more employable over time.
Sales leaders must formalize training programs for new employees and build a culture around new skills development for even experienced and productive sales reps.
Have a Clearly Defined Sales Process
Consistency in the form of repeatable and proven-to-be-effective processes is essential to driving sales productivity in organizations. Your sales process — the actions you want sales reps to take as they interact with potential buyers — should be both clearly defined and documented so that reps can refer to it at any time.
Not only is your sales process critical to helping reps be more productive, it also allows you to more accurately measure sales productivity because you know your employees are carrying out the same actions at the same time across teams and accounts.
Provide High-Value Sales Enablement Materials
Sales enablement materials are resources provided to a sales team to help increase both sales productivity and effectiveness. In other words, they power confident employees and more closed deals for your business. Commonly-used types of sales enablement materials include:
Content to support sales messaging (like e-books, blogs, etc.)
Sales process manuals and guides
Ideal customer profiles and buyer personas
Email template
Sales pitch decks and presentation recordings (such as demos)
Data and reports
The benefit of great sales enablement materials is that your sales employees are informed and don't have to second guess their answers to buyer questions. Further, you know the information they share is accurate and more likely to lead to a sale.
Build a Data-Driven Sales Culture
Data is one of the most important assets companies have at their disposal— one that drives productivity through insight, including for sales teams. But not every employee is naturally data-inclined. It's up to sales leaders to build a culture that embraces the use of data in daily work and provides the skills and knowledge needed to use it effectively.
Today, those collective skills and knowledge are called data literacy — the ability to put data in context and use it to make decisions. According to Harvard Business Review, 90% of today's business leaders say it's critical to company success, but only 25% of workers feel confident in their data skills.
To build data literacy for increased sales productivity (and to gain an edge over less data-focused competitors), focus on building that confidence through effective training and adopting the right data technology tools.
Automate with the Right Sales Technology Tools
Speaking of technology tools — data isn't the only reason they're important to driving sales productivity.
Automation has become key to the ability for sales departments to scale their efforts without compromising the quality of their buyer interactions. In most organizations, it starts with a great CRM but also includes things like data intelligence platforms, prospecting tools, email marketing platforms, and more.
These tools and technologies not only shorten the time it takes to execute certain tasks but frees up more time for actual selling — something sales reps notoriously spend less than a third of their time doing.
Keys to success when you're adopting new tools: Take time to implement them correctly and train your sales employees to use them to their full potential. Look for integration opportunities so your suite of tools work together to boost sales productivity and overall sales performance.
Generate High-Quality Leads at Scale
You can't boost sales productivity if you aren't generating high-quality leads for your pipeline — the foundation of every sales strategy. If you're working to boost productivity but struggling to see results, ask yourself: Do the leads being generated by our marketing team meet the quality standards needed to convert? Are they best fit for our solutions?
If the answer is no, don't jump right to blaming the marketing team. Often, it's just a result of efforts scaled too quickly without the proper processes put in place to quality control. Work together with marketing team leaders to implement (or make adjustments to) lead scoring and qualification, targeting strategies, and lead handoff processes to level up your pipeline quality.
Over to You
Ready to boost sales productivity for your team? It starts with targeting the right prospects to keep your pipeline full of high-potential buyers. Our outbound email software and lead generation services are custom-built for startups, consultancies, marketing agencies, and other B2B organizations.
Schedule a quick call with us and find out how we can help you win more clients.