6 Reasons Sales Appointment Setting Services Are Worth It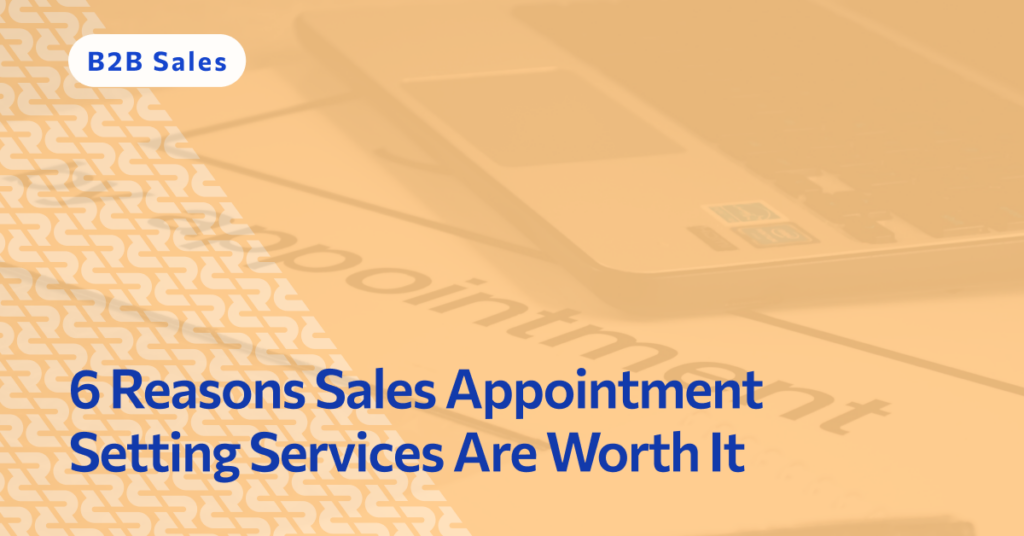 It's no industry secret that salespeople only spend about a third of their time actually selling. 
More than half of sales reps (54%) report that scheduling calls and meetings is one of the activities stealing the most time away from direct revenue-generating efforts.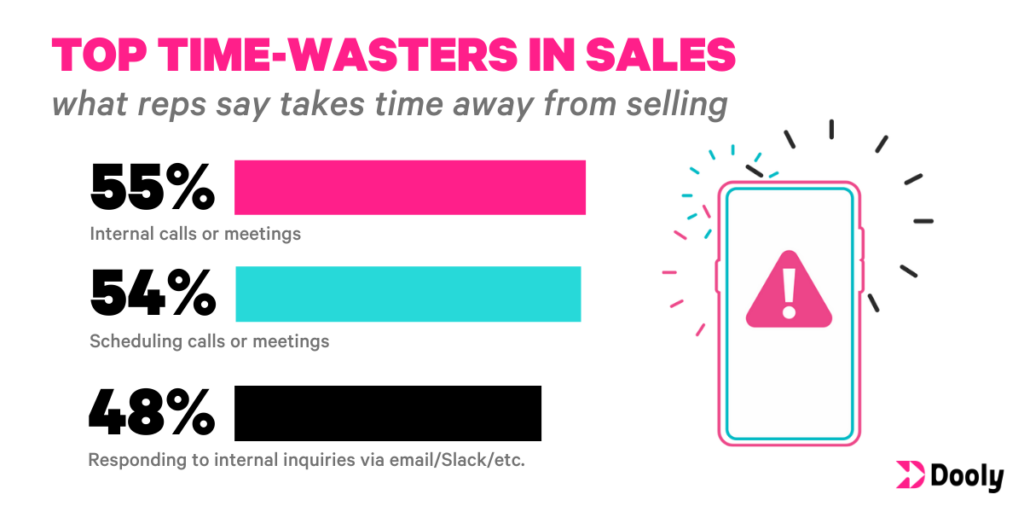 The problem is that scheduling prospect meetings is critical work — it may be administrative, but someone has to do it in order to keep the pipeline full. If not sales reps, then who?
Enter: appointment setting services.
Used by B2B companies across industries, appointment setting services streamline and highly automate the process of evaluating new leads and scheduling their initial appointments with sales teams. These services both level up your prospecting strategy and free up more time for sales reps to close deals.
In this article, we'll cover exactly what appointment setting services include, plus 6 reasons they're totally worth the investment.
Quick Takeaways
Appointment setting services process and qualify new leads as they enter the pipeline.
Signs you may need a sales appointment setting service include: the need for a demo or consultation prior to sale, overworked sales teams, and offerings that aren't self-service.
Outsourcing appointment setting services actually create cost savings in the forms of reduced full-time hiring needs and increased sales team efficiency.
Appointment setting services power more complete and accurate sales data at the top of the funnel and integrate seamlessly with existing CRM systems.
What are sales appointment setting services?
By definition, sales appointment setting services help to process new leads by scheduling their first appointment with a sales representative. Depending on the specific company, services may include full-service activities like sales prospecting, lead generation, and/or lead qualification.
Thanks to the high volume of leads generated today through digital marketing channels, sales appointment setting services must have the intelligent ability to determine which leads are best-fit for a particular organization. In many cases today, this part of the process is performed by AI-powered software. In certain highly specialized industries, it might be done manually.
Companies that hire appointment scheduling services typically do so to avoid leads from falling through the cracks, optimize sales reps' time, and execute better overall lead management at the top of the funnel.
Signs that you may need an appointment setting service include:
You conduct a demo or consultation before you close deals
Your sales team is overworked and feeling burnt out
Your products and services aren't self-service (they require company/customer interaction)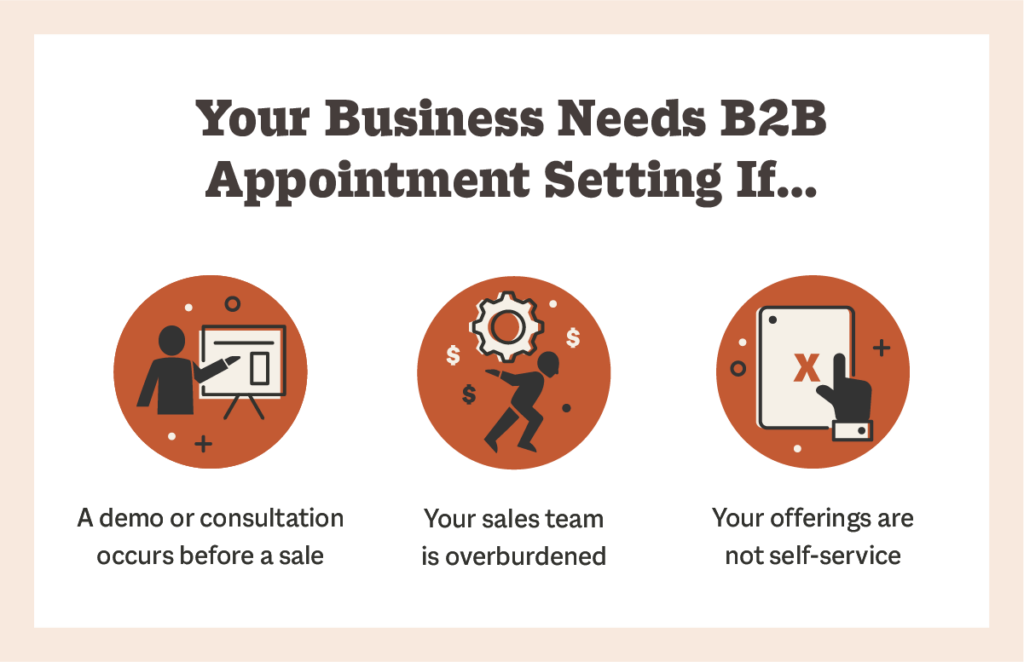 6 Reasons Sales Appointment Setting Services are Worth It
Time and cost savings
Sales leaders and other executives often worry about the cost incurred by outsourcing services like sales appointment setting, but the truth is it can actually save you quite a bit. We already know your sales reps will have more time freed up for selling, and the ripple effect of this is that you'll start closing more deals without having to hire more staff.
Further, keeping full-time staff on board to handle services often wrapped in with appointment setting (prospecting, lead gen, etc.) can become costly in its own right. When you outsource, you're spending less money on full-time salaries, benefits, equipment, office space, and other costs of maintaining staff.
Finally, sales appointment setting services implement tested, proven processes that you can feel confident will yield results (usually better than those you'd achieve internally).
Dedicated lead qualification and lead scoring
Lead qualification and lead scoring are two essential parts of pipeline management. Targeting qualified leads earns you higher conversion rates and deal size (on average), while lead scoring evaluates every lead's likelihood to convert and prioritizes those with the highest potential.
Appointment setting services do this by analyzing past lead behavior (as indicated in the graphic below) to decide whether or not a lead has conversion potential before they're scheduled. By hiring an appointment setting service that dedicates time and resources to these activities, you can be confident the prospects on your sales reps' calendars meet ICP criteria and have a true need for what you have to offer.
Sales Team Support
Sales is a demanding career, and support provided by an appointment setting service can eliminate a significant amount of stress for your sales reps day to day. This opens up bandwidth for greater productivity and higher employee satisfaction and engagement.
Increased Pipeline Efficiency
Time constraints around appointment setting without support of a service can create a backlog at the top of the funnel. This creates stressful work for your sales team and the potential that a high-potential lead will choose a competitor in the meantime.
Sales appointment setting services ensure there's never a wait in the pipeline queue — you'll have the bandwidth to respond to leads as they come in.
Better CRM Data and Seamless Integration
Quality appointment setting services track lead data and integrate it seamlessly into your existing CRM (and other sales management) programs. That means you can outsource the service without having to learn or manage a separate system. You can also count on more accurate and complete lead data at the top of the funnel, filtering down to the rest of the pipeline.
Frequent Reporting
As with any service provider, appointment setting services prove their value by reporting on results. That means built into the service you pay for are data insights on its ROI. You can expect to see specific, results-driven data that demonstrates exactly how your investment is paying off in the form of more meetings, opportunities, and sales.
Level Up Your Sales Prospecting Strategy with RevBoss
Our outbound email software and lead generation services are custom-built for startups, consultancies, marketing agencies, and other B2B organizations. Schedule a quick call with us and find out how we can help you win more clients.