6 Surefire Ways to Increase Your Email Open Rate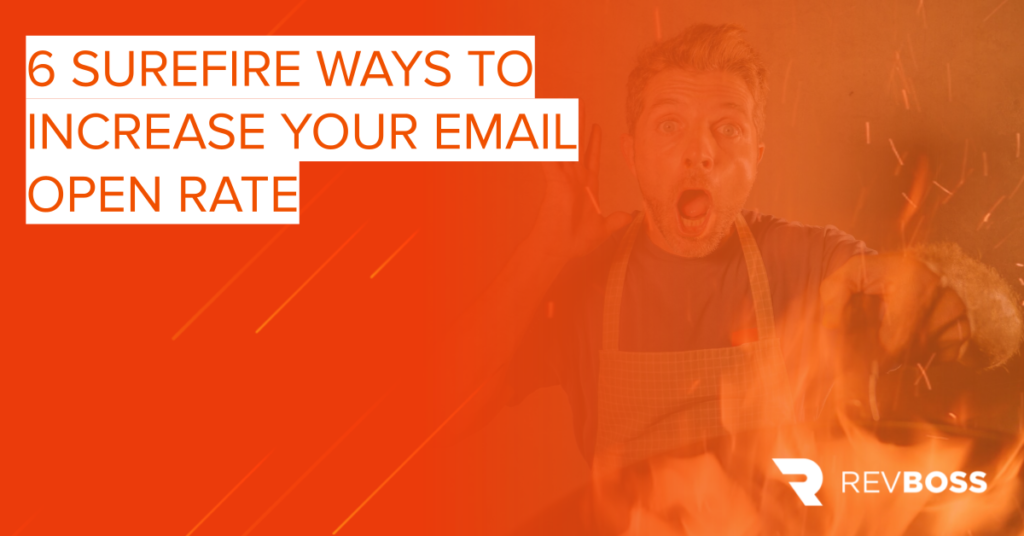 There's no question about it: email is the most important communication channel for reaching your target audience.
It's true that email fatigue exists, and people are increasingly inundated with email as time goes on. But nearly two-thirds (72%) of people still prefer getting emails over any other kind of communication from brands. Knowing how to increase your email open rate is one of the surest ways you can be certain your message is reaching your customer base.
So how do you stand out from your competitors (and everyone else emailing your customers) to be sure your emails are the ones they're reading? The good news is that there are some specific tactics you can use to do it, and we're going to cover them here.
Let's get started!
Quick Takeaways
More than one-third of email recipients use the subject line to decide whether or not to open an email.
Spam filters are getting smarter over time and email marketers must be intentional about avoiding their triggers.
Leveraging feedback from unsubscribers is one of the most effective ways to continually improve your emails and your open rate.
Mobile open rates have increased by 100% over the past 10 years. Emails must always be mobile optimized.
Email open rates: a quick overview
Email open rate is one of the most common metrics brands use to measure their marketing effectiveness. It calculates the number of emails that are opened compared to the number of emails that reached their intended recipient (not the number you sent in the first place). This means your bounced email rate affects your email open rate.
So, for example: if you send 100 emails and 95 reach their intended target, then 20 of those 95 actually open your email, your email open rate would be 21%.
For context, the average email open rate across industries is about 20%, so you want to aim for that benchmark to know you're meeting the status quo. But you don't have to settle for only one-fifth of your emails being opened, either. You can continually refine your message and your overall email strategy to earn even higher open rates, driving bigger results down the line like more click-throughs and ultimately higher conversion rates.
6 ways to increase your email open rate
Nail your subject line
The subject line is the first thing your email recipients will see when they receive your emails. It's essential to craft subject lines that catch attention and spark interest, otherwise your email is likely to be passed by. In fact, more than a third of people decide whether or not to open an email based on the subject line alone.
So what makes for a great subject line? Some tried-and-true best practices include:
Don't be cryptic. You don't have to give everything away, but tell people what they're going to find in your email.
Personalize subject lines using your recipient's first name (when it makes sense).
Use 6-10 words in your subject line — research has found this length to be the sweet spot for open rates.
Avoid spam filters
Spam filters are open rate killers! And they're getting smarter and smarter, filtering out any emails with traits that indicate they might be junk. It's critical to know how spam filters work and intentionally design your emails to avoid them.
Here's how to do it:
Avoid spam words. Examples include "100% free" "act now" and "satisfaction guaranteed." Here's a complete list of spam words to stay away from.
Be sure all websites linked in your email are high-quality and reliable (no sketchy URLs).
Always include an unsubscribe button in your emails.
Keep your formatting consistent and clean. Don't use all caps to create unnecessary urgency, overuse emojis, use different color fonts, or make your message look otherwise messy.
Honor unsubscribe requests to avoid being reported as spam later on (and because it's the right thing to do!).
Don't send too many emails
It's tempting to share all of your content and every important message with your subscribers, but brands must practice restraint when it comes to frequency and timing of marketing emails. Ideally, you want to strike a balance of reliability (subscribers know when and how often to expect your emails) and anticipation (you aren't emailing them so much that they start to ignore your messages).
There is no universal email frequency that works for every brand. The key is to know your goals for your emails and keep refining until you find what works for your brand and your subscribers specifically.
Two ways to ensure you don't exhaust your audience while you figure it out are to be up-front about email frequency (ex: if you send daily email tips, tell people that they're signing up for daily tips) and segment your audience by engagement level (your most engaged segment may want daily emails, while others only want them once or twice per month).
Ask for (and leverage) feedback
No one wants to focus on unsubscribers, but failing to do so is a missed opportunity. Asking people why they're unsubscribing ensures you don't repeat mistakes that are turning your audience off to your emails. It also gives you insight into what you can change to make your emails better.
Collecting feedback from unsubscribers is also really easy with most email marketing software tools. All it requires is a quick unsubscribe survey (keep it short and simple) asking people to indicate why they no longer want your emails. Include a selection list of common reasons someone might be unsubscribing as well as an "other" field when possible to catch additional reasons you may not have thought of.
Here's a simple but effective example:
Optimize for mobile
This one's a no brainer. As time goes on, more and more people are opening emails on their smartphones. In fact, email open rates on mobile devices have grown by a whopping 100% since 2011. If your emails aren't mobile-optimized, your emails will look and feel outdated and clunky.
Most email marketing software tools will automatically help you optimize your emails for mobile and show you a preview of how your email will appear on different devices (PC, tablet, mobile phone, etc.).
Create great content
There's no replacement for great content. Over time, none of the above tactics will work to increase your email open rates if your content isn't consistently relevant and high value for your audience. Never focus so much on smaller tactics that you lose sight of your content vision. Make awesome content your number one priority, then use other tactics to drive performance, and the results will follow.
Our outbound email software and lead generation services are custom-built for startups, consultancies, marketing agencies, and other B2B organizations. Schedule a quick call with us and find out how we can help you win more clients.