6 Ways Marketing Automation Boosts Agency Growth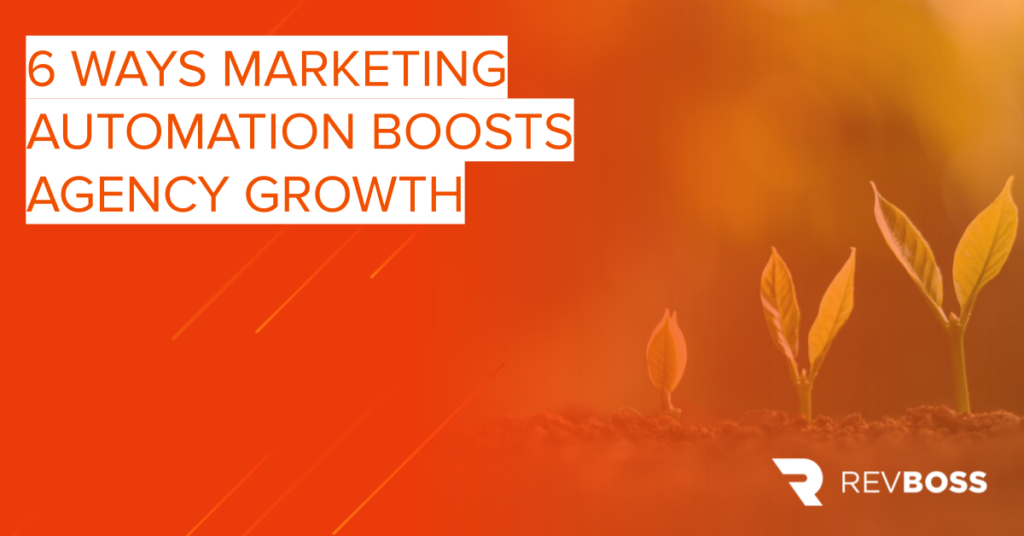 What if your agency could exponentially increase the number of potential customers it tracks and engages at one time? Or pinpoint the exact time in your customer's journey where conversion is most likely to happen? Or have the ability to simultaneously run multiple targeted campaigns? With marketing automation, all of this is possible — and more.
Marketing automation for agencies is becoming a competitive necessity as more and more companies implement it to expand their marketing capabilities. More than 75% of companies have adopted marketing automation and are using it to level up their marketing efforts, grow their customer base, and earn more revenue.
Your agency can do the same! In this article, we'll cover a basic overview of marketing automation, plus 6 ways you can expect it to grow your agency once you've implemented it.
Quick Takeaways
More than three-quarters of companies who implement marketing automation earn positive ROI in the first year, and 44% do it within the first six months.
Marketing automation enables agencies to implement streamline customer lifecycle management at every stage.
Personalization and targeting powered by marketing automation is earning agencies higher conversions and more sales.
Agencies can use marketing automation to test and optimize almost every tactic they use to earn customers.
Marketing automation creates more aligned and efficient marketing and sales teams.
What is marketing automation?
Marketing automation is the use of software to automate marketing tasks and execute campaigns. It has become increasingly sophisticated in recent years, totally transforming the way marketing teams are able to operate.
Thanks to marketing automation, targeted marketing efforts can now be executed at scale, analytics drive new levels of insight, and new opportunities have been created for marketers to reach the right users with the right message at the right time in their customer journey.
Today, businesses are using marketing automation to accomplish a wide range of goals, from increased lead generation to better customer engagement to higher marketing productivity.
Research has found that 76% of companies that implement marketing automation experience positive ROI within the first year, and 44% accomplish it in the first six months.
6 ways marketing automation boosts agency growth
End-to-end customer lifecycle management
Marketing automation's biggest impact on ROI comes from scalable, end-to-end customer lifecycle management. We all know that the customer journey doesn't begin with direct contact (prospects are doing research well before they make an inquiry) or end with a purchase (referral and retention programs are two of the most important initiatives businesses run).
Strong customer relationships require management from the very first touchpoint and throughout their entire duration.
Before marketing automation, smart companies still implemented end-to-end lifecycle management, but it was mostly manual and often disjointed. Initiatives for lead generation, lead nurturing, sales negotiation, onboarding, retention, and referrals (to name a few) all ran in siloes.
Today, marketing automation software can integrate with your CRM system to track every customer interaction and centralize your engagement efforts in one place. Leads can be passed off seamlessly between marketing, sales, and customer support for a more consistent customer experience and higher overall satisfaction.
Increased personalization
The reality is that customers are no longer flattered by personalization — they expect it. Levels of marketing personalization now far exceed a simple first name or company name included in the body of an email. Customers want their unique needs and concerns to be addressed.
Tactics like personalized product recommendations, targeted remarketing (more on that next), and content crafted to be hyper-relevant and valuable to the individual customer are now just part of doing business. It's marketing automation that makes them possible.
And the proof is in the numbers: 72% of consumers today reported that they only engage with marketing messages tailored to their specific interests. A whopping 91% of customers are more likely to shop with brands who provide relevant offers and recommendations.
Better targeting
Marketing automation enables sophisticated audience segmentation and targeting, enabling more effective remarketing and upselling — two huge sources of revenue for companies that do them right.
Remarketing (also often called retargeting) is a tactic that involves targeting ads to users who visited your website, then left without taking action. Put simply, your marketing automation software tracks a user's behavior after they leave your site and serves them ads when they're browsing with the goal of bringing them back to your site. Remarketing is also often done through email (abandoned cart messages are one example).
Upselling is a sales technique that encourages current customers to purchase add-ons and/or more expensive products. Marketing automation can with your CRM system to find data-driven insight on when and how upselling can be most effective for your agency.
Coupled with the improved personalization and targeting capabilities you'll gain from your marketing automation software, your upselling efforts can also be made more authentic and value-driven.
Streamlined multichannel capabilities
Modern hybrid consumers are using a mix of 20 different channels to interact with brands. Not surprisingly, 86% of companies have now identified unifying consumer data across these channels to be a top priority and channel. Marketing automation software solves this problem with its ability to track consumers across these many channels and unify their shopping experience with your brand.
This can have a major impact on revenue — multichannel customers spend 3x as much as those interacting on just one channel. When you use marketing automation to make the multichannel experience seamless and convenient, potential customers are more likely to use it.
Testing and optimization
Marketing automation will enable your agency to continually refine and improve your marketing efforts with testing and optimization capabilities. A/B testing is a familiar example of this — by testing multiple versions of your marketing assets and using analytics to uncover which perform best, you can optimize your messaging, timing, targeting and more.
With good marketing automation, you can test and optimize all of your marketing tactics: email, ads, social media, landing pages, you name it. Done consistently and diligently over time, this makes a big impact on important KPIs such as organic website traffic, email open and click rates, landing page and CTA effectiveness, and overall lead generation, conversions, and sales. The ultimate result is a bigger and more engaged audience and higher revenue.
Efficient marketing and sales teams
Marketing and sales alignment and efficiency are two challenges just about every agency can relate to. The statistics are pretty startling:
79% of marketing leads never convert, often due to lack of nurturing.
Marketing and sales misalignment can cost agencies up to 10% in revenue annually.
More than half of B2B companies do not have a standing marketing and sales team meeting.
On the other hand, agencies that do align their marketing and sales teams are 67% more efficient at closing deals and earn up to 209% more revenue.
Marketing automation centralizes customer data and automates processes that often suffer when dependent on manual completion. It prevents leads and tasks from falling through the cracks, holding both teams accountable.
It also saves a ton of time by eliminating manual tasks and making information more readily available in a centralized place. About three-quarters of marketers report time savings to be marketing automation's biggest benefit of all.
When your marketing and sales teams are on the same page and no longer bogged down with tedious tasks, they have more time to focus on strategic efforts that increase leads, conversions, and sales for your agency.
Our outbound email software and lead generation services are custom-built for startups, consultancies, marketing agencies, and other B2B organizations. Schedule a quick call with us and find out how we can help you win more clients.