7 Timeless Growth Marketing Strategies for SaaS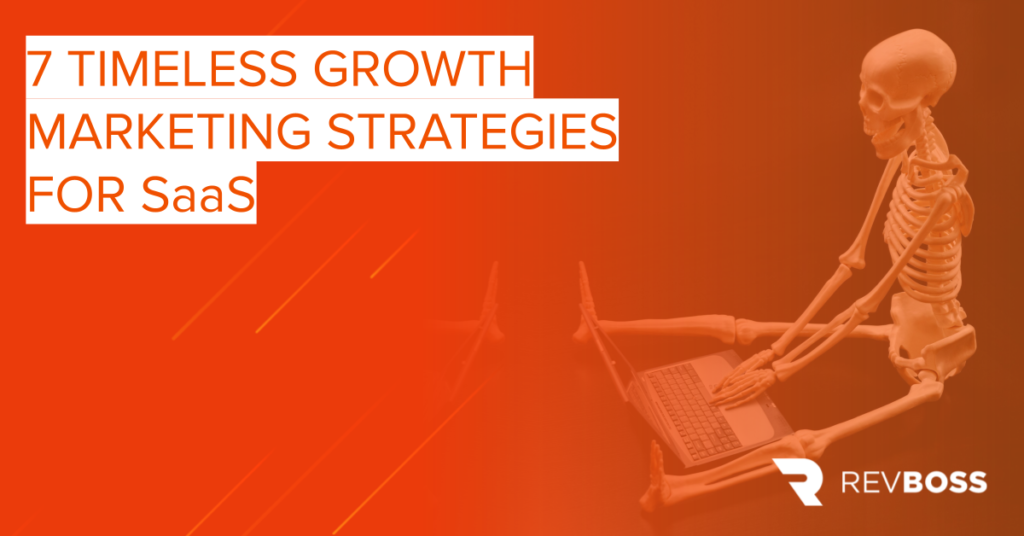 SaaS companies rely almost exclusively on online engagement to attract new customers and grow their business. Growth marketing for SaaS, then, is a critical component of their overall strategy.
But as technology has evolved, consumers have become more savvy, and the marketplace has gotten more crowded, it's become increasingly difficult to navigate the many options for strong growth marketing.
What are the right channels to use? Which approaches are most effective? How can I earn the highest ROI on my growth marketing efforts?
If you've asked any of the above questions, you've come to the right place. In this article we're covering 7 growth marketing strategies for SaaS that have stood the test of time and can help you boost growth right away.
Quick Takeaways
Email earns higher ROI than all other digital marketing channels.
Blogging is the biggest driver of organic traffic and can also be leveraged as part of your outbound growth marketing strategy.
PPC campaigns convert at a 50% higher rate than organic traffic.
Referral business closes and converts 70% of the time.
Third-party review sites like G2 are trusted sources for B2B buyers of SaaS products.
7 Growth Marketing Strategies for SaaS
Email marketing
Email transformed the ability for brands to reach customers when it came onto the scene. Thirty years later, it remains undoubtedly one of the most effective growth strategies for companies in every industry (SaaS included). Email has been proven to earn higher ROI than all other digital marketing channels.
Email campaigns perform best when they're targeted and personalized, aligning your messaging to the audience receiving it.
A few important tips for successful campaigns:
Actively manage your lists. Outdated contacts lower engagement metrics.
Personalize when you can to include targeted messages and promotions.
Nail your subject lines. More than a third of recipients use subject lines to decide if they'll open your email.
Pay attention to design. Clean, attractive layouts make for higher engagement.
Include strong CTAs that tell recipients what their next action step should be.
Blogging
Content marketing now earns 6x the leads and 3x the conversions of traditional paid search and PPC campaigns. The cornerstone of every great content marketing strategy is a blog.
Publishing frequent, high-value blog content both establishes your brand's reputation in your industry and attracts new customers when they find you through search. Research has shown that websites with blogs have 434% more indexed pages and earn 97% more links back to their pages! It's hard to deny those kinds of results.
It's important to note, however, that blogging is a long game. You won't see results overnight, and it requires active, consistent effort to get things going. Companies earn the best results when they publish 11-16 posts per month, outperforming those who post less frequently by 3x.
While blogging is generally considered an inbound strategy, there are ways to leverage your blog content to strengthen your outbound strategies. Sharing your blog content in emails is one of the best ways to do it. You can include top-performing blog posts in email newsletters or as links under the signatures of your sales emails.
You can also reshare your blog posts as promoted posts on social media, expanding your visibility and driving more traffic to your website.
PPC Campaigns
PPC campaigns are a really effective complement to organic efforts like content marketing. It supplements the traffic being driven to your site and, when executed the right way, gets the right ads in front of the right people at minimal cost.
You can conduct a PPC campaign on social media and a variety of search engines, but Google is consistently shown to give brands the biggest bang for their buck. PPC ads on Google ads are clicked by users more than on any other platform. Businesses typically earn $2 for every $1 they invest in Google Ads.
PPC has also proven to be effective at the point of conversion for new customers. While we know organic search is the biggest driver of traffic, users that get to your site from a PPC ad are 50% more likely to make a purchase. This is likely because much of your organic traffic is driven by users in earlier stages of the funnel conducting their initial research.
Free trials
SaaS companies have a unique advantage in their ability to leverage free trials as a means of winning over new customers with their actual product. Free trials give potential customers the ability to truly see how they could apply your solution to improve their work environment. It also gives your sales reps an opportunity to see how prospects want to use your product and tailor their sales strategy accordingly.
Even better, free trials are typically low or no cost to SaaS companies. What is there to lose?
Lead magnets
Lead magnets are another component of content marketing that can be applied as an outbound strategy to generate new leads. By definition, lead magnets are pieces of high-value, downloadable content that helps potential customers solve a problem or accomplish a task.
Examples of commonly used lead magnets include:
Ebooks and whitepapers
How-to guides
Webinars or product demos
Templates
Checklists
Lead magnets are an opportunity to give people a positive experience with your brand. They see in a small way how your company can provide the solutions they need. More importantly, lead magnets are traded for user contact information, meaning your marketing and sales team can follow up to keep moving them through the funnel.
Referrals
Referrals are one of the oldest and timeless growth strategies B2B companies can employ. B2B buyers report that they trust referrals from online sources and colleagues just as much as they do those from family and friends. To boot, research has found that referral business closes and converts 70% of the time.
You can successfully drive more referrals by starting a formal referral program. It doesn't have to be complicated — something as simple as offering an incentive for referrals can get the ball rolling. Then, be sure to ask new prospects and customers how they heard about your company and reward current customers accordingly.
SaaS Review Sites
Third-party review sites like G2 and GetApp have become a trusted source for B2B buyers to begin their searches for new SaaS solutions. As such, you want your company to be visible on these sites and well represented by reviews.
If you aren't already listed on these sites, the best way to get there is by reaching out directly to their editorial team and sharing your value proposition.
Over to You
Ready to jumpstart your SaaS growth marketing strategy? Revboss's outbound email software and lead generation services are custom-built for startups, consultancies, marketing agencies, and other B2B organizations.
Schedule a quick call with us and find out how we can help you win more clients.