8 Quick SEO Wins for B2B Companies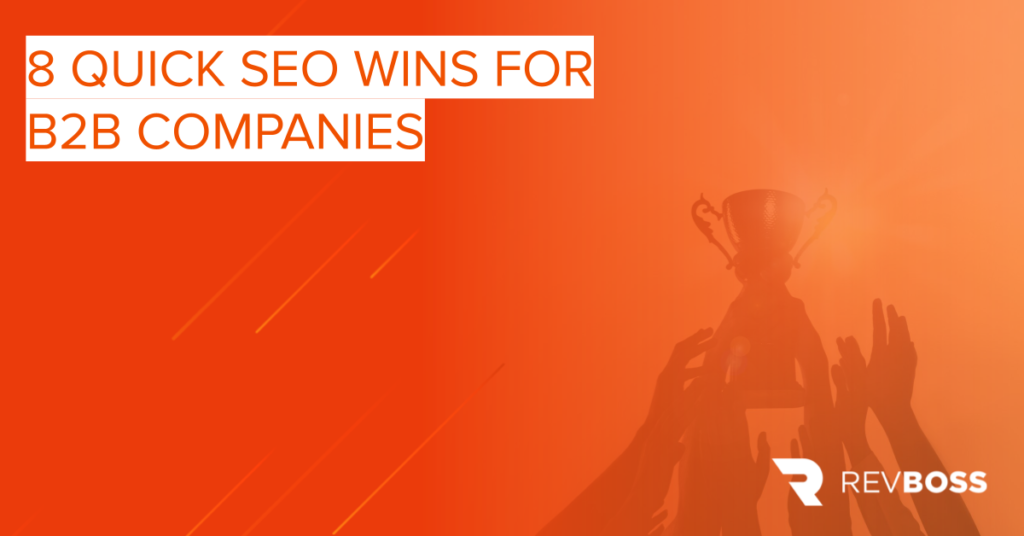 Search engine optimization (SEO) is a ubiquitous part of digital marketing and lead generation in 2022 . SEO for B2B is even more critical as buyers increasingly do their research and make decisions about providers using the content they find online. But now that everybody knows about SEO, how can you level up your own strategy to get ahead?
That's what we're going to cover in this article. We'll cover 8 surefire ways you can make SEO an active and ongoing part of your strategy using proven tactics that edge out competitors.
Quick Takeaways
SEO for B2B is driven mainly by an active blog, which can help you earn 55% more visitors and 97% more inbound links to your site.
When refreshed regularly, old content can be a huge source of new leads and page views.
Google Search Console is a powerful tool for finding keyword opportunities you may not already know about.
Amplifying content across channels and creating shareable content types boosts brand visibility and SEO effectiveness.
8 Quick SEO Wins Every B2B Company Should Aim For
Maintain an extremely active blog
A blog is the best and most effective online B2B marketing tool you can employ in 2022. Sites with blogs earn a whopping 434% more indexed pages, 55% more web visitors and 97% more inbound links than those without one.
But the true potential isn't in just having a blog, it's in keeping it active. Companies that publish 11-16 times per month earn 3.5X the organic traffic as those that publish less often. To get the most out of your blog, create a full content calendar and stick to it, publishing multiple articles per week.
Refresh your old content
Fortunately, keeping your blog active and regularly publishing great content does not mean reinventing the wheel every time. Your old content — the pieces you already put time and effort into creating — can be refreshed to drive new traffic, views, and leads to your site.
In fact, HubSpot researched their own traffic sources and found that 92% of their leads and 76% of their page views were coming from old content.
Effective ways to refresh old content include adding current statistics and information as well as finding new ways to repurpose it (like turning a popular blog post into a shareable infographic, for example).
Optimize technical SEO on all website pages
Technical SEO is like the nuts-and-bolts part of your overall SEO strategy. It includes things like title tags, meta data, and sitemaps. Strong technical SEO makes it easy for Google and other search engines to find, crawl, and index your site, resulting in higher rankings on search engine results pages (SERPs).
Doing periodic technical SEO audits and cleanups can ensure your content never gets lost in an internet black hole, and that its ranked for the right topics and audiences.
Earn featured snippets
Featured snippets are highlighted Google results that appear at the top of SERPs. Google uses them to give users quick and direct answers to questions and other inquiries. So, while you won't see a featured snippet for every single search, you will usually see them for queries that start with question words like what, how, where, and when.
There isn't a surefire way to earn the featured snippet for a given topic, but you can increase your chances by being clear and explicit about defining terms and addressing questions within your content.
For example: if you're writing content about the best beaches to visit in Hawaii, you'd want to include a sentence that says "The best beaches to visit in Hawaii are…" and include "the best beaches to visit in Hawaii" in places like your article title and headlines. Google is then more likely to recognize it as the right resource to answer that question.
Find keyword opportunities on Google Analytics
Google Search Console (GSC) is a free and powerful tool for informing your SEO strategy of new keyword opportunities to strengthen your online visibility. If you aren't already using GSC, definitely create an account and begin exploring its features. There are plenty of tutorials and other helpful resources available online to help you get to know the tool.
One of the best ways to use it is to find keywords you may be ranking for without even knowing it. You can do this by logging in and clicking "performance." There, you'll see data on clicks and impressions as well as keywords you're ranking for — both overall and by individual page. When you see keywords on the list you aren't actively trying to rank for, you can start creating content for them to capitalize on the opportunity.
Increase mobile-friendliness
More than half of all web traffic today comes from mobile devices, and the number is growing. If your content isn't optimized for mobile, there's a good chance you're losing traffic to competitors. Most website hosting platforms have built-in features to help you optimize for mobile.
With the help of your web design team, you can also implement responsive design standards for your site to ensure it's user-friendly across all devices (like in the example below).
Amplify your content across channels
SEO for B2B companies depends largely on visibility. The more visible your content is, the more effective it can be in driving traffic (and thus leads and conversions) to your website. When you amplify your content across all channels you employ — your blog, social media, email, and more — more people see it and you earn higher ROI on your SEO efforts.
You can even encourage employees to act as brand advocates, sharing marketing and sales content on their own professional profiles to amplify content even further.
Create highly shareable content
Some content lends itself more naturally to being shared. Social media posts, infographics, and videos are all content types shared more often than others by consumer audiences. Boost your SEO by creating this type of content so your own audiences can share it through their channels.
You can also add social media buttons to your blog to encourage users to share content directly after reading it.
Putting it All Together
SEO for B2B can feel like a complex process — and in some ways it is. But tips like the ones outlined above are simple, straightforward ways to continually upgrade your SEO strategy after you've already put the foundation in place.
When you make SEO an ongoing priority (vs. a one-time thing or a blog-exclusive strategy) you can be certain you'll earn more traffic, leads, and conversions on your site.
Over to You
Inbound SEO strategies are most effective when supported by strong outbound lead generation tactics. Revboss's outbound email software and lead generation services are custom-built for startups, consultancies, marketing agencies, and other B2B organizations.
Schedule a quick call with us and find out how we can help you win more clients.