7 Strategies to Boost Your Appointment Rate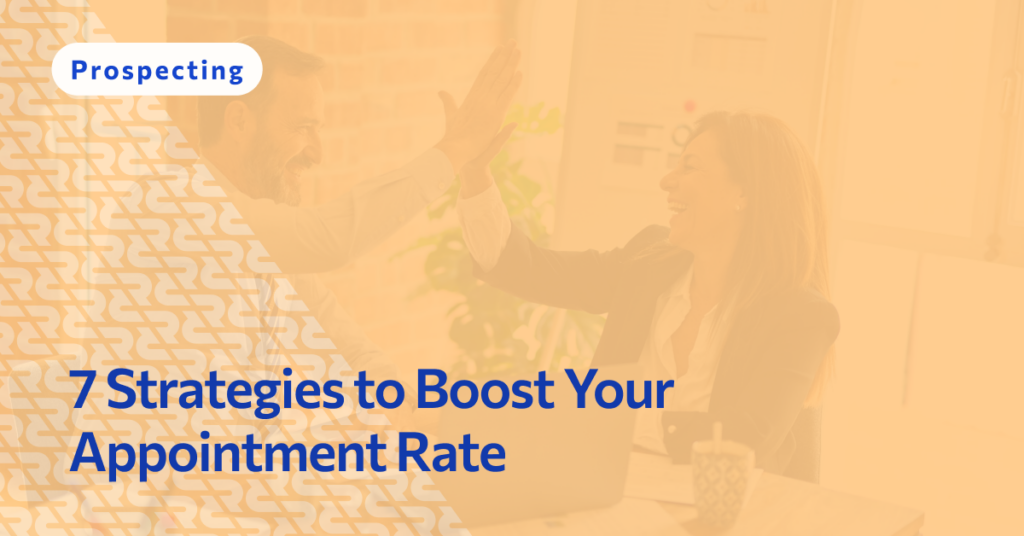 Your sales appointment rate is a powerful indicator of how well your online presence generates interest in your solutions and motivates prospects to act.
A high appointment rate means your sales team is engaged with potential customers and your pipeline is likely flowing. A lower rate indicates a probable disconnect between your marketing content and your target audiences—one that could be inhibiting sales performance.
So how do you measure your appointment rate? And what can you do to improve it? Read on to learn actionable tips for optimizing your appointment strategy to boost pipeline growth.
Quick Takeaways
Appointment rates are measured by comparing total engagement metrics against the number of appointments booked.
Targeted content and prominent CTAs motivate B2B prospects book appointments.
An online appointment booking system can dramatically increase your appointment rate—95% of buyers choose providers who offer one.
Confirmations and reminders coupled with personalized communication increase appointment attendance rates.
Appointment setting service providers offer solutions that optimize appointment rates and uplevel the quality of leads in your pipeline.
How to Measure Your Appointment Rate
Appointment conversion is the critical bridge between prospect engagement with your digital marketing content or outreach and their initial conversation with your sales team.
The appointment scheduling process is also one of the first direct interactions a prospect will have with your brand. It's an indicator of your company's service quality and the experience you provide to your customers.
It's critical, then, to know your appointment rate and optimize it however you can. To do this, you need to compare the number of users engaging with your online content vs. the number of appointments you're booking. Content to measure includes:
Outbound email messages
Sales webpages
SEO content (ex: blog posts)
Social media posts
Ad Campaigns
Studying your appointment rate compared to these engagement metrics can also help you identify the most effective marketing channels for your business and focus your efforts on the channels earning the highest ROI.
Next, you'll also need to understand the number of appointments scheduled vs. the number that are conducted successfully. To measure this metric, closely track your sales appointment attendance rate (i.e. those that attend vs. cancel or no-show).
In the next section, we'll walk through 7 actionable steps to help you both schedule more sales appointments and reduce your no-show rate to boost lead conversions.
7 Ways to Boost Your B2B Appointment Rate
Target Your Content Effectively
Buyers need different types of content at different stages of the buyer journey. Someone just starting to research solutions, for example, might read blog articles and download ebooks that provide educational content about their problem and available solutions.
A prospect that's already done extensive research will be looking for bottom-of-the-funnel content like pricing guides and product comparisons.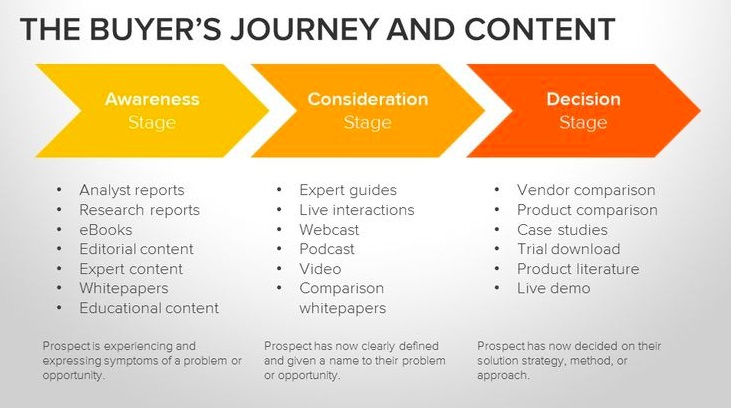 To boost your appointment rate, use SEO tactics to target your content to its most appropriate audience. Content targeting earns higher engagement and builds trust with your audience that you understand their needs.
Optimize CTAs
Calls-to-action (CTAs) explicitly guide users on the action they should take to move forward in their buyer journey. When you include clear CTAs in the communications you send to sales audiences, you increase the likelihood that they'll actually take the next step—like booking an appointment with your sales team.
For best results, make your CTAs concise, compelling, and prominently displayed in your content.
Be Clear About Meeting Purpose
What happens at your sales appointments? The agenda will depend on your type of business and the solutions you offer.
An SaaS business, for example, may spend time on a product demo. A marketing agency will spend more time outlining their services model. In every case, time should be spent on lead discovery and understanding the potential customer's needs.
Communicating your meeting agenda prior to the appointment can increase the likelihood that a user will book one in the first place and actually show up at the scheduled time.
Enable Online Scheduling
Convenience makes a huge impact on your appointment rate. The easier it is for a user to book an appointment, the more likely they are to do so. In fact, having an online booking system can pretty much make or break your ability to win leads over competitors.
A staggering 95% of consumers say they are more likely to choose a service provider that offers online booking over one that doesn't. Allowing potential customers to book sales appointments online shows that you provide this convenience factor from the very start.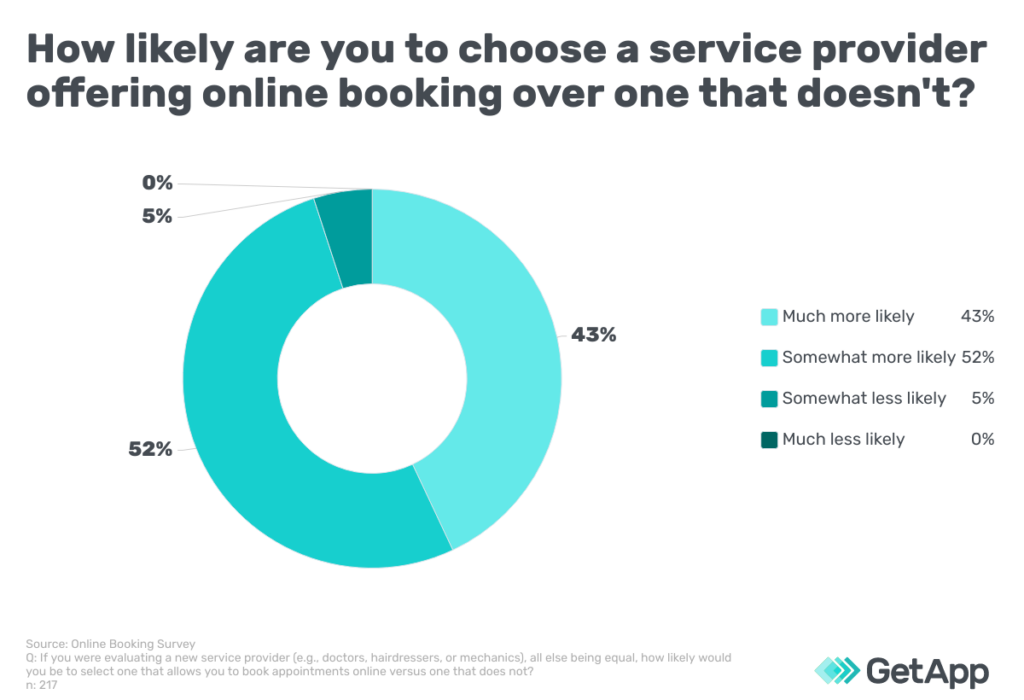 To optimize your appointment rate, integrate your online booking system into your marketing content and communications. Eliminate as many extra steps as possible in the process.
For example: It's better to include a link to your appointment booking page in your marketing emails vs. sending recipients to your website and hoping they'll click through once there.
Send Confirmations and Reminders
It's important to keep scheduled appointments top-of-mind for customers between the time they book it and the time it happens.
More than half (56%) of sales prospects say that they skip appointments simply because they're overwhelmed by internal meetings. An automated reminder system helps eliminate this problem by ensuring prospects block out time on their calendars and are never surprised by your meeting the day of.
Personalize Communication
Personalization is a must-have in B2B communications at every stage. Personalizing things like appointment confirmations, reminders, and pre-meeting outreach can go a long way in making potential customers feel valued.
Marketing automation can help with this, too. Simply including an individual's or company's name in your emails leading up to an appointment makes an impact.
For your highest-potential prospects, especially if you're incorporating ABM into your lead-gen strategy, greater levels of personalization may be necessary. Your sales development reps can do research about the prospect's unique problems and needs, then mention them in pre-meeting correspondence.
When prospects feel like you've already put time into addressing their issues, they're more likely to follow through with your scheduled appointment.
Hire an Appointment Setting Service
For many companies, hiring an appointment setting service is the most effective approach for boosting their appointment rate. If your sales team feels overburdened, your solutions require a demo or consult, or your offerings aren't self-service, outsourcing might be best for you.
Appointment setting service providers reliably boost their client appointment rates because they have the expertise, bandwidth, technology, and best-practices in place to execute at scale without sacrificing the quality of the process.
They evaluate leads in your pipeline and guide prospects through the appointment-booking process to ensure they're qualified by the time your sales team engages with them.
While outsourcing always requires a financial investment, it can be the most cost-effective option for you if it can consistently optimize your results.
Book More Sales Appointments with RevBoss
If you're looking for appointment-setting support, RevBoss can help. Our highly integrated lead-gen and appointment setting services help you broaden your reach, communicate more consistently, automate smartly, and convert brands on your new client wishlist.
Get in touch with us today to learn more about how we can help you win more business.