8 Things to Look for in a B2B Appointment Setting Company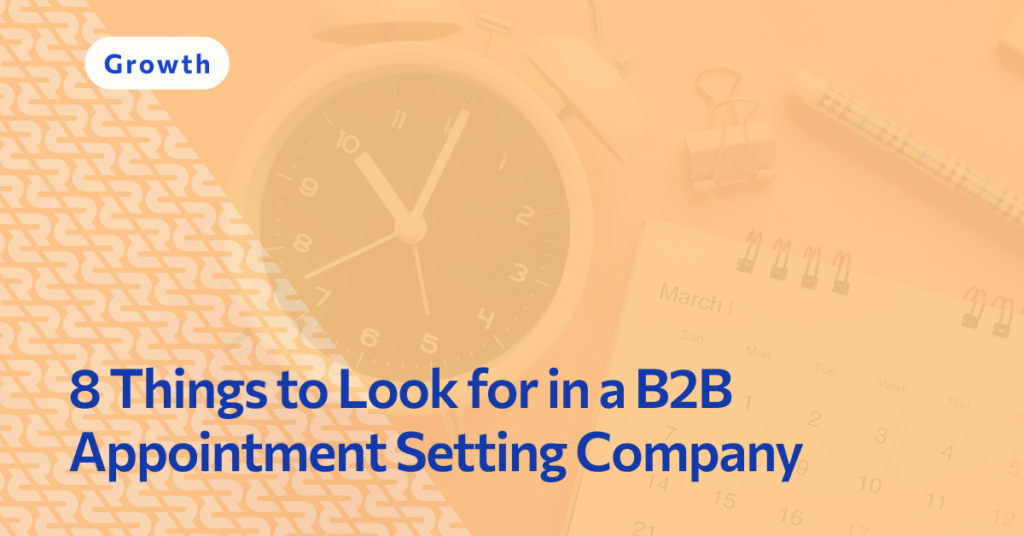 Sales reps are notoriously plagued with too much administrative work and not enough time for actual selling. And according to 54% of reps, scheduling meetings is at the top of the time-waster list. That's why many organizations are hiring an appointment setting company to help.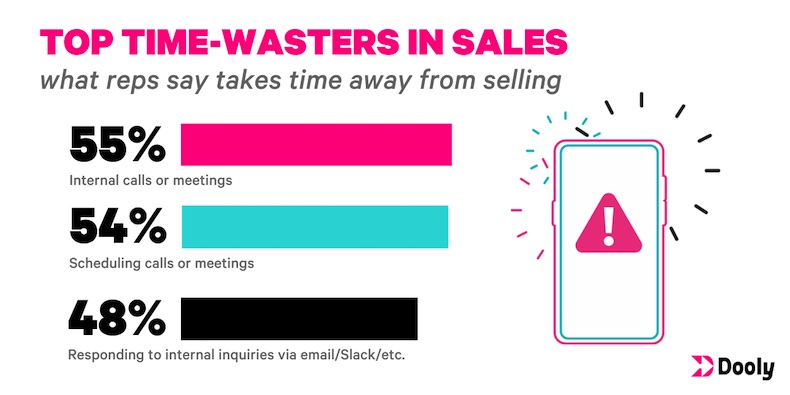 Appointment setting services can help you enhance and scale your lead-gen and appointment booking processes with high levels of expertise, process standardization, bandwidth, and automation technology—all while your internal sales team focuses on converting top prospects in your pipeline.
Let's take a deeper look at what an appointment setting company can do for your business and how to find a reputable one you can trust.
Quick Takeaways
An appointment setting company provides comprehensive services around appointment setting and other key top-of-the-funnel activities.
Services typically offered by appointment setting companies include lead-gen outreach, lead qualification, appointment scheduling and follow-up, and marketing/sales support.
Quality appointment setting service providers have industry/audience expertise, a solid track record, technology-driven processes, and high-quality, well-trained staff.
What is An Appointment Setting Company?
An appointment setting company is a specialized service provider that helps businesses generate quality leads and book appointments with potential clients. They work to find leads that both fit a company's ideal customer profile and have real intent to purchase, creating a steady stream of high-potential prospects into their sales pipeline.
Specific services provided by appointment setting companies include:
Lead Generation
Appointment setting companies often provide lead generation services to identify and target prospects that fit your target audiences. Their exact methods may vary, but may include things like cold email outreach, social media outreach, content marketing, and PPC ads.
In cases when they don't handle lead-gen themselves, appointment setting companies can integrate their tools with your own to ensure a seamless path for new leads from your marketing channels directly to their appointment setting systems.
Qualifying Leads
Once leads are generated, appointment setters engage with them to determine their level of interest and readiness to engage in further discussions. This involves conducting discovery calls, asking qualifying questions, and gathering information to assess the lead's suitability.
Appointment setters will have a strong knowledge of your ICPs, buyer personas, and solutions to accurately evaluate and categorize leads as they come in.
This lead qualification step can translate to significant time savings and pipeline performance improvements. As you can see below, leads have to go through a multi-step process before they are ready for either sales engagement or a nurturing sequence.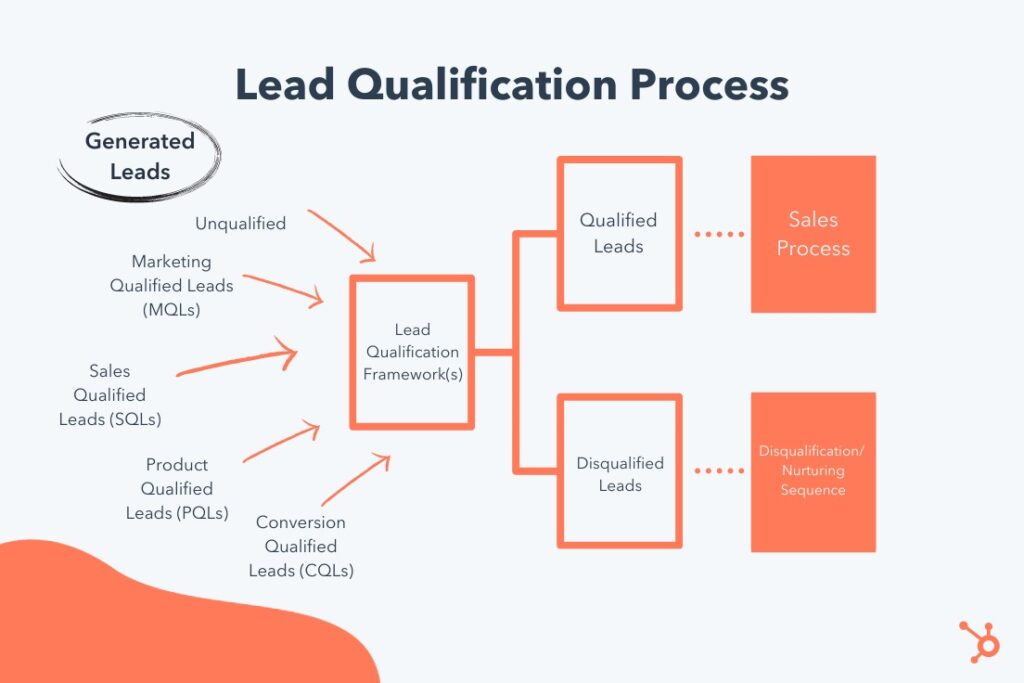 When you hire an appointment setting company to execute this part of the process for you, your sales reps can keep their focus solely on prospects who are likely to convert.
Appointment Scheduling
After qualifying a lead and confirming their interest, appointment setting companies schedule appointments on behalf of your sales team. This typically involves coordinating with the prospect to find a mutually convenient time and date for a meeting or a sales call with one of your representatives.
Appointment Confirmation and Reminders
Sales call no-shows are an unfortunate industry reality—even with best practices in place, you'll never eliminate them completely. But timely appointment reminders and confirmations can significantly reduce the number of no-shows that your reps experience. An appointment setting company will handle these steps for you, supported in most cases by automation technology.
Sales and Marketing Support
B2B appointment setters are pros at engaging with prospects for clients in a variety of industries and settings. As such, they can be a great resource for support with writing sales scripts, gaining market insight, managing customer data, and getting feedback about your brand perception with your most important audiences.
Reporting and Analytics
To help you evaluate the effectiveness of your marketing strategy and to demonstrate the value of their services, appointment setting companies should provide you with detailed performance reports and analytics.
These reports include key metrics such as lead volume, lead quality, sales call volume, pipeline conversion rates, and other KPIs that help you make informed decisions about future strategies and continually improve your approaches.
8 Things to Look For in an Appointment Setting Company
Expertise and Knowledge
Every appointment setting company is different. Some specialize in certain types of clients, are better at particular communication channels, or work with clients in a specific industry or sector.
Look for a company that has the industry knowledge necessary to hold successful, engaging conversations with your prospects.
In many cases, your appointment setters are making a first impression on your potential clients. You want them to sound confident and informed about important aspects of your services and solutions, client needs, and overall business landscape.
Solid Track Record
One of the best indicators of a reputable, effective service provider is client testimonials. When you research potential appointment setting companies, look for these testimonials on their websites. Read reviews on third-party sites for an objective perspective. Ask the company for an example of client success for an organization similar to yours.
When you take these steps, the company's track record will be apparent. If a company struggles to share past client success stories or you don't feel confident in what you learn, keep looking for another provider.
Qualified, Trained Appointment Setters
The boots-on-the-ground team talking to your customers won't be the sales leaders or client success specialists you talk to during onboarding a new provider—it will be their appointment setters, and it's important to know how they're hired and trained.
Don't hesitate to ask questions such as:
What are the qualifications for your appointment setters?
How are they trained?
Will we have direct access to communicate with them?
How do you evaluate their performance?
A quality appointment setter will have clear processes in place for all of the above and no issue sharing it with you when you ask.
Lead-Gen Strategies
As we mentioned already, the lead-gen methods and services offered by an appointment setting company will vary. Some may specialize in certain tactics, and the level of lead-gen execution they handle may also differ between providers. Some may not handle lead-gen at all, and will be solely focused on contacting the leads you generate.
None of the above are right or wrong. In fact, many companies prefer to generate their own leads rather than sharing the responsibility. Ask each provider you consider about their services and find one that fits with your needs.
Technology-Driven Processes
In today's fast-paced, digital business environment, lead generation and appointment setting need to be done at scale. This requires the use of sales and marketing automation technology, which your appointment setting company should have in place.
Look also for easy integration with your own tools and systems so leads can move seamlessly through your entire pipeline.
Performance Reporting Process
Get to know the performance reporting processes your potential appointment setting company uses and make sure they meet your expectations. Consider their reporting frequency, the metrics they measure, steps taken to ensure accuracy, and report-sharing methods.
Data Security and Compliance
Appointment setting companies handle large volumes of customer data—some of which will fall under the category of Personally Identifiable Information (PII) and be sensitively handled. Even when data doesn't fall under PII, customers want and expect companies they share data with to be responsible with how they use it.
When consumers were asked about their priorities related to building trust with a brand, 73% cited "protect my personal data" as very important—more than any other item on the list.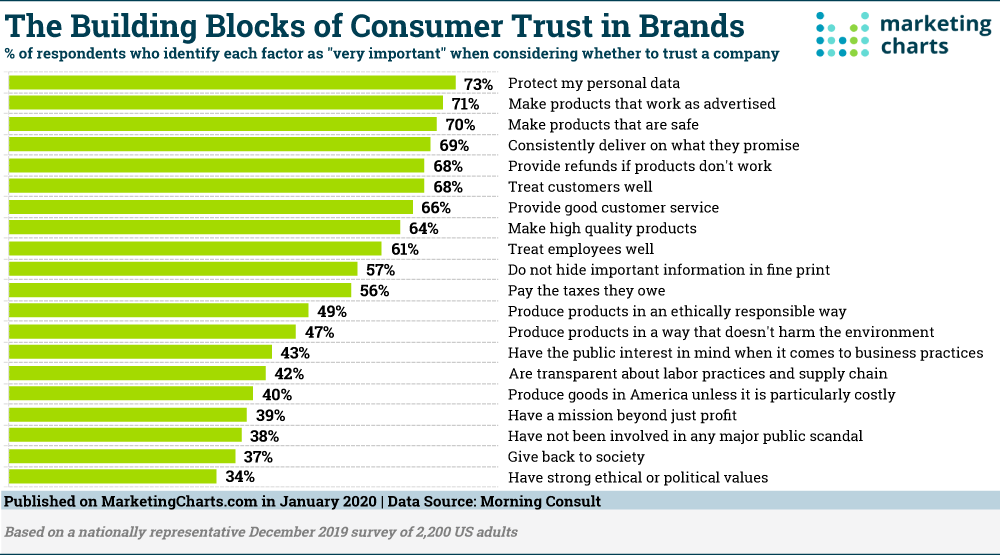 Ensure that the appointment setting company you choose has strong data security practices in place and can guarantee data is safe in their systems. Keep in mind that their level of care in handling your customer data can directly impact the customer experience you provide and the level of trust you can build with your audience.
Aligned Communication Styles and Culture
Last but certainly not least are the intangibles of communication styles and culture. Ultimately, you'll need to maintain a working relationship with your appointment setting company in order for their services to deliver value for you.
You'll need to share information about your company and solutions, and trust that their teams can effectively represent your brand.
Communication styles and company culture play a role in the success of this type of ongoing collaboration, and it's essential to establish it from the start.
In Closing
An appointment setting service can be a powerful support system for your sales team—one that simultaneously levels up the quality of your new lead engagement and conversion potential of your sales pipeline. But to succeed when you outsource appointment setting, you need the right partner.
By understanding the types of services appointment setting companies provide, vetting them diligently, and ensuring they align with your own company culture, you can significantly enhance your ability to generate, engage, and convert leads at scale.
Over to You
If you're looking for appointment-setting support, RevBoss can help. Our highly integrated lead-gen and appointment setting services help you broaden your reach, communicate more consistently, automate smartly, and convert brands on your new client wishlist.
Get in touch with us today to learn more about how we can help you win more business.