The A to Z Guide to Automated Sales Prospecting
It's a crowded market out there for every business thanks to the digital world we live in today. Customers have more choice than ever before when it comes to selecting companies to work with. If you're not first to engage them, you'll lose them to competitors. That's why you need automated sales prospecting.
Automated sales prospecting helps you identify, engage, and convert new leads into your pipeline at a speed and scale not possible with manual methods—and you can do it while still personalizing outreach and building human-led connections with your potential customers.
In this guide, we'll tell you how.
Quick Takeaways:
Automated sales prospecting helps companies reach high-fit leads at scale.
It's different from marketing automation, which focuses largely on inbound efforts that are slower to generate leads.
Important capabilities of automated sales prospecting include: high-volume prospecting and outreach, targeting and personalization, and advanced data insights.
Misaligned technology (ex: using marketing automation tools for prospecting) can stall your efforts and make execution difficult.
The best solution to scale and automate your sales prospecting strategy is with a software tool specifically designed for that purpose.
What is Automated Sales Prospecting?
With automated sales prospecting, you can leverage automation tools and technologies to identify and engage high-fit prospects for your business. The process uses advanced data collection and analytics to reach potential customers who are both:
Aligned with your ideal customer profiles
Showing real intent to make a purchase.
Automation allows sales prospecting to happen on a greater scale than ever before. While manual and 1:1 outreach was commonplace for sales prospecting in decades past, automation now allows you to engage large numbers of high-potential prospects with automated communication—without sacrificing the quality of your interactions.
Automated sales prospecting outreach is:
Targeted
Data-informed
Personalized
Prospect-driven
The last element is key. With automated sales prospecting in place, you no longer have to take shots in the dark to reach the prospects you want. You can build your outreach strategy based on your prospects' behaviors, preferences, needs, and expectations.
As a result, they'll convert to your sales pipeline at a higher rate—and that's the ultimate goal.
Automated Sales Prospecting vs. Marketing Automation
At most companies, marketing automation is a more familiar concept than automated sales prospecting. Unfortunately, that means they often lump in sales prospecting with it.
This happens mostly when teams think of all automation tools as falling into the same category. They believe they can leverage marketing automation platforms to handle their prospecting outreach as well, when in reality it requires a totally different kind of tooling.
Here's why:
Marketing automation is mostly about inbound lead generation—SEO, landing pages, and the like. But sales prospecting is an outbound effort. It's about prospect data, cold email outreach, direct and proactive engagement, and sales flows.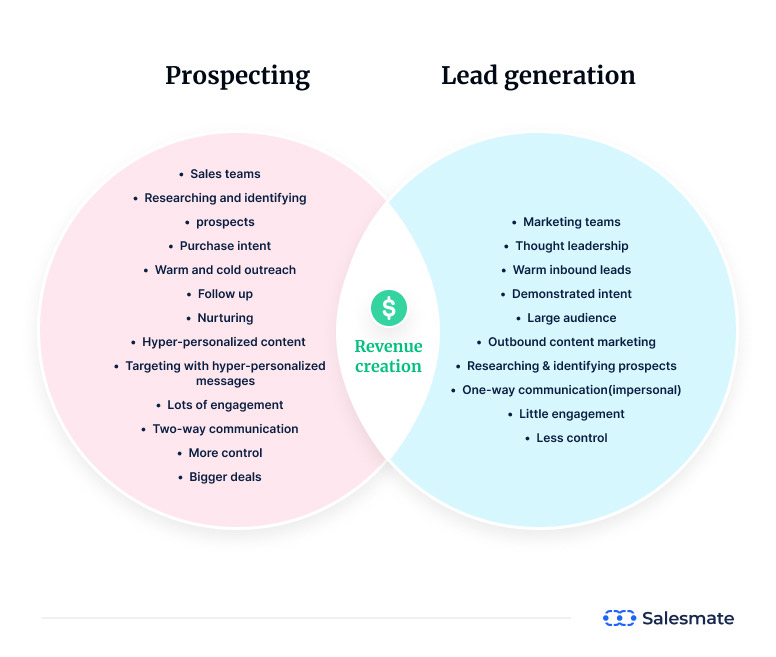 Inbound is effective, but it's slower. It generally captures potential leads simply because you didn't reach them through your outbound efforts first. And that's great—it's one of the reasons why inbound exists.
But to be first to reach the highest-fit, best potential customers for your business, you need automated sales prospecting that's designed specifically for fast, targeted, effective direct outreach.
The Risks of Haphazard Sales Prospecting
Lumping sales prospecting in with your marketing strategy or failing to use the right kind of automation tools and approaches can lead to big problems—ones that slow down your strategy and send customers to your competitors, instead.
Here are a few of the biggest issues companies encounter with poor sales prospecting automation:
Reaching the Wrong Prospects
When you aren't automating with sales prospecting specifically in mind, you're at risk of reaching the wrong leads, or reaching the right leads at the wrong time. Effective sales prospecting is about precise targeting, from both a timing and prospect perspective.
When you have inaccurate data or approach prospecting with a marketing mindset, you could miss out on great leads simply because you engage them ineffectively.
Getting Sent to Email Jail
Email marketing platforms like HubSpot or MailChimp generally consider sales prospecting a violation of their terms of use. HubSpot will even suspend your ability to send email when your bounce rate exceeds 5%—a number anyone with prospecting experience knows is likely to be reached.

Being sent to email jail is a huge hassle that can stall your entire outbound strategy. It's one of the biggest reasons you should avoid prospecting with marketing automation tools.
Sales Prospecting Being Deprioritized
Sales prospecting is an important standalone part of your growth strategy, and when it's not supported by the right tools and resources, it's less likely to drive any results for your business. When automated sales prospecting is attempted haphazardly or lumped in with marketing, it gets deprioritized and won't actually generate any high-quality leads.
How a Sales Prospecting Automation Tool Can Help
Automated sales prospecting software tools, like RevBoss, are the solution to prospecting challenges like the ones we outlined above, and the key to bringing in bigger sales results.
The RevBoss platform was designed with the single goal in mind of helping clients increase their sales pipelines and close more deals. Here's how we do it:
Get the Right Prospect Data: We integrate with leading data sources — including our home-grown engine — to provide our clients precise, accurate B2B contact data.
Find Your Sales Flow: Our team builds a sales flow that drives prospect engagement with personalized sales touches. We route active prospects to your sales team.
Learn, Rinse, Repeat: You work the prospect convos that we turn up and coordinate with our team to measure and optimize. We grow your pipeline and you win more clients.
Plus, our platform integrates seamlessly with other critical tools, like your CRM, so you don't have to worry about the "Not another tool!" concern from your teams and execs.
Ready to learn more about how we can help you grow? Schedule a call with us today.