The Definitive Guide to Customer Loyalty in B2B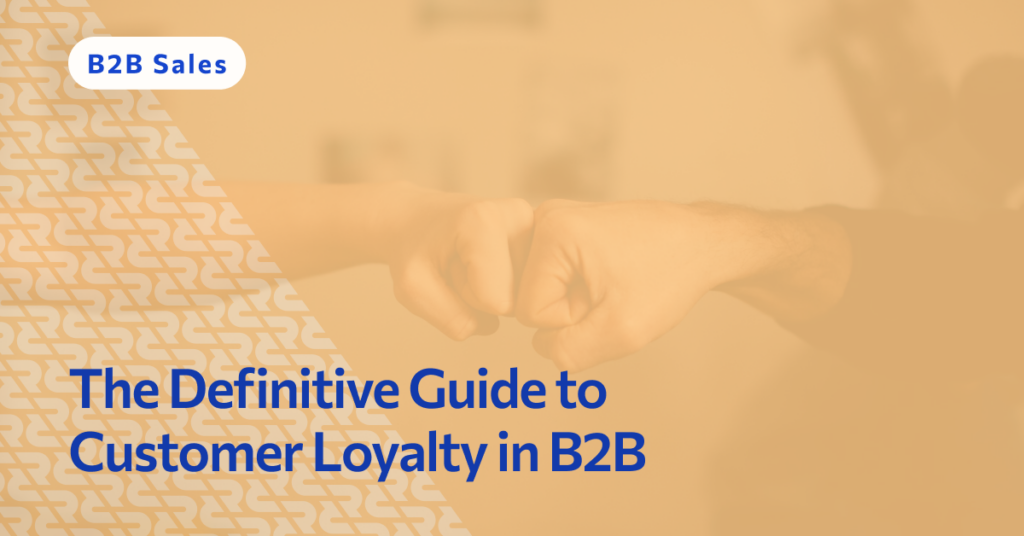 B2B customer loyalty is a critical measure of your company's success in a number of ways—it measures how well you're building trust with your current customer base and indicates future opportunities for revenue growth through channels like upselling, cross-selling, and referrals.
But today's customers are also more informed than ever, and their expectations are high. They want to engage with B2B brands who understand their unique needs, deliver optimized experiences, and add value beyond just their product/service solutions. That means earning customer loyalty is no cakewalk—it requires smart, focused, consistent effort.
In the sections that follow, we'll explore exactly what's required to earn customer loyalty in B2B, plus 5 proven ways you can do it for your business.
Quick Takeaways
Customer loyalty boosts brand advocacy from your current clients, which drives higher word-of-mouth referral rates—a key driver of B2B business growth.
Exceptional customer service and support built on immediate responsiveness are cornerstones of the modern customer experience.
You can increase brand engagement by building a community for your current customers to interact with each other.
Direct customer feedback is the best way to understand customer experiences, quickly address issues, and adjust your strategies to meet customer needs.
Formal B2B referral programs incentivize showcase customer loyalty and incentivize your customers to recommend your business.
Why is B2B Customer Loyalty So Important?
The criticality of customer loyalty in B2B business can not be overstated—not only is it a clear indicator of strong customer relationship management, but it also presents huge opportunities for additional sales and ongoing business growth.
Loyal customers are more likely to make repeat purchases, engage in upselling or cross-selling activities, and contribute to stable, predictable revenue streams over time. This is important in particular for SaaS and other subscription-based businesses that depend on renewals.
Further, loyal B2B customers are more likely to serve as brand advocates, generating positive word-of-mouth referrals and testimonials that drive new business. In the B2B world, 91% of referrals influence potential customers, 88% of customers specifically seek out word-of-mouth assurance, and 75% say it's a key influencer in their final purchase decision.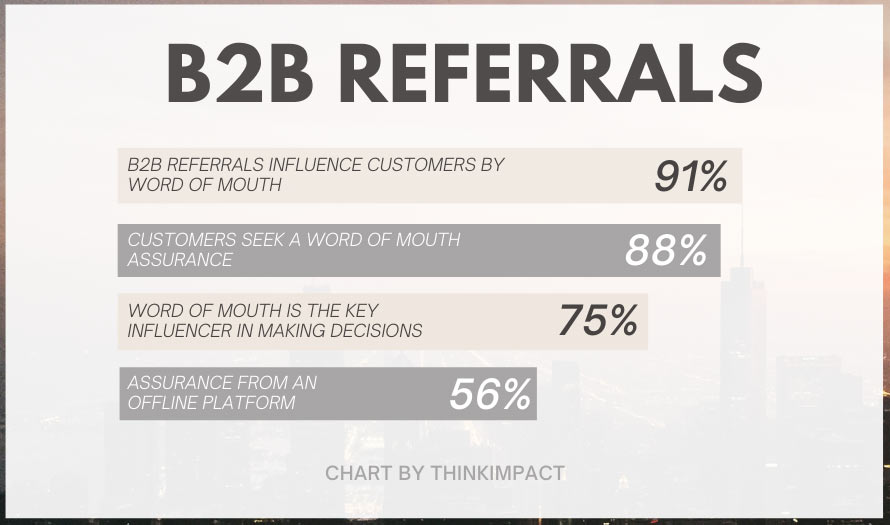 Word-of-mouth testimonials also contribute in a more holistic way to a positive brand reputation and better brand perception by your target audiences.
Finally, customer loyalty also fosters long-term partnerships and collaboration. In the B2B sector, cultivating trust and loyalty with your customers encourages them to view your business as a strategic partner rather than simply a transactional vendor. This can lead to deeper engagement, co-development of innovative solutions, and even exclusive partnerships.
In the long run, customer loyalty contributes to greater business stability and resilience amidst the type of market uncertainty we've experienced over the past several years. During challenging times, loyal customers are more likely to stand by your business.
Let's look at some effective ways you can cultivate customer loyalty for your B2B company.
Ways to Cultivate Loyalty From Your Current Customers
Provide Exceptional Customer Service and Support
Customer service and support are related but slightly different. Service refers to the ongoing interactions you have with buyers in your pipeline and current customers who have questions or need guidance in any number of ways. Support refers to helping your customers successfully use your solutions and maximize ROI through their implementation. Today, support is often very technical and focused on product troubleshooting or optimization.
Both are critical to customer loyalty, but perhaps more difficult than ever to execute in a way that meets customer standards. For example—82% of consumers rate an "immediate" response as important or very important when they have a marketing or sales question, and 90% say the same when they have a customer service question.
The catch: "Immediate" is defined as 10 minutes or less.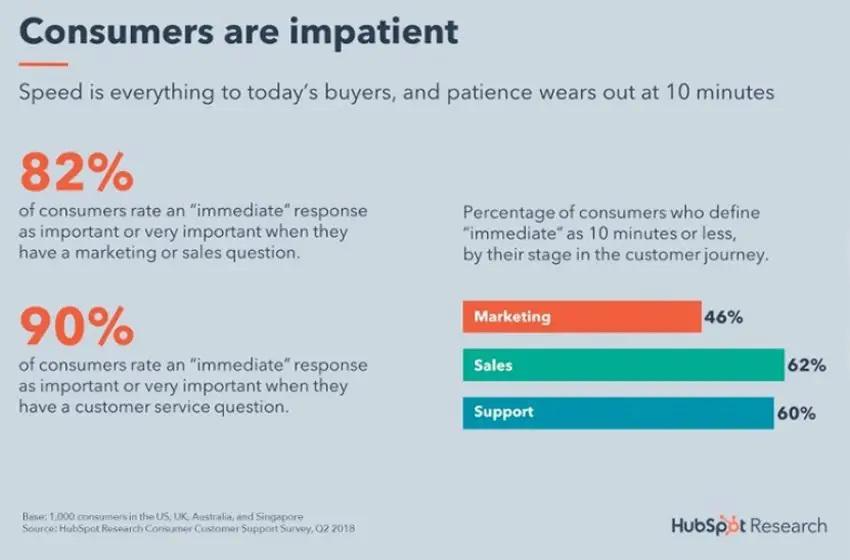 To earn customer loyalty through exceptional service and support, prioritize both functions and put the right channels in place for immediate response—for example, live chat or chatbots in addition to more traditional phone and email channels. When you don't have the infrastructure or resources for this in-house, consider outsourcing service and support for better execution.
Continually Optimize the Customer Experience
Customers are more likely to be loyal when they can see you prioritize their experience even after they make an initial purchase. Implement processes for customer onboarding to set your new customers up for success with your solutions. Assign customer success specialists to be available and provide support however needed.
At the same time, on a larger scale, continually look for ways to enhance the overall customer experience by making product and process improvements and engaging your customers in new ways that align with their preferences and needs.
Build a Strong Customer Community Network
Building a strong customer community network—one that allows your customers to interact with other current customers—builds customer loyalty through powerful social proof. Customers can see the success their peers are experiencing with your solutions, find ideas and inspiration, work together to solve problems, and even build potential partnerships.
It's also an added benefit for your customers that they see you provide and appreciate as it delivers additional value for them. Ways to build community among your customers include website discussion boards, active social media channels, and interactive events.
Collect and Act on Customer Feedback
There's no better way to build customer loyalty than by collecting and acting on direct customer feedback. Not only does it show your customers you care about their experiences, it allows you to make smart decisions about how to optimize customer-focused strategies that aren't rooted in assumptions.
Customer feedback is also critical to quickly identifying and solving customer issues, an essential part of maintaining customer loyalty in B2B. The research drives home the importance of this point—91% of unhappy customers won't do business with you again. On the flip side, 70% say they will buy again if their problems are resolved.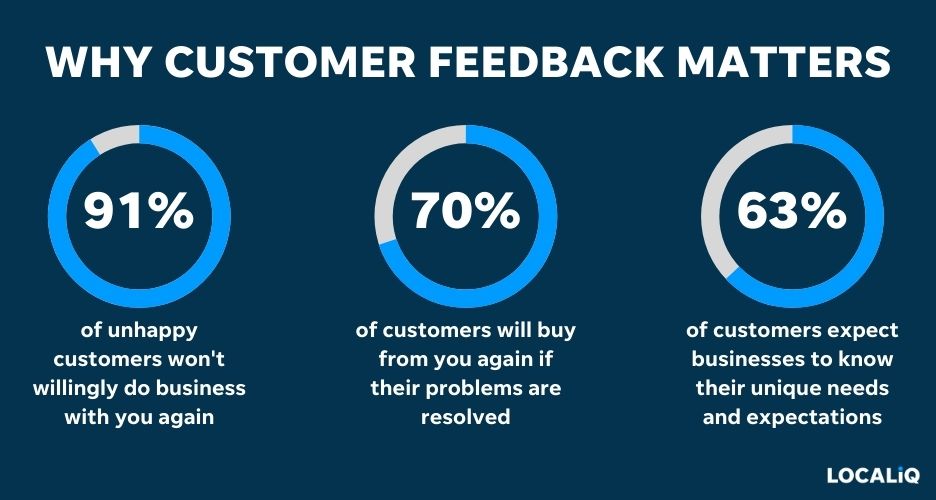 You can collect customer feedback through direct methods like email or social media surveys, and through indirect methods like tracking insights shared during customer service and support interactions.
Launch a B2B Referral Program to Spread the Word
Last but not least, capitalize on your hard-earned B2B customer loyalty by formalizing a referral program for your business. When you do, your current customers are more motivated to refer your business in exchange for incentives and can do so more conveniently through the channels you provide (like online forms and highly shareable content).
Given that we know referrals are one of the most common and effective lead generators for B2B business, referral programs are also an active investment in your company's future growth.
Build Your Customer Loyalty by Reaching the Right Audiences
You can set your business up for customer loyalty success by targeting the right buyer audiences for your business—those most in need of and best fit for the solutions you provide. RevBoss can help you reach them with automated, scalable, effected outbound prospecting.
Our outbound email software and lead generation services are custom-built for startups, consultancies, marketing agencies, and other B2B organizations.
Schedule a quick call with us today to find out how we can help you win more clients.