B2B Lead Generation: 6 New Strategies to Try in 2022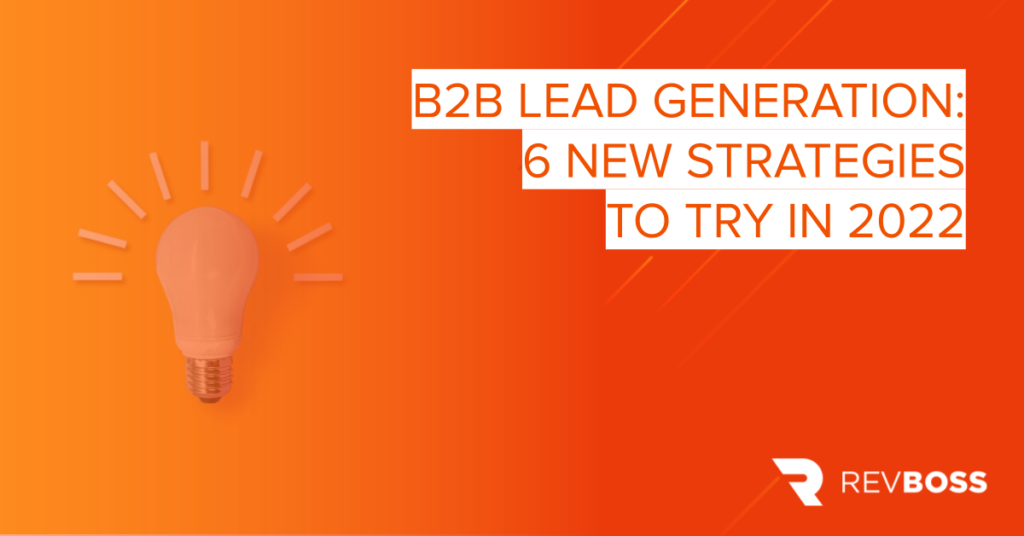 Today, customers are savvier than ever and that means companies need to get creative when it comes to their B2B lead generation strategies.
Two factors have drastically changed the B2B marketing and sales landscape in recent years. First, buyers are inundated with marketing messages from all angles. Email, Google ads, social media, and other online channels have made marketing a constant. It's estimated that people now encounter up to 6,000 to 10,000 ads every day. The average professional receives 121 emails daily.
The result? People are filtering out messages that aren't attention-grabbing and extremely relevant to their needs.
Second, buyers are now doing most of their research themselves. In the past, people depended on sales reps for information. Today, they do up to 70% of their research before ever contacting a single vendor. This means that if B2B companies want to have control over their message and the first impression they make on potential buyers, they need to be strategic about their online lead generation tactics.
We've put together a list of 6 unique B2B lead generation strategies that can boost the number of leads you earn in 2022.
Quick Takeaways
Well-rounded B2B lead generation strategies need both inbound and outbound tactics.
Marketing automation and a good CRM system are essential to creating scalable and data-driven lead generation strategies.
More than 75% of B2B referrals become viable leads for that company.
Leveraging online platforms like Facebook groups, subreddits, and LinkedIn Navigator keep you connected to your larger audience and help you earn warm leads.
Content marketing can earn more inbound leads with a dynamic approach that includes multiple content types such as blogs, videos and infographics.
B2B lead generation: the need-to-know basics
Before we dive into specific B2B lead generation strategies, let's quickly cover the basics that every B2B sales marketing and sales team should know. Lead generation is the process of capturing interest in your company's solutions to fill your sales funnel with qualified potential customers. Most often, the lead itself is contact information that your sales team can use to begin the actual sales process.
B2B lead generation strategies fall into two main categories:
Inbound leads initiate content with you directly, usually through online channels you've created for them like website inquiry forms and email.
Outbound leads are initiated by your sales team through direct outreach.
In today's sales landscape, outbound strategies are starting to get a bad rap, and it is true that some of the outbound tactics that worked in the past are becoming outdated. Cold calls, for example, are more difficult now that it's a less-used communication channel and people can easily screen calls.
But it shouldn't be discounted. Cold email outreach in particular can be very effective. Social media has opened up an entire new world of outbound opportunities. And cold calls aren't totally dead, either — they just take a little more targeted effort.
The smartest companies leverage a balance of both inbound and outbound strategies to build a healthy sales funnel.
It's important to note, too, that B2B lead generation strategies should not aim to simply cast the widest net possible. While that might seem like the logical strategy for earning the most leads, it actually leads to sales teams wasting too much of their time pursuing leads that have no chance of converting. Lead generation today needs to be intentional, targeted, and authentic.
Now that we've covered the basics, let's dive into 6 specific strategies that can jumpstart your lead generation efforts right away.
6 B2B lead generation strategies you need to try
Create dynamic content
Content is undisputedly the most effective inbound strategy for increasing your brand visibility and capturing leads. But publishing regularly on your blog is likely no longer enough to keep potential buyers engaged with your content. Instead, you should be creating different types of content and getting creative about how you distribute it, building a well-rounded strategy and diverse library of content.
This might sound daunting, but there are simple ways you can expand your horizons that make a big impact on content ROI. Some ideas:
Launch a YouTube channel – Cisco predicts video will account for 82% of all online traffic by the end of this year, and online users consistently rate it as their most-preferred type of content. You can create a YouTube channel for your company that houses how-to videos, product demos, webinars, and other creative video content that's relevant for your audience. This gives your brand another avenue for visibility, too — YouTube is the second most-used search engine after Google.
Create infographics – Infographics are the most shared content type of all. They're extremely effective for sharing a lot of information in digestible ways. B2B companies can use them to make highly technical content like product overviews and how-to guides more engaging and approachable.
Publish social media stories – Social media stories can be a fun, casual way to incorporate video into your strategy. They're also extremely effective lead generators. Most platforms have built-in ways you can lead customers right from your story to the action you need them to complete, like clicking a link, "swiping up" to go to your product page, vote in a poll, or completing a form.
Build a community
It's easier than ever to be part of communities within your industry. Why not be the one who builds it? Creating online places for your current and potential customers to interact, ask questions, provide feedback, and talk to each other is an impactful way to stay connected with your audience and keep your brand top-of-mind. Facebook groups and subreddits are two common ways brands are already succeeding at this approach.
Utilize marketing automation tools
With so many communication channels and data points available, it's nearly impossible to target your efforts and track leads through the sales funnel manually. Effective B2B lead generation strategies use marketing automation software to track leads effectively, personalize interactions and touch points, and scale both inbound and outbound lead generation efforts. This strategy might not be new, but it's definitely essential for 2022.
Start a referral program
People trust their peers. Research has shown that 78% of B2B referrals become viable leads for that company. Some other statistics to consider: 91% of B2B buyers are influenced by word of mouth referrals, 88% of B2B buyers actively seek out referrals, and 75% indicate that referrals play a key role in their decision making.
These numbers are hard to ignore, and starting a referral program is fairly straightforward. Here are some quick steps you can take to get yours launched:
Offer an incentive to current customers who earn you referrals (typically a discount, additional service, or other similar reward).
Create a landing page for your referral program that outlines how it works, answers questions, and contains your lead-capture tool (i.e. lead magnet or straightforward inquiry form).
Make your referral content extremely shareable (include social media buttons on your website and share it on your own platforms).
Outline your tracking system before you launch (can be done through your CRM or even on a simple Google sheet if needed).
Use LinkedIn to find high-potential leads
LinkedIn Navigator is a powerful tool for finding and reaching out to high-potential B2B leads. Features like Advanced Search, LinkedIn Inmail, and LinkedIn Groups enable you to be extremely targeted in your research and personalized in your outreach.
Check out this overview on how to use LinkedIn Navigator specifically for B2B lead generation:
Make your presence omnichannel
Don't have website tunnel vision. In order to execute the most effective B2B lead generation strategy, you need your message to be visible and consistent across every channel that your customer uses.
Remember, omnichannel is not the same as multichannel. Rather than just using multiple channels to communicate with customers, a truly omnichannel strategy connects all channels to remember customer information, interaction history, and other important data points. This requires a good CRM system to track and manage your data behind the scenes.
Omnichannel lead generation creates consistent, convenient, and streamlined experiences for your potential customers that make them feel valued.
Our outbound email software and lead generation services are custom-built for startups, consultancies, marketing agencies, and other B2B organizations. Schedule a quick call with us and find out how we can help you win more clients.