The Strategic Role of Video in B2B Marketing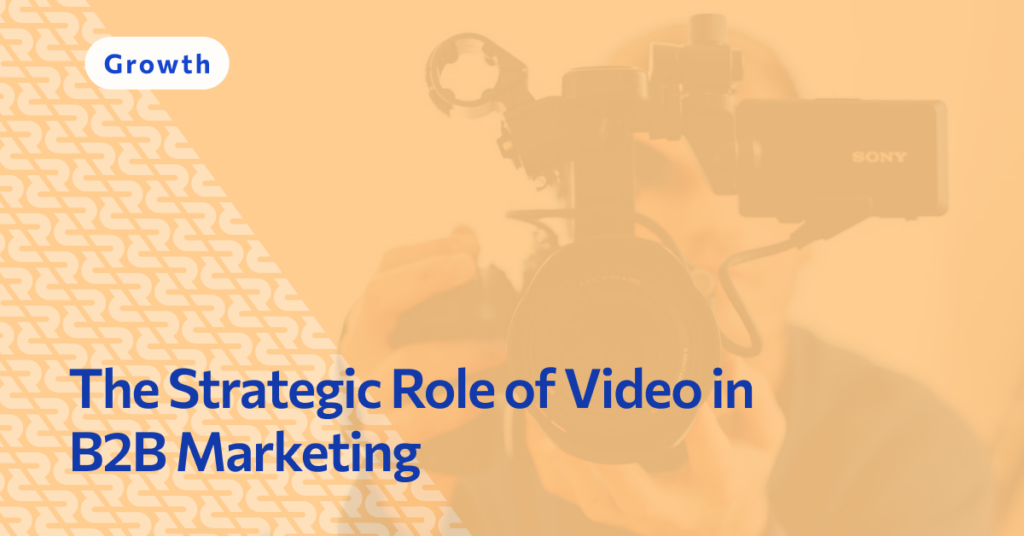 There's no doubt about it—B2B video marketing has arrived. It's at the top of most B2B marketers' priority lists, and a whopping 95% of B2B buyers say video plays a crucial role in their purchase decisions.
In other words: If you're not already incorporating video into your marketing strategy, the time is now. And we've created this guide to help you do it.
The sections that follow will give you context on the recent rise in B2B video marketing (and why it's here to stay), plus 5 compelling ways to incorporate video into your strategy right now.
Quick Takeaways
More than 75% of B2B marketers plan to invest in video this year.
Webinars have been rated a top demand gen tool and are great for driving real-time and post-event engagement.
Client success stories humanize social proof content and make it relatable for buyers.
Product demos are the most-sought after type of video by B2B buyers.
Social media stories and prospecting videos are two highly engaging ways to add video to your strategy without needing to execute much production.
The Rapid Rise of B2B Video Marketing
Over the past few years we've seen a significant shift toward video content as a top audience preference, not only with individual consumers but also B2B buyers. The pandemic undoubtedly accelerated viewership and business focus on creating video content, but in 2023 it shows no signs of slowing down.
According to the Content Marketing Institute, more than three-quarters of B2B marketers (78%) plan to invest in video marketing in 2023, making it the most-invested in content marketing area this year—ranked higher than other high-priority areas like social media, owned media, and UX.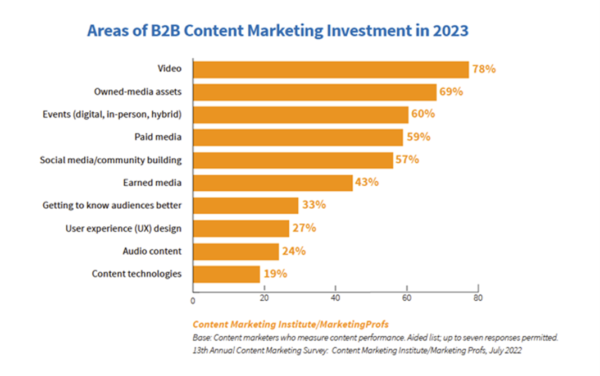 Interestingly, for B2B audiences specifically, long-form content seems to be gaining more traction than short-form, which is proving to be preferred in B2C spaces. That's because video types such as product demos, webinars, and thought leadership content are all more relevant in B2B.
According to Wistia's State of Video Marketing report for this year, long-form videos (those longer than 30 minutes) saw explosive growth over the past decade—to the tune of an 11,000% (yes, thousand!) increase.
Today, video is one of the key ways B2B companies can engage audiences, showcase products, and demonstrate thought leadership. In a world where B2B buyers do so much of their research independently before they contact sales teams, video content can connect audiences with subject matter experts and other key representatives to build connections before they reach out directly to your company.
The accessibility and affordability of video production tools have also democratized B2B video marketing, allowing companies of all sizes to leverage its potential. From product demonstrations and client testimonials to thought leadership content and virtual events, videos have become an indispensable part of the B2B marketer's arsenal.
And as the video landscape continues to evolve, B2B video marketing poised to play an even more prominent role. With personalized and interactive video experiences, augmented reality (AR) and virtual reality (VR) applications, and data-driven insights, B2B marketers can create immersive campaigns that drive engagement, generate leads, and foster meaningful connections with potential buyers.
Let's look at 5 smart ways you can make video a bigger part of your B2B marketing strategy.
5 B2B Video Marketing Strategy Essentials
Webinars and Events
One of the fastest-growing types of video during the pandemic was webinars—in the absence of in-person interaction, companies turned to online events to stay engaged with their audiences. As it turned out, webinars proved to be a permanently powerful tool for B2B content marketing and lead generation.
Webinars offer best-of-both-worlds opportunities for B2B marketers—live, real-time engagement with people who attend your webinars when they happen, and a long-term lead magnet that can be optimized on a landing page to continually generate more leads.
The proof is in the numbers when it comes to webinar popularity and effectiveness: 45% of marketers say that webinars are their most effective top-of-the-funnel demand gen tactic, rated higher than other types of virtual events and videos (#2 and #3, respectively).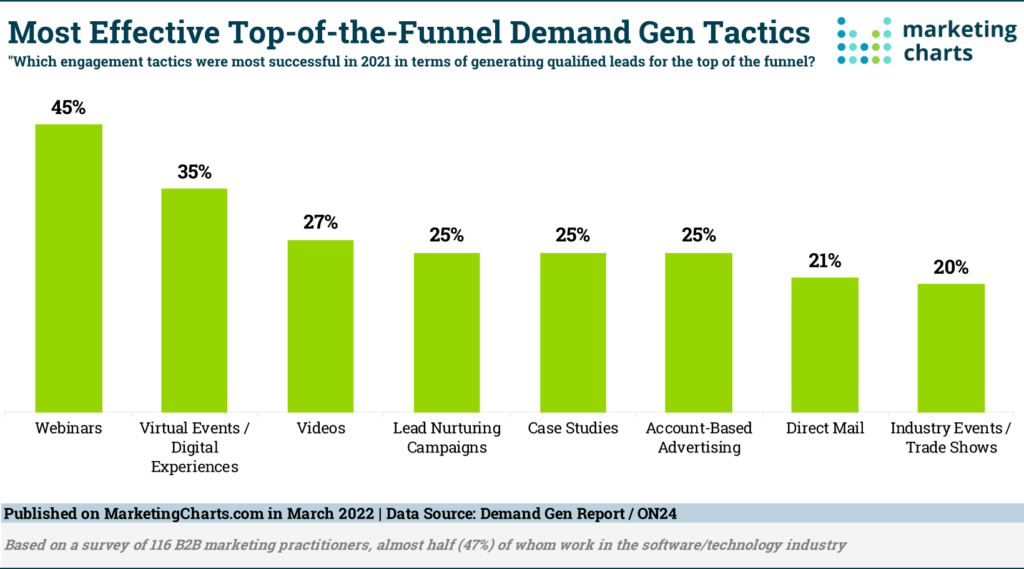 Client Success Stories
Client success stories are a critical type of social proof content for B2B customers, especially given that more that nearly 90% of B2B buyers specifically look for word-of-mouth testimonials and referrals before they make a purchase.
And while you may already be telling client success stories in narrative format, video is a sure way to make them more compelling. By putting faces to the names in your client testimonials and telling their stories through videos, you humanize your social media content and make it more relatable to new potential buyers.
Here's a great example from HR software publisher ADP:
Social Media Stories
Social media stories are one of the best ways to make your brand more relatable—You can give your audiences a behind-the-scenes look at your day-to-day operations, introduce them to people in your organization, and create campaigns to market different products and initiatives for your business.
The best thing of all? Social media stories are casual—While you can produce and share branded content on your stories, you can also take off-the-cuff and authentic videos meant to be more relatable, humanizing your B2B brand and building connections with individual decision makers from target buyer organizations.
Social media stories are also perfect for creating interactive content like polls or live videos to get your audiences engaged. The below example from marketing guru Gary V shows how video can be easily incorporated into campaigns without having to get fancy about production.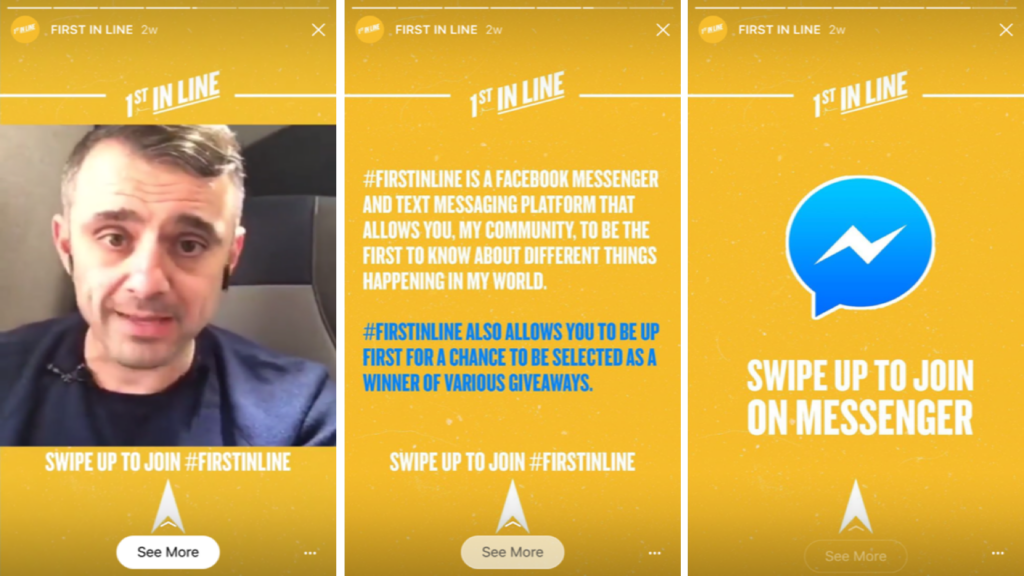 Product Demos
"Learning about a product/service" is the top reason B2B buyers seek out video content. You can meet this demand by using product demo video to showcase your products in action, highlight what they look like and how they're used, and help your audience get a firsthand idea of what it would be like incorporating your products into their own companies and processes.

Video Prospecting
Last but definitely not least on our list is video prospecting—one of the best ways to stand out from the crowd in a competitive B2B prospecting market. B2B purchase decision makers no doubt get tons of email communications from potential providers they research.
Making video a part of your prospecting outreach allows for greater personalization and generally more engaging content—in other words, you won't be just another sales email in someone's inbox.
There are platforms you can use to make prospecting video creation easy, and like social media stories, these don't require a ton of production to be engaging and have value. Check out the example below from Vidyard to see what we mean: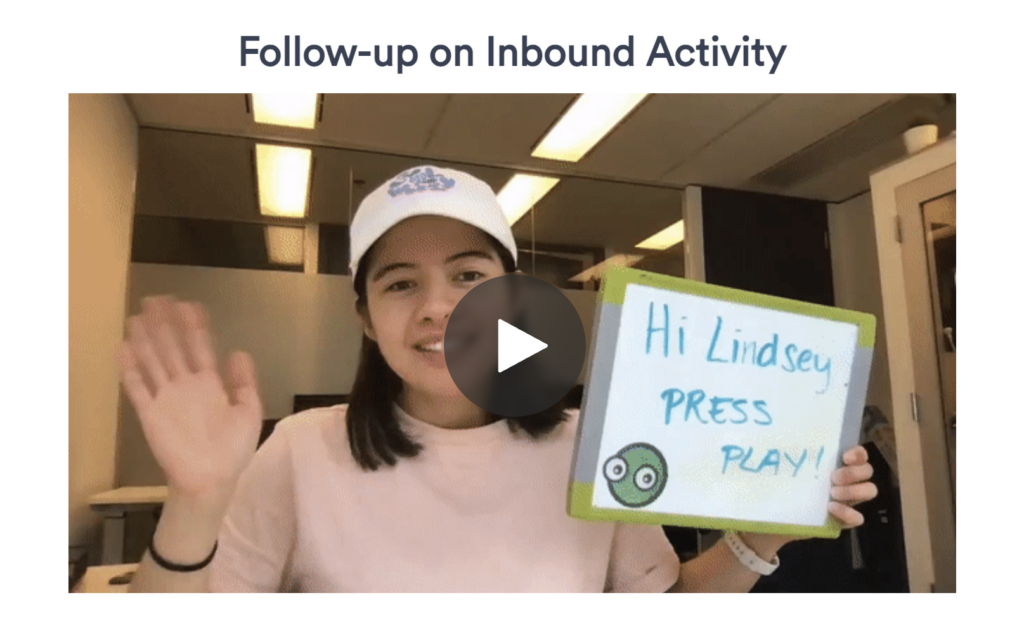 Over to You
Ready to launch a killer new B2B video marketing strategy? By using the ideas we've covered in this article, you've got plenty of options for using video to grow your brand through content marketing. And if you need help leveraging video content in your outbound marketing strategy, RevBoss can help.
Our outbound email software and lead generation services are custom-built for startups, consultancies, marketing agencies, and other B2B organizations.
Schedule a quick call with us today to find out how we can help you win more clients.