Getting Started with B2B Video Production (for Video Producers)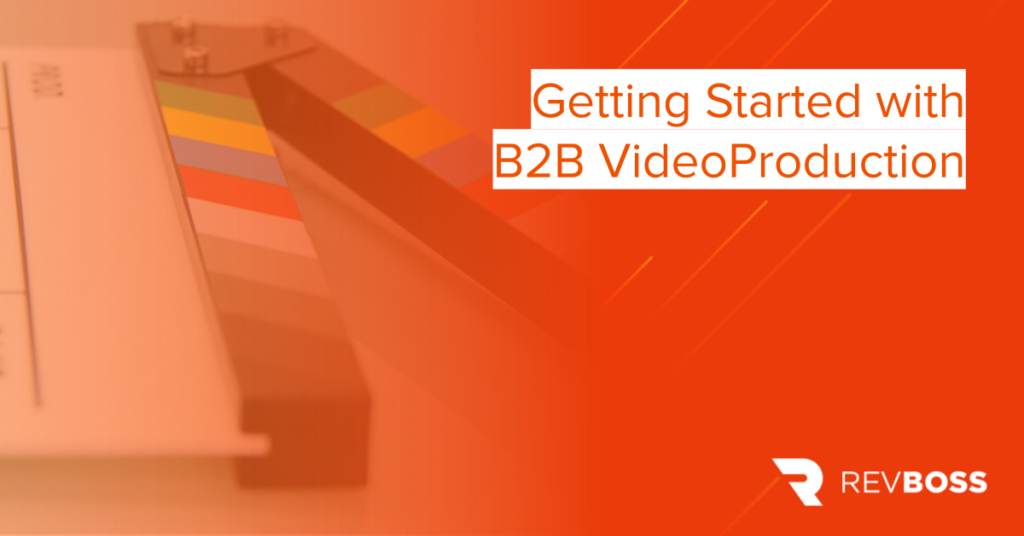 B2B video production presents a huge opportunity right now for producers and agencies to expand into a new market — companies looking to promote their brand with high-quality and high-volume video content.
Unlike in decades past (or even a few years ago) when companies would create a branded video every few years or so, today they're making video an active and full-time part of their content marketing strategies. What they aren't looking to do is take on the costs associated with video equipment, employees, and other overhead.
Instead, they're hiring video production agencies — and not just for one-off projects, for ongoing services to help them connect with their customers through video.
Given the massive (and still growing) demand for B2B video content from buyers (a staggering 96% of businesses now say video is a central part of their strategy), all signs point to an increasing need for B2B video producers for the foreseeable future.
In this guide, we'll walk you through how to take the leap into this new market. We'll explain what's unique about B2B video production, types of B2B videos, and six steps for launching your strategy right away.
Quick Takeaways
B2B video production encompasses creation of many types of B2B videos, including general brand promotion, product videos, case studies, and internal comms videos.
The smartest go-to-market strategy in B2B video production is to target your highest potential customers with products/packages you're already best at.
You can start building your B2B video portfolio by creating content for your own brand.
Hiring B2B sales experts can help you get your strategy right and boost sales results.
What is B2B video production (and what's unique about it?)
B2B video production is an umbrella term encompassing any videos B2B companies make for a variety of purposes — to grow their brand awareness, promote products and services, educate audiences, tell stories, and more. It includes many types of video, including:
General brand promotion videos
Brand promotion videos look most like what we think of as a traditional commercial — they promote an overall brand and are created to build awareness with target audiences. They're usually short, highlight a high-level value proposition, and spark interest in further content.
Here's an example from global advisory firm KPMG:
Product videos
As the name suggests, product videos focus on the features and benefits of a specific product in a company's portfolio. These videos are also typically short and aim to highlight the product in a visually appealing way. Apple does this consistently well, as seen in their recent product video for the HomePod:
Case studies and testimonials
Case studies and testimonial videos showcase a company's past success with real clients. These are an especially popular and powerful type of B2B video, given that 88% of B2B purchase decision makers seek out word-of-mouth recommendations, even from people and businesses they don't know personally.
This is an example from Ohio-based video production company, Blitz Studios:
Educational videos
Educational videos typically come in the form of webinar events, where brands feature internal subject matter experts to cover a topic that's important to their audience. It's an increasingly important type of video for brands as 40% of B2B buyers now say they use webinars specifically to help them make purchase decisions.
Webinars are one type of video that can be executed fairly easily by internal teams using platforms like Zoom. Still, for larger events and/or those that require inclusion of many speakers and supporting content, companies often turn to video production companies for execution support.
Below is a webinar example from Foundry, a software publisher in the creative industry. It's 90 minutes long, but if you skip around for just a few minutes you'll be able to see how well-produced it is. It features high-quality live video from the three hosts, and a seamless mix of static content and pre-recorded video to support the topic.
Internal comms videos
Internal communications videos are another type of educational B2B video content, albeit only meant for internal groups (like employees, boards of directors, executives, investors, or similar stakeholders). This type of video content has become more critical in recent years as companies aim to keep employees and partners engaged while operating remote or hybrid work models.
The below example is an annual report summary video from global agricultural merchant, Louis Dreyfus Company.
Livestream videos
Livestream video is happening over a few different channels for B2B organizations — social media (where it's a bit more casual and usually comes in the form of behind-the-scenes peeks or fast Q&A) and through digital events (like conferences and summits, for example).
In both cases, B2B video production support ensures the live video is executed seamlessly and looks professional.
Here's a livestream replay of an Apple product launch event:
Getting Started with B2B Video Production
Define your target audience
Start by deciding who your target audience is. As with any business, it's a mistake to try to be everything to everyone — there are many different types of businesses that need B2B video production services, and you want to target those that fit best with what you have to offer. The best way to do this is to think about what you already do best as a video producer.
For example — Do you specialize in short form video? Are you good at interview or documentary style production? Do you have experience working with large enterprises or small businesses? Do you have expertise in a particular industry?
These kinds of questions will help inform your decisions about target audiences as well as our next step — figuring out which types of products, services, and packages you'll offer.
Decide on product and package offerings
It's best practice here to smart small and build your offerings out as you find success. Start with core offerings (and packages) that meet your audience's primary needs and showcase what you're best at. As you win more business and establish a portfolio of work, you can either expand on those offerings and/or stick with what's working and focus on winning more clients.
Set your price points
Pricing is an important factor in winning any business — video included. A challenging part of B2B video production is getting new potential clients on board with a significant financial investment on their part — even for those that know the value of video (and that they need it in their strategy).
As a starting point, look at competitors in your space (and their portfolios) and use it to price your own offerings. Don't compromise on the value of what you provide, but do align what you offer with what your target customers can (and are willing to) pay.
Create B2B videos for your own brand
If you need a portfolio starter, begin by making B2B videos for your own brand — and use them to promote your services. It's a win-win. You get the brand awareness (and the new leads) while your customers can see the type of quality product you can deliver.
Showcase your portfolio
As you build your portfolio to include work you do for clients, make it prominent so potential new clients can view it and use it to help them make a vendor decision. Your website is the most obvious place to showcase your work, but you can also share it on social media, maintain a YouTube channel, ask clients to give you a shoutout on their own channels, and include it in lead-gen emails you send (to name a few options).
Hire B2B experts
If you don't already have it internally, it may be a good idea to hire someone with dedicated B2B sales experience on your team. B2B interactions have a flavor of their own and even differ depending on the industry and/or type of business or product you're dealing with. An expert who knows the ropes can ensure you don't miss out on sales for a great product due to lack of experience in the B2B sector.
Over to You
Looking to find new B2B video clients to boost your business? RevBoss can help! Our outbound email software and lead-gen services are custom-built for startups, consultancies, agencies, and other growing B2B organizations.
Schedule a quick call with us and find out how we can help you win more clients.