6 Blog Post Formats That Appeal to B2B Visitors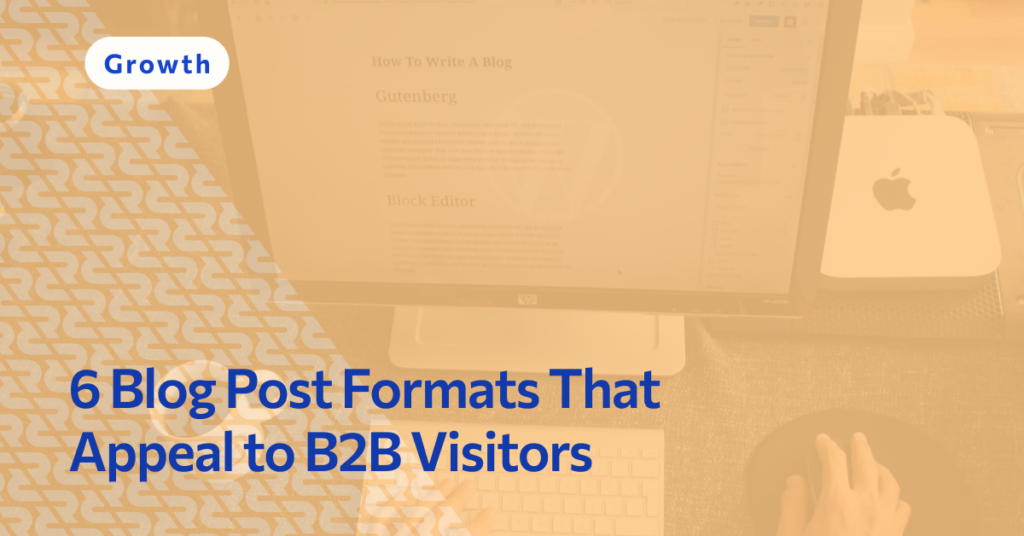 Your B2B blog is the cornerstone of your content marketing strategy, and publishing a variety of blog post formats is necessary to engage different audiences with varying needs. Plus, using many blog post formats makes your blog more exciting and diverse, delivering a combination of content to educate, entertain, inspire, and advertise your brand to potential customers.
In this article, we'll cover more about why your blog is so important to your larger marketing efforts, then walk through 6 blog post formats proven to resonate most with B2B buyers and that you can incorporate into your strategy right away.
Quick Takeaways
Blog posts attract and engage prospects as they do their independent online research on potential providers.
Using a variety of blog post formats keeps your blog fresh and interesting to readers with different goals and needs.
The best blog post formats to reach B2B audiences are: how-to guides/tutorials, news commentary, topical thought leadership, expert interviews, product comparisons or buyers' guides, and case studies.
Other important strategies for optimizing your B2B blog include SEO, amplifying content on other channels, publishing frequently, and amplifying content on other channels.
Why Do You Need to Publish Blog Posts?
An active, engaging blog is a must for every B2B company that wants to attract high-potential customers and stay competitive in their market. For starters, B2B decision makers use blogs to research vendors and perform their due diligence.
In fact, Gartner research shows that B2B buyers spend more than a quarter of their entire buyer journey researching independently online, compared to just 17% actually meeting with potential suppliers. An active blog demonstrates to these individuals that your business has the knowledge and experience to deliver effective solutions, and that you're a thought leader in your field.
Blog posts also ensure you stay visible to target audiences, helping it rank on search engines for the topics your customers care about, and providing a library of content that can be amplified on other channels, like social media and email.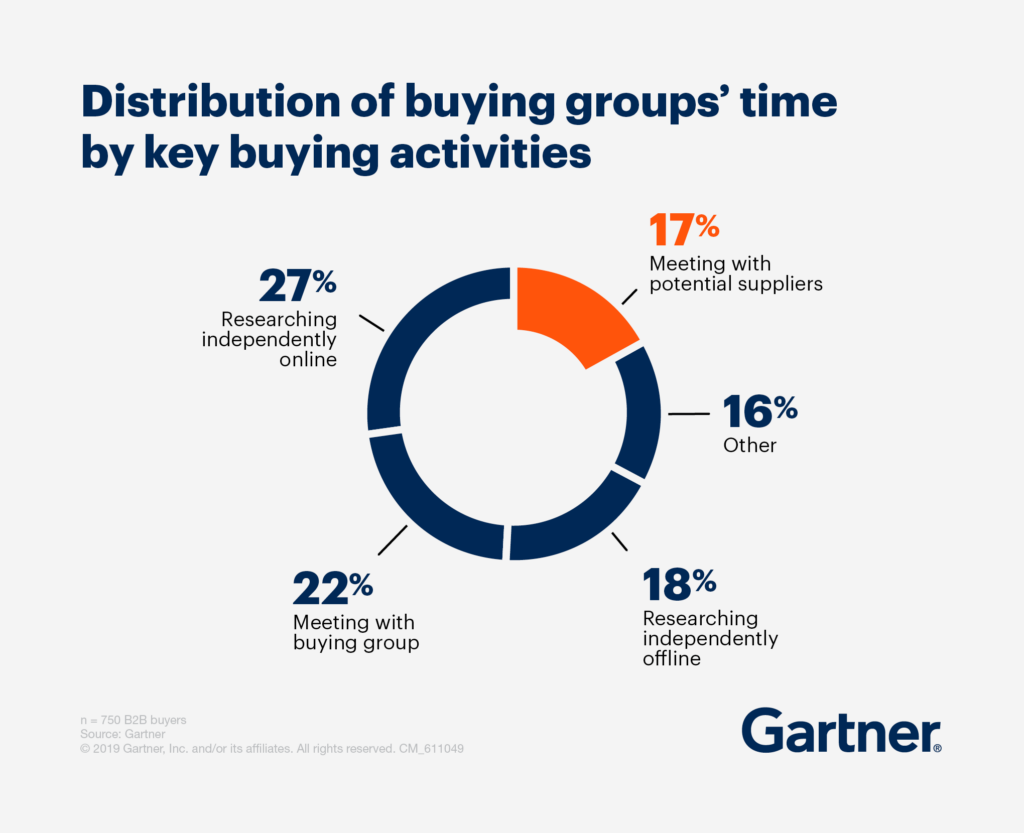 High-value blog posts also help customers solve problems, learn about industry-relevant topics, and accomplish timely tasks, building trust with your audiences and motivating them to choose you when it comes time to make a purchase.
Finally, blog posts are a competitive necessity in every industry. With nearly every B2B company leveraging blogs in some capacity, publishing one for your business is essential for competitive positioning alongside other providers in your space.
Blog Post Formats Your B2B Web Visitors Want
Publishing different blog post formats keeps your B2B company blog fresh and diverse. In this section, we'll outline some of the best formats to use for appealing to B2B audiences.
How-To Guides and Tutorials
The surest way to build strong relationships with potential customers online is to publish content that resonates with their pain points, or the needs and challenges driving them to seek outside solutions. How-to guides and tutorials are the perfect blog post formats to do this.
Guides usually walk readers through a topic or process they need to understand, while tutorials are more product- and solution-specific. Both offer practical advice, actionable tips, and a clear roadmap for B2B professionals to solve a problem, understand a topic, use a tool, or accomplish a goal or task.
By addressing pain points and providing valuable insights, how-to guides establish your expertise, build credibility, and position your business as a trusted resource, ultimately attracting and engaging the right B2B leads for your business.
News Commentary
Every professional industry has news, events, and trends that companies need to understand in order to stay relevant and serve their customers well. Don't be afraid to throw your hat in the ring when it comes to commentary and opinion about what's happening in your space. Doing so can differentiate your brand and position you as an expert to buyer audiences.
Timely commentary does require some extra effort and expertise. You'll need to keep up with industry research and leverage internal subject matter experts (SMEs) at your business to provide insights and help write (with marketing team support) your opinion-based blog posts.
Topical Thought Leadership
Speaking of experts within your company—thought leadership is one of the best blog post formats to showcase your company's areas of expertise. Thought leadership content shares high level wisdom and insights about topics that are especially important to your audience.
In most cases, it comes from executive leaders or SMEs who authentically have the knowledge to contribute to thought leadership pieces. At many companies, marketing team members work directly with these contributors on the development of thought leadership pieces.
Thought leadership builds trust with buyers by showing that your company is a leader in your field and providing valuable content resources that include knowledge not attainable without a certain level of experience and expertise.
Today, more than 90% of companies are either already creating thought leadership content or working on incorporating it into their content strategies.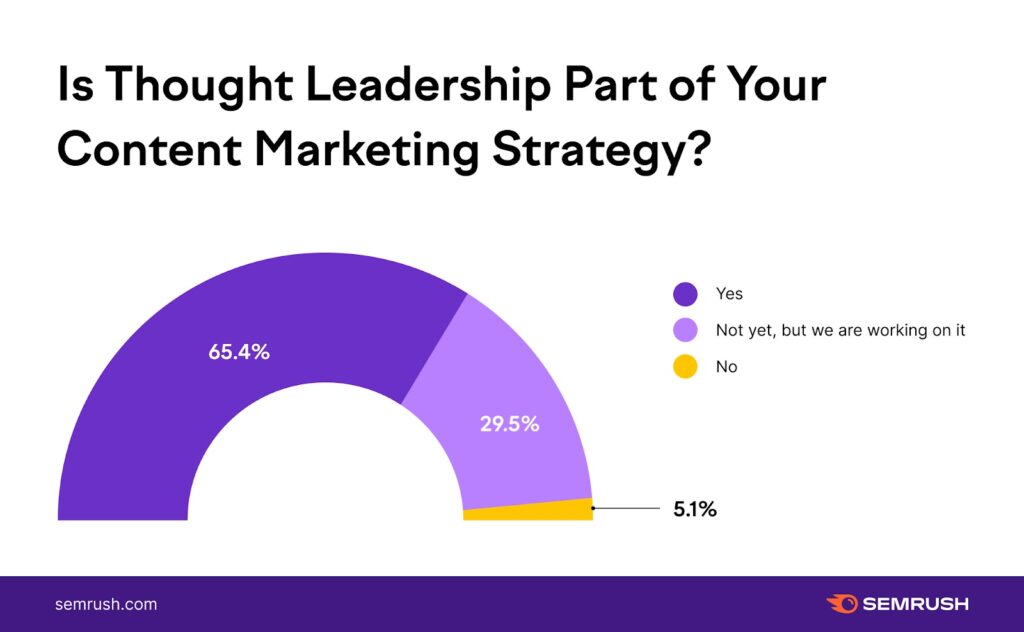 Expert Interviews
Expert interviews are a type of thought leadership blog post that highlights the unique insight of one individual within your company or industry. These interviews offer in-depth knowledge, expert opinions, and real-world experiences that can benefit B2B professionals who are seeking industry-specific guidance.
By featuring interviews with respected individuals, the expert interview blog post format also humanizes your content by featuring a real person, showing that the content you publish comes from real people who contribute to providing exceptional solutions.
Over time, expert interviews can also provide your audience members with a diverse range of individual perspectives and experiences that increase their understanding of the most important (and often complex) topics they face in their work and purchase journeys.
Product Comparisons or Buyers' Guides
It can feel counterintuitive to cover external and even brands, products, and services that are directly competitors to your business. But product comparisons and buyers' guides are two blog post formats that do just that—and by doing so, drive lead-gen and business growth.
How? Mainly by being extremely honest and transparent with your potential customers. B2B buyers are smart—they know there are several quality options on their market for almost every business need companies might need to fill.
When you directly acknowledge this reality and publish blog posts that honestly highlight the features, benefits, and drawbacks of your own offerings as well as those from other brands, you show customers that you're honest and can be trusted.
At the same time, publishing product comparisons and buyers guides puts you in the driver's seat when it comes to positioning your brand alongside others in your space.
Case Studies
Last but not least are case studies—a blog post format that highlights customer success stories and/or otherwise provides a real-world example of how your brand delivers value. Case studies provide social proof that tells customers others are already succeeding with your brand.
They also put your offerings into context, showing exactly how they deliver value for customers and inviting B2B buyers to compare how their companies could achieve similar results.
Case studies can also include customer testimonials, or firsthand accounts of how working with your brand was a positive experience that led to real results for their organization.
Optimizing Your B2B Blog for Lead Generation
Using a combination of the above blog post formats is only one of many steps necessary to optimize your B2B blog and make it a lead-generating component of your marketing strategy.
Before we wrap up, let's quickly run through some of the best ways to further optimize your blog for greater lead-gen results:
SEO — Optimize your blog posts for search engines with keyword research and other tactics to align content with Google ranking factors.
Frequent Publishing — Publish several times per week to build consistency and get your blog recognized by audiences.
Web Performance — Pay attention to technical aspects of the website visitor experience and related KPIs like page speed, load time, bounce rate, session duration, etc.
Data-Driven Reporting — Track blog performance objectively with data-driven reports designed to measure KPIs in a consistent, standardized way.
Outsourcing — Turn to external providers for support with the most time-consuming parts of blog post publishing and/or those you don't have the right internal resources to handle.
Amplify Content — Extend the reach of your blog posts by sharing them on other channels, such as social media and email.
Putting these strategic efforts behind your blog maximizes the ROI you get back from your blogging efforts and makes your blog an active lead generator that contributes to the health of your sales pipeline.
Over to You
High-value blog posts should be integrated into your larger outbound marketing strategy, adding targeted content to your outreach that resonates with your target audiences.
RevBoss can help you do it effectively. Our outbound email software and lead-gen services are custom-built for startups, consultancies, marketing agencies, and other B2B organizations.
To learn more about how we can help you win new clients, schedule a quick call with us today.