Cold Calling Is Dead: 5 Better Ways to Generate Leads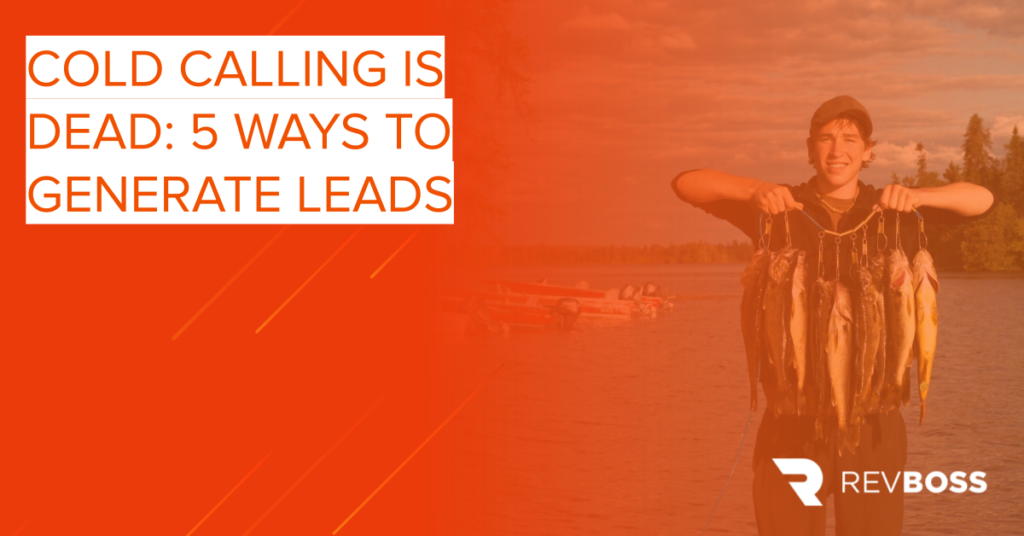 Cold calling is dead. If you have any doubt about it, we're here to tell you — let it go. Harvard Business Review reported all the way back in 2010 that cold calling is ineffective 90% of the time, and things have only gotten more bleak.
Today, B2B research generally agrees that cold calls have about a 2% success rate. Meanwhile, they're one of the most time consuming lead generation activities of all.
It's time to ditch the cold call and move on to lead gen strategies that earn conversions, can be automated and executed at scale, and fit into the modern B2B buyer experience. In this article, we'll cover X strategies you can start using right away.
Quick Takeaways
Email is the most preferred method of brand communication for B2B buyers.
Content marketing earns 3X the leads than traditional marketing methods.
LinkedIn and other social media platforms can be used to generate leads with ads as well as direct message outreach.
LinkedIn is the most preferred social network by 92% of B2B marketers.
More than 65% of companies now use online events to complement in-person lead gen efforts.
Referrals are the top source of leads for 90% of companies.
5 Lead Generation Strategies to Replace Cold Calling
Email
Email is far and away the most preferred method of brand communication for buyers across demographics. When leveraged correctly, it has huge potential for lead generation. And unlike its cold calling counterpart, cold email outreach is very much alive.
Unlike phone calls, emails — even cold ones — fit seamlessly into our everyday lives. The truth is, people don't pick up the phone today for strangers, but they're more than willing to read an email when it presents potential value. And thanks to technology today, B2B sellers can learn about buyers before they reach out and craft emails that are hyper relevant to their needs.
Here's what to know to make your cold email outreach effective for lead generation:
Only contact prospects that truly fit your target audience.
Emphasize value by telling prospects how your offerings address their needs.
Follow CAN-SPAM regulations set by the FTC for business emails.
Follow best practices for email marketing, like compelling subject lines and visuals.
Be authentic and show your brand personality.
Always include a clear call-to-action (CTA) so prospects know what to do next.
Content Marketing
Content marketing uses search engine optimization (SEO) to attract new leads online. Given that 93% of all online experiences today begin with a search engine, it's pretty much a must for B2B that want to be visible to potential customers. Content marketing includes tactics like blogging, video, social media posts, infographics, ebooks, whitepapers, and more.
Content marketing has shown to earn 3X more leads than traditional marketing strategies at a 62% lower cost. It can also be leveraged as part of outbound campaigns (ex: repurposing blog content in your outbound emails) and can help you build the lists you use for your outbound efforts.
Social Media
Social media has potential to generate B2B leads both at scale and on an individual basis. More and more, buyers are turning to all social media as a means to find content, news, and company information from potential providers. As such, it's important to keep your company pages active and engaging to attract new followers.
Paid ads are also an effective way to target high-potential audiences and earn more conversions. LinkedIn, Twitter, and Facebook all offer customizable ad programs, but for B2B companies LinkedIn is by far the best option. LinkedIn's Sponsored Ads program earns conversions at a 3X higher rate than even Google Ads, and 92% of B2B marketers choose it over all other platforms.
LinkedIn is also a great place for sales reps to build connections with prospects that engage with company pages. Reps can build their own followings by sharing content and insights, too.
Once they identify high-potential leads, they can reach out through direct messages to begin the conversation. LinkedIn messaging is quicker than email but can still be done at (relative) scale with quick tailoring of each message to individual buyers.
Webinars and Online Events
Video is the most-consumed type of content online, and the past few years have shown B2B companies just how powerful it can be for generating leads. In the absence of in-person events, companies turned to webinars as an alternative, even holding entire conferences online.
The benefits of great online events are three-fold. First, you can use them as a means to collect contact information from prospects that you can use for follow up (even if they don't actually attend the event). Second, they're an opportunity to demonstrate brand authority by featuring internal leaders and experts. Third, you can engage directly with prospects during the event.
B2B companies are taking hold of the opportunity — today, 67% are using online events as a complement to in-person lead generation efforts.
Referral Programs
We're covering them last, but they're certainly not least. Referrals are the top source of leads for 90% of B2B companies — rated higher than company websites and events combined.
Even better news is that B2B buyers prefer to use referral sources as well. Research has found that 88% of potential buyers seek word-of-mouth assurance and 83% of customers are willing to recommend brands after a good experience. Customers that are referred to your brand are 5X more likely to also refer it as well.
If you aren't already, it's time to take advantage of this lead gen opportunity with a formal referral program. Building one doesn't have to be complicated — simple steps like building the referral ask into your sales process and incentivizing referrals can put you well on your way to significant lead gen growth.
Our outbound email software and lead generation services are custom-built for startups, consultancies, marketing agencies, and other B2B organizations. Schedule a quick call with us and find out how we can help you win more clients.