How to Use Videos to Educate Your Lead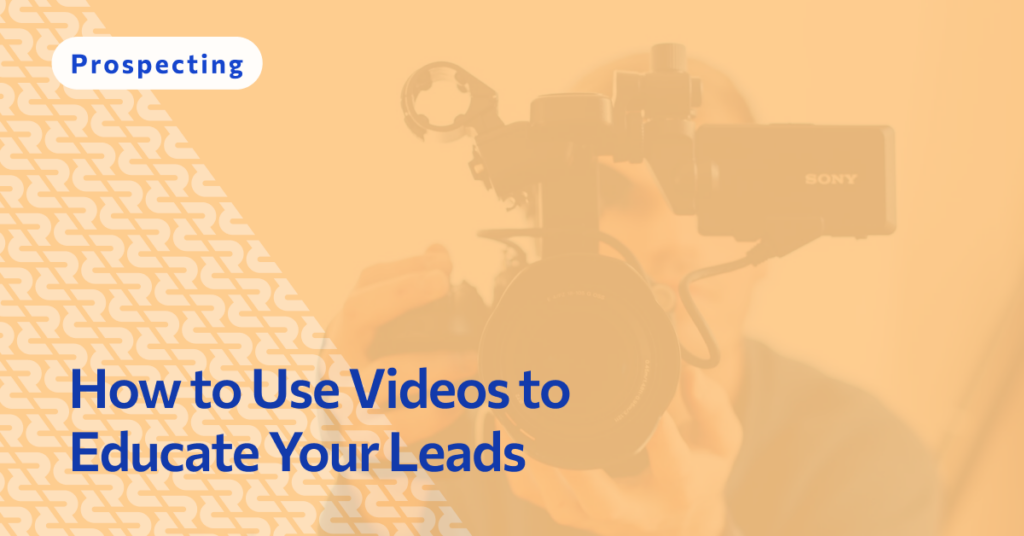 Can you do customer education with video? Not only is the answer yes, but that you should use video for this purpose whenever possible.
B2B buyers now overwhelmingly prefer video over other types of content — 95% say it plays a "crucial role" in their purchase decisions. Not only this, but the top two reasons they use it are to learn about a product/service or learn how to solve a problem they have.

When you create customer education videos for your audiences, you align with how they want to learn about brands and provide content to directly guide them toward choosing you as their provider.
In this guide, we'll take a deep dive into the types of videos you can use to educate your leads and how to leverage them to maximize conversion rate potential.
Quick Takeaways
There are many ways to educate customers with video content. Commonly-used types of video are: prospecting videos, webinars, how-tos, social media videos, and case studies.
Marketers rate video to be their most effective demand generation tactic.
Videos should be personalized whenever possible, shared across multiple channels, and optimized for search.
Repurposing customer education videos as lead magnets is one of the most effective ways to maximize their ROI.
You don't need expensive equipment or production experience to create great customer education videos. That said, if you need support, a content agency can help.
7 Types of B2B Customer Education Videos
Prospecting Videos
Video prospecting is gaining serious traction as a way to personalize the cold outreach part of the prospecting process and personalize follow-up with top-of-the-funnel leads. Prospecting videos are usually embedded into emails and include a combination of templated content and dynamic content to both maximize efficiency and personalize the buyer experience.
As you can see in the example below, prospecting videos don't have to be fancy or involve any sort of professional production. In fact, they're often most effective when sales reps take a more laid-back and genuine approach.
Product/Service Videos
Product/service videos are just what they sound like — they provide an overview of a specific product or service that's part of your offerings. They often come in the form of demos but can also be published as regular video content for your audience to view.
These videos are often highly visual and detailed, aiming to showcase the benefits of using the featured solution and answer FAQs buyers might have at that point in their decision process.
Webinars
Webinars have been experiencing a significant boom since the pandemic. In the absence of in-person events and interaction, webinars took center stage as one of the primary ways brands could stay connected with their audiences.
Companies found creative ways to make their online events feel personal and engaging, and all signs point to the likelihood that webinars are here to stay. Today, B2B marketers rate webinars to be their most effective top-of-the-funnel demand generation tactic.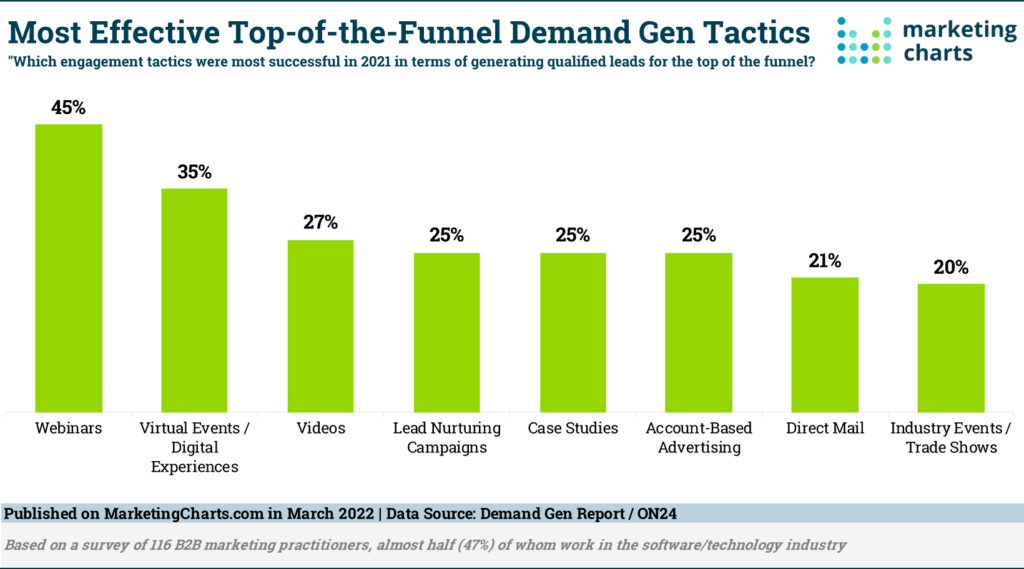 Webinars are valuable customer education videos because they can be executed in a variety of ways. For example, some webinars may feature a single speaker presenting on a topic, while others may include a panel of speakers and moderator. Others are dedicated totally to Q&A or the guided discussion of a relevant industry issue.
No matter what format you choose, they cover topics your audience cares about and needs to know about in order to understand their problems, your brand, and/or their industry at large.
Social Media Videos
Social media is a great platform for resharing video content from other channels, but posting video stories and other native social video content is also a powerful way to educate customers — especially as it relates to your brand as a whole.
This is because social media offers so much opportunity to showcase your brand personality by interacting directly with your audiences and posting more casual, personality-driven content.
For example: Many companies use social media stories to post behind-the-scenes videos, help audiences get to know their teams, and hold impromptu live updates or Q&A sessions. This type of content may not be as formal as a demo or webinar, but when published consistently and with intention, it can be educational in helping followers get to know your brand.
How-To Videos
How to videos (also often called explainer videos) aim to communicate how to do something in a clear and actionable way. They're usually used to help customers accomplish a task or solve a problem using a brand's products and solutions.
For example, a software publisher might create a library of how-to videos explaining how to use the various features on their platform to achieve specific goals.
Thought Leadership Videos
Thought leadership videos are similar to webinars in that they cover topics relevant to a certain industry or field, but they have two key differences. First, they're not always conducted as online events where audiences also attend and participate. They are often pre-recorded and can follow a lecture or interview format.
Second, they focus heavily on showcasing a brand's expertise, usually by featuring internal subject matter experts (SMEs) on a particular topic.
This type of video is important because thought leadership matters to B2B buyers — it's one of the top ways they establish credibility and trust with potential providers. About 80% of business decision makers and c-suite executives say that thought leadership has increased their trust in an organization.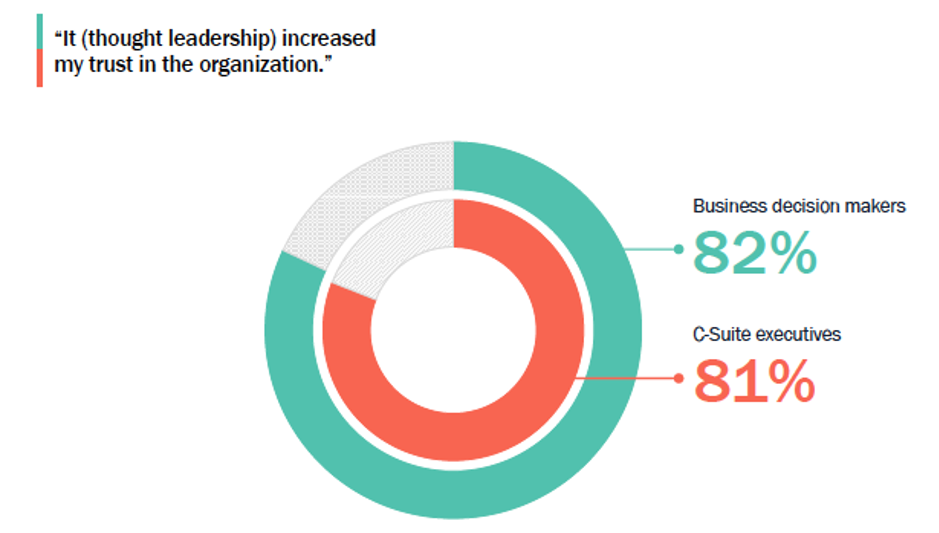 Case Studies/Testimonials
Case studies and testimonial videos educate customers on past success a client has had with your brand. They feature members of the client organization and emphasize the value, benefits, and measurable results clients have experienced as a result of your solutions.
Referrals and testimonials are key influencers in most B2B buying decisions, so pairing this tactic with video format is a powerful way to educate leads and drive them toward purchase.
Pro Tips for Maximizing Video Marketing ROI
Personalize When You Can
Some types of videos, like individualized prospecting outreach, lend themselves more naturally to personalized marketing. But it's possible in almost all formats with the right approaches. Webinars, for example, can include time for Q&A so attendees can get their personal questions answered.
Case study videos can be categorized and shared intentionally with the customer segments most aligned with the featured client. Thought leadership videos could be segmented in similar ways so leads see videos about the topics they care about.
When you share customer education videos with individual leads, include a personalized note explaining why you think the video will be valuable to them.
These types of actions tell your leads you care about more than just promoting your content — you want it to deliver actual value for them as a potential customer.
Use Multiple Video Types and Channels
If you're just housing customer education videos on your website or YouTube channel without sharing them widely, you're missing out on big ROI potential. Include your videos in your larger marketing plan and share them across platforms like social media, email, and in your blogs.
The more you share videos, the more visible they are to leads and the more they contribute to moving leads along your pipeline.
Repurpose Your Videos
Videos can be repurposed in a multitude of ways, but perhaps no more powerfully than as lead magnets — gated content shared in exchange for lead contact information. This is most true for webinars, thought leadership videos, and how-to videos that emphasize sharing expertise.
Create landing pages for your best-performing videos and require leads to fill out a form in order to access them. This is common in the B2B world — buyers are willing to share their information as long as they know the content they get in return will add value for them.
Align Video Topics with Customer Needs
Similar to your blog's SEO strategy, video topics should be developed based on customer needs and demand. Look at sources like SEO research and lead/customer feedback to find the topics most inquired about by your target audience, then build your customer education library based on those (and related) topics.
Optimize Videos for SEO
Did you know that videos can be optimized for search? Just like you apply SEO principles to your written content, you can take measures to help your videos rank highly and become more visible to potential customers. Ways to do it include:
Use the target keyword in your video's file name
Include keywords in the title and description
Tag your video with target and secondary keywords
Include a compelling thumbnail image
Create categorized playlists in your video library
Use hashtags for shareability
Final Thoughts on Customer Education with Video Content
There's no doubt that demand for video content is there — it's up to you to meet it by including video in your larger content marketing strategy. The good news? You don't need fancy equipment or high levels of video production expertise to do it. Many brands use no more than iPhones and high-quality webcams to create their video content.
Webinar platforms and other video software tools have made it easier than ever to conduct great online events and convert them to repurposed video content. Social media platforms have also prioritized video in response to demand, making it easy for users to create it.
The point: Don't shy away from educating customers with video just because you haven't done it yet. Follow the tips in this guide, look for inspiration videos from peers, and if you still feel like you need support, look for a content agency that can help.
Maximize Video Lead-Gen Potential with RevBoss
RevBoss can help you make the most of your video content (and all content) by incorporating it into a focused and targeted prospecting strategy.
Our outbound email software and lead generation services are custom-built for startups, consultancies, marketing agencies, and other B2B organizations. We can help you maximize ROI on customer stories to generate more leads and convert more new clients for your business.
Schedule a quick call with us and find out how we can help your business grow.