How to Leverage Customer Stories for All-Round Growth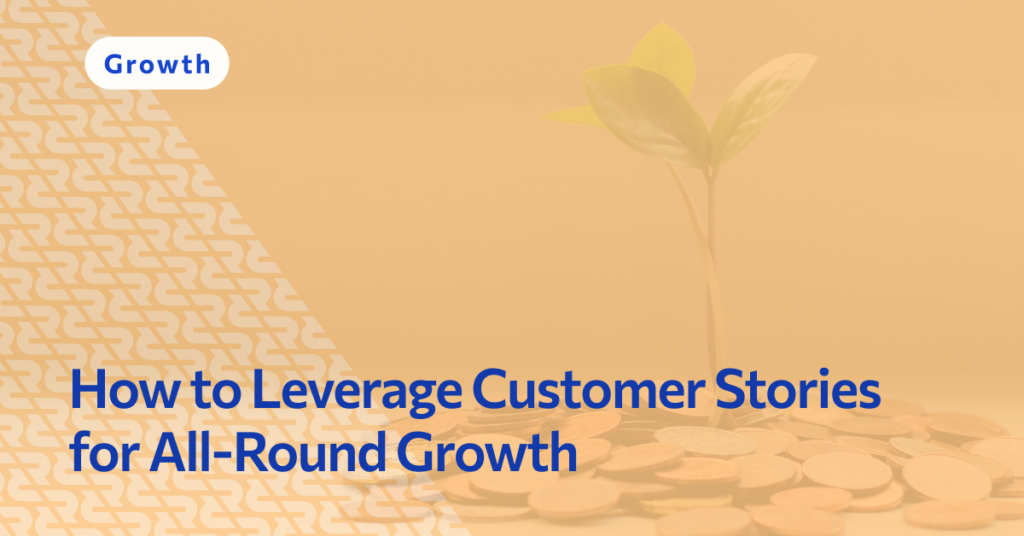 Brands are naturally going to say great things about their own company, products, and services. Buyers know this. And while self-promotional messaging is an important part of marketing and sales, buyers want more. They want to know firsthand from other customers how solutions are helping them succeed.
Customer stories are a powerful way you can align your strategy with this preference and show your potential buyers how you deliver in real-world situations.
Stories are proven to engage buyers better than any other traditional marketing tactic. In fact, there's psychology behind it. Psychologist Jerome Bruner found that human minds remember a staggering 22X more information if it's part of a story.
I don't know about you, but if we can exponentially increase the amount of our messaging that buyers remember, we're all in. That's why we've created this guide. What follows is everything you need to know about customer stories, why they work, and how to use them to drive growth for your business.
Quick Takeaways
Customer stories are any narrative about a customer's experience, and can include case studies, testimonials, and news stories (among others).
Brands should build a library of customer stories they can share across channels.
Customer stories should be a key part of your sales enablement materials.
Customer stories should emphasize value and impact over product/service features.
What are customer stories?
Customer stories are narratives that describe a customer experience, either with your products and services or another experience that's relevant to your audience. Storytelling is a timeless way to engage audiences and effectively communicate a message, and marketing and sales are no different.
There are a few key types of stories you can use in your marketing and sales communications to connect with potential buyers. These include:
Success Stories or Case Studies
Customer success stories — also called case studies — are the most commonly-used type of story by marketing and sales teams. This isn't surprising, given they're specifically crafted, often in partnership with your customer, to showcase how real customers experienced value from your solutions.
Case studies are powerful because they make all the things you include in your promotional materials and sales pitches — benefits, features, and the like — applicable in the real world. They help potential customers envision how they can gain similar value and benefits in their own situations.
Testimonials
Sometimes, customers tell powerful stories about your brand on their own. They use channels like review sites (think Google Reviews, G2, etc.) as well as social media to share their brand experiences and make recommendations. Sharing these stories is a powerful way to boost brand authenticity and trust, since it comes directly from the source.
In fact, word-of-mouth reviews and testimonials (even those that come from strangers) influence 91% of B2B buyers and directly impact 75% of buying decisions.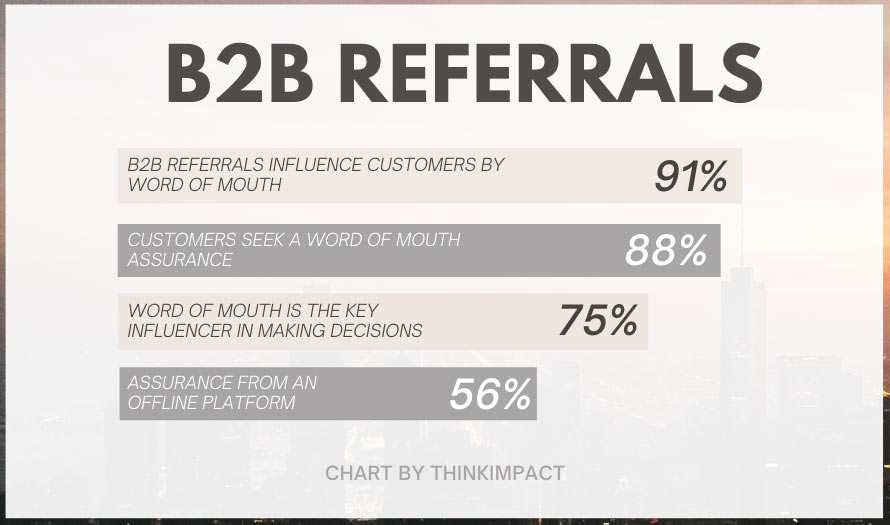 News Stories
Sometimes, stories about brands that are not your customers can be just as effective as traditional buyer stories. More specifically, stories about brands you aren't serving can be a way to demonstrate why buyers need your solutions.
The news is a prime place to find stories you can use to do this.
For example: An SaaS cybersecurity provider might share news about data breaches to show why it's so critical to adopt protection software proactively. A public relations agency could share stories of brands' PR faux pas to drive home why it's so important to have professional support in that area.
These stories aren't your customers' stories, but they are stories about organizations buyers can relate to and whose challenges they can see themselves experiencing, too.
How to Use Customer Stories to Drive Growth
Create and Collect Stories
The first step to driving growth with customer stories is to build your library. If you aren't already publishing case studies, start by making a list of your best customers — ones you know will be willing to share their stories and allow you to publish them.
Next, look online for customer stories in other places. Have any of your customers shared stories about their experience with your brand on their own site? Have they posted about it on social media? Have they left public reviews? Have they shared positive feedback with you directly? All of the above can be sources for finding stories you can share.
Publish Customer Stories on Your Website
Consistently publish customer stories on your website as part of your larger content marketing strategy. Most companies create a dedicated page (this is RevBoss's, for reference), where they centralize case studies in one place for potential buyers to browse.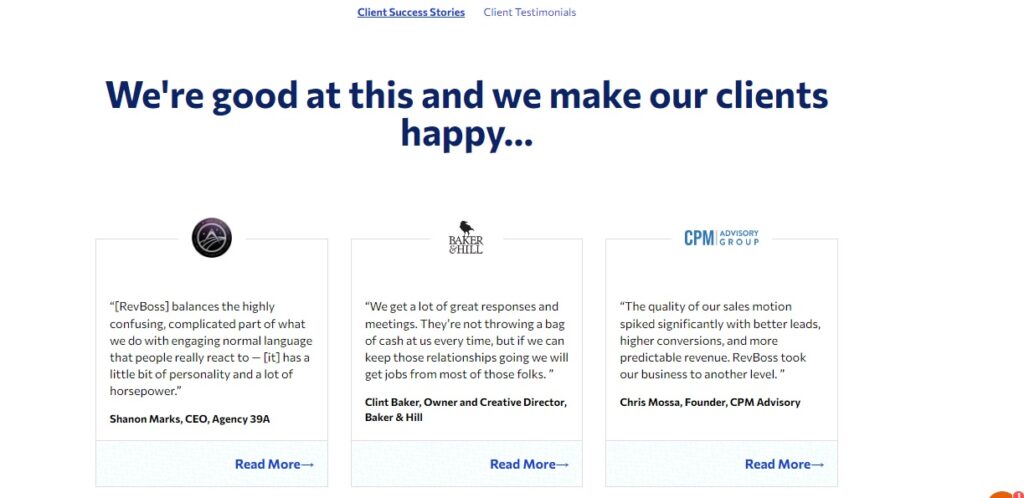 In addition, you can thread customer testimonials into other content on your site — for example, on product pages, within blog articles, or on a separate testimonials page (we have a testimonials page positioned alongside our case studies page).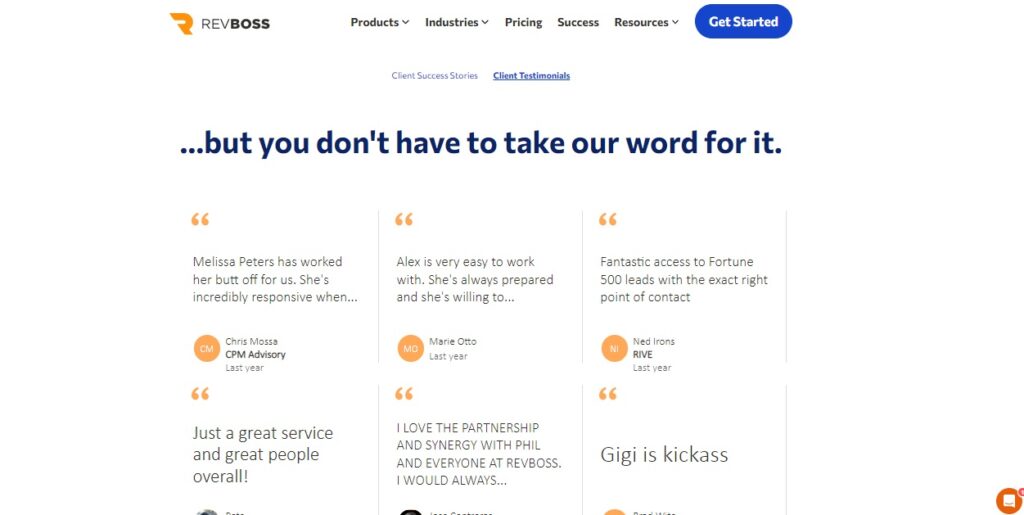 Amplify Them on Other Channels
Make it as likely as possible that potential new buyers will see your customer stories by sharing them across all of the marketing channels you use — your website, social media, email, blogs, and more. This way, when new prospects research your brand, they immediately know how you are already helping other brands succeed.
Include Them in Your Sales Messaging
Customer stories aren't just for marketing and lead generation. They can also be a key part of your sales message and sales enablement materials. Encourage your sales reps to familiarize themselves with your customer stories, stay up-to-date on new ones, and include them in their sales presentations and other communications.
Hand Pick Stories Most Relevant for Buyers
Your customer stories earn the highest ROI when they make potential buyers feel connected to your brand and want to gain similar value. This is most likely to happen when the brands and scenarios in the story align with those they experience themselves.
Don't have a blanket strategy for sharing stories with your buyers. Instead, make stories more meaningful by handpicking those most relevant for the specific buyer you're engaging with.
Value: The Key to Success with Customer Stories
There's a single most important key to their success when it comes to customer stories, and that's value.
No matter how awesome your products and services are (and we believe that they are) your potential buyers don't just want to hear a list of their features. They want to know exactly how your solutions can make an impact for them.
Your customer stories should always focus on demonstrating that. Steer away from getting into too many technical details about product/service features and instead emphasize what they did for the customer — the value they delivered in the form of real, measurable results.
How RevBoss Can Help
RevBoss's outbound email software and lead generation services are custom-built for startups, consultancies, marketing agencies, and other B2B organizations. We can help you maximize ROI on customer stories to generate more leads and convert more new clients for your business.
Schedule a quick call with us and find out how we can help your business grow.