7 Most Effective Digital Advertising Channels for B2B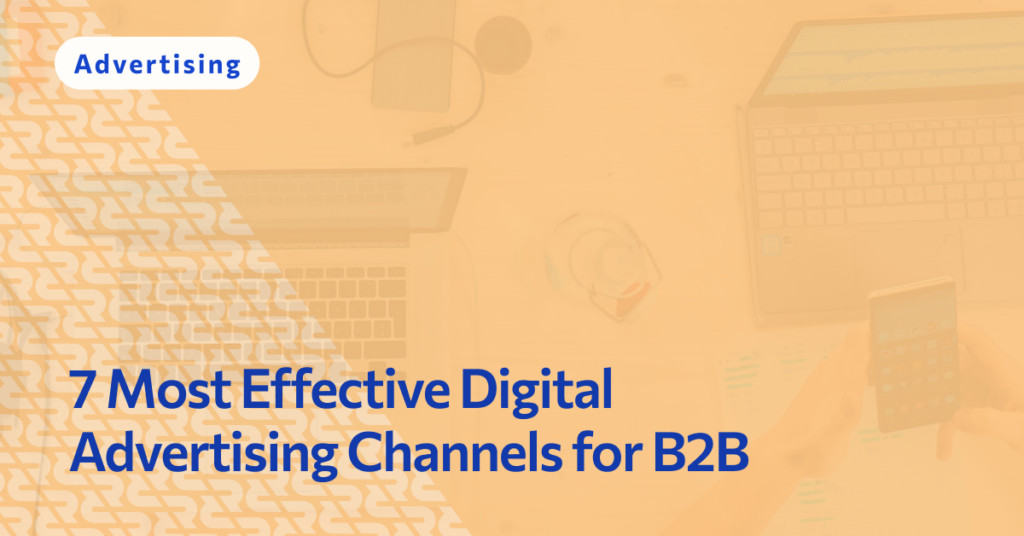 The digital advertising channels you choose can make or break your ability to generate leads and scale your business.
According to McKinsey, B2B buyers now use 10+ channels to engage brands throughout their purchase journeys, and meeting your unique audience on the digital channels they prefer is the only way to reliably achieve pipeline growth.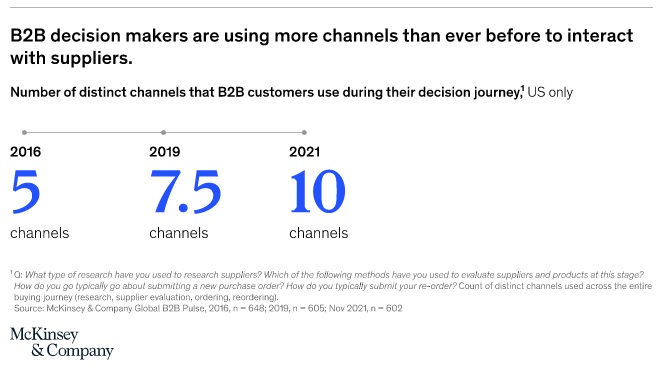 The exact combination of channels you use will vary depending on your unique business, industry, and audience, but there are some that have proven most effective across the board for converting high-intent B2B leads.
In this guide, we'll explore 7 of these channels and outline actionable ways to leverage them successfully in your lead-gen strategy.
Quick Takeaways
Organic search can generate 3X the leads for your business at 62% lower cost.
Your company website and landing pages serve as the final destinations for other digital advertising channels and the place where most leads actually convert.
Email is B2B buyers' most-preferred channel for brand communication, and video is their most-preferred content type.
PPC ads have an impressive average ROI of 200% ($2 earned for every $1 spent).
Word-of-mouth referrals continue to be a staple of B2B lead-gen — nearly 90% of buyers seek them out, and 75% use them directly to inform purchase decisions.
Organic Search
Organic search results are unpaid listings on Google (and other search engine) results pages — those that rank without the help of paid placement at the top of the page. High-ranking organic content is achieved through SEO-focused content marketing that aligns content creation with the keywords, topics, and questions your target audiences search for.
On average, content marketing has been found to generate 3X the leads and cost 62% less than traditional marketing methods, making it one of the most effective and efficient ways to engage potential buyers.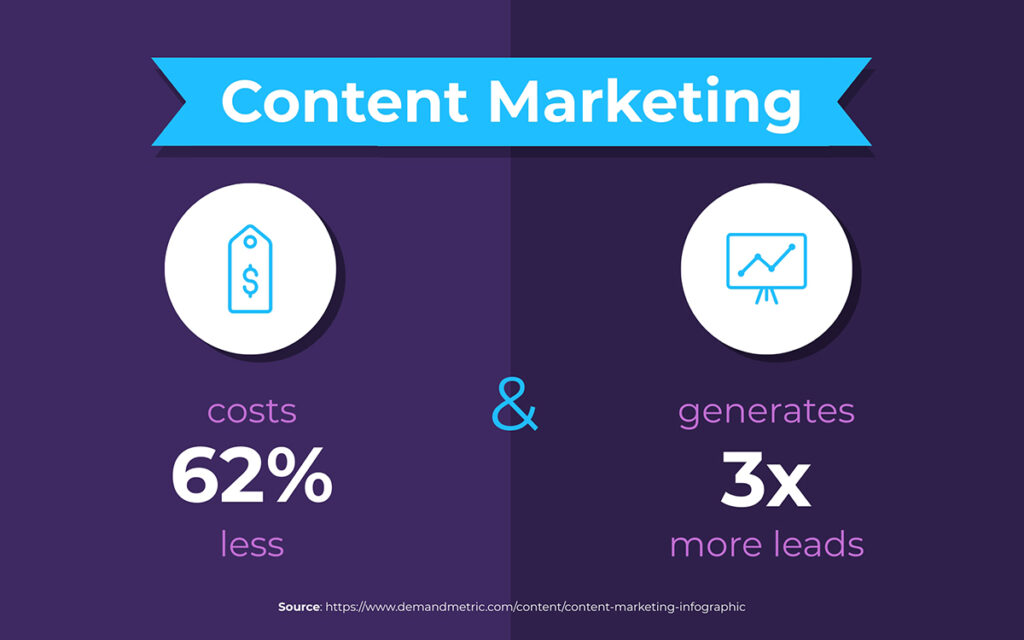 Company Website
Your company website is the central hub of your online brand presence — all your other digital advertising channels eventually lead back to your website in one way or another, and it's where you have the most control over your messaging and user experience.
To make your website a lead-generating tool, optimize it for search (just as with content, you can use your website to attract organic traffic), and structure the navigation of your site to lead users to further action, like subscribing to your email list, starting a free trial, or even making a direct purchase.
Landing Pages
Landing pages — also aptly called lead-capture pages — are web pages built around a specific asset or campaign with the goal of converting new leads. Landing pages can be the click-through destination for email or ad campaigns and also be optimized for content amplification (think on-demand webinars, downloadable ebooks, and the like).
Increasingly, companies are using marketing automation tools to create personalized landing pages that offer a unique user experience to high-potential prospects and drive action toward conversion.
Companies yielding the best results from landing pages are those using them to target multiple audiences, campaigns, product/service offerings, and actions.
In fact, increasing your total number of lead-gen landing pages from 10 to 15 (in other words, making them a bigger part of your strategy) can result in a 55% increase in lead volume. Having 20-40+ landing pages can result in even sharper increases, as you can see below.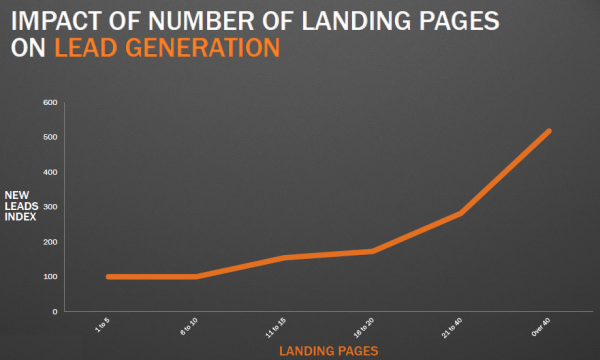 Email Marketing
Despite how full people's inboxes are in 2023 — the average professional receives 100+ emails every day — it's still the most preferred channel for brand communication by buyers across generations. Making email one of your top digital advertising channels should be a no-brainer no matter what industry you're in or products and services you offer.
To succeed with email marketing, you need to do three things well:
Respect your subscribers — Don't spam them with too many messages or overly promotional content. They signed up for your email list (or otherwise engaged with your brand) because they trusted you. Respect their time by delivering valuable content.
Stand out — To get noticed in an overly full inbox, you need to stand out with tactics like catchy subject lines and personalized messaging.
Drive action with CTAs — The ultimate goal of email marketing campaigns is to get users to take action. Include compelling CTAs that encourage recipients to take the next step in their buyer journey.
PPC Ads
Pay-per-click (PPC) ads are displayed on search engines and social media platforms to target specific audiences and drive traffic toward a clear next step — such as a high-converting landing page. As the name suggests, businesses pay per user click to the hosting platform.
Average ROI from PPC ads is about 200% ($2 for every $1 spent), making them a worthwhile investment for B2B brands. One of the primary benefits of PPC ads as a complementary strategy to SEO and other organic marketing efforts is that you have more control over your audience.
In other words, you decide who will see your ads based on specific traits and behaviors that indicate fit with your ICPs/personas as well as real intent to purchase. And because PPC ads are a significant source of revenue for the platforms that host them, they have sophisticated algorithms in place to ensure your ads reach the right users.
Video Marketing
Video has exploded onto the lead-gen scene as the most-preferred content type for B2B buyers — a staggering 95% say video plays an important role in their purchase decisions, and they use it for everything from learning about products and services to understanding their problems to researching potential providers (and more).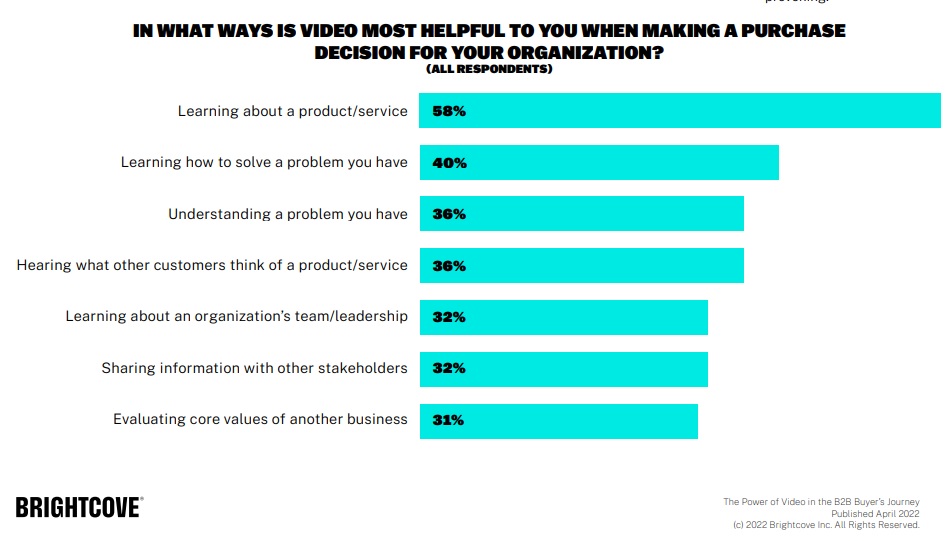 The same research found that 70% of B2B buyers say video beats out all other types of content when it comes to creating awareness of business-related problems. This suggests a huge opportunity for companies to leverage video as a way to demonstrate to their target audiences why their solutions are so important.
Two notable, emerging B2B video marketing trends to consider trying are video prospecting and webinars — both of which saw a sharp increase during the pandemic and are now proving to be a more permanent part of B2B lead-gen strategies.
Word-of-Mouth Referrals
Referrals have always been a staple of B2B lead-gen, but the internet has made them happen on a more massive scale than ever. It's also made it easier for B2B companies to launch formal referral programs that drive faster growth. If you're hesitating on implementing your a referral program for your business, consider this:
Nearly 90% of B2B buyers seek out word-of-mouth referrals and 75% say they directly influence their purchase decisions
B2B referral programs do not have to be complex — it just requires offering referrers a discount or other high value incentive and providing a simple but formalized way to recognize referrals (by adding a field on a lead-gen form, for example)
Referral programs are one of the least expensive and even passive ways to generate new leads for your business and amplify current customer satisfaction.
Over to You
Looking to better leverage B2B digital advertising channels to grow your business? RevBoss can help. Our outbound email software and lead generation services are custom-built for startups, consultancies, marketing agencies, and other B2B organizations. 
Schedule a quick call with us and find out how we can help you win more clients.