The Handbook of Digital Product Marketing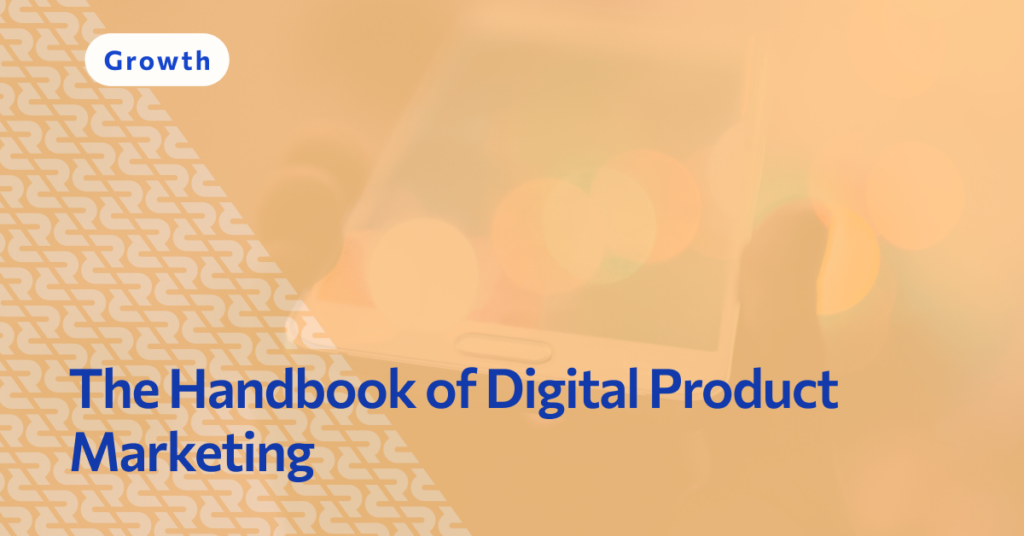 Digital products have taken the business world by storm. From ebooks to online courses to web templates to software and mobile apps to design assets and many more—individuals and companies alike are leveraging their niche expertise and experience to deliver high-value digital products that meet audience needs.
The catch? Because digital products are so in-demand, it's a crowded space to enter. In order for your products to stand out and win sales, you need a unique value proposition and a killer digital product marketing strategy to reach your target buyers.
That's what we'll cover in this guide. What follows is everything you need to know about digital product marketing—what it entails, the components of a quality strategy, and how to execute in a way that earns real results.
Quick Takeaways
Digital products are products created and sold digitally. Examples include videos, ebooks, templates, audiobooks, podcasts, and design assets.
Nearly 3% of the total consumer wallet goes to digital products and services, which is about equal to categories like clothing and electronics.
Key components of a winning digital product marketing strategy include: market research, a compelling value proposition, engaging content, lead nurturing, conversion optimization, data analytics, and adaptability.
The market for digital products is expected to grow at a CAGR of 11.3% through 2030.
What Are Digital Products, Anyway?
Let's start from the beginning—before you can understand digital product marketing, you need to know about digital products. By definition, digital products are just what they sound like—any product created and sold digitally.
The benefits of digital products are manifold: They have low production costs, have no inventory requirements, can reach an unlimited online audience, can easily be updated and improved, and can be delivered to customers in seconds.
Digital products can also be developed, published, and sold much more quickly than traditional products, meaning they experience faster time-to-revenue when marketed effectively.
Popular types of digital products include:
Software and mobile apps
Ebooks and whitepapers
Audiobooks
Customizable web templates
Design assets
Website plug-ins or add-on tools
NFTs or digital collectibles
Guide videos and online courses
According to Deloitte, spending on digital goods and services makes up about 2.9% of the average consumer wallet. This may seem meager until you put it into perspective—other big spending categories like clothing and electronics also hover around 3%.
And while digital goods and services spending is largely concentrated on streaming platforms now, it's diversifying more and more to include other types of digital offerings.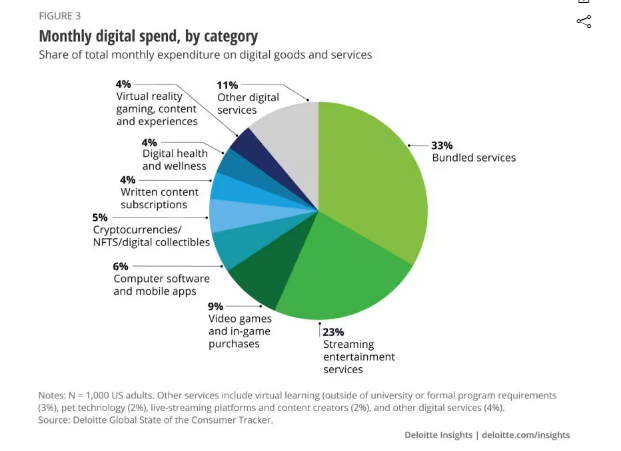 But—as mentioned already—the digital products market is crowded. There are countless digital products available on every industry, topic, and niche you might think of. The only ones that will gain traction on the market are those supported by a smart digital product marketing strategy.
7 Components of a Winning Digital Product Marketing Strategy
Market Research and Segmentation
Every successful digital product marketing strategy is backed by thorough market research and customer segmentation. Do your due diligence to gain insight into your audience's preferences, then divide them into groups by shared traits, needs, and values.
Remember: Even when more than one of your customer segments are fit for the same product or service, they may need them for different reasons. When you do your research and segment effectively, you can tailor your messaging to each unique customer group.
Compelling Value Proposition
Craft a clear and compelling statement that highlights what makes your digital product unique, showcasing its benefits and ways it solves customer pain points. Throughout your digital product marketing strategy, value should always be communicated before specific product features.
Why? Because customers care most about what they'll get out of a purchase—yes, even more than specific details about features. This is especially true in the B2B world.
Strategyzer's Value Proposition Canvas is a powerful tool for developing and refining your value proposition. In addition to helping you develop a compelling proposition statement, the Canvas can also help you uncover insights about product/audience alignment and refine your products accordingly to maximize ROI.
Content Strategy
Informative, engaging content is the lifeblood of your digital product marketing strategy. It's what grabs audience attention and makes them stop scrolling, and it's the main way for you to communicate your value proposition.
Once you know your audience well, develop a plan to publish informative and engaging content on their preferred channels. Create multiple content types (i.e. blogs, videos, social media posts, etc.), publish frequently, and be active on multiple channels to yield the highest ROI.
Lead Nurturing and Follow-Up
It's likely that in most cases, you'll catch potential buyer attention with your content, but they won't make a purchase right away. Perhaps they'll follow you on social media, or subscribe to your email newsletter, or attend an online event you host.
All of these actions show that an individual sees value in your brand and what you have to offer, so it's up to you to nurture the lead to conversion.
Set up tactics like remarketing ads, email drip campaigns, and manual, personalized follow-up to ensure every interested buyer receives enough interaction to drive purchase.
Conversion Optimization
Buyers are much more likely to purchase your digital product when the process is easy. Look at the path to purchase for your products—for example, the number of click-throughs it requires, the length of your order forms, and the quality of your website and interface.
All of these things impact whether or not a user will actually follow through with an intended digital product purchase.
Fine-tune your digital properties to guide visitors smoothly through their journey, enhancing the likelihood of them taking the desired actions, such as making a purchase.
Data Analysis and Insights
A data-driven digital product marketing strategy enables you to uncover patterns and trends that inform your decision-making so that you can continually refine your strategy. This is especially true when it comes to understanding your audience and delivering targeted content that motivates purchase behavior.
Leverage your CRM and marketing automation tools (ex: email marketing platform, ad platform, etc.) to track performance of your various marketing efforts and refine them based on audience engagement data.
For example: If a video you created on one channel is seeing huge engagement, you'll want to share it across other platforms for similar results. If you see a particular audience demographic engaging with your content most across channels, you'll want to target that audience more frequently.
Making these simple but powerful data-driven adjustments to your digital product marketing strategy can lead to big results in the form of higher conversions and sales.
Continuously monitor and analyze metrics to uncover patterns and trends that inform your decision-making, allowing you to refine your strategy for better results.
Adaptability and Innovation
The market for digital products is huge right now—and growing rapidly. Between 2023 and 2030, the digital content creation market for video, audio, graphical, and textual digital products combined will grow at a CAGR of 11.3%.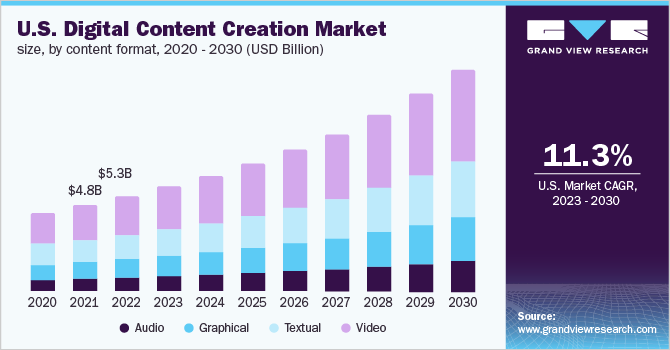 As demand for digital products continues to grow, digital product marketing trends will also evolve—and likely at an even faster rate. It's important to keep your finger on the pulse of these changes and align your strategy with modern technologies and consumer preferences.
Final Thoughts
Digital products present a huge opportunity for entrepreneurs and companies in every industry to embrace a new type of high-demand offering and expand their revenue streams as a result. The competition for digital product visibility is fierce, but with the right marketing strategy and approaches, you can reach your target audiences effectively and convert sales reliably.
Remember that the keys to success lie in:
Knowing your market and customer
Having a compelling value proposition
Executing a smart content strategy
Implementing lead nurturing and follow-up
Using data analytics and insights
Staying adaptable and innovative in a fast-changing market
With these best practices in mind, you can make digital products a central part of your revenue strategy and one that drives growth for your business in the future.
Over to You
A core tenant of every successful digital product marketing strategy is targeted prospecting to reach the right consumer audiences. If you're looking for support in leveling up your outbound strategies to drive higher lead-gen and sales for your digital products, RevBoss can help.
Our outbound email and lead generation services are custom-built for startups, consultancies, marketing agencies, and other B2B organizations.
Schedule a quick call with us and find out how we can help you grow your business.