What Can Email Marketing Companies Do for Your Nonprofit?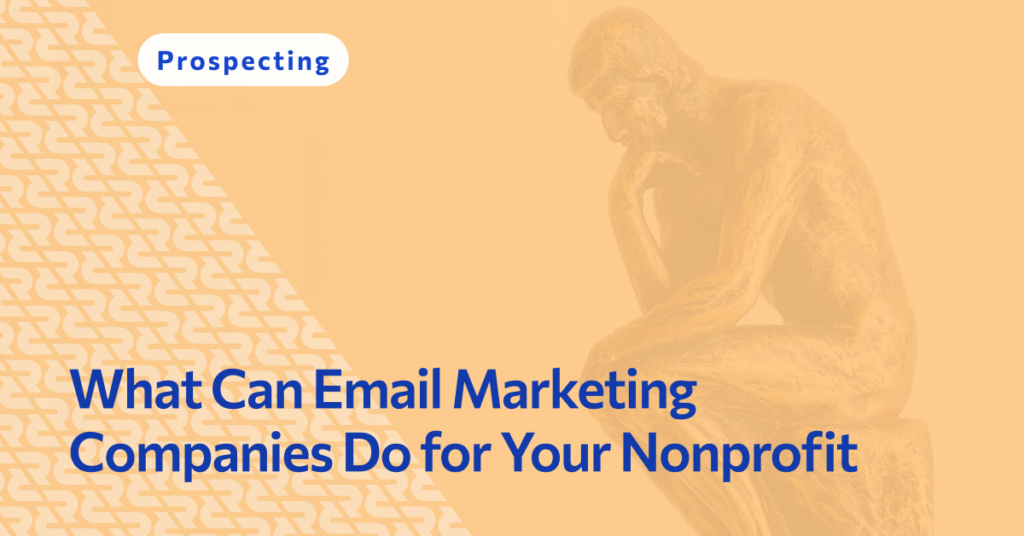 Nonprofits depend on donations, and email drives donations. According to the 2022 Global Trends in Giving Report by Blackbaud, 30% of donors say that email is what most inspired them to give, and over half prefer to be thanked for their donations by email.
Not to mention that just like regular businesses, nonprofits need brand awareness in order to get noticed by their target audiences, build engagement, and ultimately fund initiatives.
The thing is — as you know if you're a nonprofit marketer — most nonprofit organizations don't have the same type of hiring budget as large corporations or even small for-profit businesses.
That's where email marketing companies come in. They can help you execute campaigns, grow your audience, and build stronger connections with your current donors so they are even more inspired to give.
If you're thinking about hiring a nonprofit email marketing company, this is the guide for you. It will walk through six important benefits you'll experience from doing so — including cost savings, greater expertise, more scalable execution, and data-driven processes and insights.
Let's dive in.
Quick Takeaways
Outsourcing saves costs and allows nonprofit professionals to refocus on mission critical activities.
Email marketing campaign companies provide access to industry expertise and the latest tools and technologies for executing effective campaigns.
It's easier to scale email marketing efforts up and down as needed when working with an external service provider.
Email marketing companies provide frequent data reporting that nonprofits can use to learn more about their audiences and refine their strategies.
6 Benefits of Hiring a Nonprofit Email Marketing Campaign Company
Time and Cost Savings
When you're considering outsourcing, it's easy to think about the financial investment required to hire an agency. But the reality is that doing so is a big cost saver — agencies bundle services and eliminate the high overhead costs associated with hiring and managing full-time employees.
It's no surprise, then, that outsourcing is the top reason companies decide to outsource things like email marketing — 64% name it as their number one motivator for doing so.
For nonprofits funded by grants and donations, these kinds of cost savings translate directly to more money invested in your mission-critical activities. At the same time, you're saving time you'd otherwise spend handling development, production, and distribution of email campaigns, meaning you can focus on strategic work directly related to your cause.
Email Marketing Expertise
Email marketing is such a core part of running any kind of business that there are entire agencies dedicated to it — they have the expertise you need to execute campaigns that won't just reflect your brand but also yield real ROI. For nonprofit organizations, it's essential to be able to translate marketing efforts directly into impact in this way.
Further, like most digital marketing strategies, email trends and best practices are always evolving and changing. You can trust that an agency will keep up with what's new and know how to get the most from every campaign.
Scalable Execution
Email marketing companies have the tools and technologies needed to execute your campaigns at scale. They can automate, segment lists, add design, implement data reporting and more. As a client, you'll reap the benefits of these tools without having to purchase them — another way you're saving on costs.
At the same time, you can scale your efforts up and down as needed without having to worry about how it will affect a full time staff.
For example, if you run three big campaigns per year, it's easy to contract only for the work you need done (vs. paying a full-time employee even when they aren't busy). If you need to scale up your email marketing efforts quickly to support a big initiative, you can do it without having to make hires or ramp up internal resources.
In short: Your level of execution (and what you're paying for it) will always match your needs, without the worries of delayed execution and/or empty costs.
Targeting
Nonprofit emails are most effective when they're targeted, especially by previous donor behavior and individual attributes. An email marketing company can help you execute a targeted email strategy that customizes messages to align with the things donors care about and how they are already engaging online.
You'll be able to do things like:
Include dynamic content based on recipient interests
Segment by demographics, location, giving ability (and more)
Personalize emails using donor data
Automatically trigger emails by specific behaviors
Data and Reporting
Email marketing agencies prove their value to clients by highlighting results with compelling data — meaning you'll get frequent data reports showing how your campaigns are performing and giving you an opportunity to learn more about your audiences.
Creativity
The average person receives 120+ emails per day, and you need yours to stand out in order to motivate action from your recipients.
Email marketing companies are pros at finding creative ways to get noticed — from subject line to email design to the text body and content it includes, you can be confident your emails are unique and innovative while also true to your brand.
Over to You
Nonprofit organizations must adopt a sharp business mindset when it comes to building brand awareness, recruiting donors, and winning the attention of their target audiences. RevBoss can help you do it.
Our outbound email software and lead gen services are custom-built for growing companies to build their pipelines faster and win new customers.
Schedule a quick call with us to learn more about what RevBoss can do for your organization.