End to End Email Automation: The Complete Guide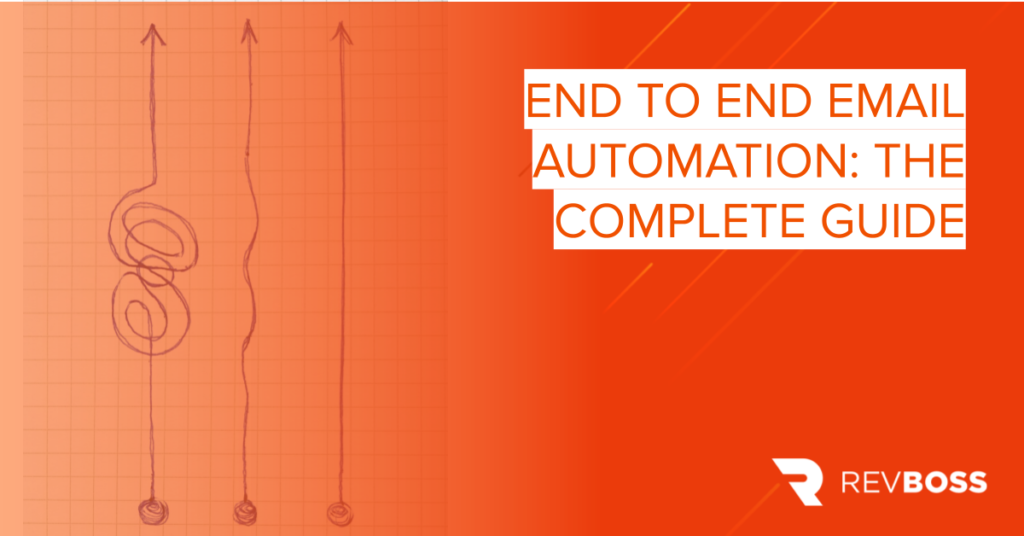 Automation has transformed email from a single business outreach channel to a full-fledged lead generation and management tool. From a new prospect's initial touchpoint all the way through to post-purchase engagement, companies are using email automation today to power better customer relationships, smarter insights, and more intelligent business operations.
The results are hard to ignore: automated emails have been found to earn 320% more revenue than those that are sent manually.
320 percent!
In other words: if you're not using email automation as part of your customer engagement strategy, you're missing out on huge revenue opportunities.
Fortunately, there are plenty of high-quality email automation tools that do much of the work for you (and that you can integrate with your current systems). In this article, we'll walk you through the basics of email automation, its best practices, and five tried-and-true workflows companies are using to successfully engage customers.
Quick Takeaways
More than 90% of consumers say they're more likely to buy from brands who provide the types of personalized offers and recommendations powered by email automation.
Email automation enables companies to use audience segmentation, A/B testing, and other analytics-driven tactics that continually improve email performance.
Common, effective types of email automation series include lead nurturing campaigns, welcome series, retargeting emails, and customer onboarding series.
What is email automation and why do you need it?
Email automation means sending a series of automated emails based on customizable triggers. Triggers are determined by specific actions taken by a user combined with their demographic and other individual traits. So, for, example, if a web visitor fills out an email subscription form, your email automation software would trigger a welcome email with customized content to align with their interests.
Why is this important? For starters, the average professional receives 121 emails per day. If you want your emails to stand out, they need to be hyper-personalized and relevant to recipients.
Email also remains the most-preferred form of brand communication across industries. Recent research found that 72% of consumers prefer it over all other methods.
The customization enabled by email automation optimizes the user experience you provide. Personalization matters to consumers — 90% report they're more likely to buy from businesses that provide individualized recommendations and offers.
Finally, email automation makes your marketing team more informed. With advanced analytics that track email performance by content and segment, you know in real-time what's working and what's not. You can then operate with more agility, adjusting where needed and repeating tactics that yield the best results.
In summary: email automation allows you to scale your email marketing efforts, level up your targeting strategy, be more data-driven, and ultimately earn more conversions and sales.
Email automation best practices
Use audience segmentation
Audience segmentation is the process of dividing your audience into subgroups based on product interest, prior behaviors, industry, demographics, and any other number of customized categories important to your business.
Leading email marketing platform Mailchimp found that segmented campaigns yield 14% higher open rates and a 101% increase in clicks over non-segmented campaigns.
Include CTAs
Calls to action (CTAs) tell your recipients what their next action step should be after reading your email. CTAs help guide your prospective customers through your sales process. Emails with just one effective CTA earn more than 300x the more clicks than those without them.
Perform A/B Testing
Email automation tools make it easy to perform A/B testing, a form of user research that randomizes elements of your emails (such as subject line or content blocks) to determine which ones perform better. A/B testing is one of the most effective ways to leverage the analytics capabilities offered by your email automation platform and continually optimize your messaging for higher ROI.
Focus on the buyer journey
Your sales process should always align with the buyer journey, and email automation can help you do it. Email automation tools have content customization options that enable you to include the right level of content for each trigger (i.e. visiting your website vs. signing up for a free trial).
Tried-and-true email automation workflows
Welcome series
Welcome email campaigns are one of the most effective types of automated emails because they capitalize on recent interest. With welcome emails, you can strike while the iron is hot — showcase all of the value your brand has to offer while a user's interest is piqued.
We like the way this Virgin America email welcomes new subscribers, lets them know what valuable content they'll find in future emails, reminds them of other customer perks, and gives a strong CTA to drive action.
Lead nurturing campaign
It takes 6-8 touches for a lead to convert, and email automation makes this easier. Lead nurturing email campaigns ensure leads don't turn cold due to low engagement. They serve as check-in points between companies and prospects and continue to demonstrate value while your prospects move through their decision-making process.
Groove does a good job with this simple but personal automated email:
Retargeting series
Retargeting emails re-engage dormant leads by focusing on specific products and offerings that are of highest interest to that recipient.
In this example from Nordstrom, they remind the recipient about a dress they viewed on their website. These types of retargeting emails have been found to earn 3x the open rate and 6x the conversion rates of classic email marketing messages.
Cold email outreach
You read it here: cold email outreach is not dead! But it is more important than ever to do it right. It's hard enough to get your emails noticed when users sign up to receive them. It's even more difficult when you're starting with a cold open.
Email automation can hyper-personalize your cold email outreach to include industry-specific content and testimonials that show users why they should be paying attention.
Customer onboarding
A whopping 86% of consumers say they're more likely to stay loyal to a company that invests in onboarding content. This one's a no-brainer! You design a series of automated emails that welcomes new customers and shows them exactly how to leverage your products and services. In return, they feel more connected and get more value from your brand.
We're going back to Groove again for an example of how simple yet effective customer onboarding emails can be:
Over to You
The reality is that without marketing automation, it's unlikely any company can keep up with their competitors in today's crowded and fast-moving marketing landscape. And without email automation, you're missing a major engagement channel and opportunity.
RevBoss's outbound email software and lead generation services are custom-built for startups, consultancies, marketing agencies, and other B2B organizations.
Our Zapier integration connects RevBoss with hundreds of apps (like Salesforce, HubSpot, AdRoll, etc.) so we can likely support any integration scenario under the sun.
Schedule a quick call with us and find out how we can help you win more clients!