The RevBoss Guide to Event Lead Generation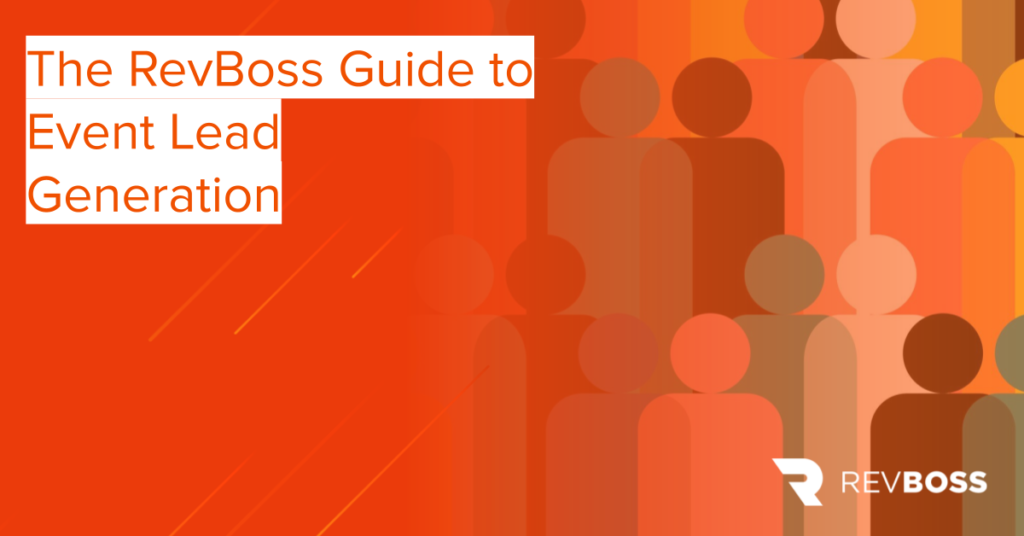 Historically, B2B event lead generation was defined by conferences and trade shows — most of them in person. Even in the late 2010s, as video technology advanced and it became more practical to run events online, most companies stuck with the idea that in-person engagement was best.
That is, of course, until the pandemic arrived and upended everything we knew about B2B events and how they could be effective.
Seemingly overnight, companies and event organizers had to find ways to keep generating leads in the absence of in-person interactions. Zoom and other online event platforms emerged as key tools for staying in touch with customers and finding new ones.
And in the end, a situation that most assumed would hinder B2B event lead generation actually ended up breaking down massive barriers (financial, geographic, and otherwise).
Today, nearly three-quarters (72%) of marketers say online events drive equal or higher ROI than in-person events, and 84% say they'll hold at least half of their events online this year. At the same time, in-person events are still proving valuable for buyers and sellers alike.
In short: The B2B events world has officially gone hybrid. In this guide, we'll cover how you can execute an effective event lead generation strategy in this new multichannel landscape.
Quick Takeaways
Event ROI can be maximized by aligning event schedules with your larger business calendar — things like seasonal cycles, product launches, etc.
While most companies execute a hybrid strategy, it's important to choose the event formats that best meet the needs of your business and audience.
Prospecting tools generate quality event attendee lists at scale.
Maximizing in-event engagement with activities like Q&A and networking builds a better connection with prospective leads.
Companies should always follow up with both attendees and no-shows.
Event content can be leveraged post-event for further lead-gen through channels like emails and social media.
How to Generate Leads at Events: Tips and Best Practices
Time your events intentionally
What's happening in your larger business calendar throughout the year? This should be one of the first questions you ask as you plan your event schedule. Align events you're hosting or attending with your calendar to build momentum at critical times — for example, leading up to a new product launch or just before your busiest season of the year.
Getting intentional with the timing of your events ensures you get the highest ROI out of the time you spend on them and have ample opportunities to convert leads after the event ends.
Make decisions about in-person vs. hybrid events
As we now know, most companies are executing hybrid event strategies. That said, there isn't a one-size-fits-all approach that works for every business. Some industries lend themselves better to digital interactions (SaaS, for example) while others, like those selling physical products, benefit more from in-person trade shows.
Think about what works best for your company and design your event strategy accordingly. At the same time, be willing to experiment with different types of events when you can to uncover new lead-gen opportunities.
Use a prospecting tool to build awareness
When you're hosting an event, balancing quantity and quality on your attendee list is a must. You need enough attendees to make your event engaging, but they also need to be quality attendees for your event to be worthwhile (read: in order for it to generate leads).
Automated, AI-powered prospecting tools (like the ones we use at RevBoss) help you achieve this important balance. They target high-quality, best-fit leads at scale so your attendee list is full of prospects that align with your ICPs and buyer personas.
Further, your attendee list remains an important asset for after-event follow up, when you can engage with both attendees and no-shows (more on that later) to convert new customers.
Maximize engagement during events
Making B2B sales is all about building connections with your audience. Buyers want to feel like you know and understand their needs. Further, they often want to use events as opportunities to have their questions answered and make decisions about potential vendors.
Meet this expectation by creating real engagement opportunities during your events. These can take many forms — for example, networking sessions, dedicated Q&A time, interactive group activities (and the like).
The most important thing is that you make your attendees feel like active participants in your events rather than passive observers (who may or may not be getting anything out of it).
Follow up with attendees and no-shows
People fail to attend events for any number of reasons. In many cases, it's because they simply forgot. Don't make the mistake of assuming a no-show at your event means lack of interest in your solutions. Instead, make a follow-up plan for both attendees and no-shows from your list.
An easy example is an email segmented by attendance status with varied messaging (i.e. "Thanks for coming!" or "Sorry you missed us!") In other cases, you may want to take extra action with high-potential prospects who didn't attend, like a phone call from a member of your sales team.
In any case, don't let no-shows fall out of the pipeline — effective follow-up can be the difference between lost leads vs. higher conversions post-event.
Leverage event content
B2B buyers now interact with more than 13 pieces of content before making a purchase decision. Your event content — video recordings, presentation decks, and similar assets — can be a powerful part of your event follow-up and future lead-gen strategies.
Think about other communications and channels where your event content could be valuable to your audience. Further, consider ways you can make it as shareable as possible (for example, by encouraging attendees to forward content to friends, or sharing it on social media platforms).
Over to You
Effective prospecting is the backbone of your B2B event strategy — it drives high-quantity and -quality attendance that fills your pipeline and builds momentum for growth. RevBoss can help execute your prospecting strategy the right way.
Our outbound email software and lead generation services are custom-built for startups, consultancies, marketing agencies, and other B2B organizations.
Schedule a quick call with us and find out how we can help you win more clients.