How (And Where) to Get Prospect Data That Matters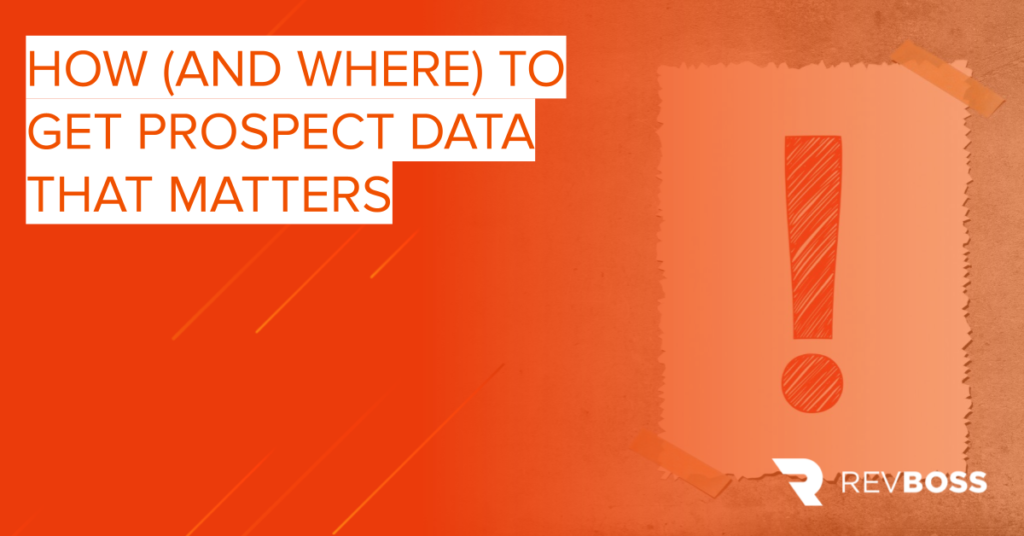 Finding quality sales prospect data is both easier and more challenging than ever in today's technology-driven business environment.
While companies now have access to more data and outreach channels, there is also more information to sift through. Without the right processes in place, it's easy to end up with messy and unusable prospect databases filled with unqualified leads.
In this article, we'll walk through what you can do before you start prospecting data to set your strategy up for success. We'll cover how sales prospecting tools and services can help. Then, we'll explore 5 places to find quality prospect data that generates real leads for your sales team.
Quick Takeaways
It's important to define ideal client profiles and buyer personas before you begin collecting prospect data.
Sales prospecting tools and services can help you automate and scale up your efforts while remaining targeted in your approach.
Job boards, lead magnets, social media, webinars, and trade shows are all great places to find and/or generate quality prospect data.
How to Get the Right Prospect Data
Know what you're looking for
Businesses no longer have to cast the widest net possible in order to build a quality prospect database. Instead, modern technology allows us to take a data-driven approach to defining the traits of our ideal prospects and targeting our efforts accordingly.
But before you can accomplish this level of prospecting sophistication, you need to leverage two key frameworks: the ideal client profile (ICP) and buyer persona. ICPs describe organizational traits of the B2B companies that could benefit from your offerings, while buyer personas define the individual decision makers within those companies.
Doing the work to define clear ICPs and buyer personas before you dive into sales prospecting sets you up to earn the highest possible ROI from your efforts.
Study your current data
Your CRM data is a treasure trove of information that helps you determine your approach to sales prospecting. Specifically, you can use your CRM data to determine which types of prospects are most likely to become leads and, eventually, paying customers. Leverage your CRM data as you develop your ICPs and buyer persona and as an ongoing guide during the prospecting process.
The more prospect data you enter into your CRM, the more insight you can continually gather around what defines your most high-potential prospects.
Diversity your prospecting efforts
As you move to the execution stages of sales prospecting, it's key to diversify your efforts. This means leveraging a range of channels to collect prospect data. We'll cover these channels in more detail in the next section.
Use a prospecting tool or service
Sales prospecting success depends heavily on the size of your network and the resources you have at your disposal to source prospect data. Using a sales prospecting tool or service gives you access to these resources to execute a more automated, comprehensive effort.
5 Places to Find Quality Prospect Data
Job boards
The open positions a company posts on job boards are a pretty good indicator of where they have need and/or where they're placing focus. New hires in any role are likely to evaluate new tools and technologies that could enhance performance of their team or department.
Monitor job boards for organizations that fit your ICP and the roles they're filling at any given time. You can then reach out to whoever manages that position or wait until it's filled and reach out to their new hire.
Job boards also have the added benefit of easy filtering and sorting. For example — we did a hypothetical Indeed search for "Head of Marketing" roles near Dayton, Ohio, which would be relevant for marketing agencies providing services in that area.
That initial filtered search garnered just over a dozen results. But what if their buyer personas are made up of C-level decision makers?
Adding a filter for "senior-level" roles narrowed the results down to 4 roles. Further, you could see a list of the companies hiring for these roles so they could easily be evaluated for relevance, then added to a prospecting list for further tracking and outreach.
Lead magnets
High-value lead magnets like ebooks, whitepapers, landing pages, or guides yield high-potential prospects that have already indicated their need for your expertise by downloading your content. Typically, lead magnets are offered in exchange for a user's contact information. B2B buyers understand that by sharing their contact information, they're agreeing to hear more from you.
Take advantage of this opportunity by putting defined processes behind collecting prospect data from lead magnets and reaching out promptly to start moving leads through the pipeline.
Webinars
Over the past few years, online events have emerged as a popular and effective way to prospect data and generate leads. Even as in-person events make a comeback, companies are recognizing a permanent place for online events in their strategy.
The benefits of webinars are manifold. They provide a platform for demonstrating expertise within your company, they aren't limited to geography, and they collect prospect data whether or not a person decides to actually attend the event.
Most importantly, webinars align with existing B2B buyer behavior. Recent research shows that 90% of buyers engage with webinar events at least sometimes — but more than a third do it for almost every purchase decision.
Social media
B2B buyers are increasingly turning to social media — specifically LinkedIn — to find potential vendors and conduct their brand research. For B2B sellers, LinkedIn is a prime way to build their network in a large-scale way while targeting specific companies and decision makers that fit their ICPs and personas.
LinkedIn Navigator is the platform's premium prospecting tool, and it's a powerful way to target the most high-potential prospect while tracking important companies and people on your list.
Trade shows
Even as the popularity of online events stays on the rise, in-person trade shows remain a top source of prospect data for B2B organizations. Companies send representatives to trade shows with the specific goal of exploring beneficial partnerships. This includes sourcing vendors.
To maximize the ROI you get from trade shows, make it as easy as possible for people to share their contact information. Use QR codes or simple online forms to automate data entry as much as possible and avoid manual entry later on.
The Takeaway
Each of these (and other) methods for collecting sales prospect data have unique benefits that drive your larger strategy. Diversifying the channels you use expands your reach and provides more opportunities to generate leads. That said, B2B companies must take a targeted approach regardless of their method in order to earn the greatest possible ROI from sales prospecting.
Failing to do so can lead to issues down the line like unqualified leads, misaligned buyer needs, and frustration for your marketing and sales teams.
To achieve the best balance of wide-scale sales prospecting while targeting the right prospects for your business, consider using a sales prospecting tool or service that can help you automate your efforts.
RevBoss's outbound email software and lead generation services are custom-built for startups, consultancies, marketing agencies, and other B2B organizations. Schedule a quick call with us and find out how we can help you win more clients.