How Many Customers Should I Get From My Outbound Sales Program?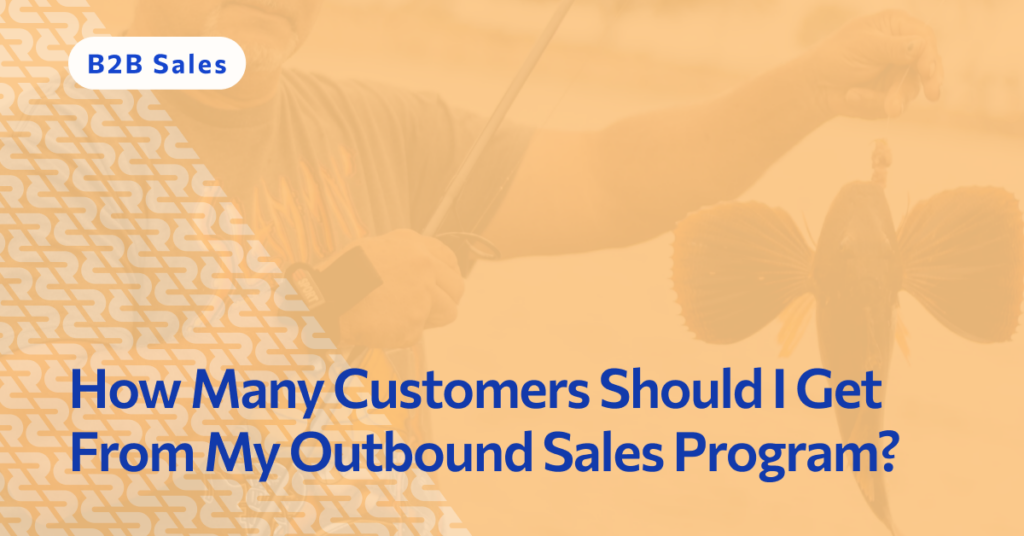 How many customers — and at what rate of conversion — should our outbound sales program be delivering for our business?
This is a question our new clients always ask us often, and we understand why. Customers and conversions are the main metrics by which we measure outbound success. If your outbound efforts aren't delivering a full and high-quality pipeline, it's not helping you achieve your sales goals and grow your revenue.
The answer, however, is that it depends.
It's tough to pin down firm expectations for any new clients, particularly startups working with a combination of new product, new market, new messaging, and new sales process. Instead, we recommend following a few rules of thumb to benchmark your progress. That's what we'll cover in this guide.
The sections that follow will first outline what's included in a quality outbound sales program, then walk through target conversion rates for each stage of the program.
Quick Takeaways
Outbound sales programs are essential to reach the leads you want, not just those that find you through inbound marketing.
Key components of an effective outbound sales strategy include: defined audience, quality prospect data, multichannel outreach, high-value content, data-driven reporting, and automated processes.
You can expect to convert 1-2% of new prospects to MQLs, but this percentage can be impacted by factors like brand recognition, market size, and niche.
Target goals for SQL to MQL should live around 10%, and SQL to win around 25%.
You can continually improve your outbound sales program by committing to learning as you go, assessing progress, and applying insights to action.
Why do you need an outbound sales program?
Today. we're in the era of inbound — it seems like it's all we hear about as it relates to winning new B2B customers. But the inbound hype is largely misguided as it's positioned against outbound sales. One does not eliminate the other. In fact, they complement each other when they're done right.
There's no doubt that companies need inbound strategies to capitalize on buyer behaviors like online search and content engagement. But thinking it should replace your outbound strategy is a big mistake.
Outbound sales programs are what enables you to pursue the leads you want and that fit best with your solutions — not just the ones who happen to make their way to you from Google.
Further, outbound sales is what often boosts deal size, sales velocity, and sales conversion rates since outbound targets generally have higher purchase intent from the start.
What should be included in your outbound sales program?
Fully-Defined ICPs and Buyer Personas
Do you know exactly who you're targeting with your outbound sales program? If not, that's where you should start. Even if you do know, it's not a bad idea to start by refining your ICPs and buyer personas to be sure you've got them right.
A good outbound agency will also start with this step so they really know your customer and get on the same page about buyers you're trying to attract.
The Right Prospect Data
It's not technically difficult to purchase or generate prospect data in today's B2B environment. What matters is where you source your data and whether you can do it efficiently.
You can generate your own prospect data with tactics like lead magnets, trade shows, online events, web visitor tracking, and social media (among others).
Buying lists is a smart strategy when you sell into a niche market and/or prospect in industries where companies operate under the umbrella of a larger organization. You can also use sites like ZoomInfo, Data.com, NerdyData (etc.) to find and download contact information.
Our advice: Create a focused strategy for sourcing prospect data and streamline the workflows involved as much as possible. We hear from clients all too often that they are overwhelmed by the amount of time they spend collecting data.
If you simply don't have the bandwidth or resources to do it, buy a prospecting tool or hire an agency to help you. Data is the lifeblood of your outbound sales program, so it's worth making the investment.
Targeted Outreach Across Multiple Channels
A multichannel approach is the best way to execute outbound sales. According to McKinsey, buyers will interact with brands via 10+ channels during their purchase journey.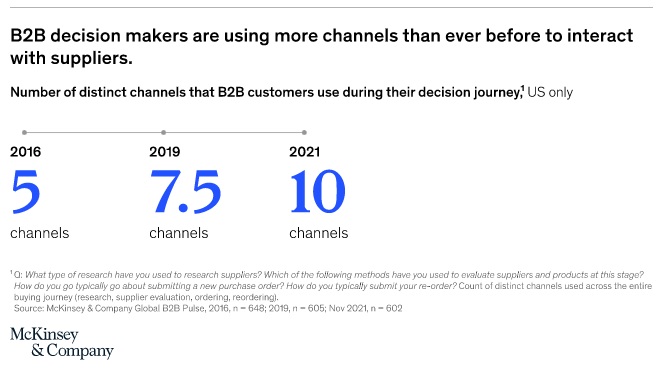 Aim to reach your audience through email, social media, cold outreach, and at in-person and online events. The specific combination of tactics won't look the same for every company (because every audience is different and has their own channel preferences), but reaching your target audience on a mix of whichever channels they prefer is your best bet for winning more customers.
High-Value Content
Content is largely considered an inbound tactic, but it can play a powerful role in your outbound sales program, too. Including high-value content in prospecting emails and other outbound communications is one of the surest ways to establish your brand expertise and get prospects to engage.
According to recent research, B2B buyers now engage with 13 content assets — 8 of them vendor-created — before they make a purchase decision.

If you aren't already producing great content, the time is now to do it. If you are, think about how to leverage it optimally in your outbound efforts.
Data-Driven Performance Reporting
The best outbound sales programs are agile and based on data-driven insights. It's critical to track KPIs, monitor progress closely, and report on performance frequently to understand what's working, what needs adjustment, and how to optimize each part of your strategy.
Automation
It's nearly impossible for B2B organizations to execute a marketing and sales strategy at the scale required without automation. It saves companies time, handles large volumes of prospect data that enters your systems, and analyzes it effectively so your reps can take action.
There is no shortage of benefits to automation according to B2B professionals, who say that it improves the customer experience, generates more and better quality leads, shortens the sales cycle, and increases conversion rates.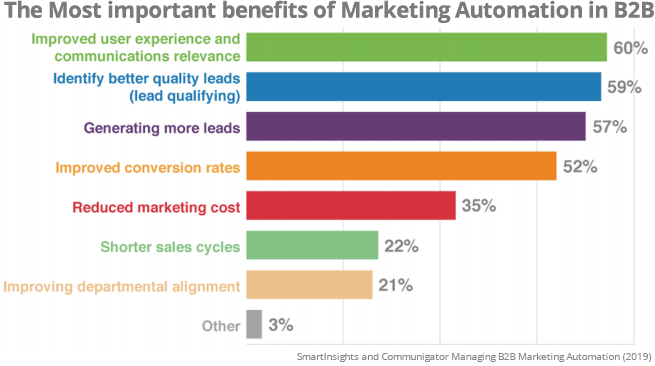 Outbound Sales Target Conversion Rates by Stage
Prospect to MQL — 1% to 2%
While the percentage can vary slightly, we generally book about 1-2% of the prospects we work into marketing qualified leads (i.e. booked appointments) through our outbound sales program for clients. That means if you run 800 prospects through the top of your funnel each month, you should aim for 8 appointments booked with a stretch goal of 16.
There are a few factors that can really influence this number:
Brand recognition — If the prospect has already heard of you when they receive an outbound ping, you're going to get a better response rate.
Your niche — If your niche is narrow and well-defined, you're going to get a better response rate. The more targeted your approach, the more likely you'll convert.
Market size — If your target market is really small (<1000 target companies), then a high-volume, automated outbound sales process probably isn't the best fit.
Ease of prospecting — Some markets are easy to prospect (online marketers, higher education) and other markets are difficult to prospect (franchise businesses or local businesses).
Value proposition — If you have a unique offering and/or a novel solution to a painful problem, you're more likely to get a great outcome — particularly if you have written a compelling message!
Pipeline entry points — We've learned that combining email with social outreach creates a multiplier effect vs. email or social alone.
Follow-up process — Getting an engaged prospect is only part of the battle. Besides a handful of "Sure — this sounds interesting," replies, most engaged prospects will require lots of additional work — clarifying questions, overcoming objections, running down referrals, etc. This kind of work at scale requires significant process and discipline.
MQL to SQL — 10%
The number of sales meetings that convert to a customer depends on product, timing, sales process, and a variety of related factors.
For new companies taking new products to market, your conversion rate will probably stink out of the gate and get better as you take more shots on goal and learn more about your market.
The biggest factors here are your pitch and your qualification process. Can you find the client's problem and convince them that you have the best solution? If so, can you further qualify that they're the right person and have the budget to make a purchase decision?
As a stretch goal, you could assume that (eventually), 25% of meetings set from your outbound campaign will advance into a sales qualified opportunity.
SQL to Win — 25%
Your opportunity to win ratio is largely a function of timing, persistence, and an excellent sales process. If you've qualified the opportunity and made their shortlist, then you're almost to the finish line.
The classic sales rule of thumb is that 1 out of 3 opportunities will close, which comes out to about one new win per 12 qualified meetings (if you assume that 25% of your meetings advance to an opportunity).
Process to Insights — 100%
Both RevBoss and our clients learn a ton as we go — and as long as you keep learning from the process, applying your learnings, and honestly assessing your progress, you're less likely to waste resources and effort.
We impose learning at RevBoss by building a strategy deck for our clients to help plan our initial combined efforts, including potential obstacles and solutions. We then do a weekly call with our clients to keep tabs on progress, review the week's data, and change our approach as necessary.
Outbound sales programs work, but it takes time and consistent effort. So it may be a couple of months (more or less) before any leads you churn up sign a subscription agreement.
Once you get the first deal over the line, you can review the funnel economics to determine whether you should ramp up your sales development program, give it more time to percolate, or pull the plug.
Stay the course, keep learning, and keep your foot on the accelerator — it's much easier to learn how to steer a bike when you're riding it and it's moving forward!
RevBoss's outbound email software and lead generation services are custom-built for startups, consultancies, marketing agencies, and other B2B organizations. Schedule a quick call with us and find out how we can help you win more clients.