How SaaS Companies Can Get Started with Content Marketing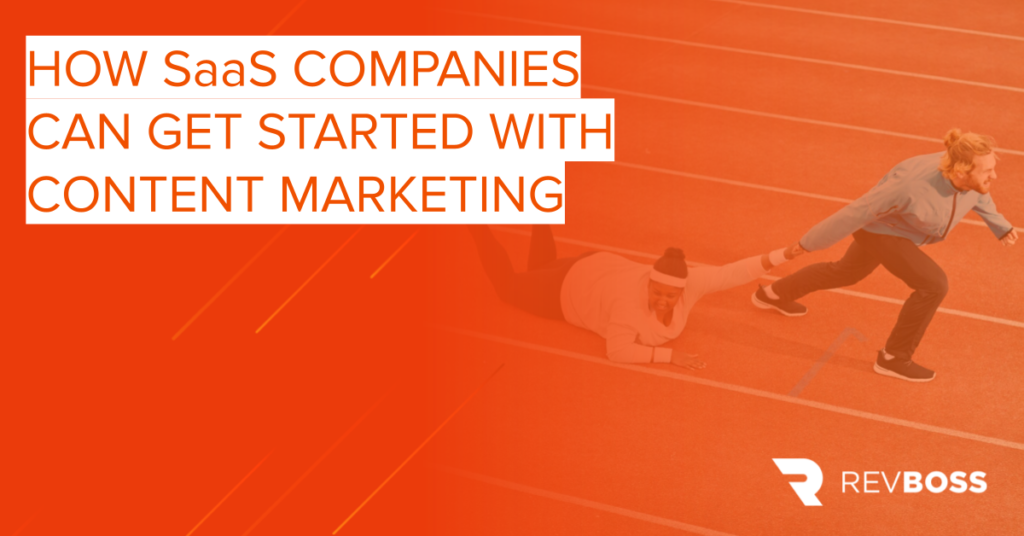 There's no doubt about it: your SaaS company needs content to attract new customers and engage their target audience.
Why?
For starters, SaaS companies operate almost exclusively online. Content does much of the work when it comes to connecting with prospective and current customers. At the same time, buyers are now performing 57-70% of their research independently before they reach out directly to potential providers. Without great content, you have no way of demonstrating why your brand is the best choice.
But content marketing for SaaS companies comes with unique challenges. A longer sales cycle, highly technical products, and a crowded marketplace all make it difficult to stand out than it is in many other industries.
In this article, we're going to cover:
What you need to know about content marketing for SaaS
4 steps SaaS companies can take to get started with content marketing
Resources that can help you throughout the process
Quick Takeaways
Content marketing enables SaaS companies to move prospects along the buyer journey, build strong customer relationships, and increase retention.
Launching a content marketing strategy starts with three types of research: customer, competitive, and keyword.
Every content marketing strategy needs a documented plan that includes topics, content types, and a publishing schedule.
Identifying and measuring key KPIs is critical to content marketing success.
Why is content marketing for SaaS so important?
Content marketing is an effective method for attracting new customers and moving them along the buyer journey. Research has shown that content marketing has a 6x higher conversion rate than any other method. This presents a huge opportunity for SaaS companies whose sales process and customer relationships are almost exclusively digital.
Let's take a look at the typical SaaS buyer journey:
As you can see, SaaS buyers need different information across the awareness, consideration, and purchase stages of their journey. This means they also need targeted content that delivers the right information at the right time.
You can use content marketing tactics like keyword research and SEO to make sure your content is hyper-relevant to every potential buyer who finds your brand. When your content makes people feel like you truly understand their needs, they are more likely to consider you as a top choice in their search for solutions.
Content marketing for SaaS brands extends well beyond the initial purchase as well. SaaS companies rely on a subscription-based business model, meaning that maintaining strong customer relationships is just as important as making sales.
In summary: with a strong content marketing strategy in place, SaaS companies can target the right buyers, move them along the buyer journey, convert buyers into customers, and maintain engaged customer relationships that result in higher retention.
Launching a content marketing strategy for your SaaS business
Do your research
There are three types of important research you need to do before you launch your content marketing strategy: customer, competitive, and market.
Customer research
Customer research tells you what you need to know about your buyers. It helps you develop the knowledge you need to effectively target your content. For B2B brands, including SaaS companies, it's a good idea to use your research to develop both an Ideal Customer Profile (ICP) and buyer personas. Your ICP describes the types of companies that can most benefit from your solution, and your personas identify which people within those organizations make purchase decisions.
Here's an example:
Competitive research
To differentiate yourself on the market, you need to know your competitors. Performing a competitive analysis prior to launching your content marketing strategy enables you to optimize your positioning in your content. It can also help you identify gaps and opportunities to improve your offerings, messaging, and customer experience.
Keyword research
Keyword research is critical to ranking on search engine results pages. Given that 93% of online experiences begin with search and 75% never scroll past page one, your content needs high rankings to be visible to your target audience. Fortunately, there are plenty of keyword research tools you can access online to guide you. One of the best is SEMRush's Keyword Magic Tool.
Here's a quick overview of how it works:
Develop a plan
You'll need a documented plan to keep your SaaS content marketing strategy on track — emphasis on documented. When you have a detailed plan in place, you're less likely to get off track, miss deadlines, or end up with a disjointed effort.
Some important components of your content marketing plan include:
Topics
Which topics are important to your customers? How will you cover them with your content? Much of this will be inspired by your customer and keyword research.
Content types
Which types of content will you create? Examples include your blog (the cornerstone of your content marketing strategy), video, social media posts, infographics, and podcasts. Decide which types are most appropriate for your audience specifically. Start with one or two and build your plan out over time.
Content calendar
Your content calendar outlines when, were, and by whom your content will be published. It's absolutely essential that you maintain an active content calendar to avoid gaps in publishing. HubSpot research found that companies that publish 11-6 times per month earn 3.5x the traffic as those you publish less frequently. Keeping a calendar and sticking to it yields major ROI!
There are tons of awesome content calendar templates that you can download and customize to your plan. Here's a great list to help you get started.
Create retention-focused content
We already know that SaaS companies rely heavily on customer retention. Retention-focused content provides ongoing value and builds community so that customers are more likely to stick around.
Some ideas:
Strong onboarding content that includes how-to and explainer videos for your products
Nurture email series with tips and tricks to help customers optimize product potential
Social media groups groups where users can ask questions and share ideas
Case studies that showcase your customers' success stories
Measure key KPIs
How do you know your SaaS content marketing strategy is working? The only way is to identify and measure important KPIs. This is a step that's easy to skip but crucial to success. Companies that know and frequently measure their key KPIs:
Are more likely to hit their targets
Can quickly identify and address challenges
Have a better sense of their marketing ROI
Some commonly used content marketing KPIs include organic traffic, rankings, unique page visits, inbound links, leads generated, and content shares.
Our outbound email software and lead generation services are custom-built for startups, consultancies, marketing agencies, and other B2B organizations. Schedule a quick call with us and find out how we can help you win more clients.