How to Build a Profitable B2B Referral Program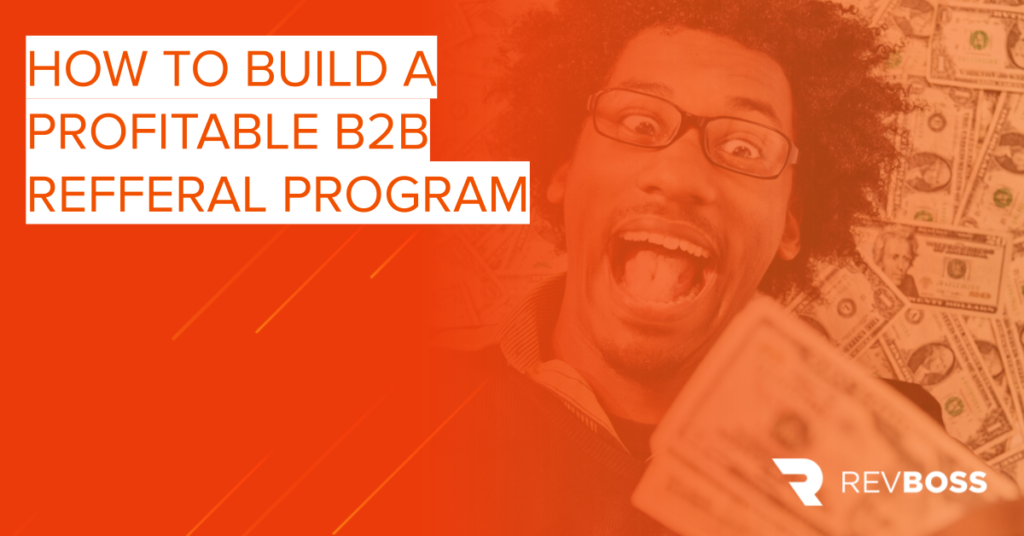 Did you know that referrals are the top source of business for B2B agencies? HubSpot research found that a whopping 90% of B2B agencies said referrals are their number one source of leads — higher than their website, blog, social media, and email marketing.
You can take advantage of this massive opportunity to fill your pipeline by creating a B2B referral program. That's what we're going to cover in this article. The sections that follow will cover what a B2B referral program is, why it's important, and 8 steps for building one at your company.
Quick Takeaways
B2B referral programs are part of your bottom-of-the-funnel (BOFU) marketing and sales strategy.
83% of B2B buyers are open to recommending a company after a positive purchase experience.
Customers who were referred to your company are 5X more likely to also refer it themselves later on.
Incentives are effective motivators to get customers to act on their recommendation plans. They should always be value-based.
B2B referral programs can be kept top-of-mind by promoting them across marketing and sales channels.
What is a B2B referral program and why should you have one?
A B2B referral program is a formalized process that encourages satisfied customers to recommend your brand to peers. It makes referrals an integrated part of your marketing and sales strategy rather than an ad hoc contributor. With a program in place to drive them, referrals can become a predictable part of your marketing and sales funnel.
Officially, referral programs live in the bottom of the funnel (BOFU), where current customers become brand advocates when nurtured effectively.
A common hesitation brands have when considering referral programs is the idea that asking for a referral would be too pushy. What if it turns your current customers off to your brand?
It's a valid concern, but research has shown that it's just not the case. In fact, it's found that 83% of buyers are open to referring a business after they make a successful purchase. At the same time, 88% of B2B buyers seeking solutions seek word-of-mouth assurance before they choose a provider.
Customers who were referred to your brand are also 5X more likely to recommend your brand themselves later down the road. In other words, a B2B referral program creates a virtuous cycle of happy customers finding you more happy customers.
8 Steps for Building a Profitable B2B Referral Program
Build strong customer relationships
To build a successful referral program, you need strong relationships with the customers you already have. This means prioritizing their experience even after they make a purchase with tactics like great onboarding programs, user guides and resources, and check-ins from your sales or customer support team. When customers feel valued and supported in these ways, they're more likely to want to recommend your brand to peers.
Prioritize your B2B referral program internally
For your referral program to be successful, you'll need to focus your top sales and customer support talent on asking for and earning referrals. Clearly communicate to your teams that referrals are a priority as part of your strategy for attracting new opportunities. Provide the necessary training and resources related to your referral program for your teams to execute effectively.
Decide when you'll ask
Part of the reason B2B referral programs work so well is because they standardize the process for your teams — including when to make the ask. As you build your program, decide when and how you'll actually ask for referrals. For example, a referral request email might be part of your customer nurture series after they respond to your customer feedback survey.
Prioritize high-potential referrers
Look for indicators that make a customer a high-potential referrer. Examples include additional purchases or upgrades, recent subscription renewals, or leaving a positive review. You may also have specific clients in mind because of their network and/or the likelihood that their peers will also need your products or services.
Whatever the case may be, know the traits you're looking for in referrers and prioritize those who have them in your strategy.
Incentivize referrals
Even if your customers are happy with their experience, it can take several requests before they actually make a referral. Incentives can be a great motivator for getting customers to act. The best B2B referral programs go beyond generic incentives (like a $50 Visa gift card) and offer something that's valuable to their customers.
We like this example from Zoho, which offers 5 additional users for customers that make a referral. Not only does it offer a true value incentive, but that incentive reinforces the value of their product and widens its use potential for the customer.
Automate the process when you can
Automation can help you scale your B2B referral program and remain confident that no client or step in the process will ever fall through the cracks. Of note: automating your referral program does require a balance between aiming for efficiency and maintaining a level of personalization that makes your request authentic. Fortunately, tools like email marketing and CRM platforms make it easy today to both automate and personalize.
Promote your B2B referral program
There's no limit to the number of referrals your customers can make. Keep your B2B referral program visible by promoting it across channels. Mention it in customer emails (even when it's not the main headline), create a page for your program on your website, and share it on your social media pages.
Find ways to include it as a follow up to other touchpoints, such as an annual feedback survey or a customer support interaction. You never know when a referral opportunity will arise for a current client, and frequently promoting your program means you're more likely to capitalize on those times.
Focus on brand quality
This one perhaps could go without saying, but we'll say it anyway: your brand must be worthy of referrals in order for your B2B referral program to be successful. At all times, be sure you are prioritizing brand quality related to both product/service offerings and the customer experience you provide. As a top-quality brand, you'll earn more organic referrals as well, increasing the ROI on your efforts and growing your referral business beyond its formalized program.
Our outbound email software and lead generation services are custom-built for startups, consultancies, marketing agencies, and other B2B organizations. Schedule a quick call with us and find out how we can help you win more clients.