How to Build an Email List That Works for You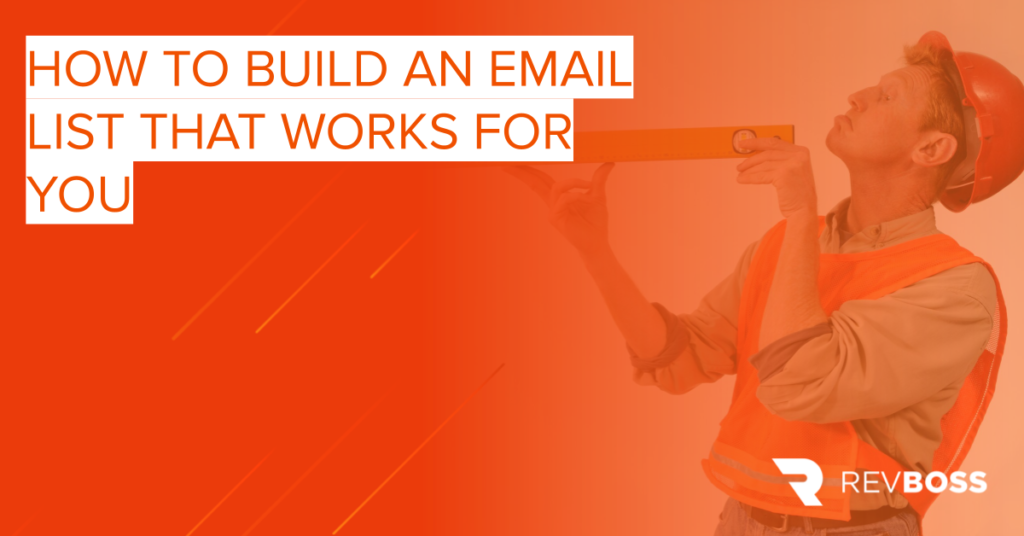 Nearly three-quarters of all consumers report that email is their most preferred method of brand communication. Email is a huge opportunity for connecting with prospective and current customers, promoting new products and offers, and converting new leads and sales — if you have a strong email list building process in place.
Email list building is the process of collecting email addresses from web visitors and users, then sorting them into targeted lists so that they receive the right messages in the future. An email list is an owned media asset that you have complete control over — no matter what happens to your search rankings or web traffic, you have your email lists to use for direct communication with your customer base.
In this article, we'll go over exactly what goes into the process of email list building, then walk step-by-step through how to build an email list that earns high ROI for your business.
Quick Takeaways
Email lists are built through a number of methods including forms, pop-ups, lead magnets, landing pages and more.
Successful email marketing earns higher ROI than any other digital marketing medium.
CTAs that are customized and describe value convert at a higher rate.
Companies with more customized landing pages earn more leads.
High-value lead magnets are considered an even exchange for an email address because they help consumers accomplish something tangible.
Pop-ups may once have been considered outdated, but today they're a high-converting tactic for collecting email addresses.
What is email list building and why do you need to do it?
Let's dive a little deeper into what exactly goes into email list building and why it's so important for B2B and B2C companies.
Although we use the term "email list," these actual lists often include other important user data, such as name, gender, age, location, company and more. During the email list building process, companies collect this information with the aim of segmenting it for targeted communication in the future.
Email list building is done through a variety of methods:
Website sign up forms – Forms embedded into specific web pages for users to share their email contact information.
Pop-ups – Small window that appears at strategic times when users are browsing to encourage email address sharing.
Lead magnets – High-value digital assets like ebooks, whitepapers, webinars, or PDF checklists offered in exchange for contact information.
Social media – Many companies use social media groups and events to collect email addresses from followers and other users.
There are two primary reasons every company needs an email list building strategy. First, as we already know, consumers prefer email over every other method of brand communication. If that's not enough to convince you, consider this: email also earns the highest ROI of any digital marketing medium. Companies that effectively use email marketing earn $40 per $1 invested.
How to build an email list that works for your business
Include targeted CTAs on every blog post
You can earn more email signups by crafting CTAs that are highly relevant, motivating, and customized to the content it appears with on your website. We recommend creating a CTA for every single blog post you publish on your website.
Think about it: we see CTAs all over the place as we browse the internet every day. A simple "Sign up for emails!" is not going to get you far when every other brand is asking the same from their web visitors.
To optimize your CTAs for email list building, think about the following:
Is this CTA relevant to this specific content? For example, a CTA about email list building (like this one!) might ask: "Interested in learning more tactics for building a stronger email marketing strategy? Sign up for our newsletter to receive weekly tips!" On the other hand, a generic "Sign up!" CTA might get ignored because users don't know what value they'd get out of the newsletter.
Does this CTA describe value? Always include the specific value offer in your CTAs. Our previous example did so by mentioning the email marketing tips that would be included in the weekly newsletter.
Is this CTA motivating? If you customize your CTAs and include a value offer, it's already inherently motivating. You can make it even more so by using compelling language and active or urgent words such as download, claim, join, today, and now.
Promote your newsletter on social media
Even if you're just starting out with email list building, you can leverage your already-established network to promote your newsletter (or other high-value content you share). One of the best places to do it is on your social media platforms. It doesn't have to be a hard sell, either. A quick look at the reasons consumers follow brands on social media shows that they want this type of content.
You can approach newsletter promotion a few different ways on social media:
Tease content previews from your newsletter
Share full-version highlights
Publish bulleted lists of the kind of content subscribers will receive
All of these demonstrate the value of your content and motivate followers — who presumably already like your brand — to take further action and sign up for your email newsletter.
Offer high-value lead magnets
Lead magnets are high-value, downloadable assets offered by companies in exchange for a user's contact information. Lead magnets are especially popular in B2B marketing, although B2C brands use them too.
Common types of lead magnets include:
Ebooks and whitepapers
Webinars
PDF checklists and guides
Customizable templates
Lead magnets are motivating for web users because they help them solve a specific problem or accomplish a task related to their job. Given that web users do not want to share their contact information with just anyone, lead magnets are generally considered a fair exchange. They're an extra win for companies, too, because they demonstrate expertise and value to prospects who were already considering your brand.
Create more customized landing pages
HubSpot research found that companies saw a 55% increase in leads when they upped their number of landing pages from 10 to 15. Customized landing pages also help brands build bigger email lists by addressing very specific needs and offering a more personalized experience for each visitor to your site.
Use strategically placed pop-ups
Pop-ups tend to get a bad rap thanks to their aggressive and unregulated use in the early 2000s. But today, pop-ups are an extremely effective tool for building email lists and helping customers find valuable tools and resources. They can be specifically timed to appear at a certain point in a web user's visit to your site (like after a certain amount of scrolling, or when a user clicks to exit a page), and they can include relevant, valuable copy and CTAs.
Below is a good example from OptinMonster — the value proposition and compelling CTAs jump out at you right away. The full list in their article on email pop-ups includes a treasure trove of examples to inspire you.
Make your forms straightforward
Last but not least: keep your forms simple and straightforward so that they are easy for your web visitors to complete.
Length is a factor, but short is actually not always better than long (or vice versa) — it really depends on your goal. HubSpot research found that shorter forms earn more but less qualified leads, while longer forms earn less but higher-quality leads. Depending on what you're trying to achieve, one may work better for your company than another. It may even vary from one instance to another.
No matter what, only ask for information that is relevant to your strategy. Think about how you segment your email lists and how you target your content — it will tell you what you need to know about your audience. B2C companies often look at demographic information like gender and age, while B2B companies more often ask for professional information such as job title or company name.
When your customers share their information with you, they are trusting you to steward it well. Above all, build your email lists with intention and prioritize delivering valuable content that builds long-lasting customer relationships.
Our outbound email software and lead generation services are custom-built for startups, consultancies, marketing agencies, and other B2B organizations. Schedule a quick call with us and find out how we can help you win more clients.