How to Build and Retain a High Performing Sales Team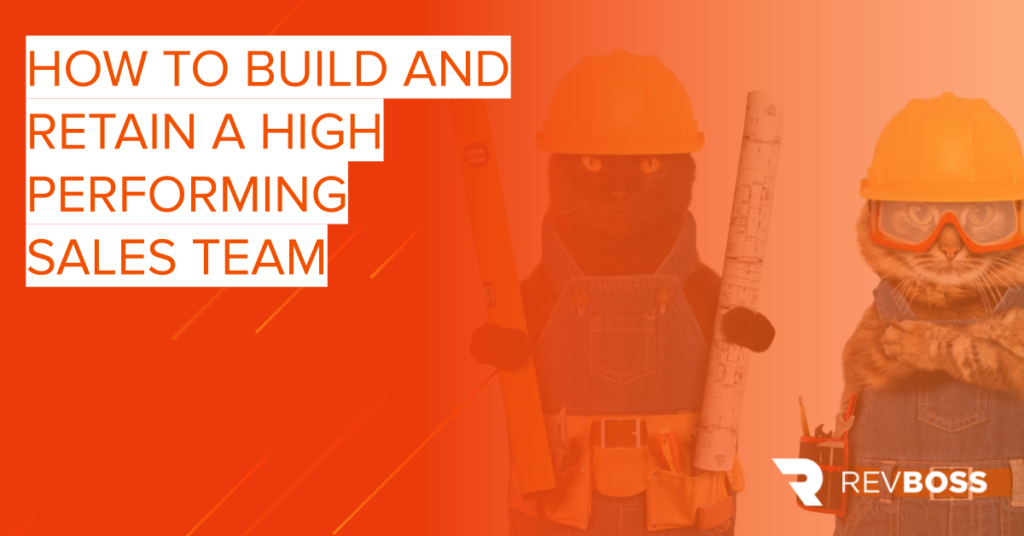 Sales performance can make or break your ability to meet revenue targets, and in 2022, the market for great sales talent is more competitive than ever. Companies must put new emphasis on effective recruitment while also leveling up the performance of their current sales team.
In this article, we'll cover specific ways you can build a high performance sales team for your business. These tactics not only improve performance but build sales rep confidence, create a better buyer experience, and lead to higher retention and employee satisfaction over time
Quick Takeaways
During the current sales talent shortage, companies must double down on hiring standards rather than rush to fill vacant roles.
Quality onboarding programs improve new hire retention by 82%.
Defining ICPs, buyer personas, and your sales process helps reps provide a more customized and quality experience.
Sales enablement resources and sales leader availability boost sales rep confidence and help them continually improve.
Why Hiring the Right Sales Talent is Critical
Building and retaining a high performing sales team starts with hiring the right sales talent. Unfortunately, too many companies hire without considering this crucial factor, then end up struggling to motivate underperformers.
This problem has been compounded by The Great Resignation and the talent shortage that has followed, particularly in sales. Forbes recently called it a sales talent crisis, and one expert featured in the article reports that firms in fast-growing markets (like Silicon Valley) are losing up to 25% of their sellers per quarter.
Most organizations aren't experiencing a level of turnover quite that extreme. But many are feeling the squeeze to some degree, and the natural inclination is to just get vacant sales roles filled by the next decent applicant.
This, however, is a mistake. Companies must instead double down on their sales talent strategies, both defining and sticking to their hiring standards while maximizing the potential of their current sales team.
Korn Ferry outlines a few key strategies for attracting and hiring the right applicants for your sales team. They include:
Using data points like quotas, revenue goals, attrition, and onboarding time to determine unique hiring needs by role
Developing a sales talent success profile that defines attributes most commonly successful within your sales process
Vetting your talent sources to ensure they aren't filtering out quality candidates
Crafting your sales talent strategy with intention and aligning it with your company's processes and goals sets the foundation to build a high-performing sales team.
How to Build and Retain a High Performing Sales Team
Provide exceptional onboarding
Your new employees aren't the only ones making a first impression. To retain a high-performing sales team in today's competitive talent marketplace, you need to provide a great experience. It starts with onboarding and training.
Does your sales onboarding program set new employees up for success? Does it aim to build employee engagement from the start? If not, it's time to revamp your approach.
Research has found that a strong onboarding program can improve new hire retention by a whopping 82% and productivity by 70%. Employees that are onboarded well are 18X more likely to stay with their company.
Know your customer
Your ideal client profiles (ICP) and buyer personas describe the organizations and individual decision makers (respectively) who would benefit most from your company's offerings, and thus presumably deliver the highest sales ROI.
Both must be clearly defined and shared with your sales team. If you aren't clear on your target audiences, neither are your employees, which means they could be spending a lot of time chasing down leads that are unlikely to convert. Take time to make sure these frameworks are complete and make them highly accessible to your sales reps for reference.
In today's sales environment, buyers expect reps to understand their needs and personalize the experience accordingly. Your sales team's understanding of ICPs and personas could be the difference between buyers choosing you or going with a competitor.
Define your sales process
Your sales process is like a roadmap outlining the actions sellers should be taking at every stage of the buyer journey. Companies often develop a visual representation of the sales process (like the example pictured below) to guide employees on implementation.
Developing and enforcing the sales process creates process standardization and makes sales performance more consistent. You can use your CRM system to integrate the sales process and create milestones that employees can mark complete as they move leads down the pipeline.
Align marketing and sales
Marketing and sales alignment makes a significant impact on both the quality of leads that are passed along to your sales team and how seamlessly it happens. In particular, it's important to get marketing and sales on the same page about what qualifies as a high-potential lead.
To do this, set clear lead scoring criteria and defined processes around MQLs and SQLs. Add a step for sales accepted leads so that sales teams have to acknowledge and approve leads before they move past MQL. This facilitates closer communication between marketing and sales while also ensuring no leads get lost in limbo.
Provide effective sales enablement
Sales enablement means putting the right content, resources, and training in place to help your sales employees perform at a high level. It encompasses things like:
Sales content to share with buyers
Process guides and other how-to resources
Training and professional development
Not only does sales enablement make sales reps more prepared and confident, it results in win rates about 7% higher than companies with no sales enablement in place.
Be available
Sales leaders spend a lot of time crunching numbers and focusing on the overall performance of your team — but how often are they actually interacting with their employees? Available sales leaders who engage in coaching and other less formal interactions with sales reps can boost win rates and improve the overall quality of the employee experience.
Our outbound email software and lead generation services are custom-built for startups, consultancies, marketing agencies, and other B2B organizations. Schedule a quick call with us and find out how we can help you win more clients.