How to Build the Perfect Go To Market Strategy for B2Bs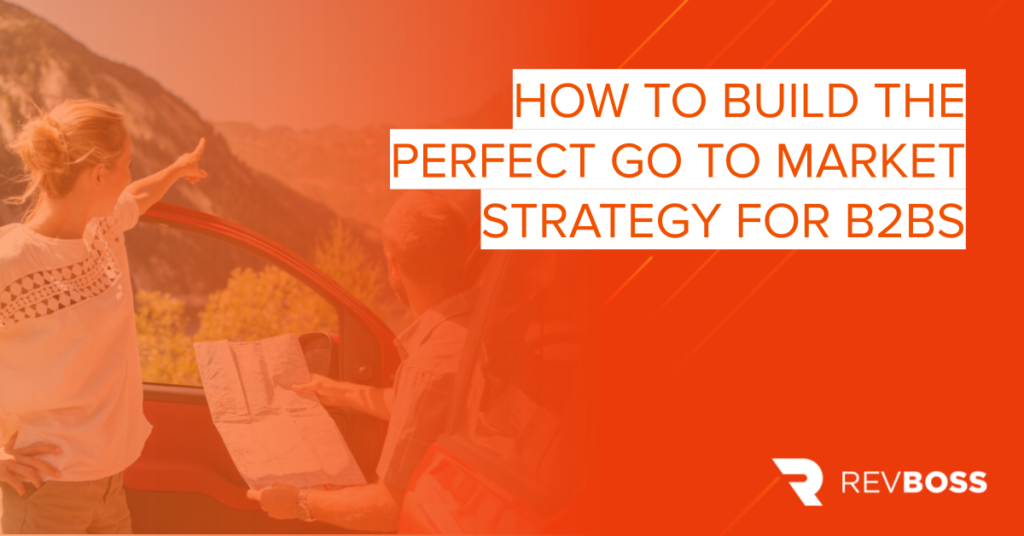 Do you want your business to grow? To see new products and services be successful? To earn more revenue and reach the right customers?
I'm going to guess the answer is yes, and if it is, you need a go to market strategy. Trying to launch a new business, product, or service without a go to market strategy is like leaving for a long road trip with no map — you're going to do a lot of guessing without ever knowing for certain if you're going in the right direction.
In this guide, we're going to cover the essentials you need to know to build a successful go to market strategy for your B2B business, including:
The basics of go-to-market strategies and why they're important
Four critical components of a strong go to market strategy
Unique considerations for B2B companies going to market
Actionable steps for building a go to market strategy that leads to success
Let's get started!
Quick Takeaways:
There are four main components of a complete go to market strategy: product market fit, target audience, competitive landscape, and distribution.
Lack of market need is one of the top reasons new businesses and products fail.
Conducting a competitive landscape analysis helps you understand competitors and build strong positioning in your market.
Go to market strategies should always be customer- and need-centric.
B2B go to market strategies must consider multiple decision makers and high levels of value demonstration.
The 4 main components of a go-to-market strategy
A go-to-market strategy is a defined plan for bringing a new company, product, or service to market. It defines your value proposition, your target customer base, the way you'll position yourself against the competition, and executional steps for marketing and sales.
Before you actually build your go to market strategy, it's important to understand the four key components it should address. Each of these plays a role in understanding the level of need that exists on the market for your business, product, or service.
Let's look at each of these components in greater detail.
Product Market Fit
Product market fit is exactly what it sounds like — it's how well your product satisfies an existing market demand. Believe it or not, this is a component that's often overlooked by entrepreneurs and companies launching something new to the market. It's easy to get caught up in the passion you have for an idea you're developing and assume that the market will share that enthusiasm.
The truth is, though, that lack of market need is consistently found to be one of the top reasons new startups fail. A recent study by CB insights found it came second only to lack of capital.
The best way to evaluate the need for your new business, product, or service is to ask: what problems am I solving for customers? Once you know the problems you're solving, you want to understand two key things:
Is this a problem that customers care about? In other words: is it serious enough that people would purchase a solution to solve it?
Are other companies already solving this problem?
You should validate the answers to these questions by talking to real potential customers and performing thorough market research.
Once you know you're solving a problem that's impactful for your customers and there are not many others already doing the same, you can feel sure you'll have a strong product market fit.
Target audience
Who is experiencing the problem you're solving? Why would they pay for a solution — yours, specifically — and how much would they be willing to pay? These are the kinds of questions to ask as you outline who your target audience is and why.
The primary way to understand and validate your target audience is to focus on their pain points. Pain points are the negative impacts your target audience experiences as a result of the problem you're trying to solve. When you operate from the perspective of pain points, you're better able to build a solution centered around existing customer needs.
One really helpful tool for understanding pain points and how your solution aligns with them is the Value Proposition Canvas by Strategyzer. This tool looks first at your customer profile, the pains they experience, the jobs they're trying to accomplish, and the positives they're trying to gain. Then, it evaluates your solution against those things.
Here's a quick overview on the Value Proposition Canvas and how to use it:
Competitive landscape
Many people ask the wrong question when it comes to evaluating the competition, which is: who is already offering what I'm offering? The truth is, that matters less than this question: who is already solving the problem I'm aiming to solve for customers?
Here's why: customers don't really care how their problems are solved — they just care that they are.
To build the best go to market strategy, you need to understand what other solutions exist for the same problems. Then you can analyze how yours stacks up.
One helpful way to think of it is through the lens of direct and indirect competitors. Direct competitors offer the same type of products or services to solve the same problem. Indirect competitors solve the same problem but they do it with a different type of solution.
Ultimately, you want to perform a competitive landscape analysis to understand your entire market and how its players all relate. This is slightly different from a standard competitive analysis, which focuses more on direct comparison of product/service offerings. Competitive landscape analyses look more at the market position of each competitor, including existing market share, web traffic, company growth, and more.
We recommend using SEMRush's step-by-step guide to performing a competitive landscape analysis to get started.
Distribution
How will you distribute your product to customers? This is an important part of your go to market strategy because it considers which channels your customers prefer and how you'll get your product to them through those channels.
For instance, will your product be sold in stores? Are you offering a service that will mostly be marketed and delivered digitally? Does your distribution strategy require a hybrid of the physical and digital (for example, a product sold in stores and through an e-commerce website)?
These questions are important to answer because customers — no matter how great your solution is — are unlikely to purchase it if they can't find it or have to go out of their way to get it. Just as important as defining your value proposition and product market fit is understanding how you will deliver your product so that it is visible and accessible to your target customers.
How to build the perfect B2B go to market strategy
B2B companies have unique considerations to keep in mind when they're building a go to market strategy. B2B buying decisions require a significant time and financial commitment, and they usually involve several decision makers rather than a single consumer. This requires more complexity in your thinking as you consider the main components of your go to market strategy.
Let's go over the steps to actually building your go to market strategy, keeping these B2B-specific considerations in mind as we do.
Create your value proposition
Your value proposition is a clear, concise statement about the value your solution delivers to its customers. Once you know the problem you're trying to solve, you're able to craft this statement with a strong focus on customer pain points. Keep your value proposition customer centric, focusing on how your solution will make their lives better.
Here's more on B2B value propositions:
Know your ideal customer profile
Your ideal customer profile (ICP) encompasses the attributes that describe your most valuable customer — the ones most likely to benefit from the products and services you have to offer. Common attributes covered by ICPs include company size, industry, maturity, target customer, and location.
You can have more than one ideal customer profile, and well-defined ICPs give you a strong understanding of your target audience as a whole. You can look at the industries, company types, roles, and decision makers best suited for your solutions and tailor your go to market strategy to them.
Define your positioning
Remember the competitive landscape analysis we mentioned before? Here's where it's going to come in handy. If you haven't already performed the analysis, this is the time to do it so that you can figure out how you'll position your product on the market alongside the competition.
Know your budget
Your go to market strategy is going to cost money. How much can you spend on research? Marketing? Sales? Knowing the resources you have available is essential for building a go to market strategy that's realistic for your company to execute well.
Develop your marketing and sales plans
These might be built as one plan or two separate plans — either is okay, depending on how your company is set up and what works best for your teams. The important thing is to define your plan with actionable steps that clearly define a deadline for each task and who is responsible for completing it. Your marketing and sales plans are what keep you focused and accountable, preventing you from veering away from your initial strategy (when it's not warranted) or giving in to costly procrastination.
There are tons of great marketing and sales plan templates you can use to do this. Hubspot provides several options in their articles here and here.
Create great content
Now you know your value proposition, target customer, positioning, budget, and marketing and sales plans. You've got everything you need to create the actual content you'll use to generate leads and make sales. At this point, there are two types of content you need to create:
Marketing content – Builds awareness and interest in your company, product, or service.
Sales enablement content – Content that sales reps can use throughout the sales process to demonstrate value and make a strong sales case.
Evaluate and pivot
How will you know if your go to market strategy is successful? The best way to do it is to set goals for your new product and your plan, deciding on which metrics are most important for measuring your success. Goals for your go to market strategy can be tied to your timeline (i.e. to accomplish a certain task by a certain date) or to revenue (i.e. X amount of new leads, X amount of leads converted to sales, X new web visits, etc).
Most importantly, use the evaluation process as a means for remaining agile and flexible. Evaluate frequently and pivot when you need to, responding to feedback from your marketing and sales teams as well as early adopters of your new product.
Our outbound email software and lead generation services are custom-built for startups, consultancies, marketing agencies, and other B2B organizations. Schedule a quick call with us and find out how we can help you win more clients.