How to Choose and Work with a Lead Aggregator Company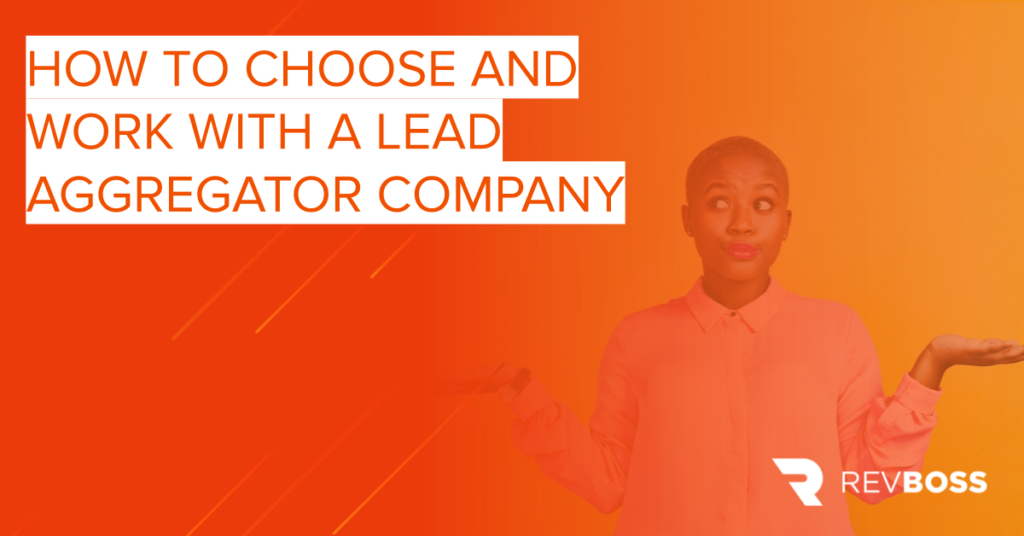 Lead aggregator companies source and distribute high-potential sales leads to companies that need them. They're a significant source of business potential that can augment internal lead generation strategies, drive growth in new markets, and provide access to new customers from a wider range of sources.
All that said, it's essential to find a lead aggregator that's reliable, ethical, and attuned to the unique needs of your company.
In the sections that follow, we'll take a deeper look at what lead aggregation entails and how to recognize reliable partners for sourcing leads through this method.
Quick Takeaways
Lead aggregators source leads at high volume and distribute them to B2B businesses.
Lead generation is still one of the top challenges identified by marketers.
Most lead aggregators now offer hybrid lead generation and aggregation services driven by software platforms and other technology tools.
High-quality lead aggregator companies are transparent about their source networks and compliance practices.
Lead aggregation vs. lead generation: what's the difference?
Lead generation and lead aggregation are often used interchangeably, but they're not actually the same thing. Lead generation is the process of generating leads from a direct source. For example, your website's landing pages collect contact information from web visitors to generate a direct lead for your business.
Aggregators, on the other hand, collect leads that have already been generated by other sources. They categorize them and then resell them to buyer organizations who don't generate enough leads on their own (or otherwise need them for a separate reason).
Here's a hypothetical example to demonstrate what the process looks like:
Company A features a website tool that helps people search for and compare different automobile makes and models. Their website collects information from web visitors, who are presumably interested in buying a vehicle. Company A is a lead generator.
Company A sells those leads to Company B, which buys leads in bulk and at wholesale value from multiple sources. Company B categorizes the leads based on two factors: location and the types of automobile being researched (i.e. pickup trucks vs. small sedans) for resale to dealerships that need them. Company B is a lead aggregator.
Company C is a local truck dealership just starting to build their web presence. They aren't generating many leads on their own. To compensate, they purchase a database of leads located near their dealership and interested in their trucks (or similar makes and models). They email those leads and offer a special promotion for buying during a certain time period, drumming up new business they would not have otherwise been able to earn. Company C is the end user.
What do lead aggregation companies do?
As you can gather from the example in the previous section, lead aggregators act as a middle man of sorts between the original lead generators and the end users who need the leads. They help companies access relevant, high-potential leads at scale to drive growth.
Given that 65% of companies identify lead generation as a top marketing challenge, this service is at high demand in many industries and from companies of all sizes.
Lead aggregators today are becoming more sophisticated than ever. Thanks to the internet and modern technology tools, aggregator companies are often able to offer a hybrid version of the traditional business model, generating their own leads while also sourcing them from a variety of reliable sources in their network.
How to Choose a Lead Aggregator: 5 Things to Look For
Attention to Your Needs
Today, the best lead aggregator companies are much more than vendors. They're partners in your process that take time to learn about your specific goals. Never settle for a lead aggregator that simply wants to sell you lists without truly knowing what you need.

Instead, look for a company that will partner with you in an ongoing way, providing you with the right leads to drive growth for your company in a meaningful way.
Reliable Network
Where is your lead aggregator sourcing their leads? As mentioned before, most aggregators now offer more comprehensive service models than in the past, which often includes leads generated from their own original sources.
No matter what, your lead aggregator should not hesitate to be transparent about where they get their leads. A reliable network is the foundation for high-quality leads that convert.
Modern Technology with Integration Options
Most lead aggregators are using modern platforms and online tools to source and distribute their leads. Ideally, your lead aggregator can integrate directly with your CRM and other systems to feed the right leads directly into your sales pipeline at the right stage of the sales process.
Compliance
There are rules and regulations in place by various legal entities to protect consumers from fraudulent or otherwise unethical use of their personal information. Lead aggregators are required to remain compliant with these rules, and they should be able to demonstrate a high level of knowledge and compliance steps to you as the client.
Regulations can vary by industry, so it's important to know which ones you're required to follow and do your due diligence to be sure your aggregator is doing the same.
Performance Reporting
Lead aggregators use performance reporting in two primary ways. First, potential lead aggregator companies should have performance reporting data ready to share with you to demonstrate their track record.
Second, they should have processes in place to report on performance of the leads (and related services) they provide to you. This is one area where integration with your current systems is quite helpful.
The Takeaway
Lead generation is a challenge for many companies, and lead aggregators can be a powerful source of reliable, high-potential leads that drive business growth. That said, it's critical that companies do their homework and vet potential aggregators for reliability, ethics, and performance.
The right aggregator for you will show attention to your unique needs, transparency around compliance and past performance, and high levels of technological capability to drive results.
Our outbound email software and lead generation services are custom-built for startups, consultancies, marketing agencies, and other B2B organizations. Schedule a quick call with us and find out how we can help you win more clients.