How to Choose the Right SaaS Marketing Agency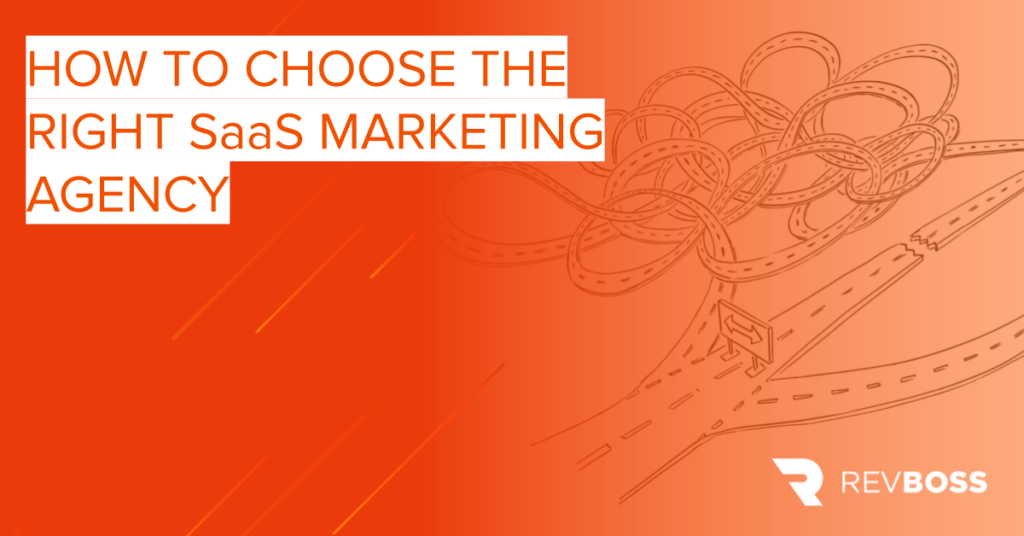 Should I hire a SaaS marketing agency? It's a question that many SaaS founders and CEOs have asked themselves.
It can feel counterintuitive to consider outsourcing when you're working hard to start or grow your own business. You might be thinking: isn't marketing something we can handle internally? How can I justify the financial investment?
The truth is this: if you're a founder or CEO, you've got plenty on your plate. From overseeing day-to-day operations to handling financials to managing staff to actually interacting with customers, there are always responsibilities that seem to require precedence over marketing.
Making the choice to outsource to a SaaS marketing agency might feel like you're shifting marketing lower on your priority list, but it actually ensures that your marketing efforts get continual focus from a team who is experienced and accountable for reporting results.
Here we'll explore how to know when it's time to outsource and what to consider when you're choosing an agency.
Quick Takeaways
Outsourcing to a SaaS marketing agency is typically more cost-effective and strategically successful than hiring an internal marketing team.
SaaS marketing agencies offer a wide range of services including SEO, content, PPC and more.
Some agencies specialize in one or a few services, while others operate as generalists. The best option for your company depends on your specific needs.
Customer reviews, testimonials, and referrals are one of the most trustworthy ways to evaluate potential SaaS marketing agencies.
It's critical to be certain that the processes of the agency you choose are a good fit with the way your company operates.
First things first: why do you need a SaaS marketing agency?
Marketing requires its own level of experience and expertise — especially at the B2B level — that you likely don't have if you've been spending your time launching and running a SaaS company. Hiring an internal marketing team is an option, but it's also really expensive and requires additional management.
Despite their best efforts, there are unique reasons SaaS companies often face marketing challenges.
Outsourcing your marketing efforts to an external SaaS marketing agency ensures that your strategy is built by experts with proven, structured processes and clear reporting measures in place so you know exactly where your money is going and the ROI it's earning.
Still not certain? Here are some sure signs it's time to consider outsourcing:
Your current marketing strategies are not working
You don't know if your current marketing strategies are working
There is poor structure and process around your marketing efforts
Marketing is handled by random employees at your company
You feel in over your head
If any of these resonate — read on.
What do SaaS marketing agencies do?
Marketing agencies have a wide range of expertise, resources, and tactical experience to help you execute strategies that are well-rounded. Some agencies offer more comprehensive services while others specialize in one or a few tactics. The jury is out on whether it's better to go with a specialist or generalist agency — probably because it depends on what exactly your company needs to accomplish.
We'll cover more about that part of the decision later on, but for now, here are some of the different services SaaS marketing agencies offer:
5 things to consider when choosing an agency
Your specific needs and goals
The marketing agency you choose should be based on your specific needs and goals, never the other way around. Before you even begin searching for a SaaS marketing agency, spend time with your internal team conducting an assessment of your current state of marketing affairs and the direction you want to go for the future.
The SMART goal framework is a commonly used (and effective) way to set goals that are clear and detailed.
With SMART goals in place, you're better able to evaluate which agencies might be a good fit and which you know you can pass over right away (for example, if your primary goal is content related, you don't need an agency who specializes solely in PPC marketing).
Generalist vs. specialist
Let's touch back on the generalist vs. specialist debate. If you're looking for a SaaS marketing agency, you'll likely hear arguments for both, and that's because there are arguments for both. Let's summarize them:
Benefits of generalist agency: Wider range of services offered means more convenience and less likelihood you'll need to work with multiple vendors.
Benefits of specialist agency: Specialization means increased focus on the success of that one specific tactic.
In short: if you have an established marketing strategy and need help with one particular tactic, a specialist is probably the right choice. If you are looking for comprehensive marketing services and to build your strategy from scratch, you should lean toward a generalist agency.
Customer reviews and testimonials
Customer reviews and testimonials are the most trusted ways that companies choose the brands they'll work with? Recent research shows that 91% of B2B referrals influence customers and that 88% of B2B customers seek word-of-mouth assurance before making a purchase. At the same time, 88% of B2B report that they trust online reviews just as much as those they get from friends or family.
In short: everyone's looking for online reviews and personal referrals when making B2B purchases, and good SaaS marketing agencies will be able to provide them for you if you ask.
Places to look for reviews and referrals:
List of brands worked with (often on company website)
Social media reviews
Product page reviews
Published case studies
Industry partners and acquaintances
Google reviews
Process, reporting, and culture
Even partnerships with the best intentions can fail if they aren't a good operational or cultural fit. Be sure that once you narrow down your list of agencies, you take time to get to know the people and teams you'll work with, the specific processes they use to execute strategies, and how you can expect results to be reported.
Good agencies will be ready to walk you through these processes step-by-step, usually with templates and examples you can review.
Go with your gut
Last but not least, go with your gut when it comes to choosing a SaaS marketing agency to work with. There is no one defining factor for making this decision. Every new agency starts somewhere, and even seasoned agencies don't succeed 100% of the time. It's great to have referrals and recommendations, but what worked for your friends and partners may not necessarily be the best option for your company.
Consider all factors, but once you've narrowed your list to include choices that you know are all high in quality and reputation, it's time to let your intuition be your guide.
Our outbound email software and lead generation services are custom-built for startups, consultancies, marketing agencies, and other B2B organizations. Schedule a quick call with us and find out how we can help you win more clients.