How to Create and Execute a B2B Remarketing Strategy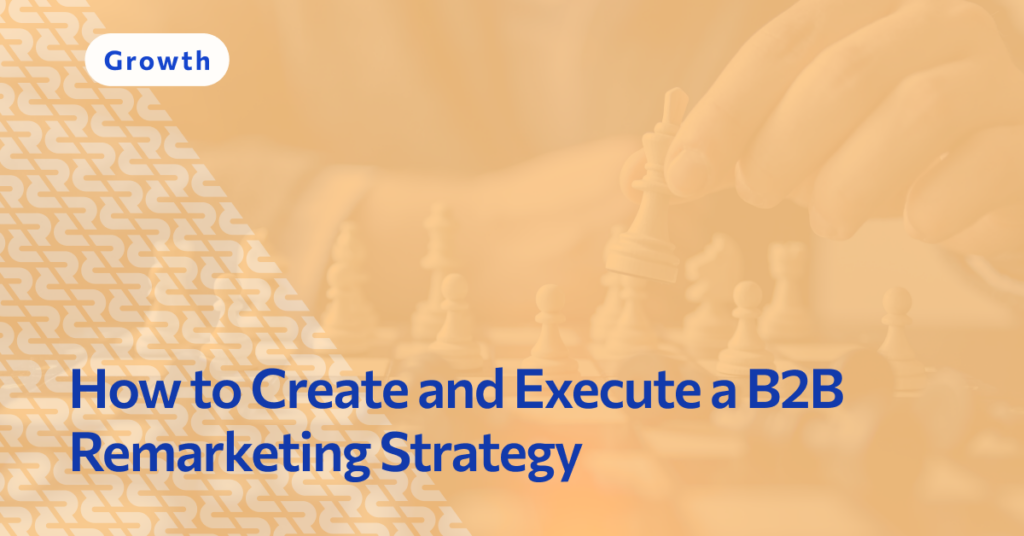 Did you know that only 2% of your website visitors actually convert? If this statistic startles you, you're not alone. The good news is that there is something you can do about it — implement a B2B remarketing strategy.
Remarketing gives you a second (and third, fourth, and so on…) chance to convert leads in your pipeline that need a little extra encouragement before they make a purchase. And the reality in today's B2B business world is that most leads do need a little extra encouragement.
B2B buyers have access to more information at their fingertips than they ever did in the past, which means they're also vetting more provider options and digging deeper into your offerings before making a commitment.
If you don't remarket to high-potential leads while they're going through this process, you could be losing them to competitors that do. In the sections that follow, we'll walk through how to create and execute a killer B2B remarketing strategy so you never lose out on an important sales opportunity.
Quick Takeaways
B2B remarketing strategies are built around email marketing campaigns. This is different from retargeting, which focuses on display ads.
Remarketing messages should be crafted to be hyper-relevant for each unique target audience in your strategy.
Trigger events are occurrences that create an opportunity for remarketing engagement.
Content assets like ebooks, blog articles, and infographics can be powerful complements to in-body remarketing email messaging.
Tracking key data-driven KPIs allows you to objectively assess and continually improve your B2B remarketing strategy.
Remarketing 101: What It Is and Why You Need It
Remarketing is the process of engaging potential customers who have already interacted with your company in some way (for example, by visiting your website, downloading your content, or following you on social media) to convert them to a sale.
It can be used to engage both new leads in your pipeline and current customers with potential for further purchase (i.e. through upselling, cross-selling, or renewal).
Remarketing is often used interchangeably with retargeting. But while these two strategies share similar goals, they differ in their approaches. It's important to clarify this difference before we dive in further on how to build a B2B remarketing strategy.
In short, retargeting focuses on display ads through Google (and other search engines) and social media platforms. Remarketing, on the other hand, generally refers to email campaigns focused on re-engaging high-potential audiences.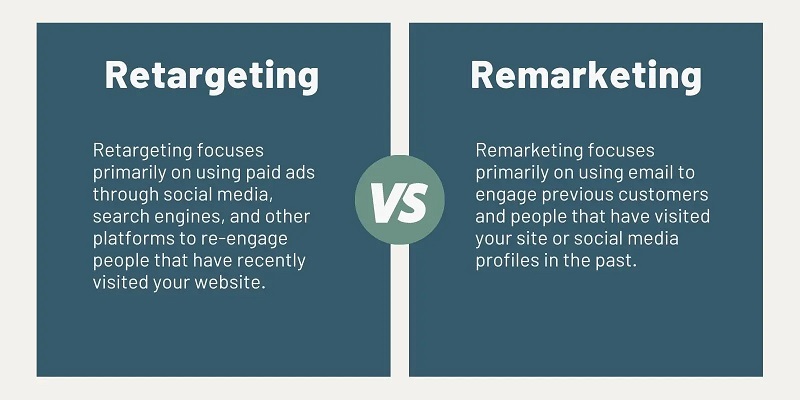 Remarketing is better suited for B2B companies by nature, since typical B2B leads require more personalized, direct outreach and relationship building before they convert. It's a powerful lead nurturing and retention tool and an effective strategy for reactivating old leads in your pipeline before they turn totally cold.
When implemented intentionally and consistently, a B2B remarketing strategy can significantly impact revenue growth and improve the buyer experience both pre- and post-purchase. Let's walk through 5 steps for building a strategy designed uniquely for your business and audiences.
How to Create and Execute a B2B Remarketing Strategy: 5 Steps for Success
Know your audiences
Start by identifying the target audiences for your B2B remarketing campaign. While traditional marketing strategies often target audiences by personal and professional attributes (think ideal customer profile and buyer persona criteria), your remarking efforts will be more focused on behavioral targeting.
For example: if you're using a remarketing campaign to boost sales of a particular product, you might target leads that view your product page but don't fill out an interest form. If you're looking to increase overall activity along the pipeline, you might target older leads that haven't been active for a certain period of time. If you're focused on increasing subscription renewals, your target audience will be current users of that product.
It's important to fully define your target audiences because your messaging will vary across campaigns depending on who you're trying to engage (and why). By knowing your audience for each campaign, you can ensure the content it includes is hyper-relevant and likely to earn its intended ROI.
Study your pipeline
Next, study your pipeline to determine where the best opportunities exist for remarketing. This will be impacted both by external factors that influence market demand (i.e. the state of the economy or current technology trends) and your specific business (opportunities to remarket a software subscription, for example, will be different than for managed services or for a set of hardware equipment).
In general, however, you want to look for places in your pipeline where leads have potential to drop off (or already are) and/or where you have cold leads waiting to be re-engaged. These are the most effective starting points for a new B2B remarketing campaign.
Identify the right trigger events
In B2B remarketing, a trigger event is any occurrence that creates an opportunity for engagement. An easy example is an abandoned online shopping cart triggering a reminder email for the customer to make their purchase.
Other potential triggers you might look for include website bounces, viewing high-intent web pages (like product or pricing pages), or following your business on social media. You may also consider the absence of an action to be a trigger event — for example, if one month goes by without further action from a lead.
Trigger emails use automation to engage audiences at exactly the right time and allow for scaled execution. Research has found trigger emails to earn significantly higher open rates and click-through rates than other types of email communications, including newsletters, RSS, and autoresponders.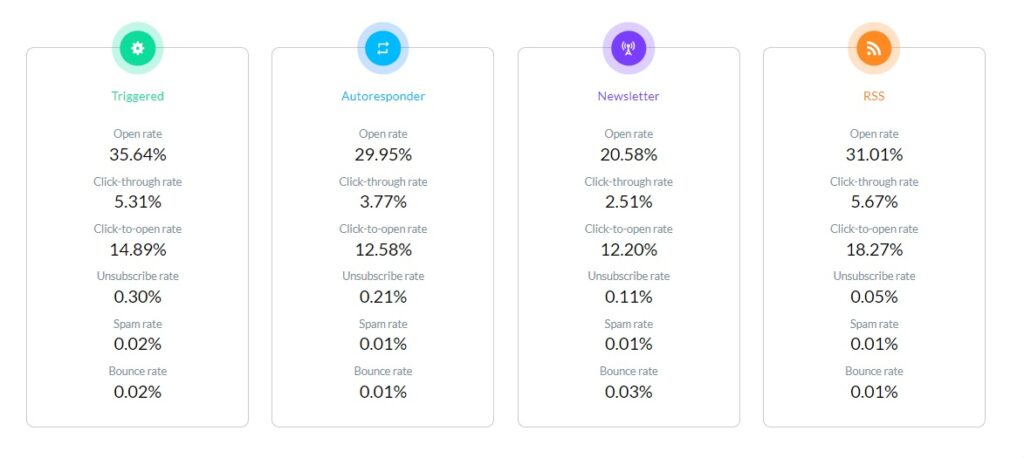 Create great content
Content marketing is one of the most effective B2B marketing tactics — a powerful inbound complement to any outbound lead generation effort. One of the best ways to utilize the content library you create through that strategy is to include it in your B2B remarketing strategy, too.
Content assets like blog articles, infographics, PDF guides, ebooks, and more can all help demonstrate your brand expertise and supplement the information you provide in the body text of your remarketing emails.
Remember, too, that the body of your emails themselves are also content. Don't treat them like an email reminder you send to your colleague about a meeting request — remarketing emails are meant to inspire potential customers to take action and make them want to engage further with your business.
Showcase your brand personality, take a customer-first approach by emphasizing benefits, use visuals when you can, and always include a strong CTA to ensure your audience knows what to do next.
Track key KPIs
Data-driven performance monitoring is one of the surest ways to up the ROI on your B2B remarketing strategy. Why? Because it creates an objective assessment of success and guide for continuous improvement.
When you know how your current strategy is working and have clearly defined KPIs to quantify it, you can make adjustments to improve its effectiveness over time and earn better results.
Number of sales should always be a KPI you use to measure remarketing success, but you can also consider other metrics leading up to the sale, like sales meetings scheduled, product demos conducted, or free trials started.
The effectiveness of individual tactics should also be measured, so don't forget to look at more granular email marketing metrics like open rates, click-through rates, response rates, or unsubscribes.
Over to You
An effective B2B remarketing strategy starts with getting the right leads in your pipeline from the start. Revboss's outbound email software and lead generation services are custom-built for startups, consultancies, marketing agencies, and other B2B organizations.
Schedule a quick call with us and find out how we can help you win more clients.