How to Create Your Ideal Customer Profile [Template Included]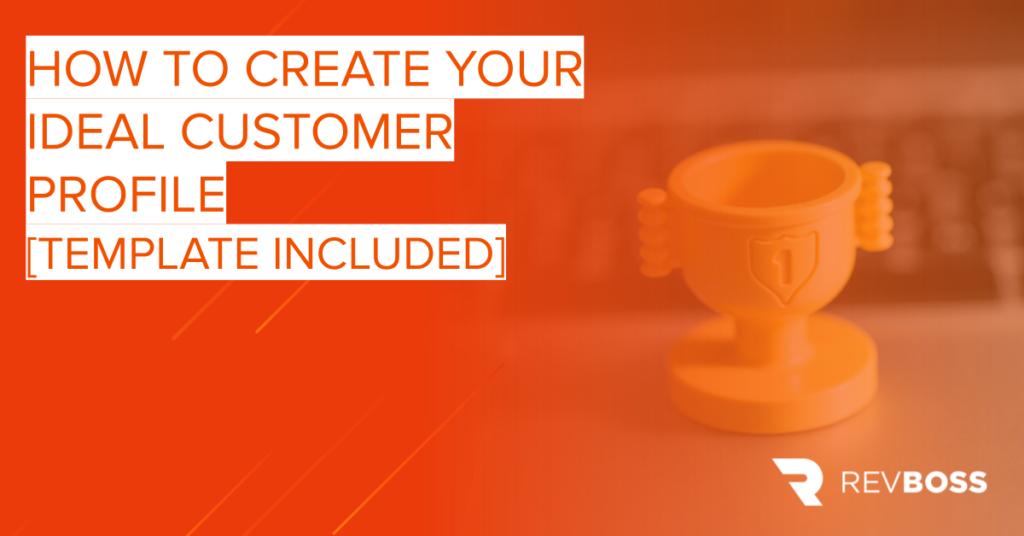 More is not always more when it comes to B2B leads. In fact, when you try to pursue every lead that comes your way, you'll find your sales teams burned out, your conversion rate low, and your time largely wasted. Ideal customer profiles are the most effective tool B2B companies can use to avoid this common problem.
In short, ideal customer profiles help you define exactly who you should be selling to so that you can earn the highest possible ROI from your marketing and sales efforts.
In this guide, we'll take you through the basics about ideal customer profiles, the specific steps you can take to build yours, and ways you can use them as part of your ongoing sales strategy.
Quick Takeaways
Sales reps spend more than half of their time pursuing poor leads. Ideal customer profiles are a critical tool for addressing this problem.
Ideal customer profiles focus on organization attributes, while buyer personas focus on the people within those organizations who will be part of the sales process.
To develop an accurate ideal customer profile, you must understand the problem your customer is trying to solve.
Your current customer base is a great source of insight to help you develop a strong ideal customer profile.
What is an ideal customer profile?
Your ideal customer profile (ICP) encompasses the attributes that describe your most valuable customer — the ones most likely to benefit from the products and services you have to offer. B2B companies use ICPs to enable their marketing, sales, and product teams to truly understand customer needs and pain points, then build targeted strategies around them.
Common attributes included in an ideal customer profile include:
Company size
Industry
Annual revenue
Budget
Customer base
Location(s)
Maturity (i.e. startup vs. established)
Company culture
Current technologies
If you're in B2B sales or marketing, you've likely heard statistics about the amount of time wasted on poor leads — some research shows that number could be as high as 60%. Well-developed ideal customer profiles shrink this startling number. They provide a guide that enables your teams to stay targeted and accurate in their efforts to pursue qualified leads, ultimately resulting in higher conversions, sales, and revenue for your company.
Here's a quick but helpful clip from leading sales strategist and speaker Tony J. Hughes. He explains why ideal customer profiles are an important tool for helping B2B companies to get out of the "everyone is a prospect" mindset and how you can think categorically about the kinds of attributes you include in your own ICPs:
ICPs vs. buyer personas: what's the difference?
It's understandable that people often confuse ideal customer profiles and buyer personas. After all, both aim to help you better understand your customer and create an overview of the potential buyers you want to target. But they are different, and B2B sales and marketing reps must understand where these key differences lie in order to use both tools effectively.
The main difference is this: ideal customer profiles describe the kinds of organizations you want to be your customers. Buyer personas describe the people within those organizations who you will interact with in order to close those deals.
While ideal customer profiles cover the firmographic data we covered in the previous section, buyer personas drill down into individual attributes of a person's role within a company, such as position title, seniority, business function, decision making power, annual salary, technological aptitude and more. Like ICPs, buyer personas help sales teams be more targeted in their efforts by reaching out and building relationships with the right people at the companies you pursue.
Both tools are extremely useful, but should not be considered interchangeable. Your ideal customer profiles should be developed first. Once you have them defined, you can start thinking about the people within those hypothetical organizations who make the most sense to engage.
Ideal customer profile template: 5 easy steps
Building your ideal customer profiles takes some time and effort. It should include all of the teams within your company who play a role in customer acquisition — marketing and sales teams certainly, but also product developers, customer support teams and any others whose work impacts your end user experience. All that said, it does not need to be difficult.
You can use the ideal customer profile template that follows, made up of 5 actionable steps, to start building your ICPs today.
Step 1: Know the problem your customer is trying to solve
Too many companies make the mistake of skipping this critical step. You cannot know who your ideal customer is without first understanding the problem they're trying to solve. Understanding the problem also enables you to create better offerings, delivering only solutions that optimally address your customer's needs.
There are some great tools available that you can use to explore customer problems and pain points. One of them is the Value Proposition Canvas, developed by Strategyzer to help companies understand their customers "jobs to be done" and how exactly their current or potential offerings align.
You can download it here and watch the video below for an overview on how to use it:
Step 2: Talk to your best customers
Your best customers — those that are already thrilled with how your solutions are helping them — are a great source of insight for you as you develop your ICP. They can tell you about their own experiences and help you identify opportunities to capitalize on what's already working.
Satisfied customers are usually perfectly willing to participate in a short discussion about why they like your company.
Ask them:
What are you most happy with about our products? What are you least happy with?
What are the best features of our solutions?
What problems or challenges do you use our solutions to address at your company?
How do you use our solutions on a daily basis?
Where could we improve? What do you feel you still need from us?
Use their answers to begin formulating an idea of the kinds of companies who would have similar needs and potential use cases for your solutions.
Step 3: Assess your entire current customer base
Now that you've talked to your best customers, it's time to do some larger data analysis on your entire current customer base. If you have a CRM system in place, this step will be easy. Build a report of your customer base that tells you about the attributes you'll include on your ICP, like company size, industry, and location. Some will be harder to nail down from a simple data report — company culture, for example — but you can always identify similarities even in those categories once you're looking at your list of customers.
Once you have your report and you've assessed the attributes of your current customer base, decide how well it fits with your ideal customer. Are their attributes you'd like your customers to possess that few actually do? Are you serving customers that don't actually fit the profile you see as ideal for your company?
Knowing the answers to these questions helps you build an ICP that will steer your strategy in the right direction — toward the exact kind of customers you want to serve.
Step 4: List attributes of your ideal customer on an actual worksheet or document
Now it's time to actually develop your ICP. There are some excellent templates already out there that you can use to do this. Here's one we like from evergrowth that you can copy and edit right in Google docs:
Step 5: Share your ICPs widely within your organization
The key to making your ICPs impactful is sharing them with the people at your company who can and should be using them — which really, in one way or another, is everyone. Most importantly, communicate about your ICPs with your marketing, product, and sales teams. You might even want to hold a meeting or training session on why they're important and how they should be used.
Over to you
Now that you've created your ideal customer profiles, it's time to put them to good use. One easy and effective way to do this is to filter by ICP attributes when you're using your CRM, LinkedIn Sales Navigator, and other company databases to source leads. When you see only the companies that actually fit your ICP, you can more easily fight off that old "everyone is a prospect" urge to cast a net that's too wide and focus only on leads that are likely to convert.
When you receive inbound inquiries, use your ideal customer profile as a tool to evaluate their lead potential right from the start. It will help you take the right approach throughout your first interactions with potential customers.
No matter what, don't let your ICPs fall to the wayside after you put in the work to create them. Make them part of your everyday strategy, from creating your sales pitch to developing marketing campaigns to developing new products and more. Soon you'll find that your teams are more intentional, their efforts more effective, and your sales and marketing ROI higher.
Our outbound email software and lead generation services are custom-built for startups, consultancies, marketing agencies, and other B2B organizations. Schedule a quick call with us and find out how we can help you win more clients.