How to Scale Lead Generation with Marketing Automation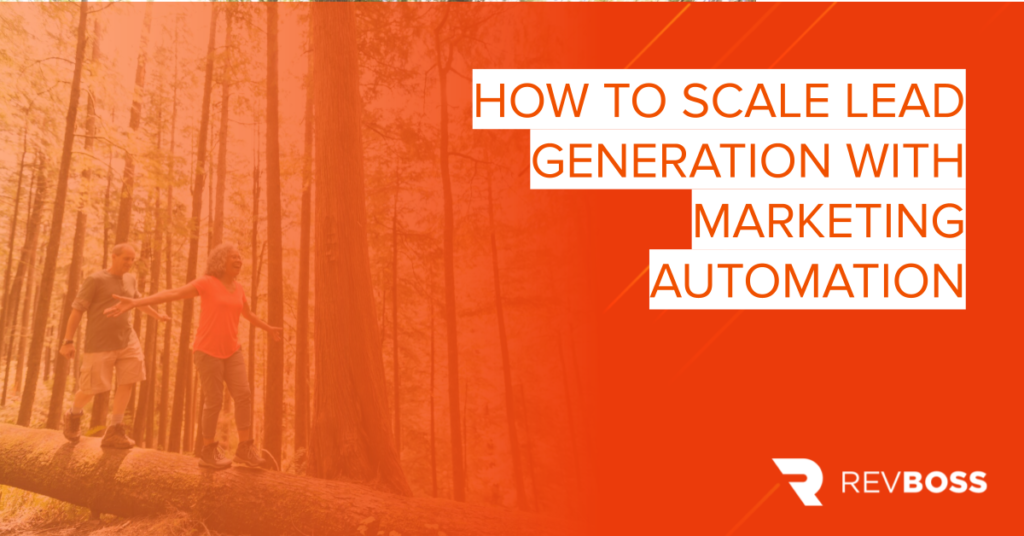 Do you feel like your lead generation efforts aren't earning the ROI they should be? If you do, you're not alone. Recent research shows that marketers have reported lead generation to be their company's top marketing challenge.
Marketing automation can change that.
When lead generation and marketing automation work together, every component of your marketing and sales process can be streamlined and scaled, eliminating many of the roadblocks your company may be encountering. In this article, we'll tell you exactly how to do it.
Quick Takeaways
80% of marketers are experiencing better lead generation results due to marketing automation.
Improved user experience is the top benefit reported by marketers using marketing automation software.
Email marketing (both cold and retargeting) powered by automation can be designed with higher levels of personalization.
Chatbots help generate leads by collecting data about customer interests and directly asking for contact information.
Marketing automation streamlines lead generation across channels, touchpoints, and internal teams.
How are lead generation and marketing automation linked?
Today, lead generation is all about scale. Businesses have unprecedented direct access to their ideal customers. Conversely, customers have more avenues for finding and vetting potential vendors and service providers than ever before. The opportunity for identifying new leads and converting customers is massive — when you have the right strategy and tools in place.
Marketing automation platforms centralize every component of your marketing and sales process, streamline complex workflows and data, scale your operations, and make your teams better informed.
They do it by integrating systems and turning your big data into actionable insights. The results are undeniable. Research performed over the past year has found that 80% of marketing automation users saw an increase in number of leads, and 77% saw an increase in conversions.
But that's not the whole story. Where is the gap for the 20% of marketing automation users not seeing results?
It's likely that those users don't fully understand the capabilities and applications of their marketing automation system. In order to be effective, marketing automation platforms must be harnessed the right way by the companies and people using them.
In the next section, we'll walk through 6 actionable ways you can use marketing automation to scale your lead generation efforts and generate more leads for your business.
6 ways marketing automation can scale your lead generation efforts
Enhanced user experience
First thing's first: in order to generate leads, you need to provide a high-quality, engaging user experience. This is one of the ways lead generation and marketing automation fit together most seamlessly. In fact, B2B companies already using marketing automation reported improved user experience to be its top benefit:
Notice that better-quality and increased leads come in a close second and third place, and this makes sense. It's your user experience that drives lead generation in the first place.
So how exactly does marketing automation enhance the user experience? Mainly by using your CRM data to create customization at every stage of the buyer journey. Using marketing automation, you can personalize content, landing pages, emails and more so that every user sees the specific ways your solutions will add value for them.
Email retargeting
Did you know that on average, a lead requires 6-8 touches in order to become qualified?
One common reason leads fall out of the funnel is because they're left to turn cold after initial interest fails to translate to further action. With marketing automation tools, you can use email retargeting to turn these dormant users back into active leads.
Email retargeting reintroduces particular products or other offerings to users who show interest but don't follow all the way through on the CTA.
Here's how it works: marketing automation software tracks customer data and specific actions users take. Using tags, website tracking data, and other custom fields set by you, It creates audience segments based on common characteristics. You can then send each segment emails addressing the exact topics, pain points, and offerings most relevant to them.
By delivering this hyper-relevant content, you remind users why they were interested in your company in the first place.
Below is a real-world email retargeting example from HubSpot. Notice the first sentence of the email mentions the exact web page visited by that user. Then, it follows up with multiple CTAs to drive further action toward conversion.
For a more product-focused retargeting email, see the example below from Nordstrom. This email features a mention and photo of an item the user left in their cart.
Personalized cold email campaigns
The key to success with cold email outreach is personalization. It's no secret that it takes a lot for users to notice and take action prompted by a cold email. To make yours stand out, you need to personalize beyond including a user's first name.
With marketing automation, you can level up your cold email outreach with content blocks that demonstrate the unique value your solutions offer to a recipient. Some examples:
Addressing the products and services most relevant to their needs
Including testimonials from customers in their vertical
Prioritizing industry-specific content to demonstrate your expertise
When users feel that you have a real understanding of their individual needs and experiences, they're more likely to take further action to learn more.
Post-click automation and optimization
B2B companies invest billions of dollars into paid ads every year despite the fact that 96% of them never convert. What gives? Why can't advertisers get their paid ads to convert?
One of the biggest reasons is that in most cases, the personalized user experience ends with their first click. The pre-click experience gets all the attention. Ads are targeted, but the landing page and other parts of the after-click experience are not.
Marketers can map their ads and direct them to separate landing pages manually, but this is a tedious and inefficient method. It also limits the extent to which you can scale this tactic.
Enter: marketing automation.
Marketing automation enables you to personalize post-click landing pages at scale, which drastically increases your lead generation capabilities.
Chatbots
Many marketing automation software packages include chatbot-building capabilities. Although Chatbots have historically most often been used for customer service, they can also be a source for generating leads when they're designed to do it.
Website visitors often use chatbots to get their initial questions answered when they're conducting research. Chatbots can collect and store this inquiry-related data to be aggregated and analyzed for larger insights.
Chatbots can also directly request customer contact information. This snippet, taken from a larger exchange, shows an example:
AI technology is making chatbots smarter than ever, meaning they can use true conversational language (and even humor, as you can see above) to engage prospective customers.
Best of all? They operate 24/7, meaning your lead generation efforts are active even when your employees are not.
Automated lead management
Without marketing automation, there's a good chance your lead generation results are being hindered by gaps in alignment between your marketing and sales teams. The process seems simple enough: marketing uses a variety of tactics to generate leads, then passes them on to sales to convert into paying clients.
Here's how it shakes out across the marketing and sales funnel:
The reality, however, can be much more complicated. Leads can get lost along the way, and the blame game can quickly take over when numbers don't hit their target. Marketing automation is the answer to this and many other issues that arise as leads make their way down the funnel.
Marketing automation software enables automated lead management. It streamlines every touchpoint your marketing and sales teams have with a lead across every channel, and it tracks the actions a lead takes along the way. It allows you to pinpoint exactly where a lead went cold or heated up, and over time you can leverage this data to identify larger trends and optimize your processes even more.
At the same time, your marketing and sales teams become more aligned because everyone is on the same page about which team a lead lives with and when. Everyone is using a centralized data source to operate, and teams are made more accountable when every interaction is tracked in one system.
Optimized processes, smarter lead management, and more accountable teams? Sounds like a recipe for higher conversions.
Our outbound email software and lead generation services are custom-built for startups, consultancies, marketing agencies, and other B2B organizations. Schedule a quick call with us and find out how we can help you win more clients.