How to Use LinkedIn for Sales Prospecting + Outreach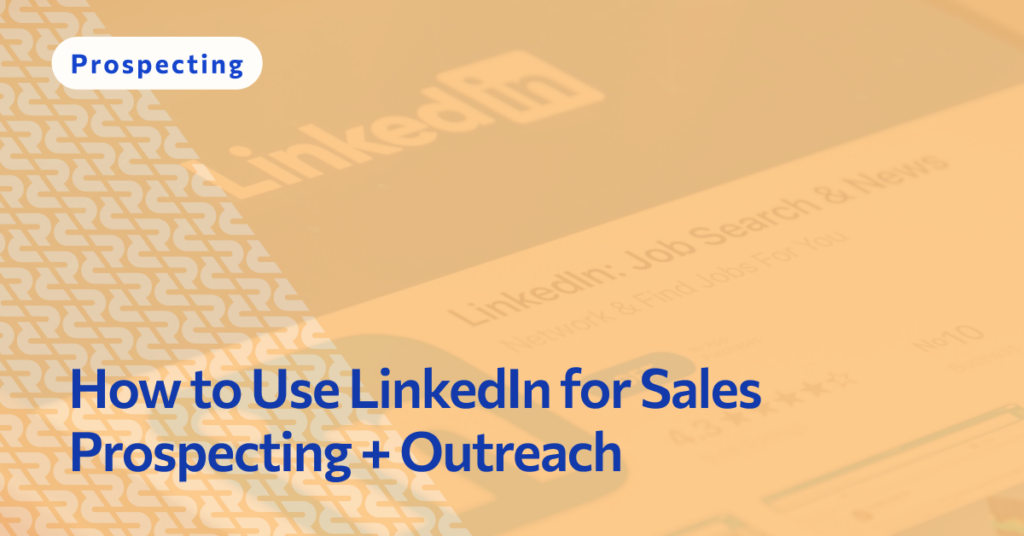 Knowing how to use LinkedIn for sales prospecting is a game changer for your strategy. Today, more than 90% of companies are using social media for marketing and sales, and LinkedIn is the most effective platform for B2B outreach.
According to LinkedIn itself, social selling leaders are earning better results than those with less effective approaches—they're 51% more likely to reach quota, and 78% of them outsell peers who don't use social media.

Fortunately, LinkedIn continually updates its features and capabilities to meet current sales prospecting and outreach requirements for its users. In this article, we'll dive deeper into why LinkedIn should be part of your sales strategy and cover 8 pro tips for maximizing its ROI.
Quick Takeaways
LinkedIn accounts for 2X more activity for business users than other social platforms.
LinkedIn Sales Navigator is the platform's premium tool focused specifically on prospecting and outreach.
Navigator features like boolean search allow you to hyper-target prospects and audiences you care about most.
LinkedIn's "suggest" features, your competitors' networks, and your own new followers are all free and easy ways to find high-fit potential prospects.
Alert features help you automate the sales prospecting search process.
Why Use LinkedIn in Your Sales Strategy?
Today's B2B sales process happens across many channels. McKinsey reports that B2B buyers use 10+ channels to engage with potential providers during their decision journeys, and social media platforms are one of the most important.
For business users, LinkedIn accounts for more than 2X the activity of other social sites, including the next popular—Twitter. With 922+ million active users and a site designed specifically for business communications, LinkedIn is the most powerful social selling channel for sales teams in every industry.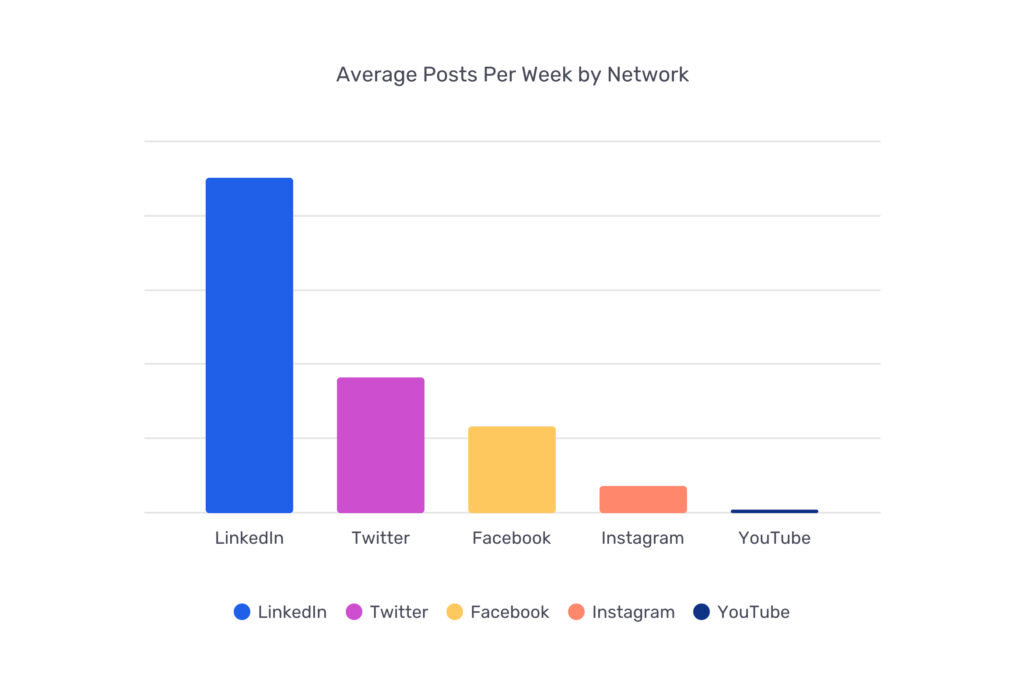 But being on LinkedIn alone isn't enough for your sales reps to make connections and convert sales. They need proven LinkedIn outreach tactics to make the most out of the platform's potential. In the next section, we'll walk through 11 pro tips for how to use LinkedIn for sales prospecting in ways that are sure to earn you results.
How to Use LinkedIn for Sales Prospecting: 8 Pro Tips
Use LinkedIn Sales Navigator
LinkedIn Sales Navigator is a premium tool designed specifically for LinkedIn prospecting and outreach. It enhances your ability to find and target high-potential prospects that fit your ICPs and buyer personas at scale.
Important features of Sales Navigator include:
Advanced search — Dozens of filters you can use to drill down to your target audience or the specific niche you need to reach for a campaign
Lead recommendations — Personalized, algorithm-driven lead recommendations based on previous activity like search, profile views, and preferences.
InMail Messaging — Access to LinkedIn InMail, which allows direct messaging with prospects even if they aren't in your current network
TeamLink — Feature that helps teams leverage their collective network by sharing connections within the organization
CRM Integration — Seamless integration with popular CRM systems like Salesforce and Microsoft Dynamics, enabling synchronization of prospect data, activity tracking, and pipeline management
Sales Insights and Alerts — Real-time updates and alerts on prospect and account activities, including job changes, news mentions, and engagement with content
Notes and Tags — Add notes and tags to profiles to keep track of interactions, conversations, and important details about prospects
If you're planning to make LinkedIn a significant part of your sales strategy, adopting the Sales Navigator tool is well worth the investment.
Start with a Profile View
Viewing new prospect profiles is a good way to tee them up for your forthcoming direct outreach. When you visit a profile, LinkedIn sends a notification to that person to let you know you've viewed them on the platform.
You probably won't get a response or direct engagement just from viewing a profile, but you will get yourself on your prospect's radar and begin to increase their awareness of your company.
Get Hyper-Targeted with Boolean Search
LinkedIn's boolean search feature enables you to combine search phrases with the words AND, OR, and NOT to define your search and get straight to the prospects you want to see most.
With NOT searches, you can filter out results you don't want to include in your search (ex: "sales" NOT "marketing). OR searches allow you to search using multiple criteria (ex: "sales" OR "marketing" OR "advertising") to cast a wider net. AND searches allow you to use multiple criteria and require that they're all included (ex: "marketing" AND "sales").
Boolean search is a huge time saver for reps doing prospect research—rather than searching for the needles in a prospect haystack, they can quickly find the ones that fit your ICP and buyer persona criteria.
It's important to note that LinkedIn's boolean search feature is only offered with Sales Navigator.
Use LinkedIn's Suggest Features
When it comes to finding high-potential prospects based on your current network, LinkedIn does much of the work for you. The "People You May Know" and "People Also Viewed" features suggest users to you based on commonalities you have with others found through your shared networks and similar activity.
Browsing these lists periodically can help you find mutual connections and opportunities for warm outreach with potential prospects.
Post High-Value and Engaging Content
Content is king—if you're in marketing and sales in any capacity, it's a phrase you've probably heard many times in recent years. And it's true!
As buyers do more and more of their research independently online, they're turning to content to get to know potential vendors and products, and to learn from thought leaders in their fields.
To boost viewership and engagement from prospects on LinkedIn, post content frequently that you know they'll find interesting and valuable. Engage with those who like, comment, or share what you post.
Doing so helps you build one part of your relationship with potential buyers that greatly impacts their purchase decision—trust. Today,  81% of B2B buyers say they need to trust a brand in order to consider buying from it. Content, then, can be a key asset that builds the foundation for more successful direct prospect outreach.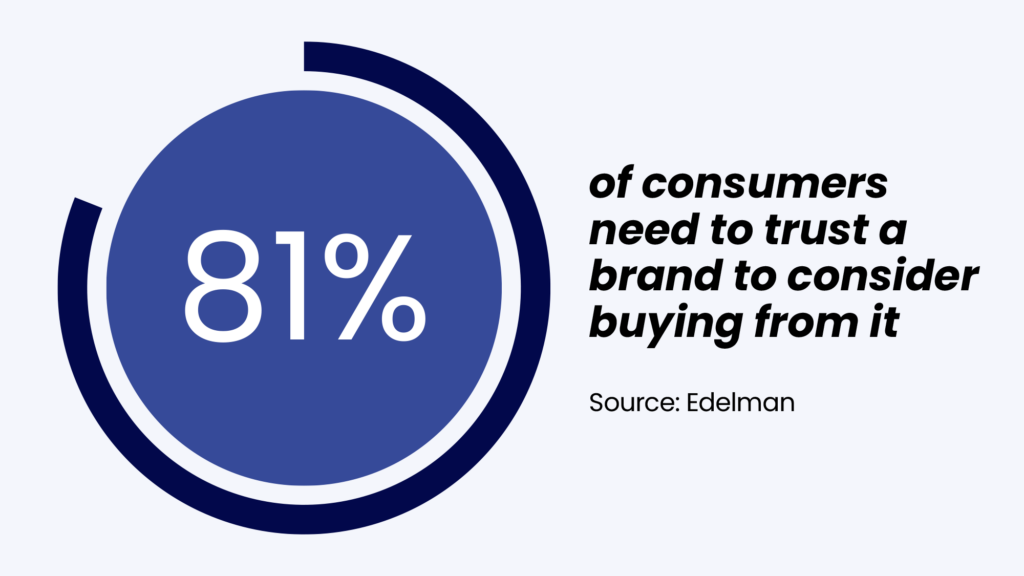 Browse Your Competitor's Networks
All's fair in love and sales. You can and should leverage your competitors' LinkedIn networks to find qualified leads who are already using a product or service similar to yours. Look through your competitors' connection lists to find prospects who fit your ICPs and buyer personas, and then connect with them yourself.
You don't have to directly poach customers, but you can engage them with content and other tactics (like events, for example) that help them learn about you and your company.
Eventually, once you've built a warm connection, you can reach out to them directly to see if they'd be interested in making the switch.
Use Alert Features
Successful LinkedIn prospecting requires close monitoring of your network, but you don't have time to do it manually—especially as your network grows over time. Automate part of the process by using alerts to get notified about new job openings for companies you're targeting or people you're trying to connect with.
LinkedIn's alert features offer a few great ways to stay in-the-know about updates important to your outreach strategy—you can set them to see job changes for certain individuals, job openings with a specific title (and filtered by industry, region, etc.), and job openings for certain companies.
Getting up to speed on these features and using them in your LinkedIn strategy is essential for sales prospecting at scale.
Monitor Your and Your Company's Followers
Last but not least, don't forget about the LinkedIn prospects right under your nose. Monitor your own new followers and those who follow your company, and be sure to welcome them with direct outreach based on their position and type of connection.
Quick and engaging outreach can go a long way in setting a positive first impression and impacting a prospect's purchase choice.
Final Recap
By harnessing LinkedIn for effective sales prospecting and outreach, your sales team can meet prospects where they are and connect with buyers who are best-fit for what you have to offer.
Straightforward (and free) tactics like browsing "suggest" lists and competitor networks can help you grow warm lead opportunities, while premium tools like Sales Navigator and boolean search can level up your approach to make it more targeted and efficient.
Engagement tactics like content sharing and profile viewing can help you build connections that over time translate to conversions and sales.
Collectively, the tips we covered in this article can help you make your LinkedIn strategy more intentional and boost the ROI you earn from your efforts, making LinkedIn a key source of new leads and pipeline growth.
How RevBoss Can Help
LinkedIn is a powerful tool for sales prospecting and outreach, but it also needs the support of a larger, comprehensive outbound sales strategy.
At RevBoss, we can help you execute a strategy that's tailored to your audience and needs, and leverages the strengths and assets of your sales team. Our outbound email software and lead-gen services are custom-built for startups, consultancies, marketing agencies, and other B2B organizations.
To learn more about how we can help you win new clients, schedule a quick call with us today.