How to Use LinkedIn to Ace B2B Lead Generation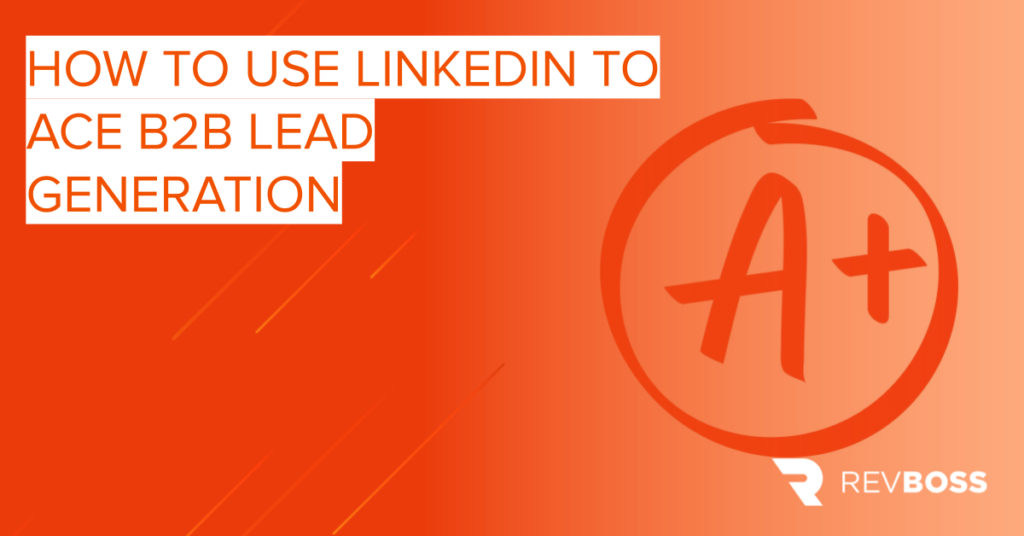 Are you using LinkedIn lead generation as part of your B2B marketing strategy? If not, now is the time to start.
LinkedIn is far and away the most effective platform for lead generation when compared to other platforms. HubSpot reports that LinkedIn's visitor-to-lead conversion rate is almost 3X higher than other widely used social media sites like Twitter and Facebook.
While many assume it's a vehicle for somewhat outdated tactics like cold outreach, that's just not the case. LinkedIn is a hub of industry expertise, professional connection building, and real engagement between companies and customers.
A whopping 94% of B2B marketers also report that LinkedIn is their top content distribution channel, and LinkedIn drives more traffic to websites and blogs than Twitter and Facebook combined.
In other words: Linked is more than — and not even primarily — a direct sales channel. It presents a massive opportunity to B2B organizations to generate quality leads and increase the size of their sales pipeline.
Quick Takeaways
Optimizing your LinkedIn profile is an easy way to make a better first impression on high potential leads.
LinkedIn B2B lead generation should contain a solid balance of quantity (high volume of leads) and quality (leads align with ICP and personas).
Sharing frequent content and actively engaging with other LinkedIn users increase your visibility to leads on the platform.
Employee advocates resonate highly with potential customers on LinkedIn and help to establish trust in your brand.
Direct messaging is most effective when it's done to build a connection, not make a hard sell.
8 Strategies to Ace LinkedIn B2B Lead Generation
Optimize your profile
First thing's first: optimize your company and individual LinkedIn profile page to make a good first impression on leads who go there. LinkedIn pages perform better when they're complete, so don't leave gaps in yours.
Take simple (but big-impact) steps like adding a high-quality profile picture, writing a compelling company or personal description, filling in "about" information, and sharing featured content.
Here's a deep dive from SEMRush with more guidance on how to optimize LinkedIn pages:
Balance connection quantity and quality
LinkedIn lead generation — like any B2B lead generation — depends heavily on quantity. The more leads you earn, the more conversions you'll see down the road. But quantity isn't the whole story, and failing to make your LinkedIn lead generation strategy intentional can result in a messy pipeline and inability to identify which leads have real potential.
As you make connections with potential clients on LinkedIn, consider your ideal client profile and buyer personas. Ask yourself: do these organizations and people meet the criteria to be a target client for my company?
What we don't mean to do is reject connection requests unless they meet this parameter. If a company or individual shows initial interest in your business, of course you should accept and explore the opportunity.
But when it comes to the leads you actively pursue, the best strategy is to make quality part of the equation focus on those most likely to find value in what you have to offer.
Share frequent content
LinkedIn may be focused on business, but it is a social media platform. The best way to get noticed by potential clients is to share frequent, high-value content related to your business and industry.
LinkedIn is the perfect place to amplify the content you create — blog articles, infographics, and videos can all be shared on the platform. You can also share content from news sources and peers, providing your own commentary to start a discussion. Doing so builds a brand personality and helps to establish brand expertise.
Actively engage with other members
Building connections on LinkedIn requires active engagement. It's not enough to establish a presence on the platform and wait for leads to come to you. You'll get the highest ROI on your LinkedIn lead generation efforts when you actively engage with other users in an ongoing way.
This goes beyond direct lead generation actions. Liking, commenting, and sharing on posts frequently open the door for new opportunities to arise and increase your overall visibility so that it's easier for potential leads to find you.
Use LinkedIn Ad targeting
Targeted social media ads are an extremely effective way to get your brand in front of the right audience, and LinkedIn is no exception. Specifically designed to target business individuals and organizations, LinkedIn ads allow you to target by job title, industry, company, seniority, location and more.
LinkedIn Ads have even been found to earn even higher conversions than Google Ads, and the data insights you'll receive in return allow you to further refine and target your efforts.
Encourage employee advocacy
In the information age, customers know and care more than ever about how companies treat their employees. As such, seeing employee advocates for a company is a powerful way to build brand trust and loyalty.
LinkedIn is the perfect platform for employee advocates. Sales reps and other members of your team can share branded content and news, each with their own unique and human perspective. They can interact with potential customers on a more personal level and feed them into your larger sales pipeline.
Not everyone is a salesperson, however, and optimizing this LinkedIn lead generation strategy, does take guidance from B2B companies behind the scenes. Help employees be good advocates for your brand by making content accessible for them to see and share. Provide resources that help them get messaging and tone right.
But keep it balanced — the value in employee advocacy is that they're sharing your company's value with their own authentic voice.
Utilized direct messaging
LinkedIn direct messaging is a somewhat hot topic in B2B marketing circles. Should you use it for lead generation? Is it bad etiquette in 2022 to cold message someone attempting to sell your brand?
The answer is yes — and no.
If you're on LinkedIn, you've probably gotten your fair share of cold messages, and you know that you ignore most of them. Sending a hard and direct sales pitch to the LinkedIn inbox of someone you've never interacted with otherwise is indeed a bad idea.
That said, there are ways to effectively and authentically connect with potential leads using the direct message feature. The key to success lies in doing your due diligence and reaching out with the intention of building a connection — not making a quick sale.
Take time to determine how each lead would derive value from your company, and tailor your message to demonstrate that. Share genuine interest in talking and building rapport, then follow through.
Use LinkedIn Sales Navigator
With the exception of LinkedIn Ads, all of the strategies above are ways to organically implement a LinkedIn lead generation strategy. But you can also utilize a powerful tool provided by LinkedIn themselves — LinkedIn Sales Navigator.
It's a premium version of LinkedIn, but it could be worth the investment if you're using LinkedIn as a primary method for B2B lead generation. LinkedIn Sales Navigator offers helpful features like advanced search and filtering, job change alerts, and boolean search.
Over to You
Ready to boost your outbound lead generation strategy? RevBoss's outbound email software and lead generation services are custom-built for startups, consultancies, SaaS agencies, and other B2B organizations.
Schedule a quick call with us and find out how we can help you win more clients.