Is Inbound Marketing Sabotaging Your Outbound Sales?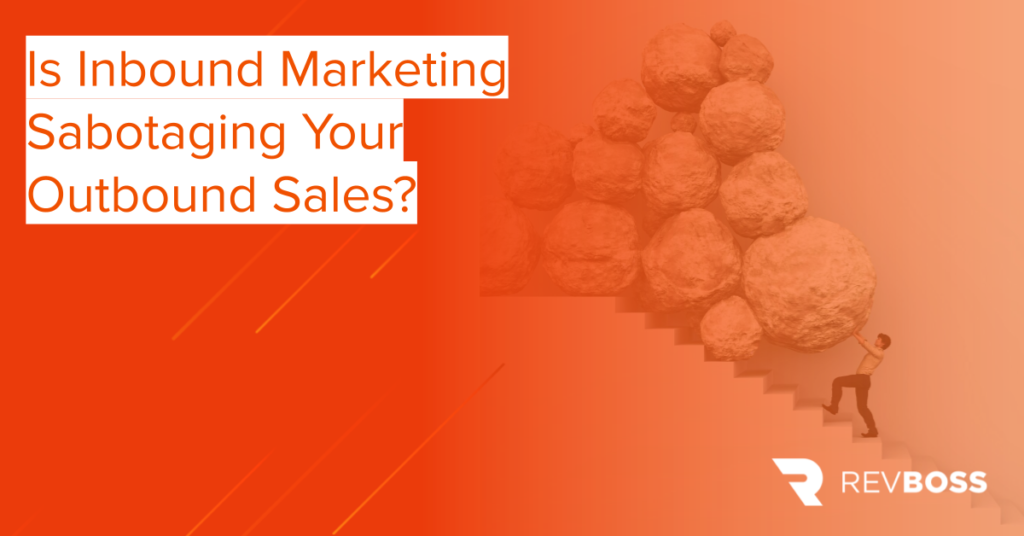 Inbound marketing vs. outbound sales: Which works better? Which is best for your business?
It's a debate that rages in the B2B world as inbound marketing continues to surge in popularity, while at the same time customers increasingly demand the type of personalized outreach that's a hallmark of outbound sales.
The truth — at least for smart marketing and sales teams — is that it's not a competition.
Inbound and outbound can be complementary parts of your strategy when they're done the right way, and with consideration for how they can impact each other. In particular, it's important to know how inbound marketing can negatively impact traditional outbound efforts without the right steps to prevent it.
That's what we'll cover in this article. We'll dive into the relationship between inbound marketing and outside sales, plus 5 proven ways to prevent inbound marketing from sabotaging your outbound efforts (and make them work together to generate growth).
Quick Takeaways
Buyers spend more than a quarter of the buying process doing independent research and engaging with inbound marketing content.
Targeting your inbound content is an effective way to make top-of-the-funnel buyer experiences feel personalized.
Lead scoring and lead qualification help sales teams prioritize the right inbound leads for outbound outreach.
Aligned marketing and sales teams drive more complementary inbound and outbound strategies (plus higher revenue and faster growth).
When implemented correctly, inbound can serve as a continuous feeder for outbound efforts.
How does inbound marketing impact outbound sales?
Inbound marketing is a strategy focused on tactics that help customers find you (vs. going after target customers). It has experienced explosive growth in recent years as the B2B buyer experience has become increasingly digital and technology has been integrated throughout the entire sales process.
Today nearly every company is using some form of inbound marketing — content creation, SEO, organic social media and the like. It's one of the primary ways organizations are gaining visibility with their target audiences and capturing new leads.
Most of the time we hear about the many benefits of inbound marketing, which include highly scalable lead gen and much higher cost effectiveness than traditional (and pre-internet) tactics like billboards and radio or TV ads.
But for the B2B world, it's also radically changed the way buyers experience brands — especially when it comes to first impressions — and the time and attention salespeople can spend on each individual lead.
Today's buyers overwhelmingly experience brands through content first rather than through a real conversation with a sales rep. Gartner reports that buyers spend more than a quarter (27%) of the buying process researching independently online, compared to only 17% talking to sales reps. They also engage with a whopping 13+ pieces of content.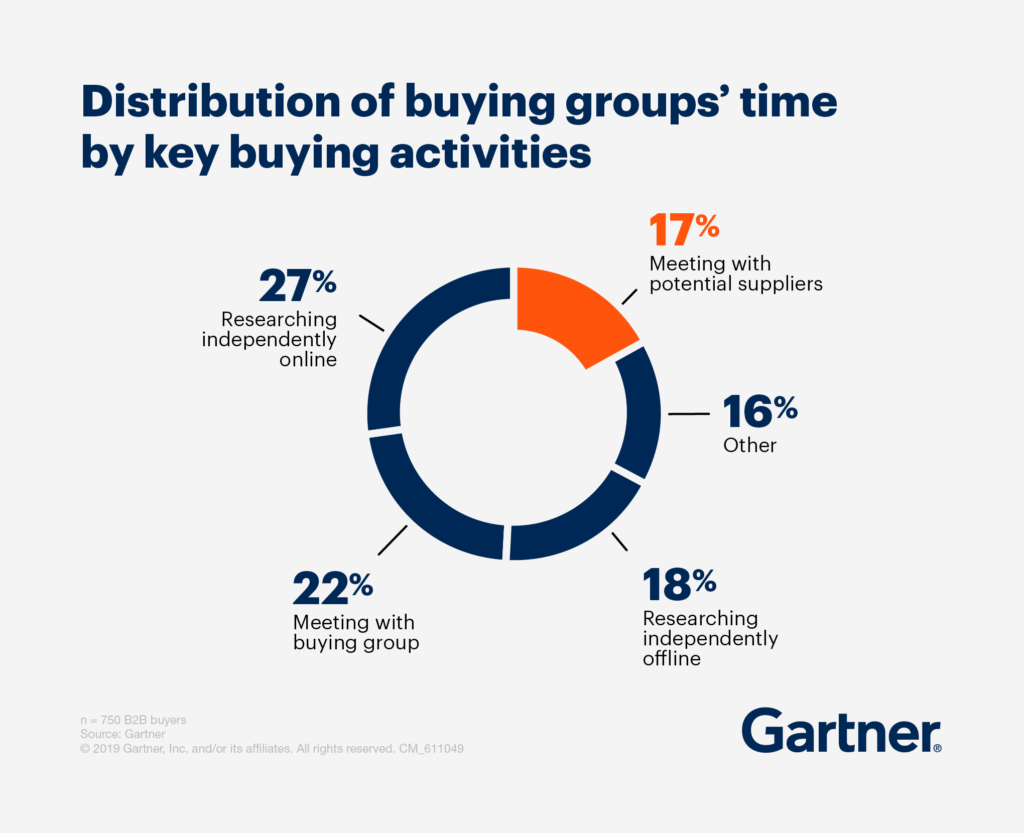 On the other side of the process are sales reps who are happy to have fuller pipelines, but in reality are spending less and less time actually engaging with buyers as they work to manage an increasing number of leads.
In short: If inbound marketing becomes all about earning more leads, it can sabotage your ability to truly connect with and convert customers. You'll be left with a full pipeline but one that's not translating to actual sales.
Fortunately, there are ways to make sure that doesn't happen. Let's walk through 3 of them.
Inbound Marketing vs. Outbound Sales — How to Make Them Work Together
Target, target, target
Inbound allows you to cast a wider net than many other tactics — but it's still important to be targeted in your approach. Research your ideal customer profiles and buyer personas to understand their unique needs and goals by group. Then, design targeted content for each one.
You can use SEO to ensure the right content reaches the right target audience. SEO tools like SEMrush and the Google Search Console can tell you what your target audiences are looking for and the topics and content types you should focus on to reach them.
When you target your content, buyers still feel like they're having a personalized experience even before they talk to your sales team — something 71% of buyers expect and 76% of buyers become frustrated without.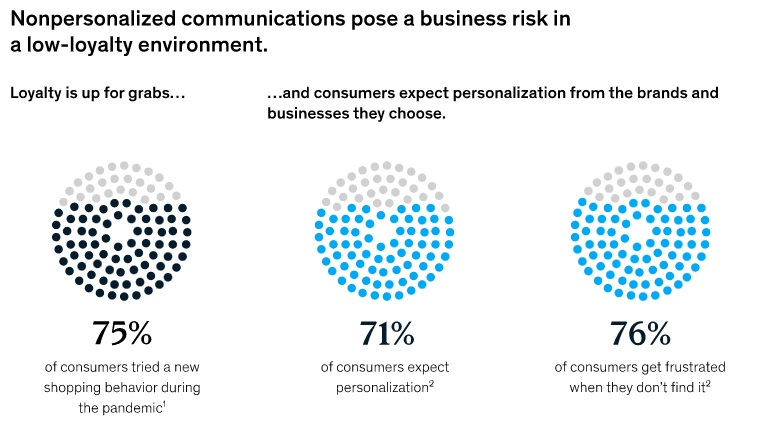 Qualify and score your leads
Chasing poor leads is one of the biggest time wasters for sales reps, and one they can't afford when they're working through full pipelines built by inbound marketing. Targeting your content is a first step toward eliminating this problem, but additional steps need to be taken.
Specifically, you need to qualify and score your leads.
Lead qualification and lead scoring are two separate but related processes. Qualification comes first — every lead should be identified as either marketing qualified or sales qualified based on previous behavior and purchase readiness. In between marketing and sales qualification is sales acceptance, when the sales team acknowledges and approves the lead handoff.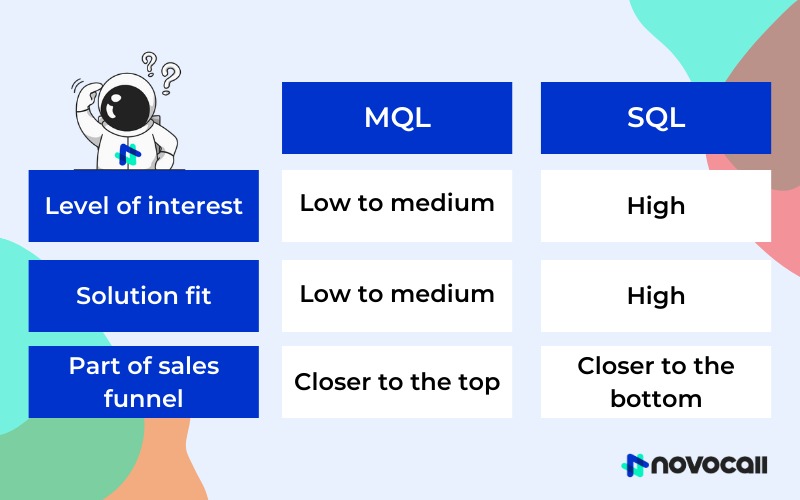 Next, leads are scored based on criteria used to measure the potential it has to convert. You may look at how well leads fit with your ICP and buyer personas as well as buyer behavior. Lead scoring helps sales reps prioritize the most high-potential leads for outbound efforts.
Marketing automation through your CRM or other sales management platform allows these processes to be largely automated, so even though they can be complex, they shouldn't be time consuming for your teams.
Align your marketing and sales teams
Marketing and sales alignment is one of the most common challenges companies experience and one of the most critical to solve. Recent research shows that organizations with aligned marketing and sales teams experience higher revenue, brand awareness, and average deal size, and they grow at a 24% faster rate than those with unaligned teams.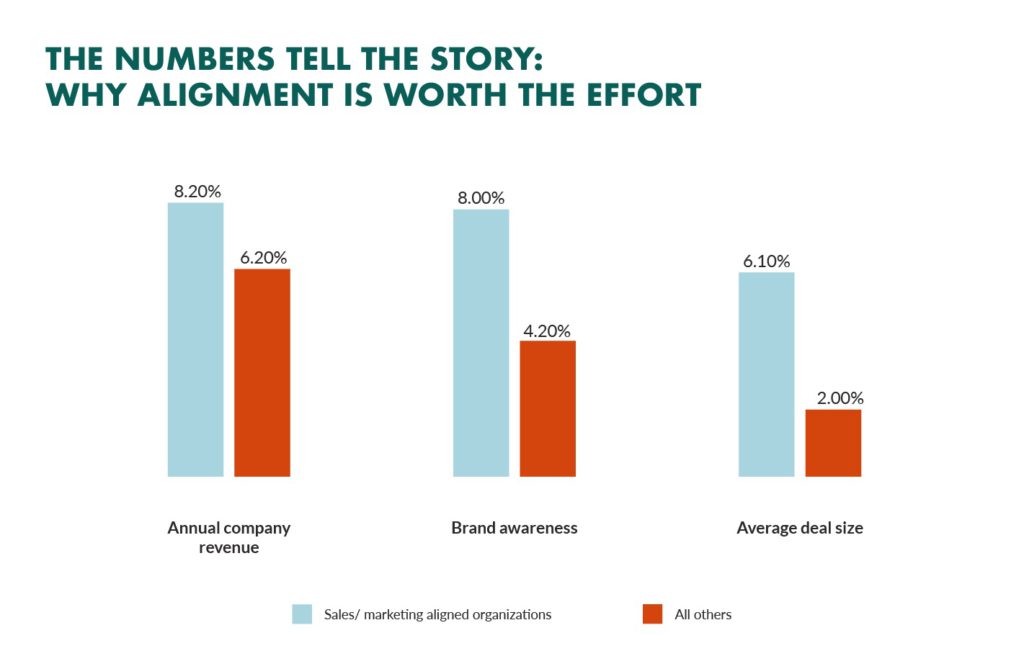 This isn't surprising when you look at it from the perspective of inbound marketing vs. outbound sales — alignment between the two teams is the bridge between the two that allows them to work as complementary processes instead of competing strategies.
The Bottom Line
Inbound marketing can sabotage your outbound sales, it's true — but you can easily switch the flip with the right tactics (like the ones we covered in this article). For the savviest organizations, inbound serves as a continuous funnel of high-potential leads to feed your outbound strategy.
A great prospecting strategy can be the final piece to the inbound/outbound partnership, and RevBoss can help you do it right. Our outbound email software and lead generation services are custom-built for startups, marketing agencies. consultancies, and other B2B organizations to help them grow.
 Schedule a quick call with us and find out how RevBoss can help you win more clients.