Is ABM the Best Bet for SaaS Businesses?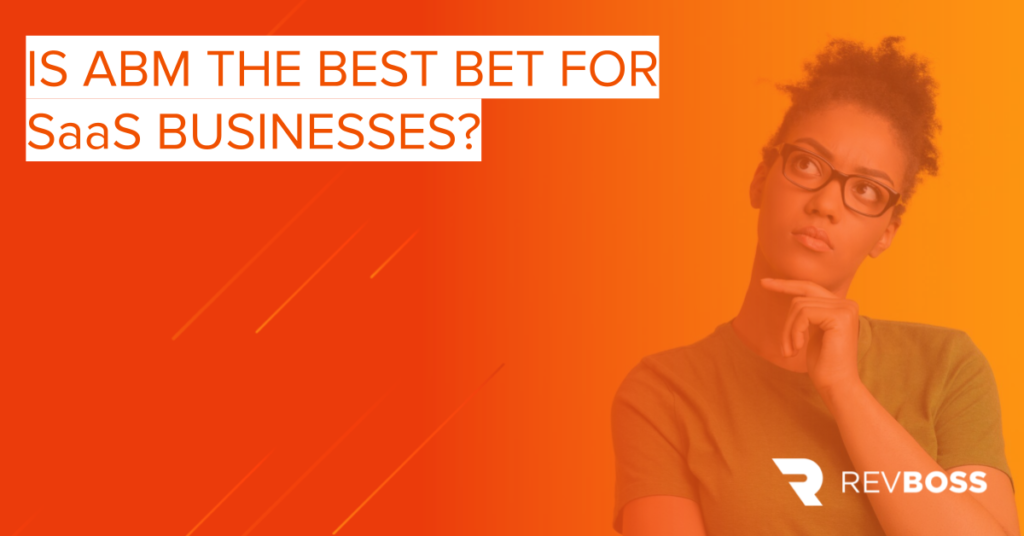 Account based marketing (ABM) levels up traditional marketing with a hyper-personalized approach that aims to convert the most high-potential prospects in your pipeline. Used for decades by large enterprises, ABM is now experiencing higher adoption rates in growing and even startup companies.
But is ABM for SaaS, too?
As it turns out, yes — even more so than for many other B2B industries. ABM focuses on the end-to-end customer experience, a priority for SaaS companies that need to earn high rates of renewals and upsales to grow their revenue.
In the sections that follow, we'll walk through exactly how SaaS marketers can leverage their natural alignment with ABM principles to increase their marketing ROI and earn more sales.
Quick Takeaways
AMB powers important post-purchase sales strategies critical to SaaS companies, like upselling, cross-selling, and renewals.
Marketing and sales alignment is a top challenge for organizations but an important priority for ABM success.
More than B2B companies in other industries, SaaS companies depend on their traditional marketing and sales pipeline to find high-potential ABM leads.
Metrics already important to SaaS companies, like monthly recurring revenue (MRR) and customer lifetime value (CLV), are also indicators of ABM success.
What is ABM and why do companies use it?
Account based marketing (ABM) is a highly targeted approach to B2B marketing that attracts best-fit prospects on an individual basis.
It flips the traditional inbound funnel upside down to pursue high-potential clients with customized communication rather than one-to-many strategies commonly used for inbound marketing. When executed well, ABM increases conversion rates, deal size, and overall sales revenue.
Historically, ABM has been used by large enterprises with the resources to execute it. But in 2022, it's being adopted by companies of all sizes and across industries — including SaaS. This is thanks largely to new technology tools making it possible to execute at scale.
Today 70% of marketers report that they use ABM as part of their strategy, and those that do it effectively are 6% more likely to hit their revenue targets. More than three-quarters of companies using ABM report it yields higher ROI than other traditional B2B marketing methods.
For SaaS companies, the opportunity is even bigger thanks to strong alignment between the SaaS business model and ABM principles. In the next section, we'll explore the unique revenue potential presented by ABM for SaaS organizations.
ABM for SaaS: What's the opportunity?
SaaS companies operate using subscription business models, in which customers pay a recurring fee in exchange or continued access to products and services. Instead of earning a large chunk of revenue at the time of purchase, SaaS companies earn revenue over the lifetime of the entire customer relationship.
ABM for SaaS works because of its focus on experience at every stage of the B2B buyer and customer journey. In fact, more than 60% of ABM marketers specifically identify retention — a key metric for SaaS companies — as a top priority for their ABM strategies.
Given that upselling, cross-selling, and subscription renewals are all so critical to SaaS revenue, ABM's emphasis on post-purchase funnel stages can be exactly what they need.
But is ABM truly the best bet for SaaS marketing?
The answer is yes — when it's combined effectively with traditional inbound marketing. While inbound tactics keep your pipeline full and generate leads at volume, your ABM strategy hones in on those with the most potential to maximize ROI.
6 Ways to Build Your ABM for SaaS Strategy
Know your ICP and buyer personas
The ideal client profile and buyer persona frameworks determine the types of organizations and individuals that would benefit most from your offerings. When you have both defined fully, you're better able to identify the prospects in your pipeline (and from other sources) most likely to convert to paying customers.
Align your marketing and sales team
ABM depends heavily on marketing and sales alignment — but 90% of marketers currently admit that aligning with their sales team is a major challenge toward reaching their goals.
SaaS companies must bridge this alignment gap to succeed with ABM.
Specifically, you need lead qualification and management processes that ensure a seamless transition between the two teams. More than anything else, your marketing and sales teams need a shared understanding of your ideal customer and a commitment to collaborating on strategy execution.
Scour your pipeline
SaaS companies operate almost exclusively online. This means some traditional ABM targeting tactics (like trade shows, for example) aren't as available for targeting prospects. Instead, SaaS companies lean more on the pipeline generated by their other lead gen efforts to capture the right ABM leads. Use the criteria previously outlined in your ICPs and buyer personas to select the leads from your pipeline with the most ROI potential to be pursued by your ABM reps.
Personalize your content
SaaS products have a diverse set of potential use cases, and ABM content should be crafted to resonate with each of them. When it is, prospects can envision how your offerings will add value to their specific organizations and fulfill their own unique needs. For SaaS companies, this means emphasizing the product features and packages most relevant to each individual prospect.
Leverage the right technology tools
Technology tools like CRM systems, sales prospecting software, and email marketing platforms all make it possible for companies of every size — like growing SaaS agencies — to execute ABM strategies. Data automation enables high levels of personalization, while AI powers intelligent reporting and insights.
Harnessing your existing technology tools toward your ABM strategy makes it smarter, more efficient, and more effective than implementing it with manual processes.
Track ABM performance
Key performance indicators for ABM naturally align with those that already matter for SaaS organizations — metrics like monthly recurring revenue (MMR) and customer lifetime value (CLV) indicate that your ABM strategies are strengthening your customer relationships and earning you more revenue.
Regularly monitor and report on these and other ABM-related performance metrics to keep your strategy on-track and enable continuous improvement.
Over to You
Central to any effective ABM strategy is the ability to prospect new high-potential sales leads.
RevBoss's outbound email software and sales prospecting services are custom-built for startups, consultancies, marketing agencies, SaaS agencies, and other B2B organizations.
Schedule a quick call with us and find out how we can help you win more clients.