Lead Generation Tools: Boosters or Baggage?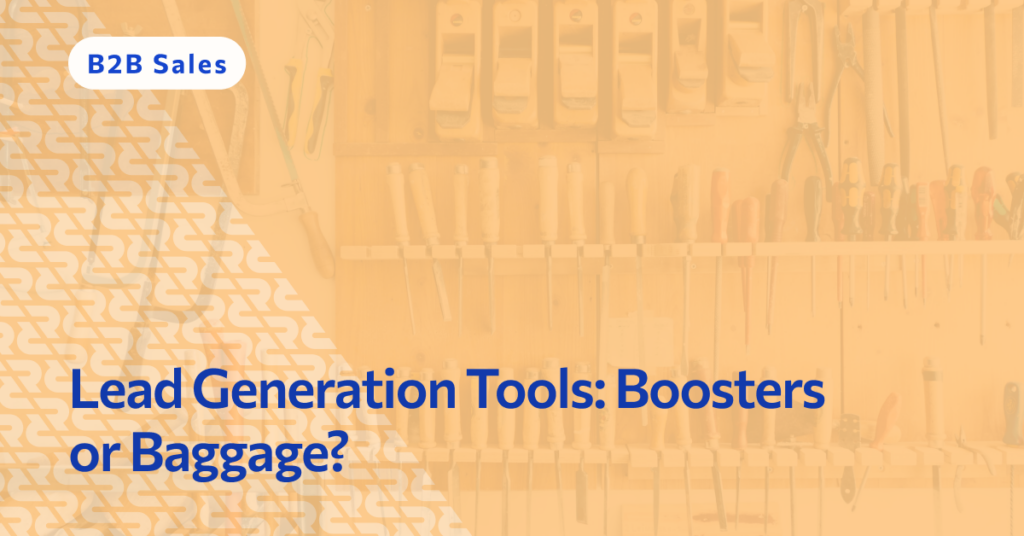 Despite the hyper-connectivity between brands and their target audiences online, generating quality leads continues to be the top challenges faced by business marketing teams. In many cases, companies struggling with lead gen then turn to what they see as the most immediate and logical solution: lead generation tools.
You might be thinking—Of course companies should be using lead generation tools. Marketing automation is more capable than ever. Lead generation tools can help companies automate the process of finding leads and growing their business. They can eliminate this nagging problem.
Right?
Not really. The thing about lead generation tools is that they're too-often implemented to be a set-it-and-forget-it kind of solution—companies believe that once the tool is in place, leads will start flowing in and their pipeline will grow.
In this article, we'll explore why that's not actually the reality and discuss better alternatives to attempted quick-fix lead gen solutions.
Quick Takeaways
Lead generation tools are software solutions that automate processes related to lead gen and management.
Lead gen continues to be the top-rated challenge for marketing teams, meaning demand is high for related solutions.
On their own, lead gen tools are unable to deliver the results companies need. They need concerted human effort behind them to really make an impact.
A better alternative is to hire a lead generation service provider that offers access to top lead generation tools and technologies while also providing expert guidance and support.
What exactly are lead generation tools?
Lead generation tools are software solutions that automate the lead generation (and sometimes also the lead nurturing) process for businesses. This can include lead identification, capture, scoring, qualification, follow-up, nurturing, storage, and more. In short, these tools are meant to centralize and streamline critical lead-gen activities to boost lead volume and conversion rates.
Features you'll commonly find available through lead generation tools include:
Shared User Interface — Marketing and sales teams share real-time views of lead data and pipeline status
Integration — Most tools can integrate with your CRM and other key systems
Automation Capabilities — Lead generation tools automate many processes including initial lead follow-up, lead nurturing email campaigns, appointment setting, and lead scoring and qualification
Analytics Reporting — Most tools deliver sophisticated analytics features for analyzing KPIs and reporting on pipeline performance
Why do companies purchase them?
As mentioned before, lead generation persists as the top challenge for marketing teams—rated higher than proving ROI, securing budget, targeting content, and hiring top talent (among other challenges).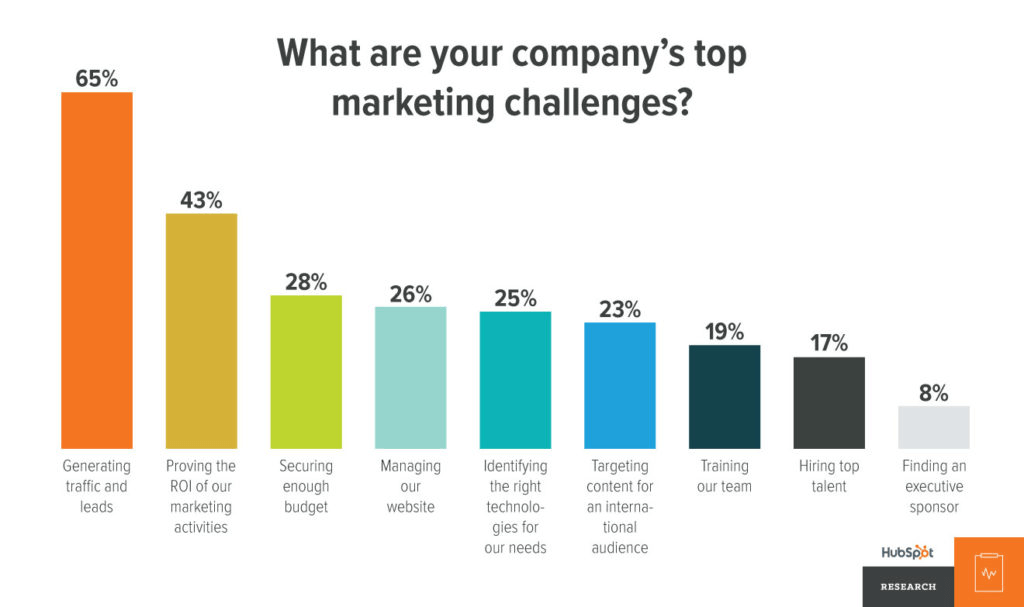 Separate research from Ascend found that the specific struggles companies face related to lead conversion are wide-ranging, and include: making initial contact with leads, following up successfully, collecting enough lead data, maintaining contact with leads, setting appointments with leads, and filtering and funneling them through the pipeline.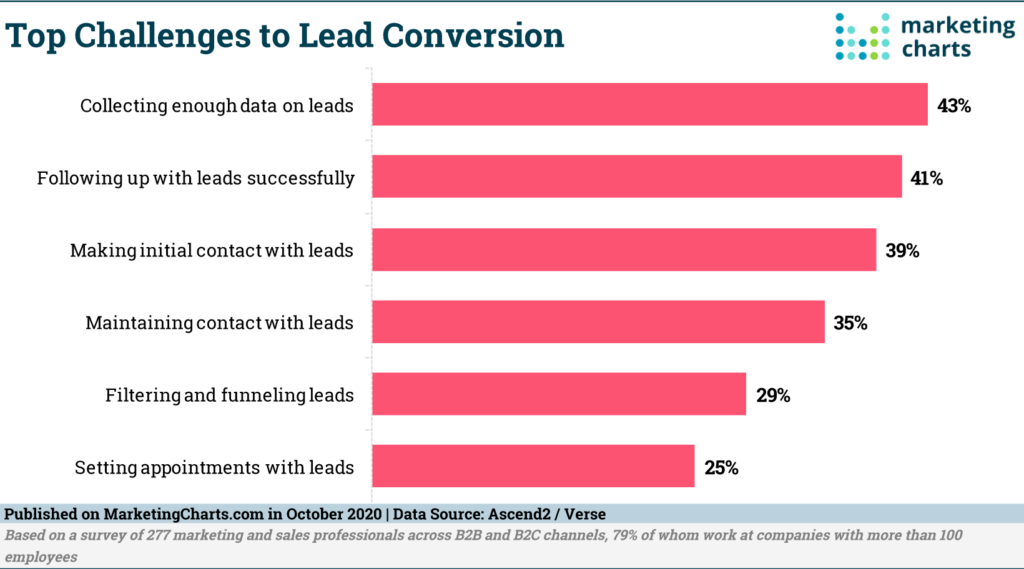 When companies are unable to solve these problems with existing resources, they turn to lead generation tools to help them do it.
The Problem with Standalone Lead Gen Tools
Given the features offered by lead generation tools and the massive need for solutions to lead gen challenges, it might seem at first glance that these tools are the obvious and best option. It's important to note that lead gen tools can and do work for businesses.
But there is a worrisome scenario that exists in the B2B marketing world as it relates to lead gen tool efficacy. Despite 85% of companies saying lead generation is their top priority and 80% using marketing automation in their lead gen efforts, it still continues to be a problem for most organizations. Lead generation tools are being used, but they aren't making the impact they should.
So what gives?
The problem in most cases is that lead generation tools are implemented to be standalone solutions—ones that companies can get up and running, then largely leave to their own devices to actually generate leads and other results.
That approach might sound ideal, but it will also rarely work. Companies need to know how to leverage lead generation tools to reach their unique audiences and help them accomplish their specific goals and objectives. They need the right expertise and knowledge to maximize ROI on the features these tools offer.
Without continued effort to use lead gen tools intelligently, they'll likely generate leads that are not up to quality standards and often won't convert to paying customers.
A Better Alternative: Lead-Gen Service Providers
A better alternative to lead generation tools on their own is to hire a lead generation service provider—one that grants access to the lead gen technologies you need while delivering expert guidance and support to help you use them the right way.
Outsourced lead generation has shown to deliver 43% higher results than relying solely on in-house lead generation, as professional lead generation service providers know how to reach lead quantity quotas while also prioritizing lead quality through effective targeting, scoring, qualification, and nurturing (all of which are highly automated).
Services you can expect to receive from a trusted lead generation service provider include:
Access to the best lead generation tools and automation technologies
Expert guidance on developing ideal customer profiles and buyer personas
Access to expansive prospect data networks to find the right leads
Reliable management of lead nurturing campaigns, appointment setting, and other lead follow-up activities
Execution of outbound marketing campaigns across a variety of channels
Analytics capabilities and data-driven performance reporting
Most importantly, you'll have real people behind the lead generation tools and technologies implemented to boost your lead-gen results—people who are committed to getting the results your company expects by tailoring approaches to your goals and objectives.
Looking for Lead Generation Support?
If so, RevBoss can help. We help our clients implement focused, targeted outbound marketing strategies that generate high-value leads and drive pipeline growth. Our outbound email software and lead generation services are custom-built for startups, consultancies, marketing agencies, and other B2B organizations.
Schedule a quick call with us today to find out how we can help you win more clients.