5 Lead Generation Trends to Stay on Top of in 2023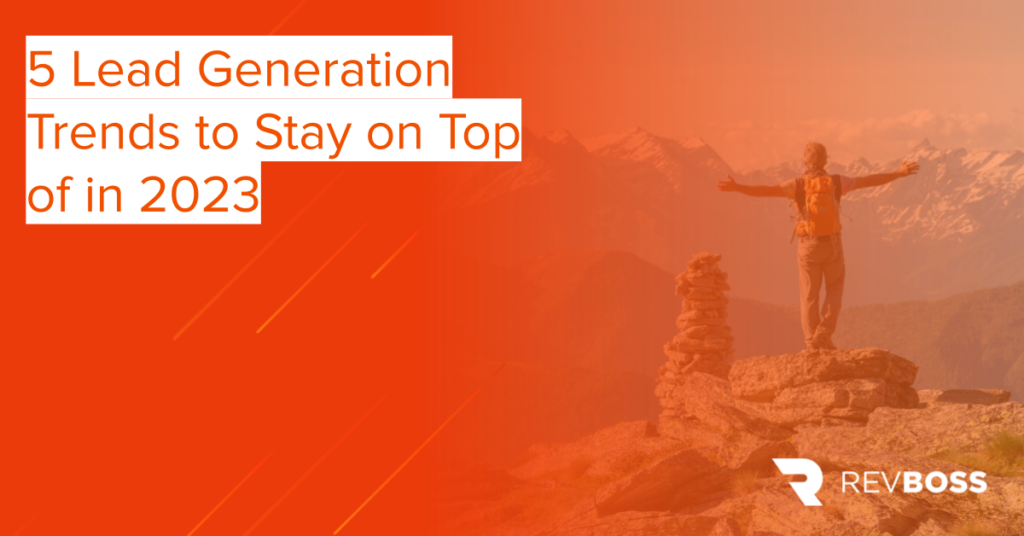 Lead generation — long-defined by phone calls and visits from savvy salespeople — is now a tech-driven, highly automated process that changes constantly with new tools and trends that emerge.
One thing that hasn't changed? Lead gen is still the lifeblood of your sales pipeline.
The approach of a new year is the perfect time to revisit lead generation trends old and new, evaluate what's still relevant, what's emerging on the scene, and how smart organizations can keep their lead-gen strategies optimized for continued growth.
Let's check out 5 of the most important trends on the horizon for 2023.
Quick Takeaways
Websites and SEO content must now have a value-first message to engage new leads.
Short-form video is emerging as the top content trend for 2023.
Creators — a more authentic version of the influencer — are proving to have higher ROI for partnerships and user-generated content.
Email is still a central part of lead gen, but needs to be more personalized and engaging in order for recipients to pay attention.
Sales prospecting tools are the only way for brands to execute lead generation strategies at today's required scale without sacrificing quality.
5 Lead Generation Trends to Know in 2023
Websites and SEO stay on top
It's not that websites and SEO are new — they're not, and any decent digital marketing strategy already includes both. Still, they land at the top of our list because their roles are still growing in importance after all this time.
This is in no small part to the fundamental shift we experienced during the pandemic and the few years that followed. Today, websites and SEO are no longer brand enhancers, they're often the first experience potential customers have with a company.
To optimize websites and SEO for lead-gen, companies need to think about every page, every blog article, and every piece of SEO-optimized content as a potential first impression. In other words: Would this make a consumer want what my brand has to offer?
The key is to shift away from strictly informational content (i.e. "This is our brand and this is what we do") to value-focused content that says, "We understand your needs, and here's how our solutions help."
This messaging comes in the form of compelling value propositions on landing pages, strong CTAs in blogs and other SEO content, and high alignment between your content marketing topics and the keywords/queries your target audience is searching for online.
Here's a great example from WordPress — in three sentences, they tell website visitors exactly what they provide, build trust, and emphasize why they're the best option.
Content gets a visual upgrade
Content marketing is another proven strategy that's been around for some time but remains top-of-the-list relevant for 2023 — with some new requirements attached.
When we hear the term "content marketing," we largely think of blogs — and for good reason. They've been the content cornerstone for most brands over the past several years, driving traffic to websites and delivering pre-purchase value for potential customers.
But your content strategy will require an upgrade to remain the well-oiled lead generation machine you've come to rely on. More specifically, you'll need to up your visual and interactive content game.
You might be saying: Even this is nothing new. Video? It's been required. Images? We've known we need them.
Here's the thing: Video, images, interactive content — it's all been used as support content for your text-based articles or social media posts. In 2023, they'll be front and center. Your potential customers want visual, interactive content first and foremost, and often instead of text content.
Short form video (a la TikTok content) will be particularly on-trend in 2023. These quick insights from recent HubSpot research drive the imperative home:
Short-form video is the #1 content format for lead generation and engagement
Image and video content get higher engagement per mention than text-based content
84% of consumers were convinced to buy a product based on a brand video
The amount of video content consumers watch has doubled in the past 5 years
Still relevant but has changed – interactive – personalized – video
Influencers are out, creators are in
A few short years ago, the influencer marketing economy seemed to be meeting its downfall as quickly as it had risen to the top. Once consumers figured out how influencer marketing really worked (i.e. that many influencers had no real attachment to the products they promoted), they became collectively less willing to trust it. Its lead generation power suffered as a result.
Interestingly, however, this didn't lead to the total demise of influencer marketing as a lead-gen tactic, but rather a shift toward authenticity. Supported largely by the arrival of TikTok, the creator economy emerged, and brands began looking less for true "influencers" with thousands or even millions of followers.
Instead, they looked for creators — everyday people with a knack for making awesome content that resonates with niche audiences.
A key difference between influencers and creators is that like brands themselves, creators are focused on somehow providing value to their audiences (rather than just an outside-looking-in, carefully curated view of their life).
Now, there's been a bit of a convergence between the two — creators who have gained large followings but still retain their original down-to-earth personas. It's these unicorn accounts that have the biggest lead-gen potential for brands who find and partner with them successfully.
For B2B brands, this will come most effectively in the form of user-generated content, too — content a creator produces specifically for brands to publish on their platforms — like the "Made By" series from Square (seen in the video below) featuring small businesses that use their payment portal.
Email stays at the heart of lead gen
Email may have been around longer than Google and the social media platforms we use today, but it hasn't yet become outdated — overwhelmingly, consumers across generations prefer email over all other forms of brand communication.
But like the other lead generation trends on our list, email will have to be used in a smarter and more sophisticated way in order to stay effective. Specifically, brands will need to move away from one-size-fits-all email blasts and newsletters to execute targeted, personalized campaigns.
Here are a few ways you can do it in 2023 to boost lead gen results:
Granular list segmentation – Using data analytics to sort lists with pinpoint accuracy based on multiple data points
Retargeting – Targeting email content based on previous engagement data across channels
High-value content – Including high-value content like blogs, videos, and downloadable assets in email messages
Interactivity – Interactive content embedded directly into emails (like in the example below from Google)
Sales prospecting tools bring in better results
Today's pace of business requires faster, scalable lead generation tactics, and the only way to execute without sacrificing quality is with sales prospecting tools.
Sales prospecting tools automate the lead generation process while also using a data-driven approach to finding you the right prospects — ones that fit your ideal customer profile and are likely to convert.
The best prospecting tools also integrate seamlessly with other key tools in your tech stack (like your CRM) for seamless data and workflows along your sales pipeline.
In 2023, companies that use these tools preserve time for their sales team and allow reps to focus on actual selling (and to leads likely to convert) will be a step ahead of their competitors still chasing leads with outdated manual tactics.
Level Up Your Lead Gen with RevBoss
Revboss's outbound email software and lead generation services are custom-built for startups, consultancies, marketing agencies, and other B2B organizations.
Schedule a quick call with us and find out how we can help you win more clients.