6 Reasons Your Marketing Agency Needs Lead Generation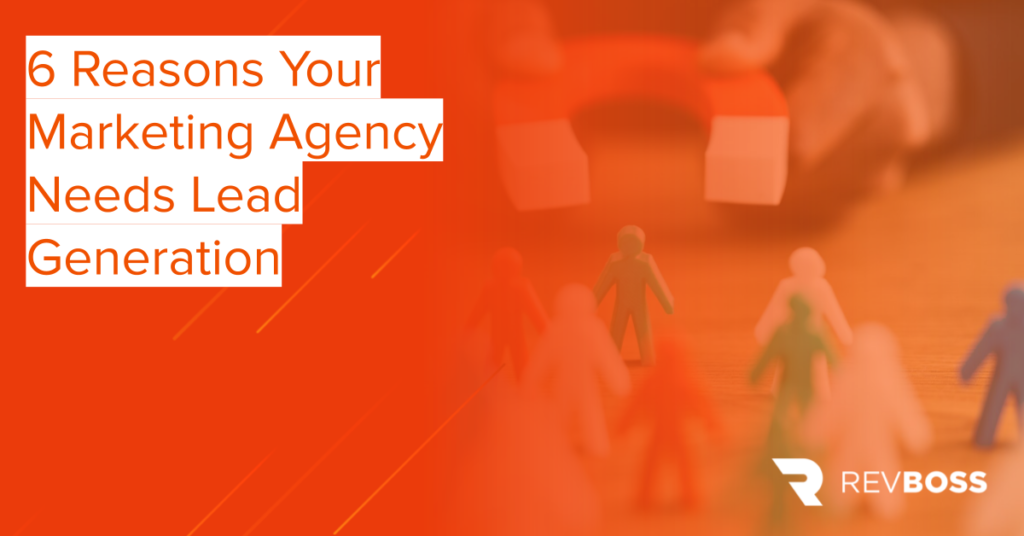 Is your marketing agency executing the right lead generation strategy?
You might be surprised at how many say no — or at the very least, aren't as focused on their own lead gen strategies as they are their clients'.
Marketers, and especially marketing agencies, know a thing or two about generating new business. But when you're doing the most to keep your clients happy and earn them the results you promise, it's easy to let your own growth goals fall to the wayside.
A focused, intentional, and automated lead generation strategy is the key to never letting that happen. When you implement lead generation with best-practice approaches, you can be confident you're not just generating new potential business, but truly finding best-fit prospects who need the solutions you offer.
Still not convinced? Read on. This article will cover 6 compelling reasons agencies need to up their lead-gen game for 2023.
Quick Takeaways
Focused lead gen results in higher quality leads that are more likely to convert.
Lead generation is essential for staying visible to B2B buyers who now have more options and access to information than ever before.
Without targeted marketing and lead gen efforts, sales reps often waste significant time chasing leads that will never convert.
Lead generation increases ROI on time and resources you spend in other areas, especially digital marketing.
It also builds a solid pipeline that can withstand seasonal (or other) ebbs and flows in business demand.
6 Reasons Your Marketing Agency Needs Lead Generation
#1 — Produces higher-quality leads
Lead quality shouldn't be left up to chance. It's the top lead generation priority for nearly 80% of marketers worldwide, and for good reason — poor lead quality results in wasted time for your sales reps, lower lead conversion rates, and less growth for your business. A focused lead generation strategy targets best-fit prospects for your business that have intention to buy.
Some pro tips for increasing your lead quality:
Know your ICP and buyer personas, and target prospects that fit them
Use lead scoring and a defined lead qualification process to vet new leads
Build marketing and sales alignment around traits of a quality lead
Use a sales prospecting tool to scale lead gen without sacrificing quality
#2 — Boosts your company's growth potential
Agency teams spend most of their time and resources providing exceptional service to current clients. But without lead generation happening alongside great service, even the happiest clients won't translate to growth. Lead gen efforts showcase hard-earned client satisfaction through initiatives such as:
Publishing case studies and client testimonials
Running referral programs
Turning customer data into compelling results
At the same time, lead gen boosts brand visibility with tactics like SEO and content marketing, targeted ads, landing pages, email marketing and more.
In short: lead generation translates everything that's awesome about your business into growth potential by sharing it intentionally with prospects.
#3 — Buyers have options
Today's buyers have more options than ever before. In seconds, they can use search engines to find and research multiple providers for any kind of solution. In fact, most B2B buyers complete more than half (57-70%) of their due diligence before ever reaching out to sales reps directly.
That means if you're not meeting your prospects where they are — placing great content, strong value propositions, and compelling CTAs where they'll be able to find it — you're likely invisible to your target audience.
#4 — Saves you time and money
It's a widely cited stat in the B2B sales world that reps only spend about a third of their time actually selling. So what do they do with the rest of their time? Without lead generation, they're often doing the equivalent of throwing spaghetti at your office walls — pursuing information and leads that may or may not ever translate into actual sales.
A staggering 80% of sales reps say prospecting — following quality leads that are likely to convert — is the most challenging part of the sales process.
A focused lead generation strategy takes the guesswork out of sales. It increases your sales reps' confidence that the leads they're pursuing are worthwhile, and it saves you time and money by boosting the ROI you earn back on their efforts.
#5 — Increases ROI on other marketing initiatives
Today's agency digital marketing strategies are comprehensive — they encompass a wide range of initiatives that include (but aren't limited to) content marketing, social media, ads, landing pages, email marketing, social media, direct outreach and more. Undoubtedly, a significant part of any agency's overall budget (HubSpot estimates it at about 14% of overall revenue) is being allocated to marketing.
In turn, focused lead generation strategies drive results like high conversion rates, larger deal sizes, and better-fit clients that ultimately spend more during the lifetime of their relationship with your agency. As a result, you earn higher ROI on your marketing efforts over time.
#6 — Keeps your pipeline healthy
Over the past few years businesses have dealt with levels of uncertainty and even market volatility that nobody could have predicted. Startups and agencies were some of the hardest-hit organizations during this time.
As we now emerge into a post-pandemic era, one lesson companies are taking with them is that a healthy pipeline is invaluable — it means that even when economic (or other uncontrollable) factors slow sales for a time, you still have a solid set of leads you can cultivate to keep growth potential high for the future.
Modern lead generation strategies grow your pipeline year round so that seasonal ebbs and flows or other unexpected slowdowns never spell disaster for your agency. Instead, you can lean on your well-built existing pipeline to get you through.
Level Up Your Lead Generation Strategy with RevBoss
Marketing agencies know what they're talking about when it comes to bringing in leads for their clients — but heeding your own advice is a totally different ball game.
RevBoss can help you unify lead generation and business development into one continuous, data-driven, and ROI-focused process. Our outbound email software and lead gen services are custom-built for startups, consultancies, marketing agencies, and other B2B organizations. Schedule a quick call with us and find out how we can help you win more clients.