How to Build an Outbound Marketing Strategy for B2B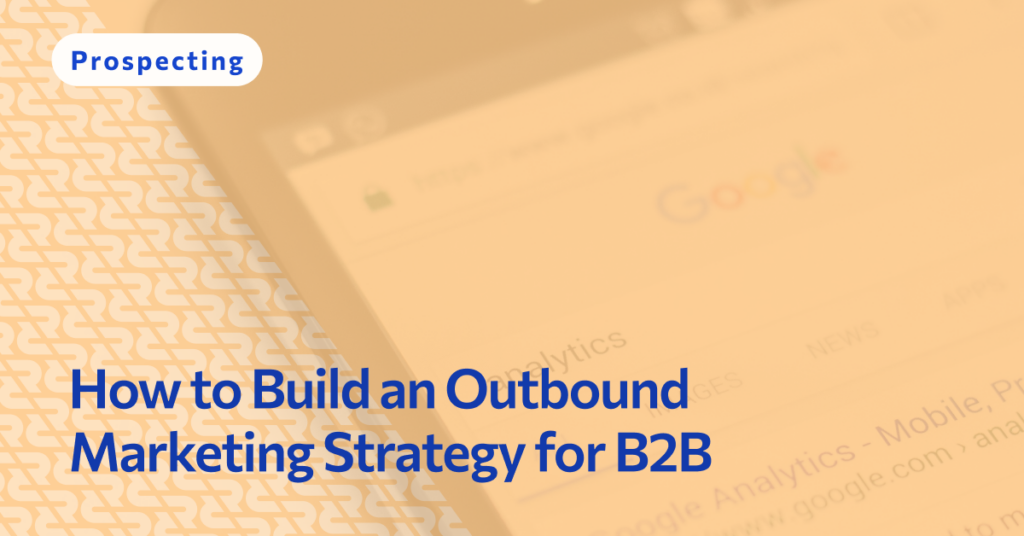 For B2B organizations looking to accelerate lead-gen and win rates, a solid outbound marketing strategy can be the key to success. Outbound marketing helps you target more effectively, reach customers sooner, and demonstrate why you're a better choice than competitor options.
If you're thinking about developing or expanding your outbound strategy, you've come to the right place. In this complete guide, we'll tell you why outbound is so essential, how it works together with your inbound tactics, and the steps to building a successful strategy designed for your unique business.
Quick Takeaways
Outbound marketing involves direct outreach to your target audience through channels like PPC ads, email, and social selling.
A strong B2B outbound marketing strategy can give you a competitive advantage over other companies who wait for first contact from potential customers.
Targeted outbound marketing requires knowing your customers and aligning your value proposition with each unique customer segment.
Key approaches to boost the success of your outbound strategy include: account-based marketing, effective lead nurturing, marketing automation, and outsourcing.
An outbound marketing agency can help you access the expertise and resources you need while optimizing costs.
B2B Outbound Marketing: An Important Primer
B2B outbound marketing strategies involve direct outreach to your target audiences. In today's digital business landscape, outbound is typically executed via channels such as PPC ads, targeted cold email outreach, and social selling.
In many cases, outbound strategies also still include a few traditional channels, like trade shows, direct mail, or TV and radio ads.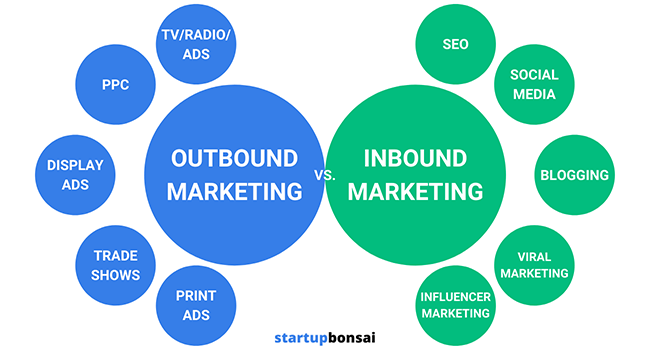 These many moving parts of your outbound strategy should be designed to work to generate leads and send them moving along the pipeline. They should also be aligned with your inbound tactics so that the two strategies work in harmony to accomplish your larger goals.
Today, it often seems like all of the marketing world's attention is focused on the benefits of inbound, even to the point of denouncing outbound approaches. It's often said that outbound is simply blanket outreach to large groups of buyers, regardless of true fit or level of interest.
But that's just not true, and the message is rooted in a misguided understanding of what modern outbound marketing can do. The digital technologies now available to marketers enable targeted outbound approaches that deliver hyper-relevant content based on preferences and behaviors.
In other words: The outbound ads and messages a potential buyer sees are not random. They're sent because the marketer identified an existing need, interest, and even intent to purchase.
Given that 79% of B2B buyers now wait to engage sales teams until after they've fully defined their needs, the ability to proactively identify and engage them during their research process is a major competitive advantage.

How to Build a B2B Outbound Marketing Strategy
Define Your Target Customer
First, it's essential to define who you're targeting with your outbound marketing. This should never be a guessing game—it needs to be rooted in solid, data-driven customer research.
Then, you can use frameworks like Ideal Customer Profiles (ICP) and buyer personas to define and segment your audiences. The former describes the type of organizations you target, and the latter describes the individual decision makers within them who you'll contact.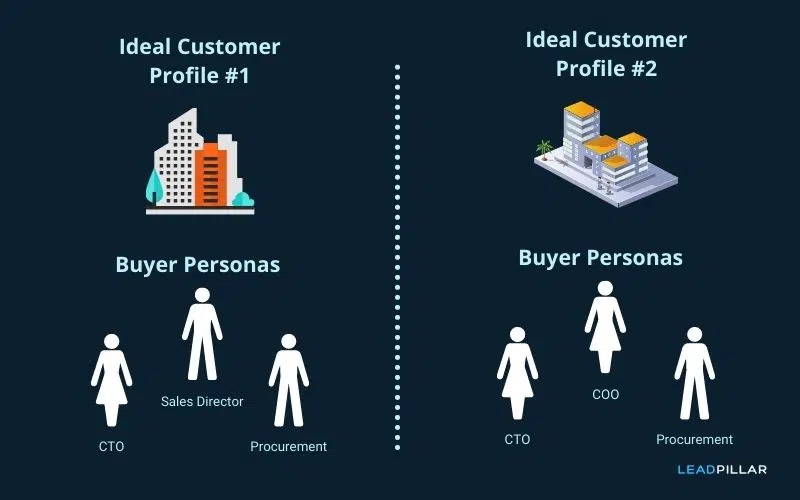 Have a Solid Value Proposition
Next, refine your message with a solid value proposition (VP). A strong value proposition tells customers exactly how your products and/or services will solve their problems and make their lives better. It outlines why you're the best choice over competitors.
Keep in mind that while your offerings may remain the same across customer segments, your value proposition may vary according to unique needs and motivations. Tools like the Value Proposition Canvas by Strategyzer can be immensely helpful in defining customer segments and aligning your VPs accordingly.
Set Clear Goals
Setting detailed and measurable goals keeps you accountable and drives action. Use frameworks like SMART goals to guide you and your team through this process for your outbound marketing strategy. SMART stands for:
Specific: Goals should be clear, well-defined, and focused on a specific outcome.
Measurable: Goals should be quantifiable so that progress can be tracked and measured objectively. Establish concrete criteria to determine if the goal has been achieved.
Achievable: Goals should be realistic and feasible. Consider available resources and capabilities to ensure the goal is attainable within your given constraints.
Relevant: Goals should align with your overall objectives and mission. They should be designed to contribute to the broader purpose of your outbound marketing strategy.
Time-bound: Goals should have a specific deadline or timeframe for completion. Setting a time limit creates a sense of urgency and helps prioritize efforts to meet the objective.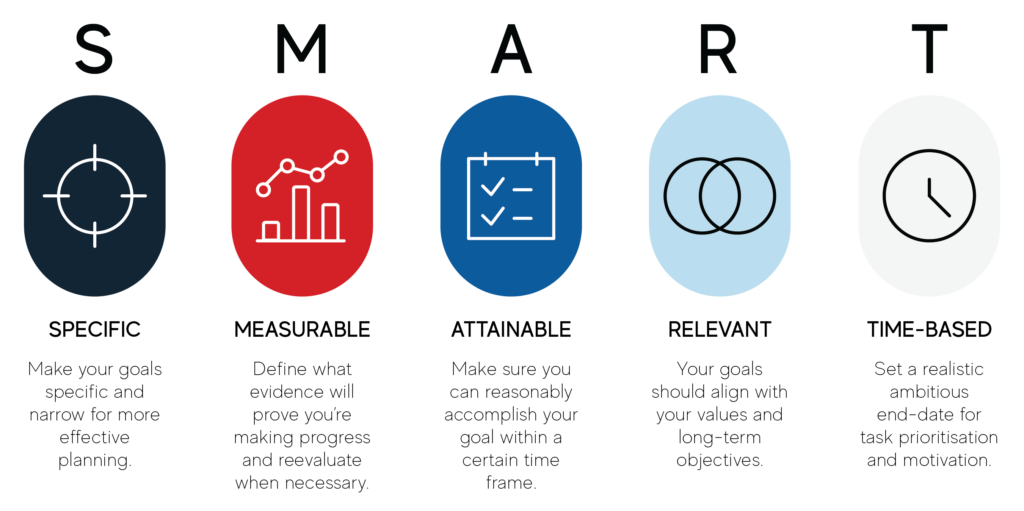 The SMART framework helps you stay on track as you execute and effectively measure progress and success. It allows you to make informed decisions about how to adjust and refine your goals and approaches based on objective data rather than "gut-feeling" assumptions.
Decide On Outreach Channels
We've already outlined the channels typically used in B2B outbound marketing strategies. But not all channels are created equal for every organization or audience. The right channels for your strategy will depend on your capabilities and audience behaviors, preferences, and needs.
Use your customer research to make intentional decisions about the channels you'll use in your strategy. Then, define how you will leverage each channel in your strategy. Optimize content and messaging for each channel to boost performance.
Implement ABM Principles
Account-based marketing (ABM) is a highly-targeted and personalized approach to outbound marketing designed to engage your most valuable prospects. Once reserved exclusively for high-ticket or high-touch outbound strategies, ABM can now be executed at scale thanks to marketing automation technology.
There are three levels of ABM:
Programmatic ABM: Engagement is one-to-many
ABM Lite: Engagement is one-to-few
Strategic ABM: Engagement is one-to-one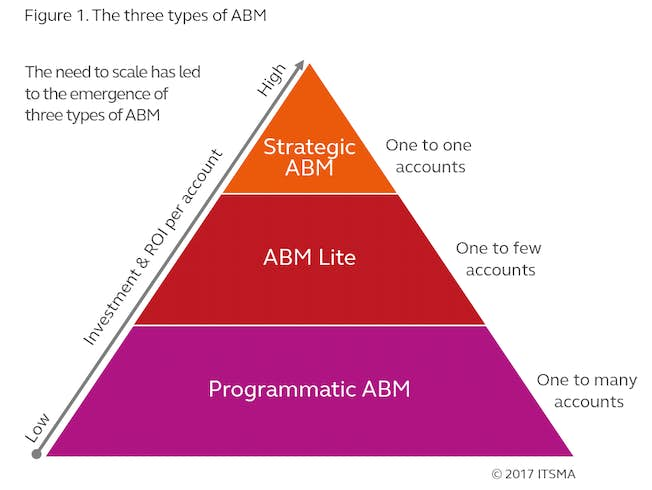 You can implement ABM at different levels according to each buyer segment or the resources you have available to execute your strategy.
While your ROI will increase when you implement higher-touch outreach, all three ABM levels are effective for outbound marketing and align with buyer demand for personalization.
Map Your Lead Nurturing Strategy
Lead generation is only the first step toward making a sale. The B2B sales cycle can last several weeks or even months, meaning you need a solid lead nurturing strategy to keep prospects engaged after they initially enter your pipeline. Nurtured leads not only convert at a higher rate but do so at a higher deal size, too.
In otherwise: Nurturing is worth the effort.
Have follow-up outreach automated and ready for leads after they engage with your initial outbound message. Email drip campaigns are one of the best ways to do it, sharing content that educates and engages your buyer while driving them toward further action with strong CTAs.
Adopt the Right Tools
Scaling your B2B outbound marketing strategy is impossible without marketing automation tools to support it. A great CRM tool is a solid start. But for the most well-rounded strategy, you'll also need to adopt and implement tactic-specific platforms for things like:
Email marketing
Data collection and analysis
Strategy performance reporting
Event management
As you develop your strategy, determine which tools you'll need to execute and make a plan and budget for implementation.
Continually Measure and Optimize
Today, business never stands still—and neither can your outbound marketing strategy. Make a plan to frequently measure and optimize your approaches based on data-driven insights. Use the metrics you outlined in your SMART goals and the data tools you adopted to objectively track performance and make adjustments that boost results.
Enlist Help When You Need It
Last but not least, consider partnering with an outbound marketing agency when you need support. Outsourcing lead generation and other outbound activities can help you optimize costs while accessing the expertise and resources you need to execute at a high level.
Boost Your Outbound Results with RevBoss
If you're looking for an agency to help you earn real outbound results for your business, RevBoss can help. Our strategic outbound marketing services are custom-built for startups, consultancies, marketing agencies, and other B2B organizations.
Schedule a quick call with us and find out how we can help you win more clients.