How to Build Paid Advertising Campaigns for Rapid Sales Growth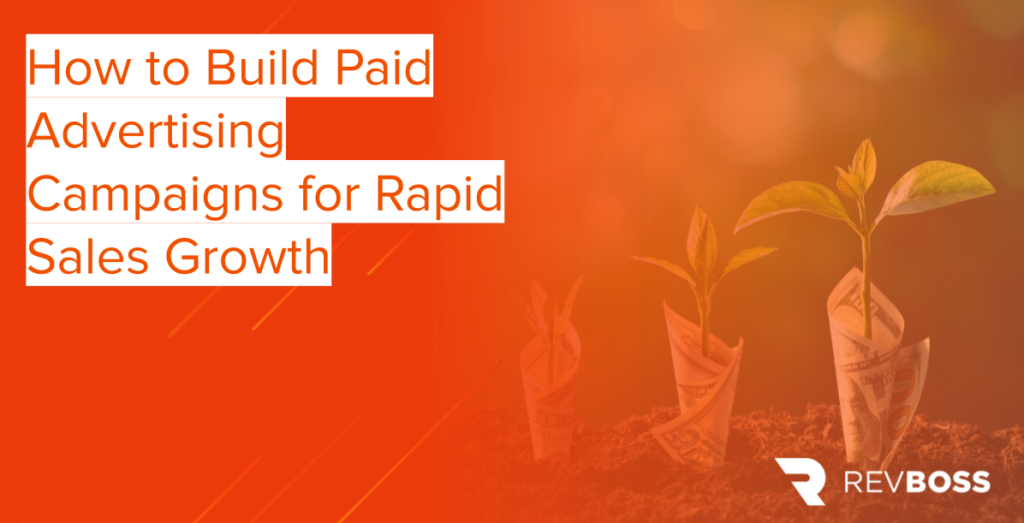 If you're on the internet (and who isn't?), you've seen paid ad campaigns.
By definition, they're ads launched by companies targeted to specific audience interests and behaviors. Technology today has made it easy for any brand to quickly partner with social platforms or search engines to execute a paid ad campaign, and nearly every marketing team uses them to some extent.
The challenge? Getting audiences to pay attention.
Online users and buyers in particular are savvy — they recognize targeted campaigns and are good at tuning out anything they don't see as relevant for them. Marketers have to continually up their game with paid ads to yield ROI in the form of clicks and conversions.
In this article, we'll cover 5 ways you can build paid ad campaigns that stand out from the crowd and drive sales growth for your company.
Quick Takeaways
Paid advertising campaigns are executed on search engines, websites, and social media.
Social media is the most popular paid ad channel — 80% of companies used it in 2022.
Paid ad campaigns should always be actively and intentionally executed.
Best practices to level up your paid advertising campaigns include compelling CTAs, split test campaigns, content, and hyper-targeting.
What are paid advertising campaigns?
Paid advertising involves targeting specific audiences through ad campaigns delivered through one of a few different channels: search, social media, or website display ads.
Search advertising targets buyers based on the keyword terms they're using on search engines. For example, a buyer searching for "email marketing software" would see a paid ad appearing at the top of their search results page from an email marketing SaaS agency.
On social media, paid ads are targeted by demographics (like age or location) and other data that tells advertisers your interests. Website display ads are targeted by both demographics and online behavior (like searches performed and websites visited).
The right channels for your strategy mostly depends on your target audience, and many brands use a combination of the three.
Paid advertising is part of most digital marketing strategies, and according to HubSpot, social media is the most popular medium — 80% of companies used it in 2022 across 12 platforms.
Paid advertising campaigns can be a huge growth driver, especially for new companies aiming to build brand awareness. The challenge is that many companies look at it as a passive strategy, and fail to reach full potential ROI on their efforts because they don't take an active, intentional approach.
Let's look at 5 ways to build a paid advertising campaign that actually yields big results.
5 Ways to Build Paid Ad Campaigns that Drive Growth
Choose the right platforms for your audience
When it comes to earning clicks and conversions, it's critical to get ads on the right platforms and in front of the right audiences.
That means knowing your buyers well (strong ICPs and buyer personas help to this end) and researching the platforms on which they're active.
For example, TikTok exploded in 2019 and 2020 as a top platform for reaching Gen Z audiences (although now it's expanding to include most age groups). Facebook is known more than other social media platforms as a place to reach older audiences.
Website display ads should be targeted to sites where buyers that fit your ICPs and personas are engaging. Search advertising is often more general (i.e. everyone uses Google), but you can still tailor ads to your audience by knowing the search terms and queries they use to find solutions.
Include compelling CTAs
Don't expect your audiences to act on their own. Even the most interested buyers will not click and convert without encouragement and direction. Your paid advertising campaigns must include compelling calls to action (CTAs) that tell buyers what to do next, and ideally let them know the value that action will deliver for them.
Here's a good example from EatFresh, who sparks curiosity by telling buyers to click and see the day's food menu:
Leverage high-performing organic content
Content marketing has far proven to be one of the highest-ROI activities for marketers. It's cost effective, aligns with buyer behavior (most start brand research with a search) and delivers pre-purchase value for buyers that builds connection with your brand.
Leveraging content in your paid ad campaigns is one of the best ways to get your audience to engage. Why? Because buyers want content! Most interact with more than a dozen pieces of content before they make a purchase decision.
Here's a good example of how to do it from Slack advertising their ebook on LinkedIn:
Split test campaigns
Paid ads are a good way to experiment with different messaging and see what resonates most with your audience. Split testing — running two separate campaigns to see which performs better — can help you continually refine and improve your results over time. Today nearly 60% of companies are using split testing in some capacity to maximize ROI on paid ads.
Below is a paid ad split test example from Wirecutter, who used identical messaging but different images in their campaign:
Have a granular targeting strategy
Along with refining your overall paid ad campaign messaging, split testing and other data-driven analysis of your campaigns can help you continually get more targeted with your campaigns.
Don't be afraid to drill down to niche audiences and preferences when you can — it's both a brand differentiator and aligns with modern buyer expectations for personalization.
 In fact, Deloitte says this type of hyper personalization can earn you a staggering 8X the ROI than you'd get otherwise!
Level Up Your Lead-Gen with RevBoss
Looking to execute a scalable, targeted sales prospecting strategy? RevBoss can help.
Our outbound email software and lead generation services are custom-built for startups, consultancies, marketing agencies, and other B2B organizations.
Schedule a quick call with us and find out how we can help you win more clients.