The Strategic Guide to Personalized Marketing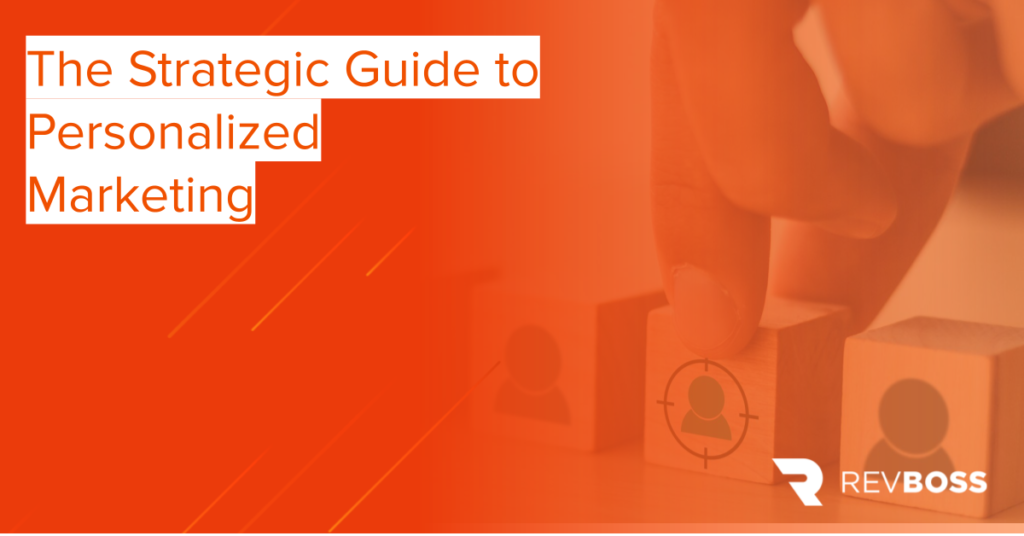 Personalized marketing is designed to make B2B buyers feel that their experience with your brand is just for them. It ensures content, messaging, communication channels, and any other important part of the buyer experience aligns with unique customer needs and preferences.
While personalized marketing strategies aren't necessarily new, they are more informed and accurate now than ever before. That's because marketers have access to customer data to glean insight on user behavior and other important descriptors that inform strategy.
Today, companies that don't personalize their marketing content are likely a step behind their competitors — not only do 84% of buyers expect personalization, but they're most likely to choose the provider that does it best.
In this guide, we'll walk through 6 ways to launch an effective personalized marketing strategy that resonates with customers and converts new leads for your business.
Quick Takeaways
Effective personalization starts with clearly defining your audience.
Data-driven strategies are more accurate and effective than those without data insights.
Buyers respond most to value-driven messaging.
Companies should be executing omnichannel strategies to deliver a more seamless experience throughout the buyer journey.
Nearly 90% of B2B buyers seek word-of-mouth assurance about providers from their personal and professional networks.
How to Launch an Effective Personalized Marketing Strategy: 5 Best Practices
Define your audience
Personalizing your marketing strategy starts with defining your target audience. There are two key frameworks every marketing team should be using to do this: ideal customer profiles (ICPs) and buyer personas.
ICPs define organizational characteristics of your best-fit customers — size, industry, location, budget, and the like. Buyer personas describe the decision makers within those organizations who have purchase decision power.
Your personalized marketing strategy will need to resonate with both. Here's a helpful visual for understanding how ICPs and buyer personas relate:
Be data-driven
Data is the most valuable asset marketers have in their arsenal — personalization, as we know, is nothing more than guesswork without data insights to inform it.
As you develop your personalized marketing strategy, think about how you're collecting and leveraging your data. Are you being intentional about the information you collect, the way you track it, and the extent to which you leverage it to inform strategy?
The answer to all three questions should be yes, and your goal should be to make your strategy as data-driven as possible. According to McKinsey, data-driven campaigns increase sales of core products by more than 10%, which translates to significant revenue growth.
Think value, not features
An important part of personalization is building a connection with your audience, which requires demonstrating a true understanding of customer pain points and needs. Ultimately, customers aren't attached to a single brand or solution — they just want the one that's most likely to solve their problems and/or help them accomplish their goals.
In fact, 68% of B2B buyers say they specifically chose a provider over other vendors because they showed a better understanding of company- and industry-specific needs.
Build a strategy with customer-centric messaging that emphasizes specific ways your product or service delivers value. While it can be tempting to focus on all of the great features you offer, the time for doing so is typically much later in the sales process or even after an initial purchase has been made.
Take an omnichannel approach
In 2023, B2B buyers are using 10 or more channels to interact with brands and potential providers. What's more is that they don't want to just move from channel to channel — they want their data and interaction history to move with them.
Providing an omnichannel approach means delivering a seamless, consistent experience across all channels that your current and potential customers use. Omnichannel strategies go beyond multichannel strategies by ensuring customers never have to start over just because they have switched channels or devices.
For example: Your sales reps should have access to a lead's interaction history (i.e. initial content engagement and chat bot conversations, etc.) so they can pick up right where they left off, using historical data to personalize sales conversations. A customer should be able to build a shopping cart on their web browser, then move to an app and still see their cart saved.
These types of seamless interactions automatically create experiences that feel personal to your buyers and eliminate disruptions that could slow down (or even end) the sales process.
Use retargeting
Retargeting is one of the most powerful ways you can leverage customer data to personalize your marketing efforts. In short, retargeting tracks buyer behavior and uses it to create follow up communications with high likelihood to convert the lead.
A common example of retargeting is personalized emails based on website interactions — for example, a retailer can send customized product recommendations based on browsing history. Paid ads can be targeted to users who visited your website but didn't complete a purchase.
Retargeting tactics are effective because they capitalize on intent soon after the buyer action was taken. Given that only about 2% of website visitors today actually convert on their first visit, retargeting has become fairly essential to generate and convert leads online.
Build a referral program
Even with all of the information available to them online, buyers trust personal referrals more than just about any other marketing content or follow-up tactic.
This is particularly true in the B2B world, where nearly 90% of B2B buyers seek word-of-mouth assurance from people in their networks and referrals account for a third of revenue-generating leads.
Many companies hesitate to build referral programs because they think it's complicated, but the truth is that most buyers want to recommend brands that deliver a positive experience. To start, all you need to do is offer incentives to current customers and provide an easy way for them to make recommendations (like an online referral form).
Over to You
Effectively personalized marketing starts with effective prospecting — finding and targeting the audiences that are best-fit for what you have to offer. RevBoss can help you do it. Our outbound email software and lead generation services are custom-built for startups, marketing agencies. consultancies, and other B2B organizations.

Schedule a quick call with us and find out how we can help you win more clients.