Repurposing Content for Better Targeting: 5 Smart Tips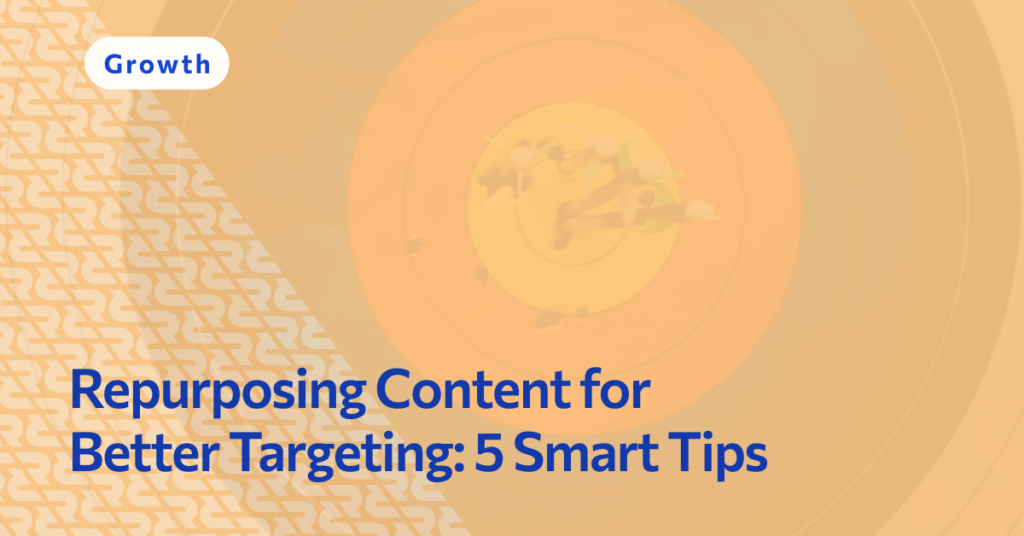 When it comes to content marketing, we've got great news: You don't have to constantly reinvent the wheel. Repurposing content—content you've already created and published—is one of the highest-ROI strategies for getting the most out of your content creation efforts.
Content repurposing benefits are numerous and include easier content scaling, a better ability to reach your audience across multiple channels and mediums, time and cost savings, boosted SEO, and a wider online brand presence.
It's no wonder, then, that 94% of marketers said in a recent survey that they already repurpose their content in some way (and the other 6% are thinking about it).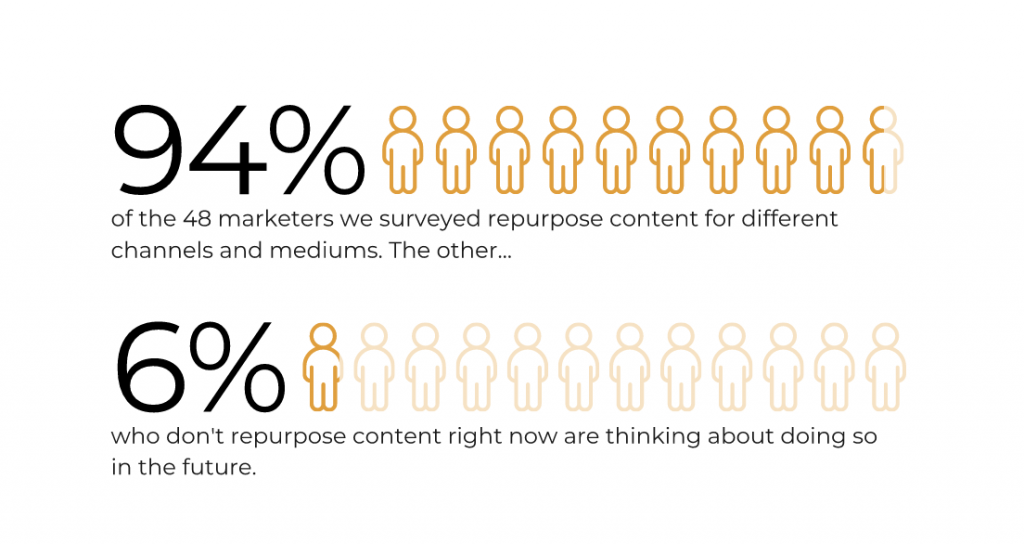 One of the most effective ways to leverage content repurposing is for better targeting to reach your ideal buyer audiences and fill your pipeline with quality leads. That's what we'll cover in the sections that follow.
Read on for 5 pro tips that will bring your content marketing ROI to new levels with smart and targeted repurposing for lead generation.
Quick Takeaways
Repurposed content means creating totally new asset(s) from existing content, or using an asset in an entirely new way.
Evergreen and high-performing content is best for repurposing.
You can earn higher ROI by creating multiple new content assets from one existing one.
Targeted promotion of repurposed content (ex: targeted email or ad campaigns) allows you to reach priority audiences.
You can include dynamic content sharing in your lead nurturing efforts by maintaining an updated and searchable content library.
Repurposing Content vs. Updating Content
Before we really dive in, it's important to clarify that repurposing content is not the same as updating it—although updating is also an effective way to boost the ROI of content assets.
Updating content simply means keeping it current—for example, editing a blog to add new statistics and trends—while repurposing content means creating a new asset altogether or using it in a totally new way.
To effectively implement both tactics to drive traffic and lead-gen, marketing teams must know this key difference and implement them as two distinct efforts.
5 Pro Tips for High-ROI Content Repurposing
Focus on Evergreen Content
Evergreen content is SEO-content with a long shelf life—assets like pillar blogs, how-to guides, case studies, and FAQ documents that stay relevant and continue to drive traffic and leads over time without requiring much updating.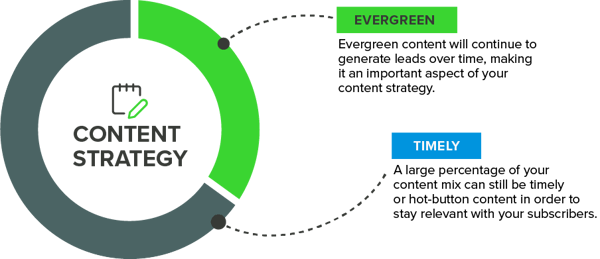 While timely content is an equally important part of your strategy, it's not ideal for repurposing because it's likely to become outdated by the time you create and share new assets. To boost targeting potential of your content repurposing efforts, start with evergreen assets you know will stand the test of time.
Prioritize High-Performing Content
Another smart way to prioritize content to repurpose is by performance. Your highest-performing content has already proven to have demand and engage effectively, so you can assume that new assets around the same topics will earn similar results.
Check performance analytics across the platforms you use. Tools like Google Analytics, YouTube analytics, built-in social media analytics features, and your SEO tracking software can all help you find the pieces most ripe for repurposing.
Create a comprehensive list of your top-performing assets and prioritize them for repurposing as you see fit. Frequently check for new pieces to add to your list and your content plan.
Create Multiple New Assets
Repurposing content doesn't have to be a 1:1 effort—you can and should aim to create multiple new assets from each one you choose to repurpose. For example, a single blog post can be turned into a podcast, email campaign content, an e-book, or a video. Webinars can be repurposed into multiple social media video clips or a multi-part blog series.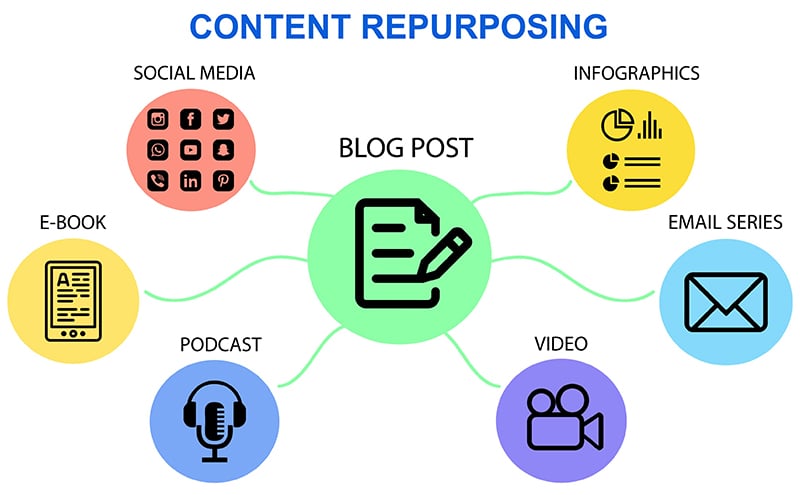 Creating multiple content assets from each repurposing effort also contributes directly to better targeting because you can leverage various new assets across different channels and initiatives to align with the preferences and behaviors of individual customer segments.
For example: If you're trying to generate more leads that fit a younger demographic, you could repurpose a blog post to create a social media series on a platform popular with young people.
Target Promotion
Targeted promotion puts your repurposed content assets in front of the specific audiences you're trying to engage most.
For example: You can segment your email lists to share your content with a specific group, launch ad campaigns using filters to reach a target audience, and create SEO landing pages for your new content using search terms most-used by a particular group.
These are just a few examples. The takeaway is not to leave your repurposed content reach up to chance—take intentional steps to ensure it's engaging your priority audiences.
Keep an Organized Content Library
As you scale your content creation through repurposing, your content library will grow more rapidly. It's important to maintain an organized content library to achieve better targeting and personalize your content marketing for better engagement.
When your content library is organized, searchable, and easy to navigate, you can quickly pull and share specific assets you know a buyer segment or even an individual lead will find valuable. As a result, you create dynamic pipeline experiences that show your commitment to each buyer's interests and needs.
Final Thoughts
Successfully repurposing content for better targeting has two main components: Leveraging the right assets (evergreen + high performing) and targeting your content sharing efforts (targeted email or ad campaigns, dynamic content sharing, etc.). When you execute a repurposing strategy using these two approaches, you can successfully scale up content creation while earning the highest possible return on investment.
Over to You
Repurposed content can be a valuable part of your outbound marketing and prospecting strategy, and RevBoss can help you execute with confidence. We specialize in helping our clients implement focused, targeted outbound campaigns that generate high-value leads and drive pipeline growth.
Want to learn more about our solutions? Schedule a quick call with us and find out how we can help you win more clients.