Set An Agenda for Your Sales Meetings & Get Fewer No-Shows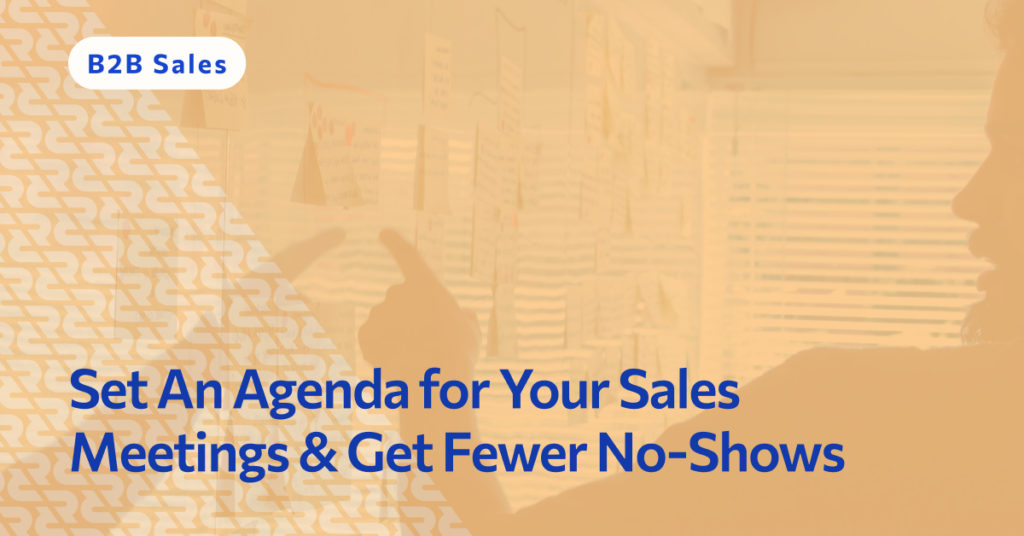 Every rep at your company should be using sales meeting agendas. Why? Because nothing is worse than putting in all the work to tee up your meeting—prospecting outreach, emails, juggling schedules, and confirming dates and times—only for your prospect to not show up.
But it's something every sales team has to deal with. A commonly-cited sales industry rule of thumb is to never let your no-show rate exceed 15-20%, but even that percentage translates to a lot of wasted time and effort.
Sales meeting agendas can reduce your no-show rate significantly in a few important ways:
Demonstrating the attention you've put into planning the meeting
Setting mutual expectations prior to the meeting
Providing a helpful reason to send an extra pre-meeting reminder
In this article, we'll take a deeper look at why you need sales meeting agendas, what they should include, and how to use them to boost sales meeting attendance—and ultimately win more new clients for your company.
Quick Takeaways
B2B buyers spend less than 20% of their time meeting with vendors. It's essential to make the most out of every meeting you get with a prospect.
Sales meeting agendas should include meeting goals, specific topics and timeframes, and room for prospects to add items (if they want).
Developing rapport is one of the most critical parts of your sales meeting. Use your agenda to build in time to do it.
Using your calendar invite to share and maintain the agenda keeps it more centralized and accessible than emails.
Leverage your agenda as a tool for recording, assigning, and confirming action steps before the end of your prospect meeting.
Why do you need a sales meeting agenda?
The B2B buyer journey has changed dramatically in recent years, and the reality is that today's buyers don't prioritize time spent with vendors the same way they did in the past. Gartner reports that only 17% of the buyer journey is spent meeting with potential suppliers, while 45% is spent researching independently (both online and offline).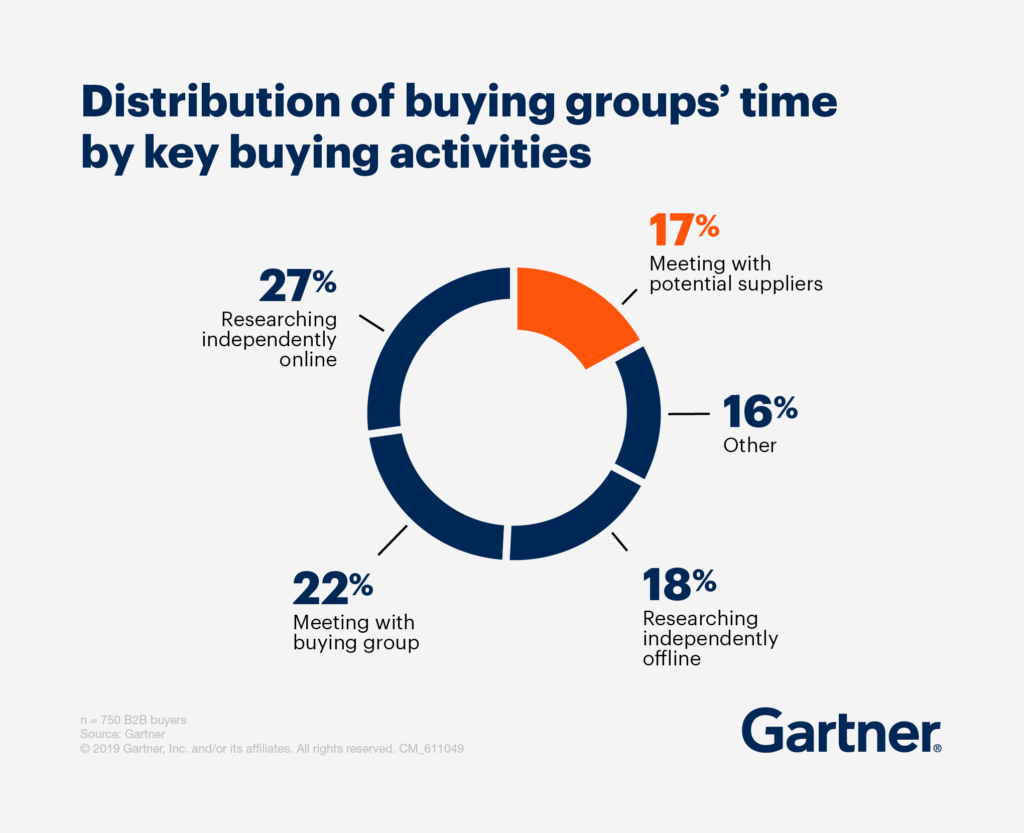 That means as a sales rep, you need to do everything you can to ensure prospects show up to sales appointments and maximize the ROI on time you spend with them. Sales meeting agendas help you do this in an efficient and effective way.
When you develop your sales meeting agendas the right way (we'll tell you how in the next few sections), they become a streamlined step in your sales process and a tool you can use to make prospects more accountable for showing up to scheduled appointments.
What should your sales meeting agenda include?
The content included in your sales meeting agenda will vary a bit depending on your industry, business, and prospect. That said, there are a few key items you never want to miss, such as:
Meeting Goals
Without a focused goal, it's easy for any meeting to get off track. The last thing you want is for your prospect to feel like they spent time in a sales meeting that didn't actually accomplish something for them. Include a clear goal in your sales meeting agenda that outlines what it will accomplish.
Remember—while your ultimate goal is always to sell, that might not be the most realistic immediate goal for your meeting. Depending on your prospect's current stage of the buyer journey, meeting goals might include:
Introduction and/or education on your products and services
Exploring alignment between your offerings and prospect needs
Q&A with specific decision makers on the buying team
Pricing overview and/or other assistance making a final decision
Prospect-specific sales pitch or presentation
No matter what the goal of your meeting, make it clear on the agenda to set shared expectations with your prospect prior to the meeting.
Specific Topics and Timeframes
Be specific about your agenda items and how much time will be spent on each. Doing so gives everyone an idea of how the meeting will go and a chance to discuss priorities before the meeting. For example—your prospect might want to spend more time talking about a specific product or service and not be interested in another.
When your agenda is specific around both topics and timeframes, you can set a shared agenda that will be most productive for both parties.
People Attending
Knowing who will be at your meeting is just as important as setting the right agenda items. On your sales meeting agenda, list everyone you expect to be in attendance and ask your prospect to let you know if there is anyone who should be added.
This both allows you to confirm who you'll be meeting and invites your prospect to include other important members of their buying group.
Room for Prospects to Add Items
Leaving blank spaces on your agenda for prospect-led items is a way to position your meeting as a mutually beneficial event—one that is meant to deliver value to the prospect, not just provide a platform for a sales pitch.
As a best practice, invite your prospect to add meeting agenda items, but do it in a low-pressure way. In other words, let them know they are welcome to add to the list if they wish, but that it's totally optional and the agenda can also be run as-is.
Time for Intros and Wrap-Up
Building rapport is rated as one of the top virtual selling behaviors for customer engagement. Prospects value the ability to build a relationship and establish trust with potential vendors. Of course, much of this happens outside of official sales-related items on sales meeting agendas.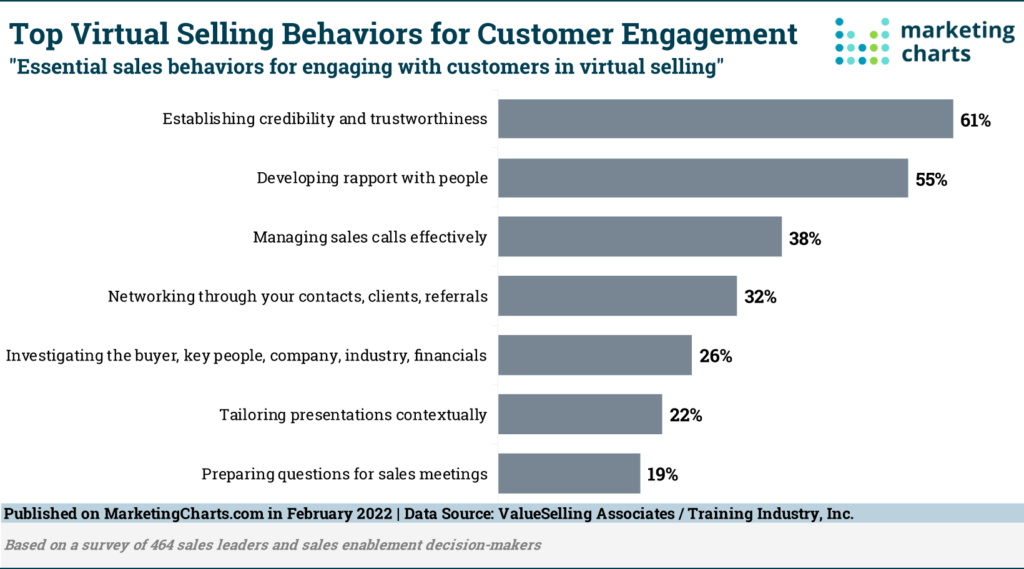 Always leave time in your agenda for introductions and to wrap-up after the official meeting concludes. It's during these times when more casual conversation can take place, and you can really build connection with your prospect.
How can you use agendas to reduce no-shows?
Send the Agenda in the Calendar Invite
Your calendar invite is a great way to keep meeting information centralized—a much better option than clogging everyone's inboxes with multiple emails. By including your agenda directly in the calendar invite, prospects can easily access it at any time.
Most platforms, like Google Calendar, include all meeting information in the calendar update notification. That means adding the agenda to calendar appointments also serves as a way to send an extra meeting reminder to invitees.
Invite Prospects to Add Agenda Items
We mentioned this one already, but it's worth discussing again as a direct tactic for reducing no-shows to your sales meetings. When you invite a prospect to add items to the sales meeting agenda if they wish, it shows that you're invested in the value they get from the meeting.
Whether they decide to add items or not, they know you've invested time in making sure the meeting works for them (and likely feel more obligated to show).
Refer to the Agenda During the Meeting
Once you've got your prospect at the meeting, you immediately want to leverage your agenda to make it as productive as possible. Balance is the key to success here—refer to the agenda during your meeting and stick to it as much as possible while also staying flexible enough to go with the natural direction of the discussion.
For example, if your prospect wants to really dig in on a specific product or service, you'll want to explore that with them rather than stopping short just to stick to your timeline.
At the end of your meeting, use the agenda to determine what you covered and what still needs more discussion, using this as a natural path to scheduling your next meeting.
Note Clear Action Steps
Be clear and specific about action steps, using your agenda as a common place to record actions with their corresponding agenda items. Going back to the example from the previous section, an action step may be to schedule a formal demo for the product your prospect is interested in, or emailing them more information about a specific service package.
Your prospect can have action steps assigned to them, too. Perhaps they need to loop another decision maker into the conversation, or send you more information about their company so you can provide a customized package description or price.
Either way, your sales meeting agenda can be your consistent framework for recording and following up on action steps identified during your meeting.
Over to You
High sales meeting attendance and conversion rates starts with effective prospecting—finding potential buyers that are best-fit for what you have to offer.
If you're looking to level up your prospecting strategy to find higher-quality leads, RevBoss can help. Our outbound email software and lead generation services are custom-built for startups, consultancies, marketing agencies, and other B2B organizations.
Schedule a call with us and find out how we can help you win more clients.