Sales Enablement: Goals, Best Practices and Tools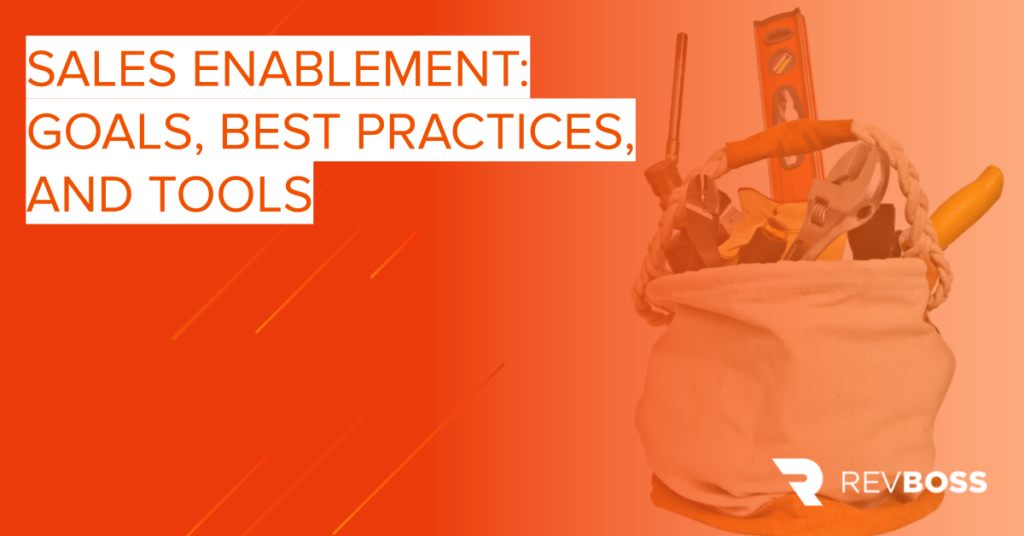 Is your sales team reaching its full potential? Without sales enablement, the answer is probably no.
Sales enablement tools and best practices empower your sales teams to do more than just work to hit quotas. They optimize every stage of the sales cycle for maximum sales ROI. This means better targeting and messaging, more qualified leads, higher conversion rates, and a seamless end-to-end buyer experience.
In the sections that follow, we'll explore why every B2B organization needs a sales enablement strategy, plus 6 best practices you can implement right away.
Quick Takeaways
Sales enablement empowers sales teams and optimizes sales revenue results.
Knowing your target audience enables sales reps to pursue the right prospects and accurately qualify leads.
Great content is at the core of sales enablement and requires alignment between marketing and sales teams.
Sales enablement content should always be aligned with the buyer journey.
A key part of sales enablement is incorporating sales team feedback into the continual improvement process.
Sales enablement tools can help you integrate systems and efficiently scale your efforts.
What is the goal of sales enablement?
Sales enablement is the process of providing the right tools, training, and content to sales teams so they can sell as effectively as possible. The goal of sales enablement is to maximize sales revenue and optimize the buyer experience with consistent, seamless messaging. As such, sales enablement requires cross-collaboration between your marketing, sales, and customer support teams.
Why is sales enablement important?
For starters, companies with effective sales enablement strategies in place earn higher win rates and quota attainment. At the same time, only 20% of companies even have effective sales enablement strategies in place, meaning it's a huge opportunity to gain a competitive edge in increasingly crowded markets.
Above all, the key takeaway for companies planning a new sales enablement strategy is that it must be customer-centered. In today's business landscape, it's the customer who initiates the sales process, conducting up to 70% of their research before reaching out to vendors.
Sales enablement content must take this into account. Customers likely already know much about your company before they ever interact with you directly. Once the sales process officially begins, you want your sales reps to align their messaging and value proposition with what your prospects have already experienced online with your brand.
In the next section, we'll walk through 6 specific best practices you can implement to optimize your sales enablement at every stage of the sales process.
6 sales enablement best practices
Know your target customer
Who are you selling to? While this question sounds obvious, you'd be surprised at how often companies don't know the true answer to this question. We recommend that every B2B company work through the Ideal Customer Profile and Buyer Persona frameworks in order to understand what companies can benefit most from your solutions and who is making the purchase decisions within those organizations.
When you do (and then communicate it effectively with your sales team) your reps know the right prospects to target, can qualify leads more accurately, and earn better conversion rates.
Provide continual training
Sales strategies evolve with new and/or updated products, emerging technologies, changes to the competitive landscape and more. Sales enablement should never be a one-and-done initiative at your company. Decide when it makes the most sense to provide sales enablement training for your sales team, and do it regularly.
Keep in mind that sales enablement does not need to involve long, boring, in-person training sessions. While interactive in-person sales enablement training is great to have occasionally, you can also build sales enablement into your employee communications in other ways.
Some ideas include:
Webinars and video trainings
Updates and tips in an email newsletter
New content presentations
Written sales enablement guides
The important thing here is that sales reps know the importance of sales enablement, have constant access to the resources they need, and understand expectations for using them.
Create great content for sales reps to use
That leads us to our sales enablement best practices: creating great content. Content marketing is mainly referred to as an inbound marketing strategy, but it can be a valuable outbound tool in two main areas: email marketing and sales enablement.
Its sales enablement potential lives in content's ability to align messaging across the buyer journey and the sales process.
Typically, content is being created by the marketing team. As most business professionals know, marketing and sales alignment is an important goal for almost every B2B organization. But it's an elusive one. It's widely cited that up to 90% of content created by marketing teams goes unused by sales teams. 90%!
Content can be the key to bridging that gap. In an ideal scenario:
Marketing creates and distributes content → Sales leverages content during the sales process → Sales can provide customer feedback insights → Content is refined and improved
As content is refined and improved, so too will sales enablement effectiveness and your overall sales success.
Align content with the buyer journey
The relevance and effectiveness of your sales enablement content depends on its alignment with the buyer journey. Think about it: a prospect doing their first Google search on potential solutions doesn't need a product demo — they need insight into their problems and pain points. Similarly, a buyer that's ready to make a purchase doesn't need introductory blog posts on potential products.
B2B companies unintentionally waste prospects' time (and even turn them toward competitors) when they don't ensure the right content is getting to the right prospect at the right time.
This is a critical part of sales enablement. Do your sales reps know which content belongs at which stage of the buyer journey? Further, do they even know which stage of the buyer journey aligns with each stage of your specific sales process?
Below is a guide to aligning your buyer journey with your sales process, and the questions your content should answer at each stage.
You might think: of course my sales team knows this! But in reality, these concepts are often discussed in strategy meetings and never shared effectively with sales reps. Take time to train your sales reps in this area and empower them to use the right resources to maximize their success.
Utilize feedback from your sales team
As you implement and continue sales enablement practices across your organization, your sales team will have important feedback and insights to share about how it's working. But they might not actually share them with you unless there are processes in place specifically to collect it.
So, as you build your sales enablement strategy consider: how will we collect feedback from the sales team? Some ways to do it include:
Surveys and questionnaires you send to your sales team
Monthly or quarterly meetings
Submission process for anecdotal feedback or success stories
Utilize sales enablement tools
Sales enablement tools are software systems that connect your sales cycle with marketing and other important processes at your company. Utilizing these tools eliminates much of the manual work required to implement sales enablement, allows you to execute it at scale, and leverages automation and AI for intelligent operations.
Over to You
Ready to jumpstart your sales enablement efforts?
The RevBoss platform is custom-built for startups, consultancies, marketing agencies, SaaS agencies, and other B2B organizations. Schedule a quick call with us and find out how we can help you win more clients.